In:
There are many great stateroom choices when booking a cruise, and certainly a room with private balcony is one of the most intriguing options. Having your own private space to enjoy the view of the ocean, a gentle breeze and the activities in port are a fabulous way to spend any cruise.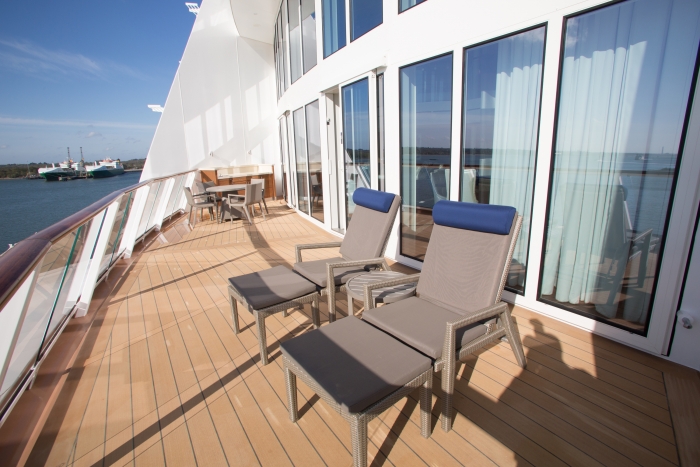 In addition to just the view, there are some really fun things to try when staying in a balcony room.  Here are some of our top picks for favorite things to do on a balcony while on a Royal Caribbean cruise.
Enjoy a meal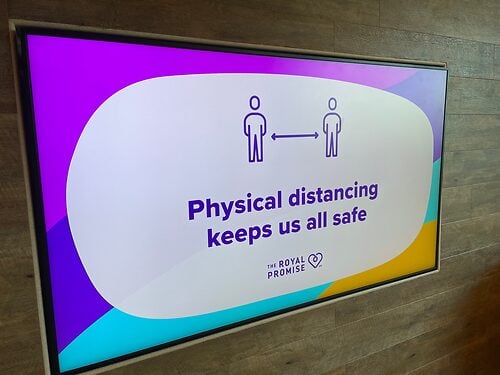 Royal Caribbean puts tables on the balcony for a reason, and enjoying a meal outdoors is always a really fun way to enjoy a meal while onboard.
Room service is included in the cruise fare, so you might consider ordering a snack or full meal to be delivered to your stateroom.  When the waiter brings the food, direct them to bring it to the balcony and they will be happy to set it up for you there. In fact, if you are staying in a Grand Suite or above, meals from the main dining room can be delivered to your room as well.
Another option is to bring something back from elsewhere on the ship to enjoy on the balcony. A few slices of pizza from Sorrento's, or just a plate of goodies from the Windjammer are always good options.  Guests can bring food from pretty much anywhere onboard and take it to go for enjoying on the balcony.  We really love bringing Izumi sushi back to the balcony to eat with a fabulous view.
Watch a show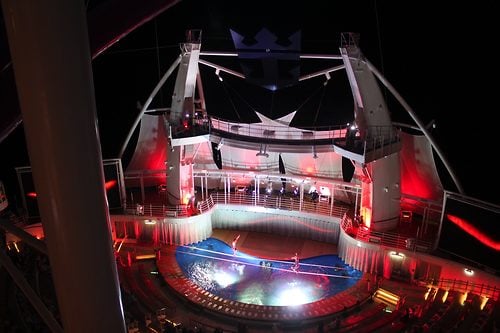 On Royal Caribbean's Oasis of the Seas, Allure of the Seas and Harmony of the Seas, there are balcony rooms that offer a full or partial view of the AquaTheater, which has some truly impressive physical feats on display in a variety of shows.
Each ship has rather large suites that overlook the AquaTheater perfectly.  Granted, these suites are not inexpensive, but many guests love having an unfettered and private area just for them to enjoy the view of the ocean and the AquaTheater.
Likewise, there are standard Boardwalk Balcony staterooms towards the rear of the ship that also provide a view of the AquaTheater.  Some of these rooms will offer partially blocked or full views of the AquaTheater action too.
Bring drinks back
Just like food, enjoying a few cocktails on your balcony is a great way to take advantage of having a private balcony.  It is easy enough to grab some drinks from somewhere onboard and bring them back to your stateroom to enjoy.
Whether it is sailaway and you are enjoying a toast to the best cruise ever, or just want to get away from the rest of the crowd and sip some bubbly while you watch the waves pass by, enjoying a drink on a balcony is a wonderful way to spend time onboard.
Read a book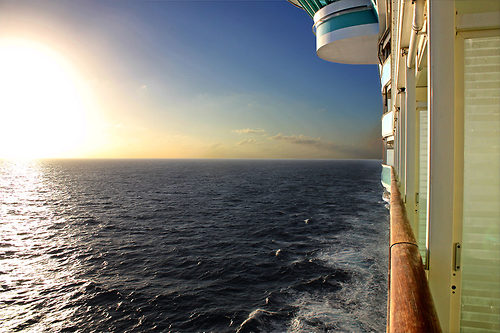 You can read a book anywhere on a Royal Caribbean ship, but there is something extra relaxing about pulling up a chair, propping your feet on the balcony and opening up a great book to enjoy.
Reading a book while the ocean breeze passes you by is nearly as relaxing as one of the services offered by the Vitality Spa, and usually quiet enough to become immersed in the story unfolding between the pages.
Go in the hot tub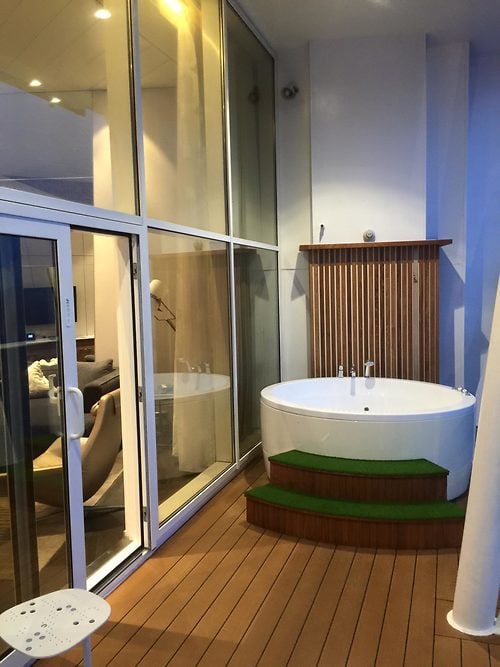 Certain suites on Royal Caribbean ships actually come with their own hot tub, which means you always have a reserved spot to enjoy the calming warm waters of your own Jacuzzi.
Just like the AquaTheater suites, suite staterooms that have a hot tub are not going to come cheap, but if you value having the best kids of accommodations onboard, it is hard to go wrong with a hot tub that only you can get to use.  Our scientific research team assures us that nearly any view is better in a hot tub.
Watch the sun rise and set (many times)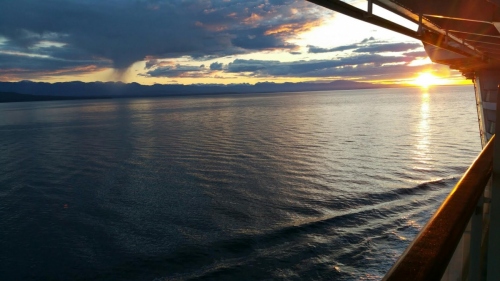 If you are not enjoying the spectacle of the sun rising and setting at least a few times during your cruise, you are missing out.  When you have a balcony stateroom of your own, you can see one of nature's most beautiful events with the utmost convenience.
Granted, your balcony will need to be facing the east or west to witness this occurrence, but if things do line up, be very certain to take advantage of it.