In:
When it comes to choosing a cabin for your cruise vacation, many cruisers value a suite stateroom.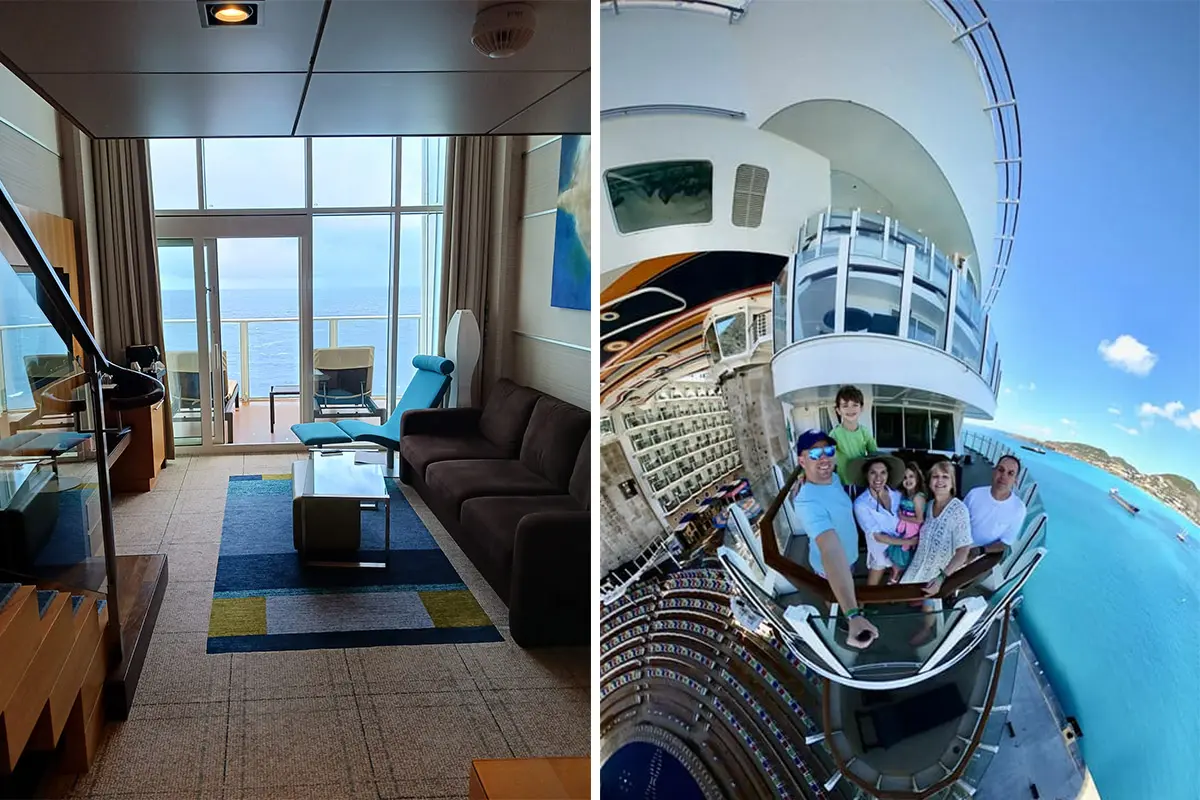 Although suites come at a higher price, they offer a much more luxurious experience, including a larger space, often with one or more separate bedrooms. These spaces are usually more private and include a secluded balcony space with scenic views. 
Suites also provide enhanced amenities, priority service (including on embarkation and disembarkation days), and complimentary extras.
Additionally, Crown and Anchor members gain more loyalty points for staying in a suite room: 2 points per night, or 3 points per night for solo travelers. 
To exemplify why cruisers love suite rooms so much, we posted to our Royal Caribbean Blog Facebook page, asking readers for an example of their best suite rooms.
We asked readers to share their best photos that explain why they loved their suite rooms, and we received hundreds of entries. 
After carefully sorting through them, here are the best 17 suite room photos our readers took on their Royal Caribbean cruise. 
Cruise ship suites gained a lot of popularity for their size. Suites include multiple rooms, such as a living room and a bedroom.
Jenn Borawski Ullram's submission shows a Star Loft on Oasis of the Seas, a 722 square-foot cabin that can sleep up to four people. The suite's balcony alone boasts 410 square feet.
This luxurious suite is offered on both Oasis and Quantum class ships and includes exclusive perks such as:
Exclusive Access to Royal Genie Service
All Day Access to Coastal Kitchen
All Day Access to Gold and Silver Dining
Complimentary Specialty Restaurants
Complimentary Deluxe Beverage Package Complimentary Refreshment Package 
Still and Sparkling Water Replenished Daily
Complimentary Gratuities
Complimentary VOOM Internet
Expedited Boarding and Departure
Best Seats in the House in Entertainment Venues
Priority Entrance to Many Onboard Activities
Suite Lounge Access (complimentary hors d'oeuvres and cocktails each evening)
Access to Suite Sun Deck or the Spectrum of the Seas' Balcony
Royal Caribbean Plush Bathrobes for Use Onboard
Complimentary Minibar stocked with Beverages and Water
Complimentary Laundry and Pressing Services
Luxury Mattress and Pillows
Frette Linens
Luxury Bathroom Amenities
Lavazza Espresso Coffee Maker
Combining such a beautiful suite, multiple rooms, and high-quality perks, it makes sense that Royal Caribbean cruise fans would love this Star loft suite. 
William Smalley's submission, taken from a balcony suite, exemplifies the gorgeous views and luxury amenities available in this type of stateroom.
For those who enjoy spending time in their staterooms while on a cruise, a suite stateroom is the perfect splurge. 
Suites offer more privacy than typical cabins, allowing you to enjoy your time alone or with loved ones in peace.
Suites may also come with larger entertainment centers and a library of movies and music, allowing you to unwind in the privacy of your cabin.
Especially for special occasions, consider splurging on a suite to make the most of your cabin experience. 
Read more: Royal Caribbean suites guide & review
Sarah Skelton's photo shows a beautiful balcony view outside her suite. 
Suites often include a balcony attachment, but they differ from balcony cabins on several points.
Balcony staterooms are still only one room, just with an included balcony and scenic view.
Much like typical cabins, they only have a small room, a living room area, and a bathroom. There is no guarantee that a balcony cabin will be any larger than an inside cabin.
Suites, on the other hand, are guaranteed to be more spacious, with multiple rooms and space for more guests.
Balcony staterooms also come at a lower price, often more cost-friendly than staterooms. However, they offer fewer amenities and no private/priority service. 
They also earn you a lower amount of Crown and Anchor points each night: only 1 per night, compared to a suite's 2. 
Additionally, the balconies themselves are usually smaller in balcony staterooms. Suites are bigger in every sense. 
If you're still deciding between a balcony stateroom and a suite, it's also important to note that there are more balconies available on Royal Caribbean ships. It's best to decide ahead of time, as suites will sell out quickly. 
Suites will also require a deposit that is 10% of the total fare.
Lauren Ashley captioned this photo saying, "The view and morning sun were always beautiful!"
This suite photo shows the view of a balcony and living room area, all from the comfort of a higher bedroom section.
Guests staying in a suite can benefit from the multiple areas included, especially for those who want to spend more time in their stateroom.
Suites offer much more space to nap, watch TV in the living room, have comfortable meals through room service, and enjoy the peaceful balcony view. 
Especially for families and people with children, having a suite sectioned off means everyone has a space to be. Children can sleep below, in the living area, or amuse themselves on the balcony. 
Parents can have more room to themselves, as well.
Read more: I cruised in a suite for the first time. Here are 5 things I learned from the experience–and 3 I'd do differently next time
Jaye Whitaker shared a photo of this multiple-level suite. 
The multiple levels or bedrooms in a suite provide a convenient setting for families or friend groups traveling together.
The multiple rooms allow for families or groups to have separate sleeping and living spaces, providing privacy and minimizing disruptions—especially for those with small children.
Suites on cruise ships are also more spacious than standard cabins, offering more room to move around. 
This extra space can be especially valuable for families or groups, allowing them to relax comfortably and not feel cramped during their cruise.
Staying in a suite can also provide a degree of privacy that may not be available in standard cabins. This can be particularly important for families or groups wanting to spend quality time together without disturbance.
Gail Hudson wrote that her photo was taken in a Grand Suite on Radiance of the Seas. 
This Grand Suite is a 358-square-foot one-bedroom stateroom that sleeps up to 4 people. The attached balcony is another 106 square feet. 
Grand Suites are available on various Royal Caribbean ships, including on older and newer vessels. Newer ships typically have more Grand Suites available.
For all guests in Grand Suites, perks include: 
Royal Caribbean bathrobes (for onboard use only)
Luxury bathroom amenities 
Lavazza espresso machine 
Pillowtop mattress
Priority boarding and departure 
Concierge service
Suite Lounge/Concierge Club access with hors d'oeuvres and cocktails every evening)
Priority dining, spa, and shore excursion bookings
Bridge, galley, and backstage tours
VIP pool deck seating (not available on Vision or Radiance Class)
Priority tendering 
Welcome Evian water & fruit 
Ability to order from the Main Dining Room for in-suite dining (during operating hours)
Complimentary 24-hour room service
Private breakfast and lunch seating (location varies by ship and sailing)
Departure breakfast 
Reserved seating for shows 
Complimentary pressing on first formal night
Extra Crown & Anchor loyalty points
On Oasis and Quantum Class ships, Grand Suite guests enjoy the above perks along with some unique additional benefits, such as Coastal Kitchen dining exclusively for suite guests, complimentary Internet access, and more private dining experiences.
The cost of a Grand Suite varies based on factors like the ship, time of year, and itinerary length, but newer ships tend to have higher prices.
Taken from the newer Symphony of the Seas ship, Laurence P. Gottlieb's photo shows a two-bedroom suite. 
Multiple-bedroom suite staterooms are an excellent solution for travelers seeking more spacious accommodations for families or large groups.
These suites provide the perfect blend of comfort and convenience, ensuring everyone in the room is comfortable and in proximity to one another.
If you're looking to upgrade to a multiple-bedroom suite but aren't sure you need a balcony, the Ocean View Suite is a great two-bedroom option.
If you prefer a balcony over an oceanview, the Owner's Suite and Grand Suite are two-bedroom staterooms with a balcony included. 
Read more: I stayed in a $1,400 stateroom on Symphony of the Seas — see what my room on this cruise ship looked like
Ruben Reynoso's example shows more of the incredible views and a comfortable room with a suite.
But don't forget to also take advantage of all the perks that come with a suite stateroom.
Most importantly, you'll want to get acquainted with the suite concierge on your cruise. The suite concierge is like a specialized Guest Services for suite guests and plays a crucial role in enhancing your cruise experience. 
Most ships have one suite concierge (with exceptions for Oasis Class ships, which have two). About a week before your cruise, the Suite Concierge will reach out via email to prepare you and provide guidance. 
They can assist with services such as making specialty restaurant reservations, resolving billing issues, booking shore excursions, and ensuring priority disembarkation.
Karen Berg Justin shared that this photo comes from an Owner's Suite on Adventure of the Seas, a Voyager class ship launched in 2001. 
The age of this ship is no reason to fear sailing since Adventure of the Seas was revitalized in both 2016 and 2018. Both projects cost about $61 million and added new cabins, activities, and restaurant venues. 
Adventure of the Seas currently has 15 decks and holds 1,557 staterooms. 
She boasts access to thrills like the FlowRider, The Perfect Storm, mini golf, a rock climbing wall, and Studio B.
Adventure also has classic complimentary dining options like the main dining room, the Windjammer, Island Grill, and Café Promenade. 
Her specialty dining options include Ben & Jerry's, Chef's Table, Chops Grille, Izumi, Giovanni's Table, and Johnny Rockets.
Despite not having all the features of other Voyager Class ships, Adventure of the Seas has many available, offering a great cruise experience.
Read more: 10 things I loved and hated about Adventure of the Seas
Lars Johan Storækre commented that this photo comes from a suite on Wonder of the Seas.
The current largest cruise ship in the world boasts 18 decks and 2,867 staterooms. Of those staterooms, 174 are various types of suites.
Wonder of the Seas was recently launched in March of 2022 and offers a multitude of dining, bar, lounge, and entertainment options. 
As a newer cruise ship, her staterooms will, of course, feel more luxurious than on older ships.
If you're planning to sail on Wonder, splurging on a suite stateroom will be an even more magnificent experience. 
Wonder's available suites include an Accessible Loft Suite, a wheelchair-accessible room with an elevator between the multiple levels. 
The Crown Loft suite features two levels: a Royal King bed upstairs and a sofa bed downstairs.
The Royal Loft Suite offers even more living space and Star Class benefits, such as a dedicated Royal Genie. This type is spacious, with 1,524 square feet of living space and 843 square feet of balcony space.
The two-bedroom AquaTheater Suite is located at the end of the ship. This suite provides sweeping ocean views and an expansive balcony, with 823 square feet of living space and 772 square feet of balcony space.
And lastly, the Ultimate Family Suite is the most expensive suite on the ship. It offers a kid-centric, family-friendly design with 1,134 square feet indoors and a 212-square-foot balcony.
"Love the Grand Suite on Symphony of the Seas. This photo says it all!" Ola Plaskon wrote alongside this submission.
As mentioned earlier, one of the benefits of a Grand Suite is complimentary 24-hour room service and the ability to order from the Main Dining Room for in-suite dining.
This means you'll get every opportunity to have a meal in the suite, enjoying all the time possible in the expensive stateroom.
Especially for those with a balcony suite, the chance to enjoy breakfast looking out on the water is once-in-a-lifetime. 
Read more: Royal Caribbean room service guide & tips
Another Grand Suite photo! This one, submitted by Andrew Carter, was taken on Independence of the Seas.
Built in 2008 and later refurbished in 2013, Independence is a Freedom Class ship with 15 decks. She has 1,817 staterooms, 127 of which are suites. 
Grand Suites on Independence of the Seas have the usual Suite privileges but none of the additional privileges available on Oasis and Quantum Class ships. 
Independence also includes the singular, bizarre Ben and Jerry's suite. This ice cream-themed suite is one of its kind, as well as being the only inside cabin suite on any Royal Caribbean ship. 
An ocean view isn't the only gorgeous view a suite can offer. Beth Urban's photo displays a beautiful perspective of the center of the ship.
Having a unique view is one of the best perks of cruising. 
For people who like people-watching, a suite facing the ship or the AquaTheater is perfection for witnessing all the activities and entertainment happening onboard.
On the other hand, if you prefer a view of the water or the back of the ship, the oceanview suite is plentiful, too. 
No matter which option, a suite with a balcony or pretty view is the perfect way to enjoy the cruise's sights without leaving your cabin. 
Andy Smith's photo here is the view from an AquaTheater suite on Wonder of the Seas. 
This suite is part of the Star Class category, meaning it comes with top benefits and perks. 
It features a spacious living room, a master bedroom with ample closet space, a master bathroom with a shower and tub, and a second bedroom that can accommodate up to four people and a second bathroom. 
The living room has a large couch, a table with chairs, and a coffee maker. 
Of course, the highlight of the suite is its huge wrap-around balcony, which offers excellent views of the AquaTheater, the Boardwalk, and the ocean. The balcony is also complete with chairs and lounges for relaxation.
The suite also provides Royal Genie services, providing VIP access and privileges to guests in the cabin. 
Despite its high cost, the AquaTheater suite is a luxurious option for families looking to splurge on a cruise. 
Sherry Burden's submission shows an included hot tub located on the suite's balcony. 
Amenities such as the table and hot tub take suites to the next level, maximizing the luxury you can experience without leaving the cabin. 
Unlike shared hot tubs on the pool deck, these are exclusive and private to those staying in the suite.
This means you can enjoy a relaxing moment without the presence of strangers. You can enjoy a peaceful, intimate environment without worrying about crowded or noisy hot tubs.
Another advantage to this private amenity is flexibility in timing. While the public hot tubs may have operating hours and be crowded at certain times, a private hot tub is accessible whenever you desire.
Whether you prefer a morning soak with your coffee, an afternoon dip after lunch, or a romantic evening under the stars, the choice is yours.
You can tailor your suite experience to your preferences.
Joe Joe submitted to our Facebook page an example from the Oasis of the Seas' Ultimate Panoramic Suite, a Star Class stateroom. 
Oasis of the Seas is a record-breaking ship, the first of the Royal Caribbean Oasis Class. Although launched in 2009, she underwent a Royal Amplification in 2019 when the Ultimate Panoramic Suite was added.
This suite offers 914 square feet of space with stunning panoramic views thanks to its wall-to-wall and floor-to-ceiling glass windows. 
It also features a walk-in closet and an upgraded bathroom with panoramic views. 
The Ultimate Panoramic Suite accommodates up to four guests and is on deck 14 forward.
Since this suite is part of the Star Class suite in the Royal Suite Class, guests staying in the Ultimate Panoramic Suite can enjoy various benefits, including:
Royal Genie
Exclusive Complimentary Dining
Complimentary Ultimate Beverage Package
All-Day Access to Suites-Only Coastal Kitchen
Still and Sparkling Water Replenished Daily
Complimentary Coca-Cola Beverages and Water
Nespresso Coffee Maker
Access to Exclusive Activities such as the Bridge, Galley and Back Stage Tours
Spa Bathrobes for Use Onboard
Complimentary In-Suite Movies
Luxury Bathroom Amenities by L'Occitane
Duxiana Mattress and Frette Linens
This Royal Loft Suite picture was submitted by Brett Carb, from a cruise on Harmony of the Seas.
The Royal Loft Suite has two levels and provides more space than the Crown Loft Suite. The Royal Loft Suite offers even more living space, with 1,524 square feet and 843 square feet of balcony space.
Additionally, guests staying in this suite gain access to Star Class benefits, such as a dedicated Royal Genie.
These benefits also include upgraded bottles of L'Occitane shampoo, conditioner, and lotions in bathrooms, Mr. Coffee/Tea service, and Royal Caribbean bathrobes for use during the voyage.
Harmony of the Seas, another Oasis Class ship, possesses 18 decks, 2,747 staterooms, and 7 neighborhoods. 
In addition to the Ultimate Abyss, Perfect Storm, and Splashaway Bay, she boasts 6 complimentary dining venues and 9 specialty venues.