In:
There are a number of different types of cabins on a modern Royal Caribbean cruise ship. Something to suit every budget and preference.  
Balcony rooms are the most prevalent cabin type, but for those who don't think they need a balcony as they just won't spend time on it, an oceanview (outside view) stateroom provides some natural light and views, at a more affordable price.
There is no right or wrong answer as to which is best, and the pros and cons vary by ship and sailing.
Here are some factors to consider when selecting an oceanview versus a balcony cabin.
Price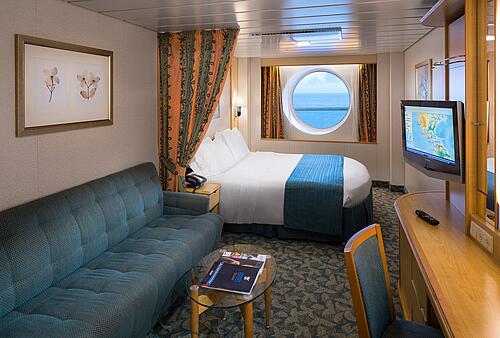 Price is an important consideration for planning any vacation and travelers want to get the most they can within their budget.
Oceanview and balcony rooms vary in price, but generally, a standard oceanview room is less expensive than one with a balcony. The cost gap varies from ship to ship and sailing to sailing.  For some itineraries it is as small as $50 per person, for others, it can be $500 per person.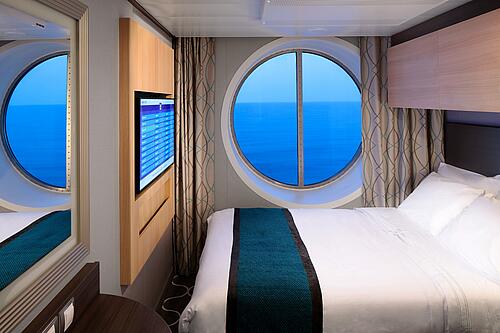 For a family of 4 that can add up to a lot of money that can be used for other activities like shore excursions, specialty dining, or drink packages.
Read more: Interior vs Balcony staterooms on a Royal Caribbean cruise
Advantage: Oceanview staterooms
Room Size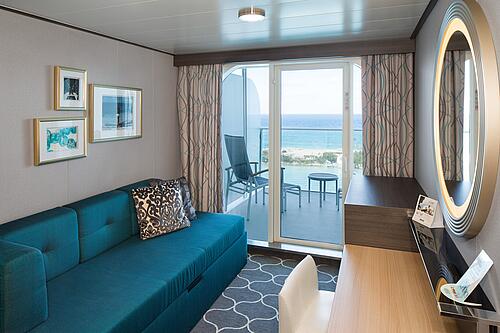 All cabins are not created equal.  Balcony staterooms are slightly larger than those with an oceanview but again differ between ships, so it is important to know what you are getting. It is always a good idea to have a look at the ship's deck plans to review room features and location prior to booking.
As an example, on the Symphony of the Seas, currently the largest ship sailing in Royal Caribbean's fleet, most oceanview rooms are 179 square feet whereas a standard balcony cabin is 182 square feet, plus  50 square feet of balcony space. Not a lot of difference in the actual room size.
By contrast, on the Adventure of the Seas, part of the Voyager class, a standard oceanview is 161 square feet and a balcony room is 198 square feet plus 46 square feet of balcony space. A bit more of a difference in size.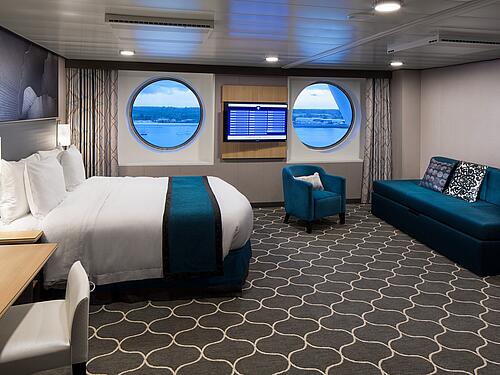 While it sounds like a balcony room is a runaway win, there are the family oceanview cabins to consider.
On many Royal Caribbean ships there are family oceanview rooms, which are usually located at the very front or very rear of the ship and offer a ton of living space, meant to be shared by families of 4 or more guests. 
These family rooms have only portholes, but can include an extra bathroom and separate sleeping area for the kids.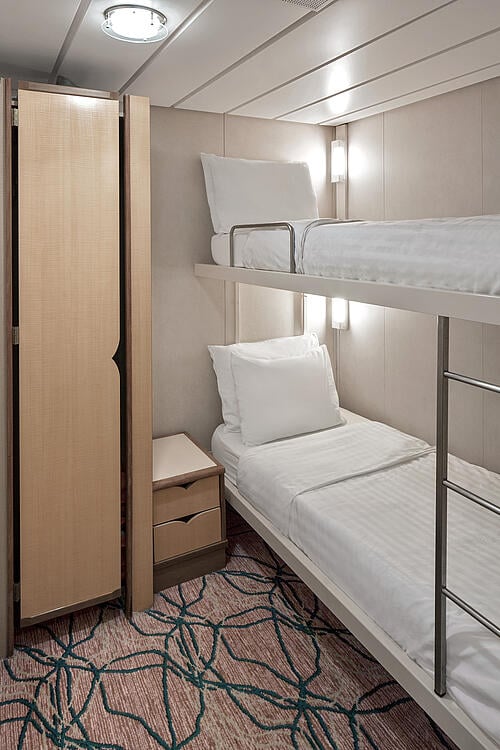 These family oceanview rooms are a great alternative to a suite, or even two connecting rooms, provided you can snag one before they get booked up.
Advantage: Balcony staterooms
Perks of a balcony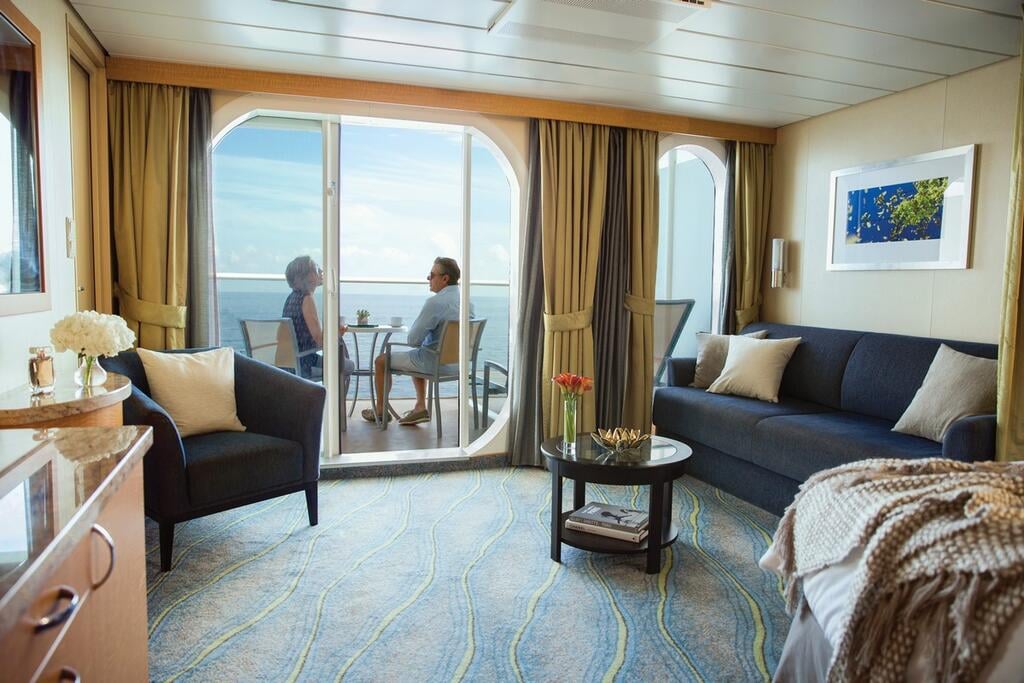 A standard balcony room will typically have 2 chairs and a table. There are partitions that separate guests from their neighbors, and some can have obstructed views by a portion of a lifeboat, equipment, or part of the ship.
Some guests see great value in having a balcony. With Royal Caribbean offering free continental breakfast room service, cruisers can savor a more relaxing start to their morning on their balcony or enjoy the fresh sea air breezes flowing through the cabin.
Read more: Balcony room on a Royal Caribbean cruise: Is it worth the price?
The itinerary is also a consideration. How much time you will relax on your balcony may vary depending upon whether you are sailing in the Caribbean or traveling north on a voyage to Alaska where even in summer the temperature may only reach the low 60s.  Some trips like the Mediterranean cruise may only have 1 sea day, providing much less time to use a balcony.
Advantage: Balcony staterooms
Room Availability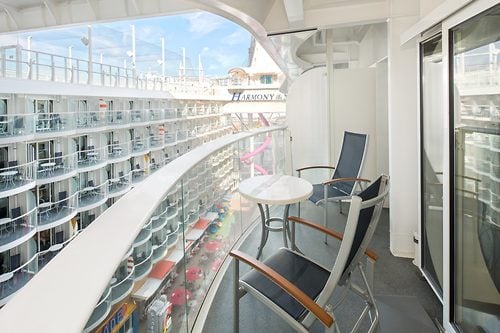 Oceanview cabins just aren't as plentiful as those with a balcony on most cruise ships.
On the Symphony of the Seas, only 6% of cabins are oceanview, whereas 65%  have balconies (not including suites). Adventure of the Seas has more, with oceanviews making up 14% of total rooms. A little more choice makes them a little easier to get.
There are also a few larger oceanview rooms, such as the Ultra Spacious Ocean View, which has 328 square feet and sleeps 6, a great option for a larger family not wanting to get two cabins There are also a number of accessible oceanview rooms.
Advantage: Balcony staterooms
Location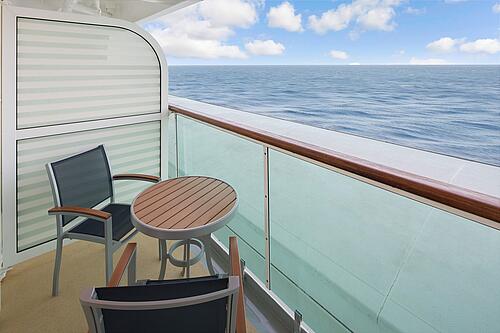 Balcony rooms are located throughout the ship. Some people have strong preferences about location, preferring midship or lower level decks, especially for those who suffer from sea sickness.
Oceanview rooms don't necessarily have the same selection, on the Symphony of the Seas, most are concentrated in the bow (front) of the ship, especially on lower decks. The new Odyssey of the Seas, has oceanview cabins on various decks, providing more options for location.
Given the limited number of oceanview cabins on cruises, you are more likely to get the desired location with a balcony.
Advantage: Balcony staterooms
Cruise Length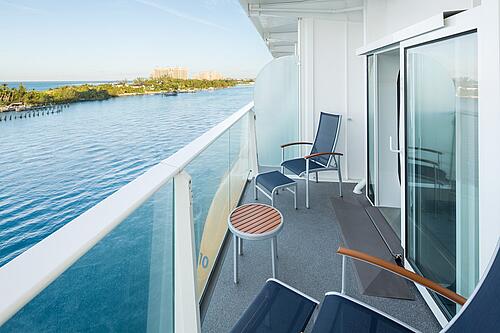 The duration of your cruise can be a major factor in deciding which stateroom category makes more sense.
The difference in prices between oceanview and balcony can be more significant on longer cruises. If you want to splurge for a balcony, a shorter cruise with savings of less than $50 per person, might be the time to try it and assess the value for yourself.
For a longer cruise of 7 nights or more, guests will have more time to spend on their balcony, however, the cost differential will be higher.  Look out for deals on repositioning cruises, with great deals on all rooms, including balconies, because they are harder sailings to fill.
Advantage: Balcony staterooms
Verdict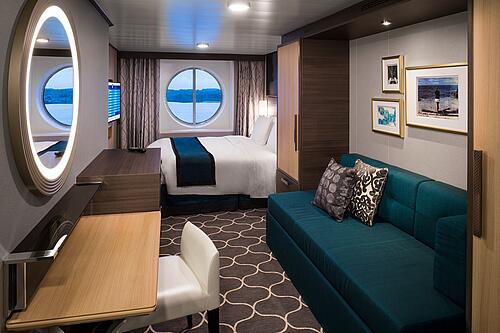 Whether it is worth it for you and your traveling party to pay more for a balcony stateroom depends upon your preferences, budget, and how much time you will be spending in your room and use your balcony.
If you like having extra space with views, balcony staterooms score points. And if you don't get to travel very often and want to experience a little extra and treat yourself, it can be a good way to go. Sitting on a balcony, with peaceful ocean views can be a great opportunity to de-stress and recharge on vacation.
For those who want to maximize their budget (and maybe travel more) the savings from an oceanview room can be put to use elsewhere. There are plenty of public places onboard to relax and enjoy the sea air. And if you have a busy, port intensive itinerary, a lack of balcony may not be missed.