In:
Whether you are taking a weekend cruise to the Bahamas or on an epic sail to the furthest destinations, there are a lot of cruisers who think booking a balcony cabin is worth it every single time.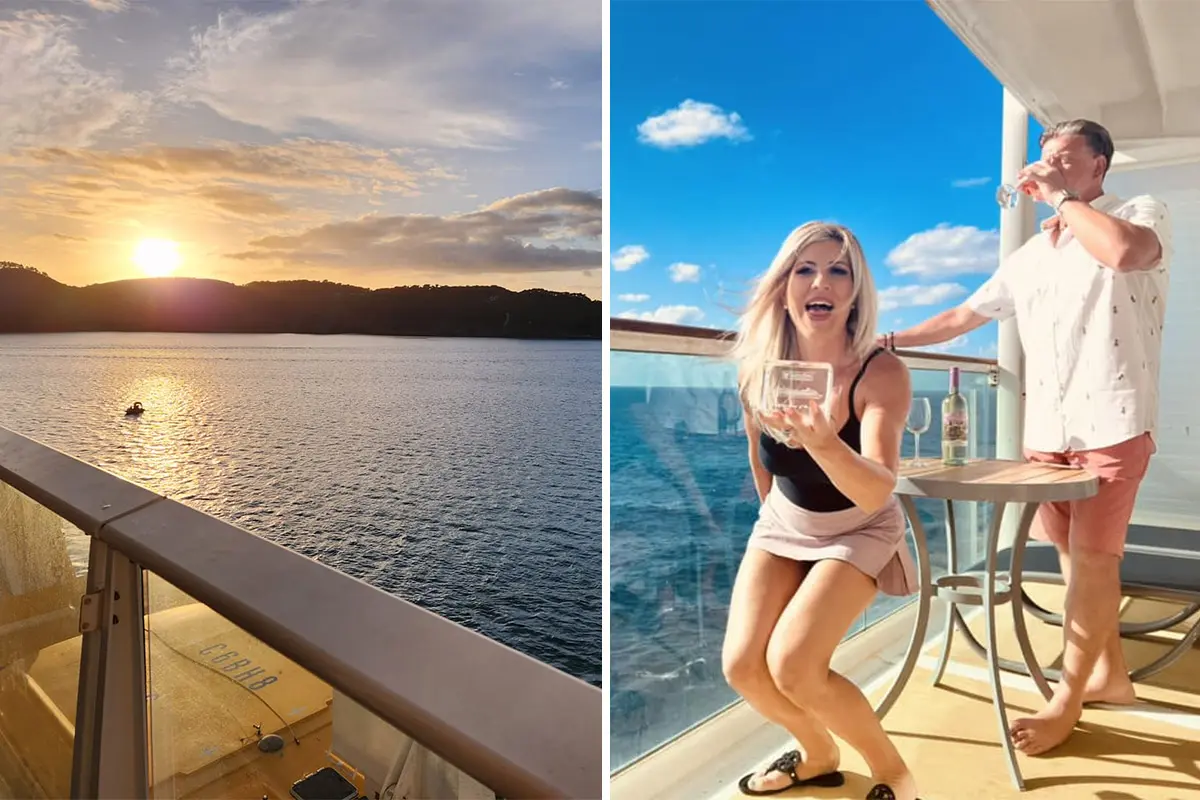 What makes a balcony room so popular is the private space that gives a convenient means of seeing the beauty of the ocean and landscapes your ship visits. No matter where your ship takes you, being able to have a view from your own veranda really makes a difference.
As a matter of fact, balcony cabins are the most popular type of cabin you'll find on pretty much any cruise ship, and plenty of cruise fans love these rooms too.
Although balcony rooms do come at a higher cost than interior cabins, the extra cost can be justified by the stunning experience and private comfort. If natural views and private spaces are a priority to you, a balcony room may be the best option for your cruise vacation. 
We posted a challenge to our readers on the Royal Caribbean Blog Facebook page to share with us their best balcony photo, the sort of photo that really evokes what makes this cruise ship room category so desirable.
After receiving hundreds of entries, here are the top 19 balcony photos our readers took on their Royal Caribbean cruise.
Picture from Alessandra Stover.
This fun submission shows some of the beautiful advantages of a balcony cabin. While considering the pricier balcony option, remember the beautiful sunlight and sea view you'll have available. 
If you're celebrating or wanting special time with your loved one, a balcony room also provides a romantic and private outdoor space for couples to enjoy. You can see the ocean, stargaze, and enjoy meals outdoors, all from the comfort of your own room. 
 
Photo from Shearin Kidd Johnson, Independence of the Seas.
This view of Perfect Day At Coco Cay is from one of the Independence of the Seas' balcony staterooms. This balcony room allows cruisers to view their destination as the ship approaches—a fun preview of what's ahead!
The Freedom Class Independence of the Seas boasts fifteen decks and 1918 staterooms, 724 of which are balcony options. You can guarantee a unique and beautiful balcony view on this ship, with a wide array of choices. 
Photo from Josh Overmyer, Jewel of the Seas.
This view from Jewel of the Seas reveals one of the major benefits of a balcony room: the sights of the ocean all around! Josh wrote that "this was the view I stared at all the time, so I took this photo and used it as my phone background ever since!"
If you're going on a cruise and enjoy a beautiful sea view, a balcony room will allow you to maximize your time with visible ocean views. Especially for a shorter cruise, taking the balcony option will ensure you get your money's worth of the water. 
Photo from Dawn Flowers Gratzke, Wonder of the Seas.
Dawn's photo shows a loft suite on Wonder of the Seas, complete with two levels.
For larger families, or those with young children, a loft suite can provide a bigger space and a more flexible schedule. Instead of leaving the comfort of your room to explore the public deck, you can experience the ocean right outside your room. 
Families will also appreciate the separate spaces: there's always another area available if you need some peace and quiet.
Read more: Royal Caribbean suites guide & review
Photo from Kelly Lene-Tarman.
Deciding between an oceanview stateroom or a balcony? Keep in mind that a balcony stateroom is typically bigger and offers a private, outdoor seating area rather than just an ocean-facing window. 
If you want an extra area to enjoy breakfast and coffee, feel the wind on your face, and actually experience the outdoors, consider booking a balcony room. 
Photo from Dana Fox, Alaska.
Photographers and nature lovers will appreciate a balcony view on beautiful natural cruises like Alaska. The closer view provides fantastic views and photo opportunities from sunrise to sunset. 
Photo from Karin Geistert Reinhart.
Planning on bringing a furry friend along? Service animals, such as Karin's, are permitted onboard, so consider their experience in the stateroom as well. 
Pets will need more space and fresh air than a typical cabin provides. Consider booking a balcony room to make sure your pet has just as positive an experience as you do. 
Photo from Taryn Dawson.
Taryn's photo displays another fun aspect of a balcony stateroom: the deck views. Even with a view of the ship's deck instead of the ocean, this room still offers natural light, an extra outdoor space, and a viewpoint to people-watch and preview the ship's activities. 
As opposed to a suite, this balcony stateroom will still have a larger space and more perks and benefits included. 
Photo from Judy Vang.
Still wondering if a balcony stateroom is worth it? You can also consider factors such as the amount of time you will spend in the room. If you think you'll spend a lot of time in your cabin, you'll want to invest in a more quality, enjoyable room. 
For families with small children, it could be a long task to herd enough down to a main, public deck. Napping babies will also keep you close to the bedroom while they're asleep, leaving you wishing for an extra space to spend time in. With a balcony, you'll have that extra space and a method of entertainment for any other impatient children.
Photo from Katie Meyers.
"Golden Girls while the sun is coming up," Katie commented. As mentioned previously, a balcony allows you to set your own schedule when it comes to mealtimes and downtime spent out on the water. 
Traditional dining times in the main room are limited. For example, an early riser like Katie might be up as early as five A.M. But traditional breakfast doesn't begin until 7-8 A.M. Having a balcony space gives you something to do while you wait for that traditional schedule to open up. 
Photo from Ashley Holenstein.
If you're worried about motion sickness or seasickness at all, a balcony might be a safer option. 
Having a larger room midship minimizes the ships' movement around you, making it feel more stable than in a smaller fore or aft room. In a balcony, you can also focus more clearly on the outdoors and the line of the horizon, keeping you stable and in sync with the ship's movement. 
Photo from Collin Hext, Adventure of the Seas. 
This photo shows a gorgeous balcony view of Cozumel, Mexico, from a Junior Suite on Adventure of the Seas. 
The Adventure boasts fourteen decks and 1,963 ​​staterooms, 125 of which are suites. The Junior Suites on this ship are some of the smallest suites, at 277 square feet, but they are still larger than other balcony staterooms.
As the cheapest of the suites available, Junior Suites have some—but not all—perks included, such as bathrobes, expresso machines, luxury bathroom amenities, and priority boarding. 
Read more: I stayed in the cheapest cabin on Adventure of the Seas. It was small and windowless, but for $300 a night, it was a great deal. Take a look inside.
Photo from Leigh Michael.
Leigh's submission shows an amazing view of the Sydney Opera House, another example of the many views available from a balcony stateroom.
Cruises will, of course, provide a beautiful view of the sea. But ships visiting particular sites or cities, such as Royal's Caribbeans' new itineraries going to Australia and New Zealand, can provide a spectacular view of classic tourist sites and city scenes. 
Photo from ​​Jana Mishelle.
Are you worried about spending extra money on excursions? With the investment in a more upgraded room, you can stay in and relax with a glass of wine or a book, all while getting a great view of the port! 
Staying in while the rest of the ship enjoys a port excursion can be a great way to enjoy some peace and quiet, especially if you have a balcony to yourself.
Read more: 7 ways to have a great time in port without a cruise ship shore excursion
Photo from Chris Slaight.
When it comes to the best cabin locations on a cruise ship, a hump balcony is one of the best balcony options. 
The hump balcony staterooms are the cabins on the middle outer edge, whereas the line of the ship curves outward. These rooms usually have a larger balcony and more space, in addition to being more centralized to the rest of the ship. 
Photo from Sandi Harris Villano.
This submission shows another Junior Suite view, this one from the Vision of the Seas, a Vision Class cruise ship. 
The Vision Class ships are the oldest and smallest of the Royal Caribbean ships. Although they include most of the typical entertainment and amenities you would expect from a Royal Caribbean fleet, the room sizes are smaller and the activities less modern.
For example, the Junior Suites on Vision of the Seas are just 243 square feet. If you are planning a Vision Class vacation and room size is an important factor for you, consider upgrading to some of the larger rooms.
Read more: The rare cruise ship cabins that everyone wants to book immediately
Photo from Ellis Mingin, Oasis of the Seas.
As a step up from the Junior Suites, this view from a Grand Suite cabin on Oasis of the Seas shows just how big the 371 square foot room looks. 
One of the large Oasis Class ships, Oasis of the Seas boasts eighteen decks and 2,801 staterooms. In addition to the modern activities and famous entertainment available on all Oasis class ships, purchasing a Grande Suite cabin will earn you perks such as priority boarding, free luxury amenities, concierge services, access to the Suite Lounge, priority boarding, priority bookings, ship tours, VIP pool deck seating, and so much more. 
Photo from Stacy Leveille, Freedom of the Seas.
This view of Castries, St. Lucia was taken from deck ten of Freedom of the Seas, a Freedom Class ship. 
Hailing from the midsize Freedom Class ships, Freedom of the Seas has 14 decks in total, with 1,963 staterooms. Between the Freedom's balcony options, the Deluxe is 177 square feet, while the Superior upgrades to 189 square feet. For a medium-size ship, the balcony rooms are a larger upgrade.
Read more: 10 things you should know before cruising onboard Freedom of the Seas
Photo from Scott Ciarlone.
"Love me an aft balcony!" Scott wrote. An aft balcony overlooks the back of the ship, displaying a wider view and different perspective than available from other balcony staterooms. 
The aft balconies are popular because they offer a larger balcony space and a special view of the wake of the ship as it passes through the water.