In:
If you have an upcoming cruise onboard Freedom of the Seas or are just curious as to what you can expect on this ship, we have a first-hand look at what's happening onboard.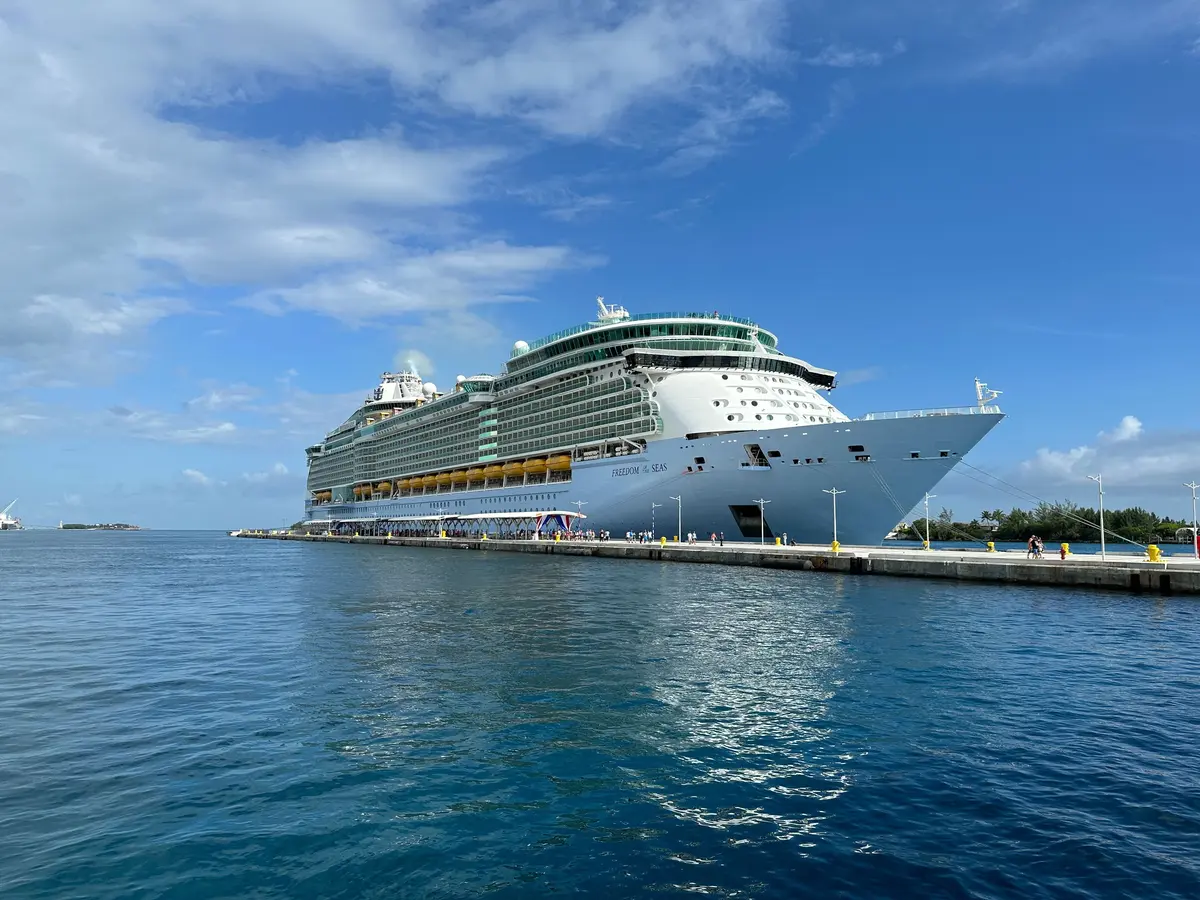 Freedom of the Seas is a Freedom Class ship that was initially launched in 2006. In early 2020, she underwent Royal Caribbean's Royal Amplification program and received $116 million in upgrades. This means that if you sailed onboard prior to the pandemic, you would have had a different experience, as the ship received new venues, as well as updated some of their old ones. 
This was not my first sailing on Freedom of the Seas. My first-ever Royal Caribbean cruise was a 7-night Eastern Caribbean cruise back in 2011, so I was eager to see how the ship compared to my childhood memories. 
Here is a look into what it is like to sail on Freedom of the Seas in 2023. 
The boarding process
On embarkation day, I arrived just a few minutes shy of my check-in time of 12:30pm. I left my hotel, which was located near the Miami International Airport (MIA), at 11:30am and, after a quick stop at Target to pick up sunscreen, was at the terminal by 12:20pm. 
Related: The costly cruising mistake newbies make planning their first cruise
There was minimal traffic driving into the port, and I was able to quickly locate a porter and drop off my luggage. 
There was no line to enter the terminal, either. In fact, they were instructing people with check-in times as late as 1:30pm to go ahead and go inside. 
As soon as you enter the building, you ascend up an escalator and are greeter by port agents who instruct you to an available check-in agent who will scan your Set Sail pass, verify your travel documentation (i.e., passport or birth certificate/photo I.D.), and update your security image, if not done beforehand. 
Afterwards, you go through security and head up another set of escalators to get your embarkation picture taken and officially board the ship. 
To date, I think this was one of the quickest check-ins that I have ever had. Usually, I select the earliest possible time and am often seated before being able to board. Since I had a later time, I was worried that I would be faced with long lines. Within fifteen minutes of arriving at the terminal, I was onboard and exploring the ship.
Rather than go to the Windjammer for lunch, I opted to head up to the pool deck and grab something to eat from El Loco Fresh. There was a short line, but it as nothing like the nearby Windjammer. Plus, the timing worked out great because as soon as I finished lunch, staterooms were ready to be accessed.  
When sail away rolled around, I was able to easily find a spot on Deck 12, despite showing up a few minutes into the party. I had a great view of both the passing scenery and lively atmosphere on the deck below, which was pretty crowded. 
Disembarkation
The only other times I have cruised out of Miami have been onboard Symphony of the Seas. Both times were hectic due to the amount of people trying to leave the terminal (and port) at once. 
When I got my luggage tags, I was assigned group 37. On disembarkation morning, however, my app said that I was group 35. Rather than waiting until 9:15am, I was able to get off the ship around 8:40am. Within twenty minutes, I was outside waiting for a Lyft. 
Since there was less traffic that I anticipated, I only had to wait ten minutes for my ride to make its way to the pick-up spot. Overall, it was a smooth and quick disembarkation! 
Accommodations 
My home for my 4-night cruise was an interior stateroom located in the aft on the ship on Deck 8.
A few weeks ago, I stayed in another interior stateroom onboard Navigator of the Seas and am truly a fan of Deck 8 on Voyager and Freedom Class ships. It is only three decks below the pool deck and Windjammer and three above the Royal Promenade, meaning that I found myself using the stairs more often than the elevators!
Related: What it's like to cruise on Royal Caribbean's Navigator of the Seas in 2023
While the cabin was dated (as expected), it was comfortable and had everything that I needed, from a mini-fridge to keep my bottled water cool, safe in the closet, and plenty of hangers for my clothes.
If I was traveling with another person, the lack of outlets would have frustrated me, as there were only two located on the desk. 
I was pleasantly surprised by the water pressure in the bathroom, both in the shower and the sink! It was probably the best that I have experience on a cruise yet. I did not have any issues with water temperature, either. 
Dining
Since everyone has different tastes and preferences, cruise ship dining is a subjective topic. My favorite meal may be someone else's least favorite! 
On this particular sailing, I skipped the Main Dining Room for dinner. Instead, I ate at the Windjammer, Sorrento's, Playmaker's, and Izumi Hibachi, my favorite of which was Izumi. 
Out of the complimentary dining venues that I ate at, my favorite were El Loco Fresh and Sorrento's. They make for great quick-service bites; however, you can also make a full meal at either place depending on what you get.
A few slices for dinner while on a cruise may not be appealing to some, but it was exactly what I wanted after exploring Nassau and having a late lunch in port. 
Bar food is a favorite of mine, so a stop at Playmaker's is a must on any ship that has it. This was my first time trying the wings, and I was a little disappointed. While they satisfied my need for something spicy, the chicken wings themselves were not the best quality. They were actually some of the smallest wings I have ever seen! 
Teppanyaki is one of my favorite dining experiences, whether on a ship or not. While onboard Freedom of the Seas, I ate at Izumi Hibachi for the first time. In the past, I have stuck exclusively to the sushi. 
The chef was a lot of fun, and I was able to substitute sea scallops for beef tenderloin, meaning that I got to enjoy both lobster and steak! I thought that this meal was worth the splurge and would do it again, especially since I used my onboard credit for the majority of the cost and only paid $13.00 out of pocket. 
Entertainment
Freedom of the Seas does not have a Broadway-style production like some other Royal Caribbean ships do. That being said, they had offerings each night to satisfy those looking to catch a show.
The first night, I saw the ice skating show, FreedomIce.com. Perhaps it was because it was the very first show of the cruise, but, unfortunately, the skaters took quite a few falls. 
My favorite part of the show was the soloist who skated during Gwen Stefani's "Rich Girl." She was extremely talented and flawlessly landed each trick. 
The first production show that was offered in the Royal Theater was Marquee, which showcased a collection of Broadway songs. As expected, the quality was not that of their other Broadway-style shows, but it was an entertaining forty-five minutes. 
The following night was the only headlining act of the cruise: Mike Marino, a comedian who has performed on "The Tonight Show," "The Martin Short Show," "Comics Unleashed," and "The Boomed Show." While I have seen better comedians on ships, there were some jokes that had the crowd crying from laughing, including his impression of what announcements would be like if he was a cruise ship captain. 
The show on the last evening was Once Upon a Time. Personally, I preferred this production over Marquee. It highlighted different fairytales, such as Cinderella, Rapunzel, Pinocchio, Sleeping Beauty, and Little Red Riding Hood. 
Numerous different game shows were offered, too, including "Name that Tune," "60 Seconds or Less," "Majority Rules," "The Crazy Quest," "Friendly Feud," and "If You Know It, Dance It."
Onboard activities 
There was no shortage of things to do onboard Freedom of the Seas, from organized events to onboard activities. You will find a FlowRider surf simulator, Perfect Storm water slides, mini-golf, rock climbing, sports court, ice skating, and more.
The colorful resort-style pool deck cannot be found on many older ships, so Freedom stands out in this way. It definitely gives the ship a more tropical and "new" feel. 
When it came to organized activities, there were offerings ranging from trivia and sudoku to sporting competitions, bingo, laser tag, archery, and karaoke. Checking the daily planner is crucial to ensure that you do not miss out on anything that sounds intriguing to you, as the only announcements pertaining to activities were in the evenings to tell guests about the shows. 
My cruise had a single sea day, so I planned to get up early to find a comfortable seat in the Solarium. I was surprised when 11:00am rolled around and there were still open seats, albeit not a ton. 
Onboard internet 
With download speeds of 26.2mbps upload speeds of 5.92mbps, the internet was not as fast as what I had experienced on Navigator of the Seas a few weeks prior; however, it was sufficient to send and receive texts, browse social media, and more. 
Ports of call
Nassau, Bahamas
My 4-night cruise went to Nassau, Bahamas and Perfect Day at CocoCay, with the first stop being in Nassau. I was most excited for this port, as the first phase of their $300 million port revamp opened just a few months ago. In the past, Nassau has been one of my least favorite destinations, so I wondered if this would change my perception. 
Now, the port is able to accommodate up to six cruise ships per day, including tree Oasis or Icon Class ships, meaning that the port can see up to 30,000 cruise passengers per day. Prior to the revamp, Nassau could accommodate 20,000 guests. 
After a short walk from the cruise berths, you enter a peaceful port area filled with local vendors selling anything from t-shirts to straw hats, alcohol beverages, jewelry, and more. You no longer have to exit the cruise port to do your souvenir shopping. 
Moreover, I appreciated the taxi stand inside of the port. If you want to take a cab to Atlantis, Cable Beach, or Baha Mar, all you have to do is walk up and get in the correct line.  
Related: Nassau, Bahamas opened the first phase of its cruise port revamp. Here's what's new and different
When, and if, you are ready to leave the terminal, you will exit right across the street from Pirate Republic Brewing Company, which has some incredible mozzarella sticks, and The Bahamas Shirt Company. When you are ready to return to your ship, you will enter the terminal from the same area. 
Between the new port area and the upcoming Royal Beach Club in 2025, I can see Nassau becoming a more desirable port of call. 
This was my fourth visit to CocoCay; however, it was the first time that there was only one ship in port. This gave the island experience a completely different feel. No matter when you strolled up to the beach, you could find a seat on the third or fourth row. 
Plus, there were plenty of tables at the Chill Grill for lunch. In the past, there have been times where I have struggled to find an open seat!  
If you would like to do something a little bit more active than lounge on the complimentary beach chairs, consider booking the Thrill Water Park. Here, you can ride the tallest water slide in North America: Daredevil's Peak.
There are numerous other water slides, as well as a fun wave pool, to keep everyone in your party entertained all day. You are also able to exit and re-enter the park with the tap of your SeaPass card, so you can explore the island in between rides. 
Those who want a more exclusive experience should look into booking a day pass to the Coco Beach Club. This section of the island has plush seating, a sit-down restaurant featuring more upscale dishes, and even its own pool. 
There are countless ways to enjoy your day at CocoCay; just make sure you research your options ahead of time!