In:
I almost always book an inside cabin when I cruise. Despite being the smallest, most basic cruise ship cabins, I find that I actually like these rooms.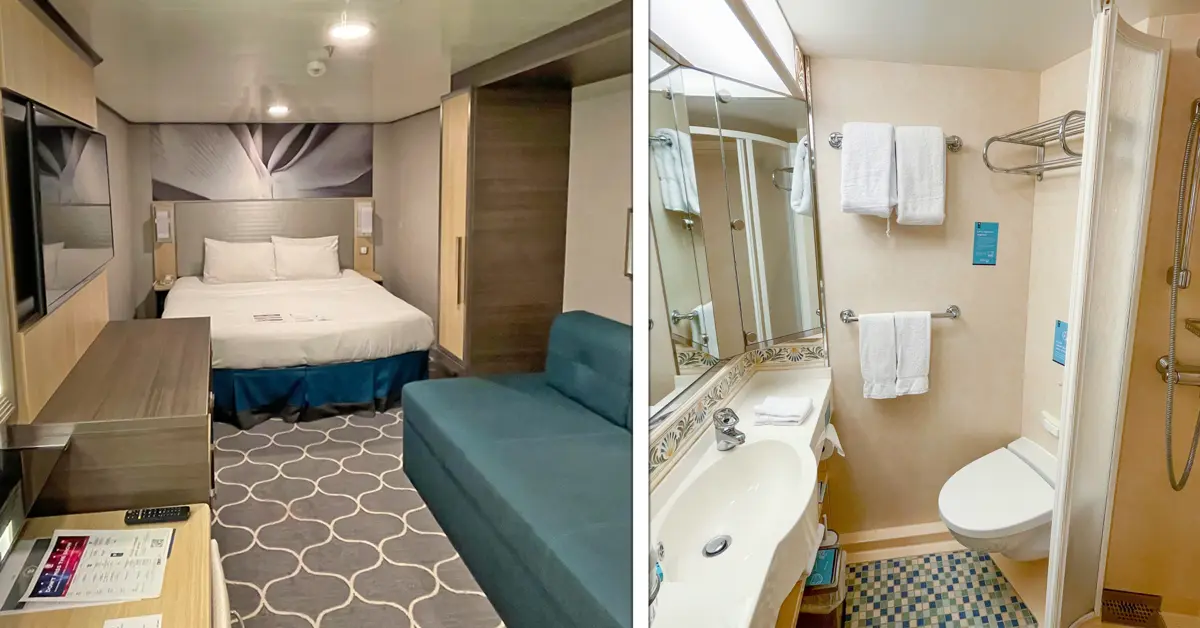 Not only do inside cabins save me money, but I find they come with extra perks as well. From a quieter cabin to a perfect night's sleep, I'll never complain about cruising in a cozy inside room.
Inside cabins definitely aren't for everyone, though. If you value the added space of a balcony or the exclusivity of a suite, a tiny, windowless room will not be the best choice. Likewise, having natural daylight in the room is a major plus for many cruisers, making an inside cabin a last resort.
Nonetheless, I continue to book inside cabins again and again when I cruise, and here's why I actually like these rooms.
Inside cabins are the quietest cabins onboard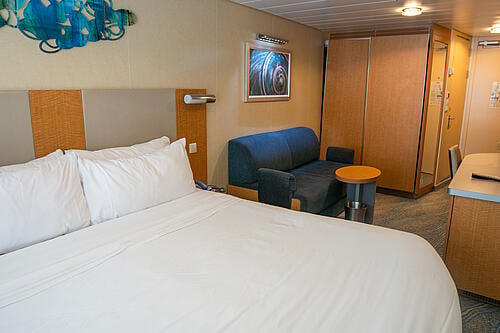 A few months ago, I stayed in a Boardwalk balcony cabin on Allure of the Seas. Although I appreciated the room's extra space and balcony views, I found the cabin to be much too noisy for my liking.
The Boardwalk neighborhood is full of activity during both the day and evening, and it was much louder than I expected when I initially booked the cabin.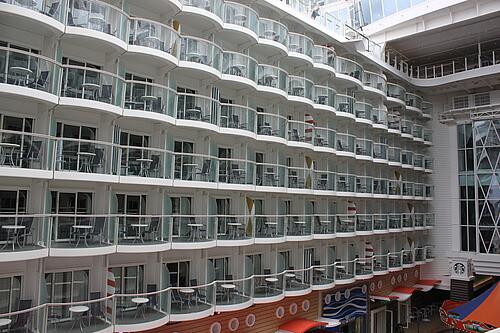 Related: Are Boardwalk Balcony cabins too loud?
The carousel, in particular, drove me a little crazy. My balcony was located directly two decks above the carousel, which played carnival-themed music for over ten hours each day! Even with the door closed, I couldn't stop the muffled sound of music entering my cabin.
An inside room, on the other hand, is impressively quiet. On my recent cruise, I rarely heard any noise above, below, or adjacent to my cabin. If I heard noise, it was almost always the loud flushing sound of a cruise ship toilet!
Cabins with balconies are more prone to noise, especially those located near the pool deck or within Central Park and the Boardwalk neighborhoods. You may find yourself hearing music, conversations, or activities happening from your balcony, which you won't encounter when staying in an inside room.
Related: Avoid these mistakes when picking a cruise ship cabin
Of course, you can still encounter noise in inside cabins. Older cruise ships, for example, have thinner walls than Royal Caribbean's newest ships, which may help noise travel from room to room. In addition, booking an inside cabin above or below a busy area of the ship—such as a nightclub or Adventure Ocean—can lead to increased noise levels.
In my experience, however, inside cabins have been more quiet than other staterooms.
Inside cabins are cheaper than other cabins, and this stretches my budget much further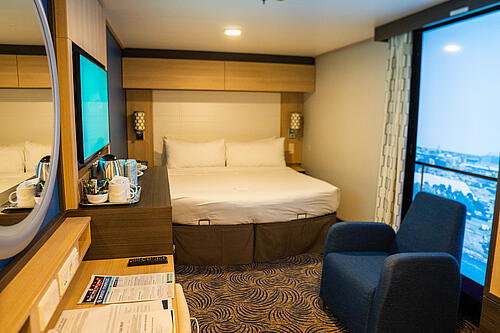 Inside cabins are almost always the cheapest cabin you can book on a cruise. As someone who prefers cruising on a budget, this is the primary reason I book inside cabins.
I've been on 16 cruises, and I've spent 11 of them in inside cabins. By doing so, I've saved thousands of dollars. Had I spent every cruise in an oceanview, balcony, or suite, I probably would not have been able to cruise nearly as much as I have!
Related: I'm a budget cruiser. Here are 8 easy strategies I used on my recent Royal Caribbean cruise to save money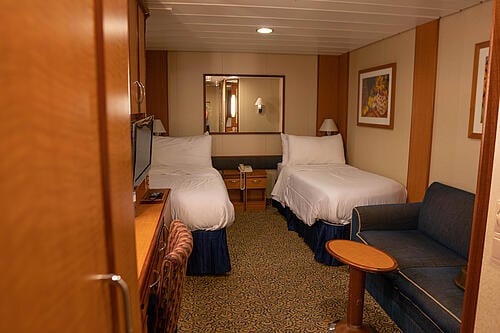 Booking an inside cabin means I can stretch my vacation budget further. On my recent cruise, I saved around $500 by sailing in an inside room instead of a balcony cabin. This $500 was put towards flights to Miami, shore excursions in port, specialty dining, and other incidental expenses during the cruise.
This isn't to say I'll never sail in other cruise cabins. Recently, in fact, I sailed in one of Royal Caribbean's most expensive and luxurious suites, and it was certainly an experience I'll cherish for a long time.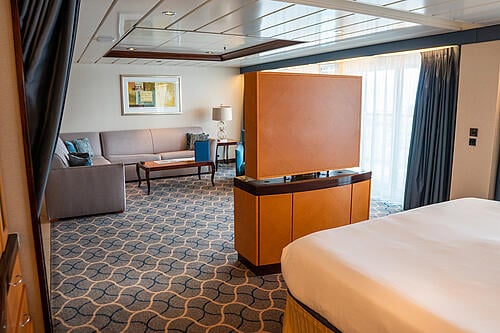 Related: I cruised in a suite for the first time. Here are 5 things I learned from the experience—and 3 I'd do differently next time
Additionally, I always reprice my cruise and email my travel agent about upgrade options before my sail date. Several times, I've been surprised to see upgrade options for as little as $90 from an inside to balcony cabin. It's always worth asking if prices have gone down prior to your sail date.
I sleep the best in inside cabins, as there is no natural light in the room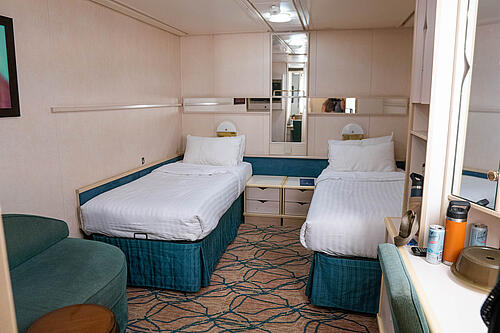 There's nothing quite like the sleep you'll get in an interior room on a cruise ship. Having no window or balcony to the outside means these rooms are pitch black when you turn the light off. For most passengers, including myself, this leads to a fantastic night's sleep.
Not only that, but taking a midday nap is easy when sailing in an interior cabin. I have a hard time napping at home, as I can never properly fall asleep with daylight shining through my window. In an inside room, though, I have no problem sleeping at any time of the day, whether 3AM or 3PM!
A post-port day nap is one of my favorite parts of cruising, and it's even better when staying in an inside room!
Not all inside cabins lack outdoor views
Certain Royal Caribbean ships have a virtual balcony, which is a large, floor-to-ceiling television screen projecting a live feed from outside the ship. Having stayed in two virtual balcony cabins, I find these to be a nice way to get an outside view at a fraction of the cost of a balcony cabin.
I'll admit the virtual balcony doesn't necessarily make you feel like you're looking at the scenery in real life, but it's still a nice cabin feature. Being able to easily see what the weather is like outside, if you've left port yet, and if it's day or night is helpful when staying in an inside room.
I don't know if I'd pay extra for a virtual balcony in lieu of a normal inside cabin, but it's still a nice option.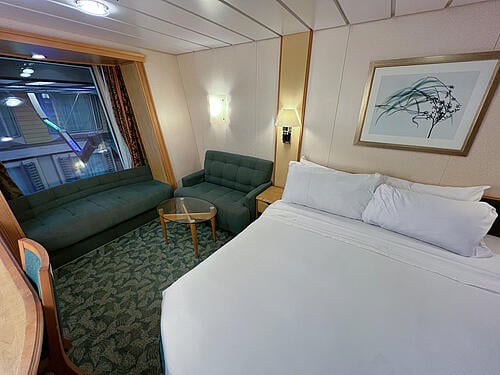 Voyager, Freedom, and Oasis Class ships offer a different type of interior cabin: a Promenade view room. These cabins have a window looking into the ship's Royal Promenade, a hub of shopping, bars, and activities.
Related: Everything about Royal Caribbean's Promenade View staterooms
Like other inside cabins, these rooms do not have a view of the outdoors, but they can be a nice middle ground between booking an inside cabin and an oceanview or balcony room.
Inside rooms "force" me to spend time in other areas of the ship
Whenever I've cruised in a balcony room or suite, I find myself spending a significant amount of time in my cabin instead of exploring the ship. Instead of attending trivia, seeing a show, or watching live music, I frequently choose to hang out on my balcony instead.
There's nothing wrong with spending time relaxing in my cabin, but I love how inside cabins almost force me to spend time elsewhere. Although inside cabins are cozy, there's no view to admire outside, and I'd much prefer spending my day in other, more interesting areas of the ship.
On my recent cruise in an inside room, I only visited my cabin to sleep, shower, and change. Instead of spending time in my small cabin, I spent my days lounging in the Solarium, enjoying a drink at the Schooner Bar, and catching a show at the AquaTheater.
With so much to do on a Royal Caribbean cruise, I almost felt as if I would be missing out on the cruise experience by spending time in my cabin!
Should you book an inside cabin on a cruise ship?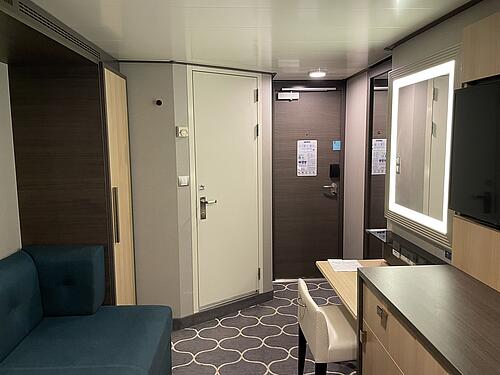 First-time cruisers often struggle with picking the right cabin for their cruise. After all, no one wants to make a mistake on cabin choice and regret their decision once the cruise begins!
Thankfully, there's no "wrong" cabin to book on a Royal Caribbean cruise. Regardless of whether you stay in the cheapest inside room or most expensive two-story suite, you can still have an amazing experience onboard.
If you're considering booking an inside cabin, consider the following factors before making your reservation:
Budget
Most cruisers book inside cabins to save money. Most of the time, you can save a few hundred dollars by booking an interior stateroom.
Take a look at your travel budget before booking an inside cabin. Would you rather save money on your cabin in order to afford shore excursions, dining packages, and drink packages? Or would you prefer to cruise in an upgraded stateroom and skip pre-cruise add-ons?
Every passenger has a different budget, and ultimately you are the only person who can decide what splurges to allocate your budget toward.
Price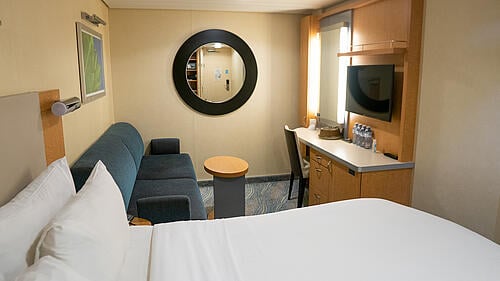 Although inside cabins are usually cheaper than other cabins on your cruise ship, it's not guaranteed. Before booking an inside cabin, be sure to check the price of oceanview and balcony rooms.
Depending on the sailing—and how far in advance you're booking—you may be surprised to see upgraded staterooms priced similarly to an inside room.
Travel style
Are you the type of cruiser who loves being out and about on the ship? Or do you prefer getting alone time with a book and an ocean view?
If your goal when cruising is to experience as much as possible—from entertainment shows to activities and nightclubs—an inside cabin may work well for you. With so much happening around the ship at any given time, it's unlikely you'll spend much time in your cabin throughout the sailing.
If you're a more introverted traveler, though, and would prefer a stateroom with a view, an inside room is probably not the best option. Although inside cabins are still comfortable, they aren't the most exciting place to hang out if you plan to spend significant time in your cabin each day!
Still deciding which cabin to book for your cruise? Check out more of our tips & tricks: