In:
I recently stayed in one of Royal Caribbean's most opulent cabins–an $870 per night Owner's Suite. Usually a budget traveler, I had no idea what to expect and whether the spacious cabin would be worth the hefty price tag.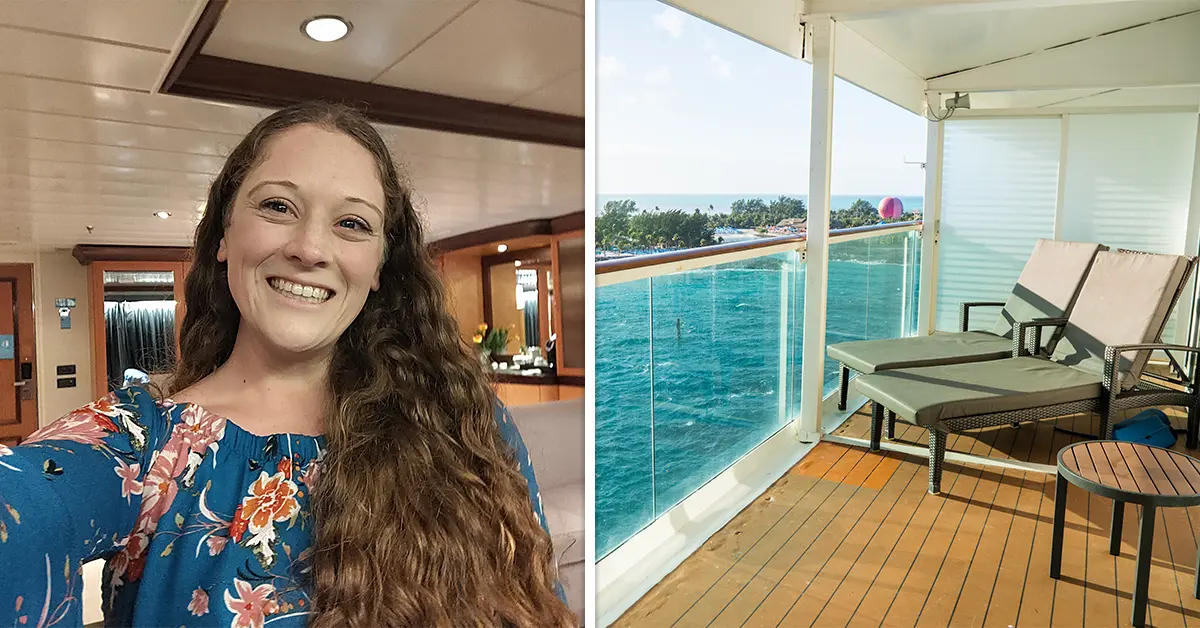 As someone who typically books the cheapest cabin on a cruise ship, I suddenly felt like royalty when skipping lines, hosting in-suite parties, and ordering free room service to our cabin's sparkly dining room.
Like anything new in life, though, my first time in a cruise ship suite was nothing short of a learning experience, and I certainly made a few mistakes along the way.
Here are 5 things I learned from my first suite experience and 3 I'd do differently next time.
1. The suite concierge is super beneficial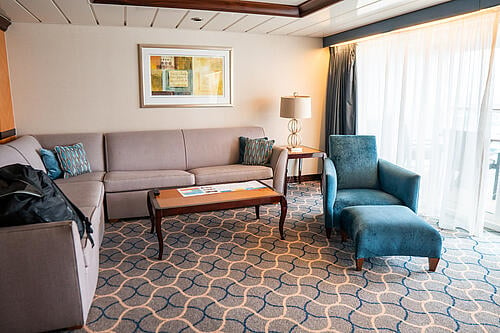 One perk of staying in a suite on Royal Caribbean is access to the suite concierge, a crew member who acts as a suite guest's own personal Guest Services during the sailing.
The suite concierge can go above and beyond what a regular Guest Services crew member can do. They can book shore excursions, make dining reservations, handle billing discrepancies, and answer any questions you have.
Before my cruise, I heard from other cruisers that the suite concierge would be extremely helpful during my cruise. I have to say, however, that I was skeptical. I rarely need any questions answered onboard, and I'm comfortable handling dining reservations and travel logistics on my own.
Related: What is the difference between suite concierge and a Royal Genie?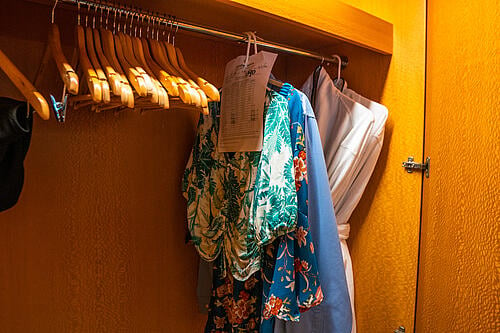 Yet in spite of my skepticism, I found myself feeling grateful for our suite concierge every day of the cruise.
As this was my first-ever suite experience, I had more questions than normal:
How do I get my formal wear pressed for free on formal night?
Which specialty restaurants are open on embarkation day?
How do we arrange to be escorted off the ship on disembarkation day?
Because a suite experience is so different from staying in a standard cabin, at times I felt as if I were a first time cruiser, so having concierge service was extra convenient. Plus, our concierge sent an introduction email the week before our cruise, allowing me to take advantage of these services before I even got onboard.
2. The exclusive breakfast at Chops Grille was a huge perk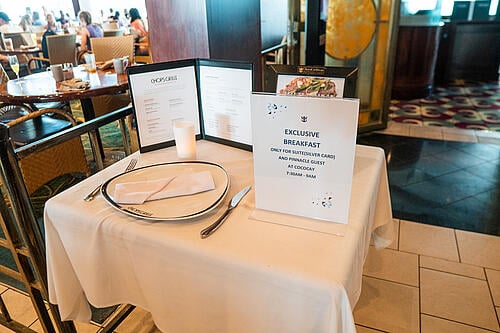 Prior to my Liberty of the Seas cruise, I was bummed I would not be able to experience Coastal Kitchen, Royal Caribbean's suites-only restaurant.
This exclusive restaurant is only available to suite guests on Oasis and Quantum Class ships. It has a breakfast, lunch, and dinner menu that changes daily, and offers a more upscale dining experience than busier venues onboard.
As a Freedom Class ship, Liberty of the Seas does not have a Coastal Kitchen location. Instead, a private breakfast is offered each morning at Chops Grille, and this ended up being one of my favorite parts of the suite experience.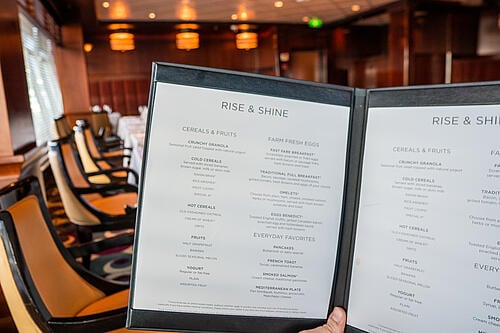 Each morning of our cruise, complimentary breakfast was offered in Chops Grille exclusively for suite guests. This menu featured an enhanced menu compared to breakfast in the Main Dining Room or Windjammer buffet, with both sweet and savory dishes.
Related: Food on a Royal Caribbean cruise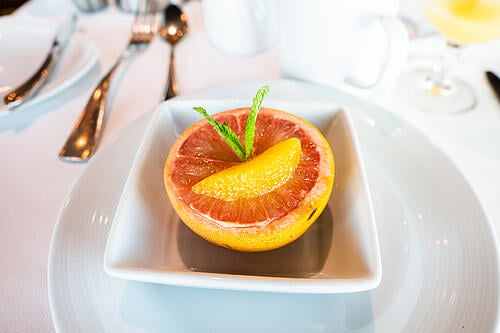 My favorite breakfast was a half grapefruit followed by French toast with caramelized bananas, although every dish I tried for breakfast was excellent.
The biggest perk of breakfast at Chops Grille wasn't necessarily the food, though. The best benefit was, by far, having a quieter, calmer dining experience than everywhere else onboard.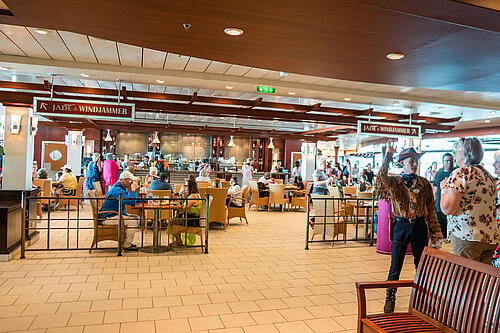 Mornings on a cruise ship–especially on port days–can be hectic as thousands of guests rush to eat before disembarking the ship. Just walking into the buffet each morning was chaotic, and seeking refuge at the suites-only breakfast in Chops Grille was a lifesaver.
3. Embarkation is so much easier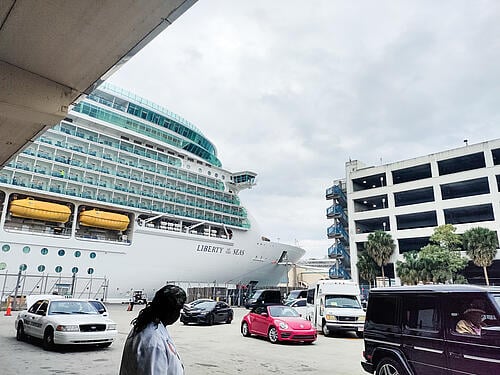 Nothing puts a damper on embarkation day quite like long lines in the cruise terminal, so I was extra grateful to be a suite guest while boarding Liberty of the Seas.
As a suite guest, I received priority embarkation in the cruise terminal. When I arrived at Port Everglades in Fort Lauderdale, I entered through a separate line and breezed through security and check-in in only five minutes.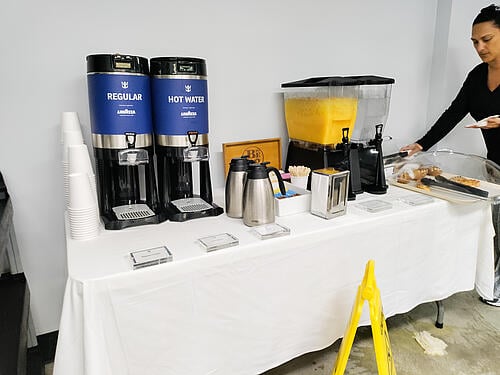 I then waited in a separate, suites-only waiting area until we could board the ship. I was surprised to see complimentary beverages and pastries available in the waiting room, which was an additional nice touch on the embarkation experience.
As suite guests, we were the first to board Liberty of the Seas, too, and were onboard much quicker than those staying in standard cabins. Starting off my vacation in a more comfortable, relaxed way was a wonderful perk of staying in a suite!
4. Despite initial skepticism, a suite can totally be worth the cost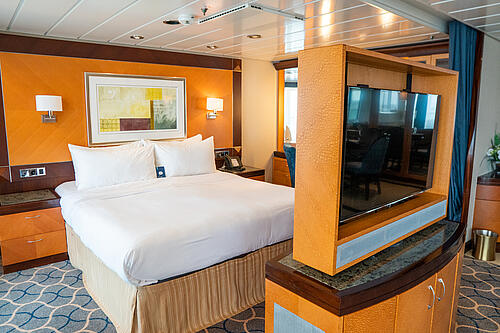 Ever since my first international trip in 2014, I've always been a budget traveler. I prefer stretching my vacation budget as far as possible, whether it means taking a bus instead of a train, booking a flight with a layover instead of a direct route, or reserving a hotel further from the city center.
My budget travel style transferred over to cruising, and I regularly book the cheapest cabins, avoid booking shore excursions, and dine primarily at complimentary restaurants.
So when I booked an Owner's Suite, I was skeptical it would be worth the cost. In fact, my initial article pitches involved titles such as "Why I didn't think my suite was worth the cost" and "10 reasons I'll probably never book a suite again".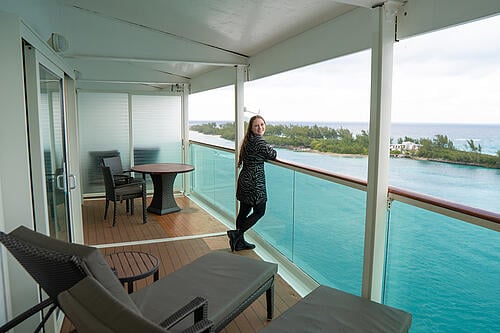 Let's just say my initial judgment was quickly deemed incorrect, and by the first few hours onboard, I finally understood why booking suites is so popular.
Having a suite enhances your cruise experience in a way you can't achieve in a lower category cabin. Even if you buy a dining package, book the most sought after shore excursions, and reserve a spa treatment, it won't come close to the level of luxury you'll find in a suite.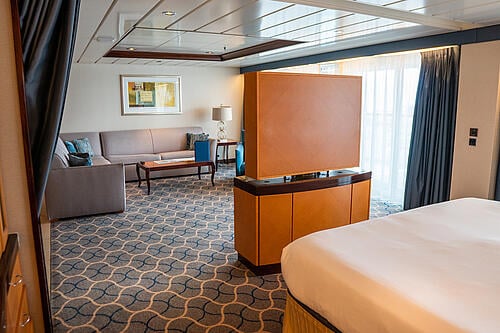 With a suite, you have an ultra spacious, private getaway from the busy activity found elsewhere onboard. You receive top-notch service and benefits, whether it's the free drinks in the Suite Lounge, concierge service, or free room service.
If you can stretch your vacation budget far enough to book a suite, it can be well worth the cost, particularly if you're celebrating a special occasion.
5. But… I also learned that I am 100% okay with booking cheaper cabins
As much as I loved my suite experience on Royal Caribbean, the final thing I learned from my time onboard was that I am perfectly okay booking standard cruise ship cabins.
Don't get me wrong, I appreciated every aspect of my Owner's Suite experience, but I definitely would not book a suite every time I cruise. Spending $3000 on one 3-night cruise in a suite is not nearly as appealing as spending the same amount of money for three separate sailings.
Whether in a suite or interior room, much of the Royal Caribbean experience remains the same. You can see the same shows, dine at the same restaurants, and visit the same destinations.
Although I might consider a suite if I find a great deal, I'm unlikely to book any $10,000 suites any time soon.
What I'd do differently next time I'm in a suite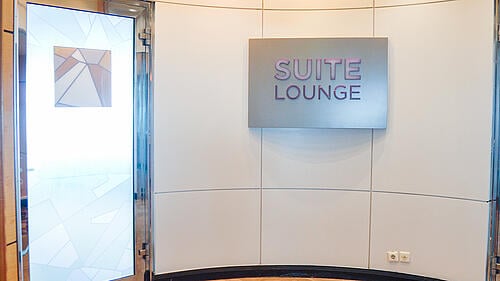 1. Take better advantage of the Suite Lounge
Suite guests on Liberty of the Seas have access to the Suite Lounge, a private space with comfy seating, an outdoor patio, private concierge, and complimentary food and drinks.
One of my biggest regrets from my suite experience is that I didn't spend nearly enough time in the Suite Lounge, especially during the evenings.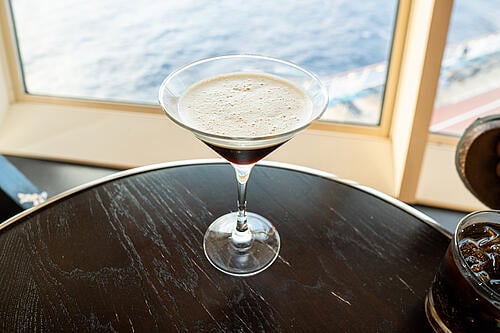 Each evening from 5-8PM, hors d'oeuvres and alcoholic beverages are provided in the lounge free of charge. Having access to free drinks onboard is a huge benefit, especially considering individual cocktails cost $14 each!
Plus, the lounge offers a quieter atmosphere than other bars onboard and–given its top deck location–has excellent views of the ocean.
Although I initially planned to spend time in the Suite Lounge each day of my cruise, I found myself too busy to take full advantage of this perk. Returning from port at 4PM each day and getting ready for dinner reservations at 6PM meant I had little time to enjoy the lounge in the evenings.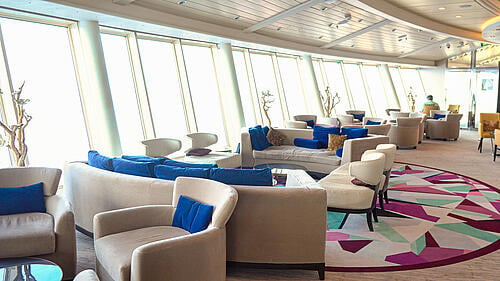 If I book another suite in the future, I'll reserve later dinner times so I'm not as rushed after port days and can enjoy the Suite Lounge to the fullest.
2. Order Main Dining Room meals to the cabin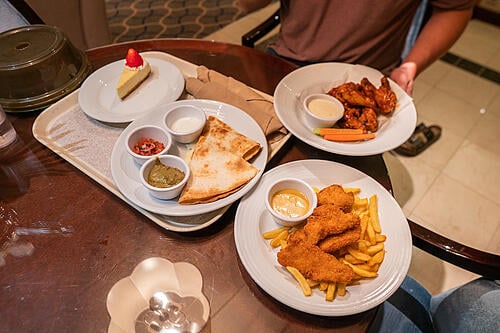 Free room service is an awesome perk to staying in a suite, and what makes this benefit extra special is having access to not only Royal Caribbean's standard room service menu, but the Main Dining Room menu.
Related: Royal Caribbean room service guide & tips
Suite guests on Liberty of the Seas can order food from the Main Dining Room menu during the restaurant's operating hours. You can order breakfast, lunch, and dinner from the Main Dining Room and have the meals delivered directly to your cabin.
Lunch and dinner menus from the Main Dining Room change daily. You can have French onion soup and pesto tagliatelle delivered one night and lobster delivered the next.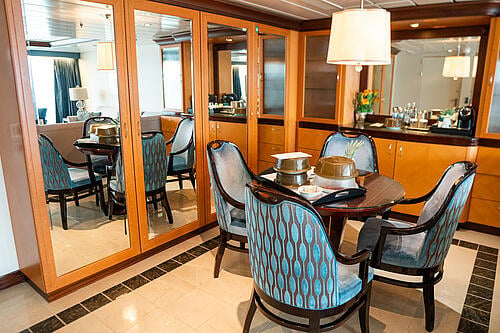 Because ordering from the Main Dining Room menu is only available for suite guests, it provides a more special dining experience compared to what you'll experience in a regular cabin.
Our Owner's Suite had a dining room table both inside and outside on the balcony, and I wish I had taken advantage of having Main Dining Room menu items delivered to our suite.
We were cruising with a large group, so we enjoyed dinner in the dining room each evening. If we were cruising by ourselves, though, I would have ordered dinner directly to the suite for a more intimate dining experience.
3. Book a cruise with a sea day
I booked this suite on a 3-night cruise that included port stops in Nassau and Perfect Day at CocoCay, Bahamas. Due to the cruise's short length, there were no sea days on the itinerary.
Due to the port-intensive itinerary, I found myself with limited time onboard–let alone in my suite. Sure, I could have skipped a port day, but then I would be missing out on the beautiful beaches of the Bahamas.
By the time I got back onboard after a port day, I quickly showered, changed, and headed to dinner. This left very little time to relax in our suite and take full advantage of Royal Caribbean's fantastic suite benefits.
Next time I book a suite, I'll choose an itinerary with more sea days so I can fully enjoy the suite experience.
Planning a Royal Caribbean cruise in a suite? Here are our best tips: