In:
The last Royal Caribbean International cruise ship to sail before the cruise industry shutdown will be the first one to restart operations.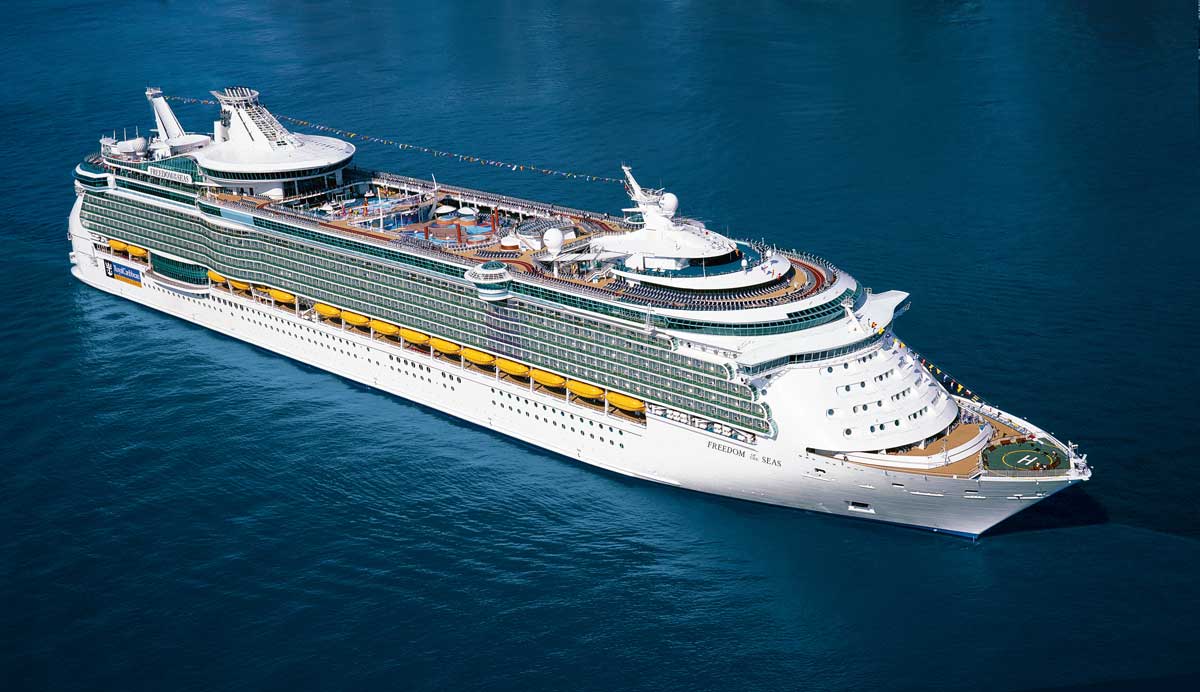 Royal Caribbean has received permission from the U.S. Centers for Disease Control and Prevention (CDC) to start test cruises in preparation for regular revenue sailings.
Royal Caribbean International President and CEO Michael Bayley shared the good news that Freedom of the Seas will sail her test cruises from PortMiami.
Royal Caribbean had teased over the weekend that it had submitted a proposal to the CDC in order to sail a test cruise, and just two business days later, they received permission.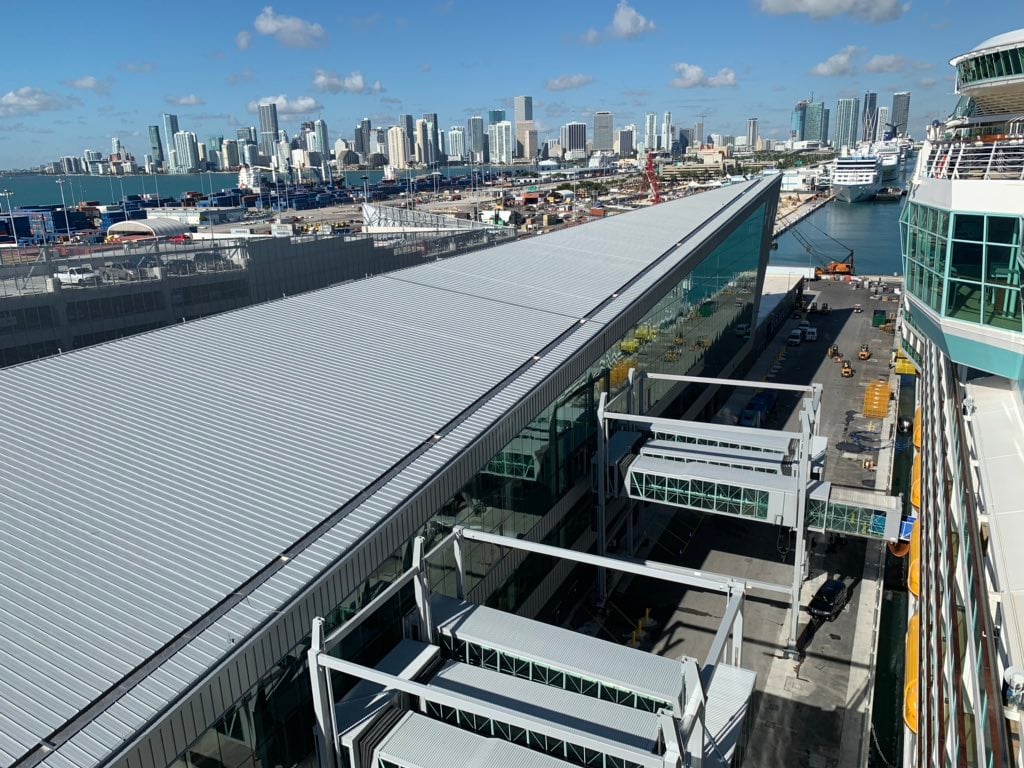 According to the letter by the CDC shared by Mr. Bayley, the test cruise can commence on June 20-22, 2021.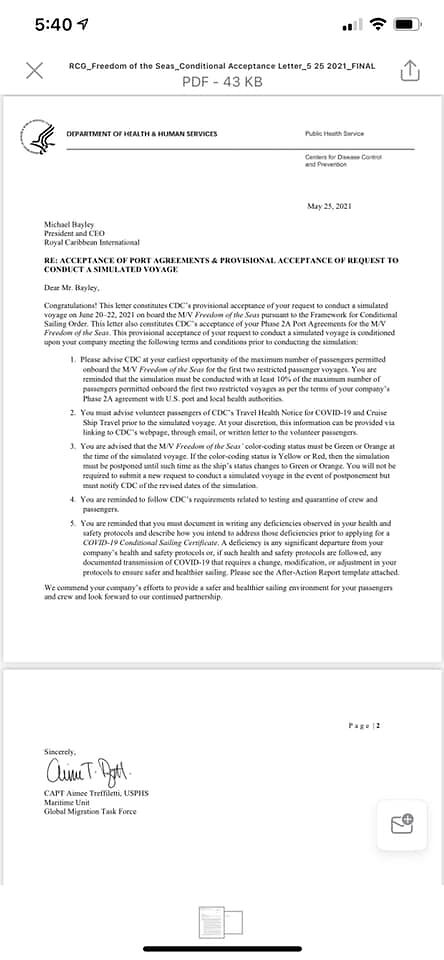 The CDC also stipulated a few key requirements before the test cruises can begin:
List how the maximum number of passengers on the first two restricted sailings.

There needs to be at least 10% of the maximum number of passengers on the first two restricted voyagers.

Volunteers need to be advised of the CDC's Travel Health Notice for Covid-19 and Cruise Ship Travel prior to the cruise
Freedom of the Seas must retain an approved color-coded status with the CDC leading up to the test cruise.
CDC requirements related to testing and quarantine of crew and passengers
Any deficiencies during the cruise must be documented

Essentially, a significant departure from the protocols that may occur onboard.
Read more: Here's how to sign up to be a volunteer for a Royal Caribbean test cruise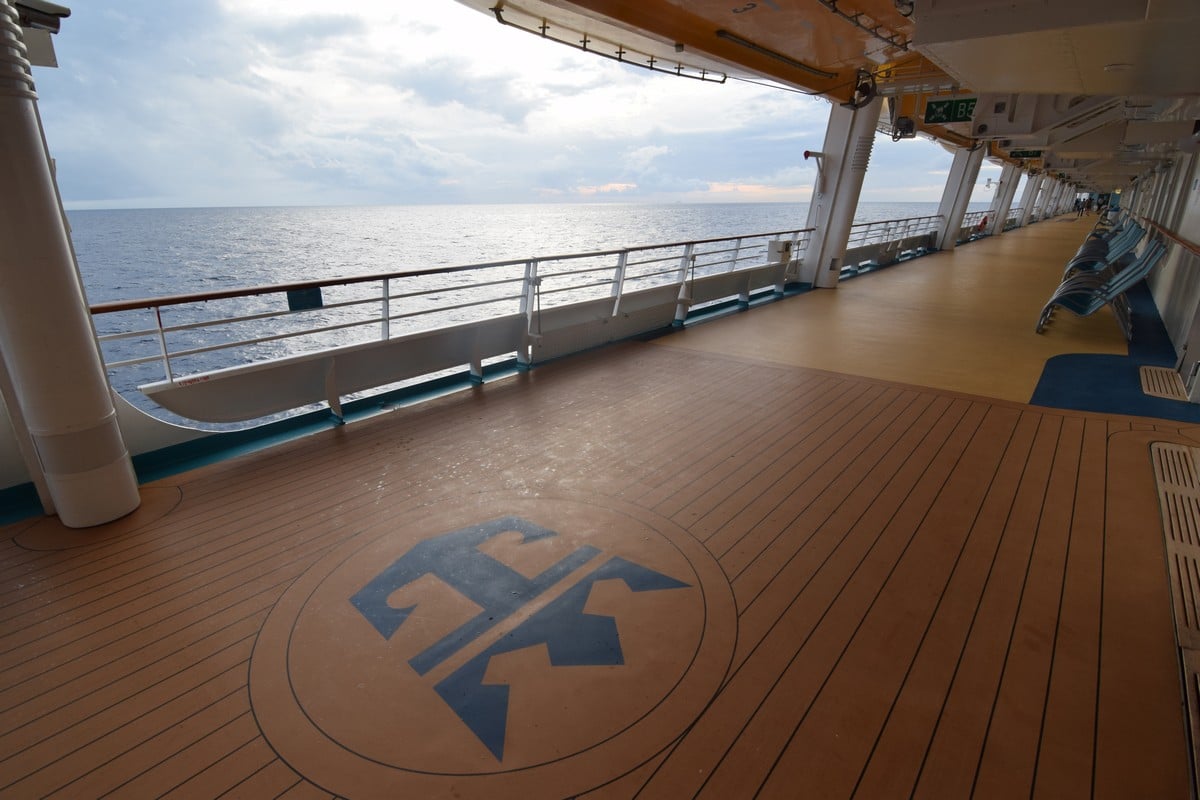 Simulated voyages (also known as test cruises) are when cruise lines can operate ships with volunteer passengers in order to prove their new protocols work.
These are not cruises you can book, but rather, are limited voyages where a cruise line invites certain unpaid volunteers to help go through all the necessary steps and procedures to ensure cruise ships can be run safely.
Each cruise ship needs to be approved by the CDC in order to conduct test cruises.
Read more: Everything you need to know about Royal Caribbean test cruises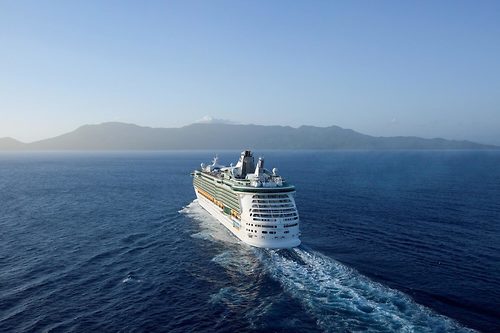 Mr. Bayley celebrated being able to get its first ship back in the water for operations, "After 15 months and so much work by so many during very challenging times.  To all our colleagues, loyal guests and supporters all over the world I am proud and pleased to share some bright and wonderful news!"
"Onwards and upwards team!"
Royal Caribbean issued a statement, welcoming the opportunity to get back to cruising, "After 15 months of hard work and collaboration, today's approval of our simulated cruises is the latest promising step in our path to return to sailing in the U.S.
"We look forward to welcoming our crew, loyal guests and supporters from around the world this summer. "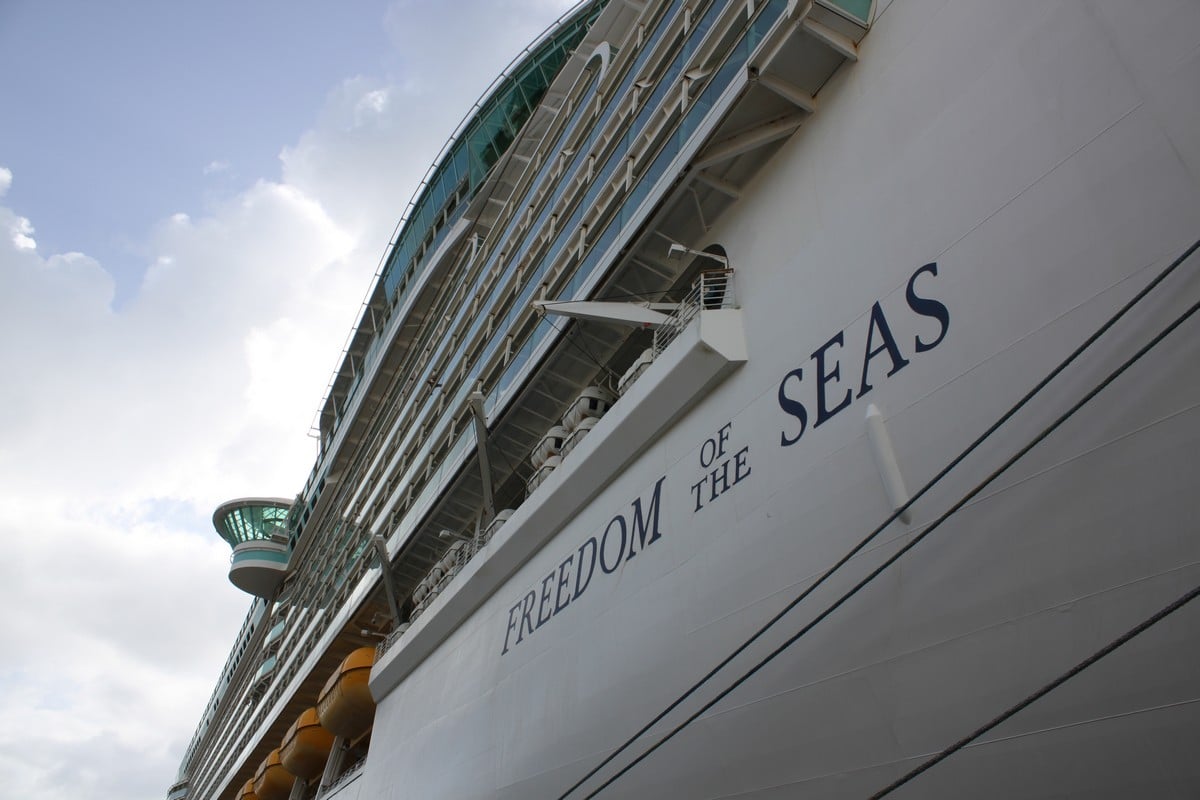 Freedom of the Seas was one of the last cruise ships to return to port once Royal Caribbean announced it would halt all cruises due to Covid-19.
The ship was actually denied entry to San Juan, Puerto Rico to finish its sailing, and had to tack on an extra few days to get to Miami instead.
CDC's test cruise requirements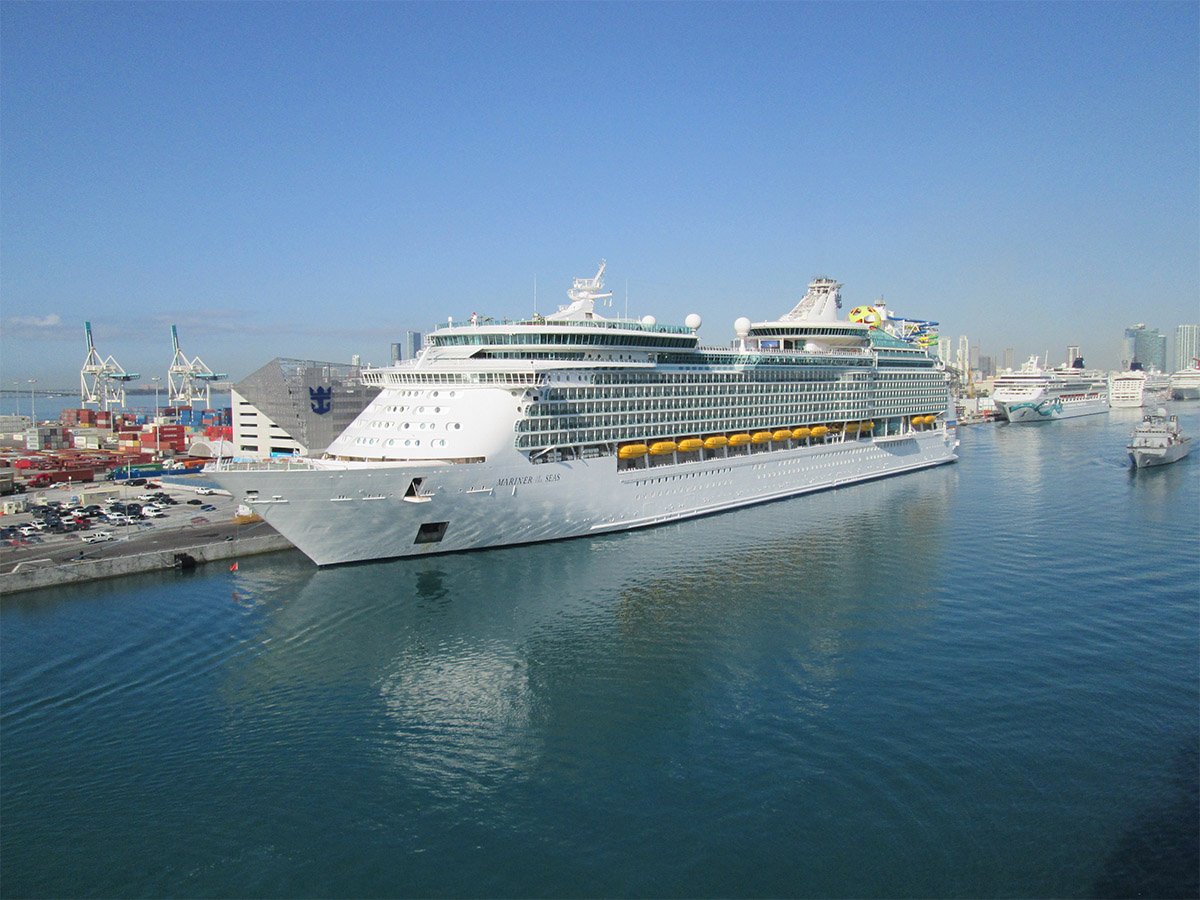 If a test cruise sounds like a great vacation, you should be aware of all the important steps Royal Caribbean must follow and complete during a test sailing.
While the ship is indeed conducting a cruise as if it were a normal cruise, the CDC wants the cruise ship to test out procedures and ensure it can handle any health situation it could encounter.
Each ship must conduct at least one simulated cruise, and each voyage must be between 2-7 days in length with a least one overnight stay, including through embarkation, disembarkation, and post-disembarkation testing.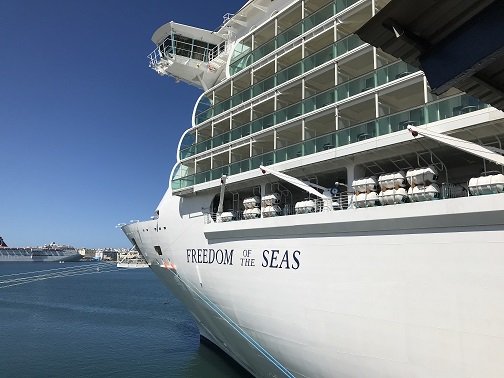 For what it's worth, the CDC recommends a minimum voyage length of 3 days with 2 overnight stays.
Passengers and crew must meet standards during the simulated voyage for hand hygiene, use of face masks, and social distancing for passengers and crew, as well as ship sanitation.
Royal Caribbean must modify meal service and entertainment venues to facilitate social distancing during the simulated voyage.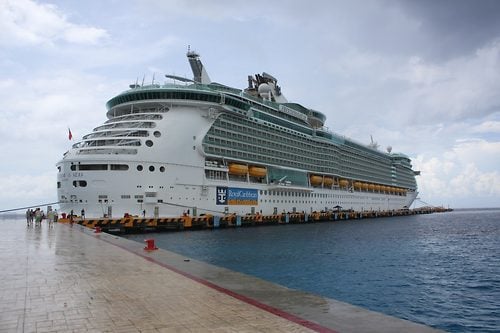 And then there is a laundry list of activities that the CDC says the ship needs to test across one or many separate test cruises:
Embarkation and disembarkation procedures, as approved by U.S. port and local health authorities as part the cruise ship operator's Phase 2A agreements, including procedures for terminal check-in.
Onboard activities, including seating and meal service at dining and entertainment venues.
Medical evacuation procedures.
Transfer of symptomatic passengers or crew, or those who test positive for SARS-CoV-2, from cabins to isolation rooms.
Onboard and shoreside isolation and quarantine, as per the terms of the cruise ship operator's Phase 2A agreements, of at least 5% of all passengers and non-essential crew.
Recreational activities that the cruise ship operator intends to offer as part of any restricted passenger voyages, e.g., casinos, spa services, fitness classes, gymnasiums.
Private-island shore excursions if any are planned during restricted passenger voyages. The following measures must be observed on the private island:

Only one ship can port at the island at any one time.
A routine screening testing protocol must be implemented for island staff who are expected to interact with volunteer passengers or crew.
Mask use and social distancing must be observed on the island.

Port of call shore excursions if any are planned during restricted passenger voyages. The following measures must be observed on port of call shore excursions:

Self-guided or independent exploration by passengers during port stops must be prohibited.
Shore excursions must only include passengers and crew from the same ship.
Cruise ship operator must ensure all shore excursion tour companies facilitate social distancing, mask wearing, and other COVID-19 public health measures throughout the tour.
Cruise ship operators must have a protocol for managing persons with COVID-19 and close contacts at all foreign ports of call. At a minimum, the protocol must include the following:

Disembarkation and housing of persons with suspected or confirmed COVID-19 needing shore-based hospital care and their travel companion(s) for the duration of their isolation or quarantine period.
Commercial repatriation of U.S.-based persons with COVID-19 and close contacts only after meeting criteria to end isolation and quarantine per CDC guidance. For commercial repatriation of foreign-based persons with COVID-19 and close contacts, cruise ship operators must consult with all relevant public health authorities.