In:
It's taken many months, but every single Royal Caribbean cruise ship is back in service.
Rhapsody of the Seas returned to service on Monday, which was the last cruise ship in the fleet to resume cruises following the shutdown due to Covid-19 in 2020-2021.
Rhapsody is beginning to offer 7-night Mediterranean and Greek Isles itineraries from her summer home in Rome (Civitavecchia).
As of today, all 26 ships are back in service. To date, Royal Caribbean International has carried more than two million passengers, cruising to 160 destinations across 2,000 voyages. 
Royal Caribbean had methodically resumed service on 13 of its ships since August 2021, which involved gathering crew members to staff the ship, prep the vessel for operation, and get everything going onboard.
Onboard cruise ships, the Cruise Compass daily newspaper celebrated the entire fleet's return.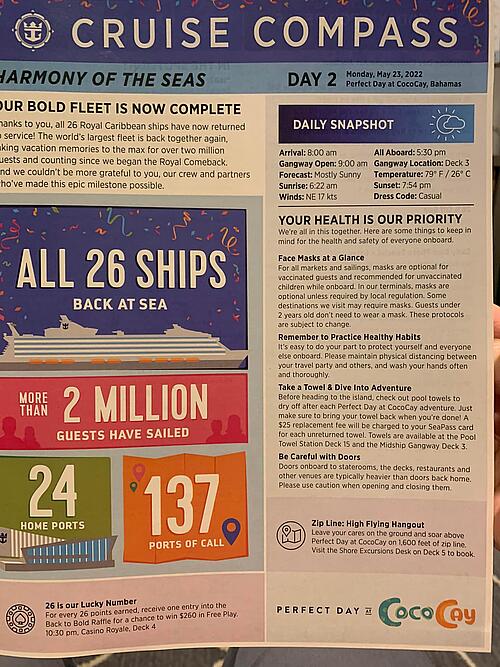 Photo by Nick Vitani
A long journey back
The entire cruise industry voluntarily shut down operations in March 2020 at the onset of Covid-19, and the trek to get all of its ships back has been quite a process.
Quantum of the Seas was the first ship to restart sailings, when she resumed cruises in December 2020 out of Singapore. 
It would take another six months for the next ship to restart, with Adventure of the Seas resuming cruises from Nassau, Bahamas.
Royal Caribbean's plan to restart sailings was centered around a slow and methodical process.
Royal Caribbean Group Chairman and former CEO Richard Fain talked about their plan at the onset of ships returning, "We don't expect that... someday somebody blows a horn, and all the ships start operating right away. We think that it will be a gradual start, a little bit like society is opening up gradually."
"So we would imagine that we would start with fewer ships, and more likely to be more drive markets in the beginning, and then it would then evolve and grow from there."
Since then, ships have been able to resume cruises from the United States, Europe, and select ports in the Caribbean.
The only market that remains completely shutdown still is China, although Royal Caribbean remains hopeful cruises will be able to sail from there again soon.
In addition to getting all the ships back in service, Royal Caribbean also launched Odyssey of the Seas and Wonder of the Seas.
Full capacity soon
With every ship back in service, Royal Caribbean is also on the verge of its ships sailing full once again.
Earlier this month, Royal Caribbean International President and CEO Michael Bayley indicated with every ship back in service, full capacity is around the corner as well.
"And as we head towards Memorial Day weekend," Mr. Bayley explained to a Wall Street analyst during the call. "We're going to see significant percentage of our ship sailing at 100% and greater."
By the time Royal Caribbean Group gets to the third quarter of 2022, they expect the entire company to be at "triple digits" in terms of capacity.