In:
With Royal Caribbean's new cruise terminal open in Galveston, Texas, you might be tempted to book a new cruise, but there are few differences you should know about.
Galveston's location in the central part of the United States makes it a convenient embarkation port for many people that can drive to the port.
Moreover, prices for cruises from Galveston tend to be less expensive on average than cruises from Florida.
Every embarkation port has its nuances, and there are a few important details you should be aware of that you are likely to encounter on these sailings.
Most people are from Texas and Oklahoma
In general, you'll find a lot of people on a cruise ship from the surrounding area, and that is very much the case with cruises from Galveston.
Ships sailing from Galveston tend to attract predominantly residents of Texas and Oklahoma because the port is within driving distance of these people.
While some cruise ports may attract more people from other places, cruises from Galveston tend to see more locals than people who fly across the country (or the ocean) to get there.
What this means is you're likely to see folks wearing cowboy boots, 10 gallon hats, and plenty of college football paraphernalia from schools in the surrounding area.
There's a new cruise terminal
As mentioned, Royal Caribbean just opened its brand new cruise terminal and that's a big deal if you ever cruises from Galveston in the past.
The 161,334-square-foot terminal is designed to make getting on the ship super easy, so you can get your vacation started sooner.
Parking is ample, and the building looks great.  Being that Galveston is one of the top ports for cruises in the United States, the new terminal has the latest and greatest for making the process of embarkation simple.
Equally important is the disembarkation process, which now includes facial recognition.  Expect less waiting as you walk off the ship.
Limited alcohol on embarkation day
One odd rule you'll run into is the drink selection on embarkation day while the ship is in port.
Due to the Texas Alcoholic Beverage Commission (TABC) law, there is a limit on cruise ships to only sell alcohol made in Texas while in port.
Once the ship has moved into international waters, the full selection of beverages at bars opens up. That usually occurs around 7pm.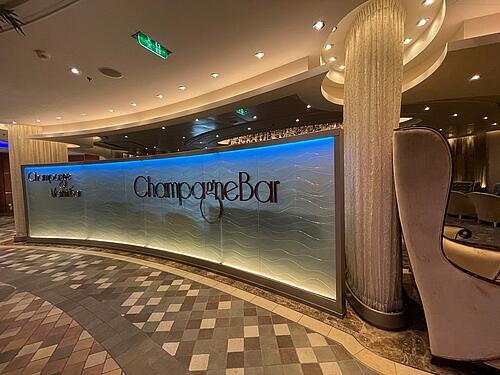 There will still be a reasonable selection of beers and liquors, but the full selection will not be available until later.
Try a Shiner Bock beer or Tito's vodka while your ship is docked, and then move onto your favorites once the cruise sets sail that evening.
You want to fly from Hobby airport
If you have a choice, fly in and out of William P. Hobby Airport (KHOU) instead of George Bush Intercontinental Airport (KIAH).
Both airports are within driving distance of Galveston, but Hobby is significantly closer. Hobby is Houston's oldest commercial airport, and was its primary airport until the Houston Intercontinental Airport opened in 1969.
Southwest Airlines is one of the top airlines that services Hobby. Most other airlines go in and out of Intercontinental. 
Just like how Newark International Airport is closer to Cape Liberty than LaGuardia or John F. Kennedy International Airports in New York, Hobby could save you a lot of time.  Hobby is just 40 miles from the port, whereas Intercontinental is on the north side of Houston, and that means dealing with downtown Houston traffic on your way south.
Without traffic, the drive from Hobby will take about 45 minutes, whereas the drive from Houston Intercontinental will take about 75 minutes.
There's Dr. Pepper (and other Texas drinks) served onboard
Cruises sailing from Galveston serve Dr. Pepper, in addition to the Coke products the line always carries.
Dr. Pepper is a soda brand based in Texas and due to local demand, Royal Caribbean offers it on their Galveston sailings.
Besides Dr. Pepper, you'll also find Shiner Bock beer, as well as a few other Texas-based liquors. Exact options will vary, but Royal Caribbean wants to cater to the local crowd.  If you aren't local, this is a good opportunity to try something new (especially if you have a Royal Caribbean drink package).
Tito's Handmade Vodka has been available on all Royal Caribbean ships for a while, but it's proudly served on Allure of the Seas since it is produced in Austin, Texas.
Schedule a later flight home than normal
People that cruise from Florida all the time are used to picking a late morning flight home, but flying out of Houston is a different ball game.
If you are flying from Houston Hobby, don't schedule a flight before noon.  
If you are flying from Bush-Intercontinental, don't schedule a flight before 1pm.
Why so much later flights than when from Florida? The Houston airports are much further away from the cruise port than Florida, and given the erratic nature of Houston traffic, getting to the airport can take longer.