In:
Royal Caribbean's Adventure of the Seas is a mainstay of the fleet, offering a blend of fun activities on a cruise ship that has been refreshed fairly recently.
Adventure of the Seas is a Voyager Class cruise ship, which means she is a medium-sized vessel in Royal Caribbean's fleet. While not as big as other ships, she still packs lots for families to enjoy.
In addition, the value you can get with an Adventure of the Seas booking is superb, as Royal Caribbean International often prices sailings much lower than the largest ships sailing the same itinerary.
Adventure of the Seas sails from a variety of places in North America and Northern Europe. Her home ports include Cape Liberty in New Jersey & Galveston, Texas.
Here's a look at what Adventure of the Seas has to offer onboard, and what makes it a great choice for a cruise.
Adventure of the Seas Overview
Royal Caribbean's Adventure of the Seas is the third cruise ship in the Voyager-Class cruise ships, and was launched in 2001.
She has 14 passenger decks and has a maximum capacity of 3,807 guests (although her regular occupancy at double occupancy is 3,114).
In 2016 and 2018, she underwent a $61 million upgrade that added new dual racer waterslides, Cyclone and Typhoon, the popular FlowRider surf simulator, and a children's aquapark, Splashaway Bay. They also added a new sushi restaurant and more than 100 new staterooms, a refresh of all existing staterooms and a brand new Suites Lounge.
Measuring 138,193 in gross tonnage and 1,020 feet long, Adventure of the Seas is not a small ship. She has a capacity of nearly 4000 guests at double capacity, 14 guest-accessible decks, and 1,963 staterooms.
Like all Voyager-Class ships, she has a Royal Promenade that runs through the middle of the ship and is the main thoroughfare, with shopping and dining to enjoy.
Fun things to do on Adventure of the Seas
You'll find a lot of onboard activities on Royal Caribbean's Adventure of the Seas, beginning with the pool deck.
Adventure has two side-by-side main pools and several jacuzzis, as well as an adults-only (16+ years old only) Solarium. The Solarium has both a pool and hot tub.
Kids will enjoy Splashaway Bay water park, which has mini slides, a drench bucket, geysers, and lots of area to run around.
On the back half of the pool deck, there are the Perfect Storm waterslides, which has twin racer slides.
You can also hit the sports courts, try the rock-climbing wall, or even the FlowRider surf simulator. All of these experiences are complimentary.
The FlowRider offers both stand-up surfing and boogie boarding options throughout the cruise.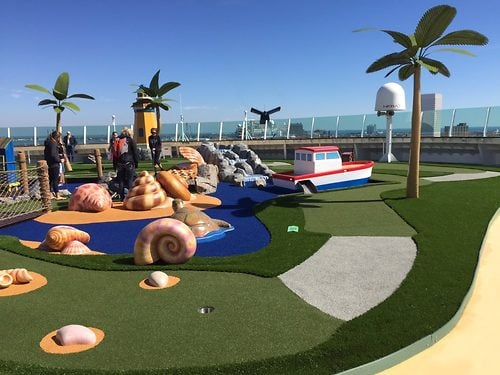 There's a two story mini golf course, known as Adventure Dunes, which is complimentary to enjoy.
In terms of activities, you'll find a daily assortment things to do onboard the ship. Each day, the Cruise Compass is distributed to guests with a guide to what times each activity is planned for, and at which venue.
Examples of activities you can expect include:
General trivia
Name that tune
Karaoke
Game shows
Art auction
Dance fitness classes
Movies on the outdoor movie screen
Belly flop competition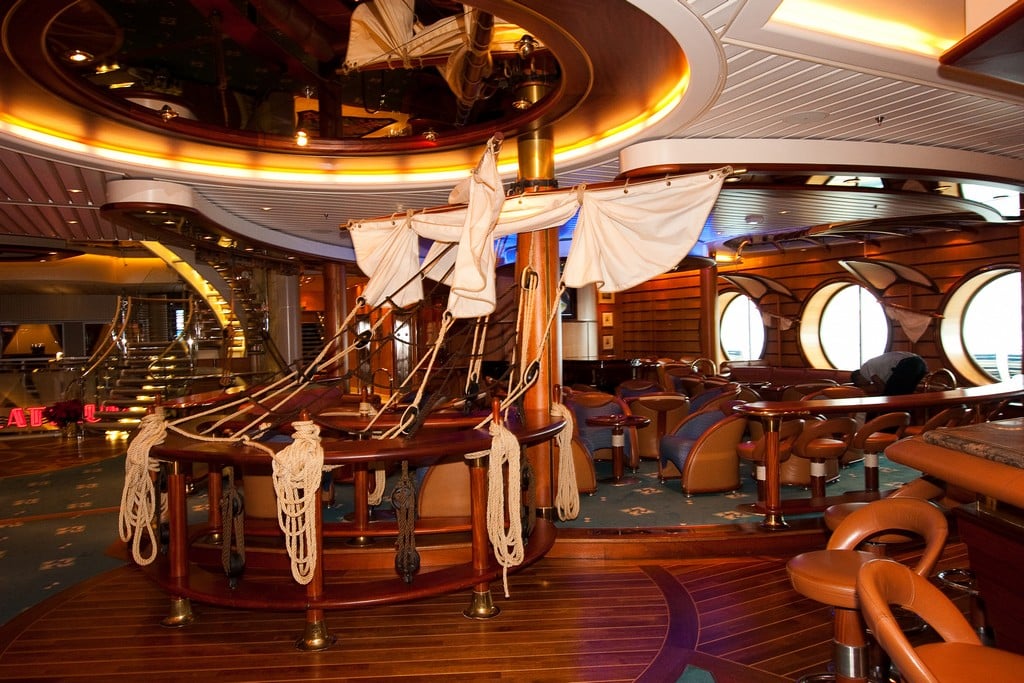 There is also a wide assortment of live music on Adventure of the Seas. From bands to solo performers, you'll find different venues offering live music throughout the day.
Three venues each evening offer a signature Royal Caribbean live music experience, with a piano player in the Schooner Bar, guitarist in the pub, and Latin band in Boleros.
Each evening in the Royal Theater, there will be a show. It could be a comedian, musical medley, magician, or a dance performance.
Game shows are also hosted each day of your cruise, where guests are invited to try their skill at games such as "Battle of the Sexes", "Love and Marriage game show", and more.
One more must-do event is the free skate in Studio B. On select days, Royal Caribbean opens up its ice rink to guests to skate. Skates and equipment are provided and there is no extra cost. You just need long pants and socks to participate.
Adventure of the Seas Dining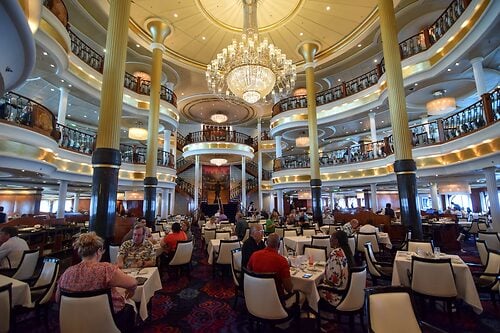 Your Royal Caribbean cruise fare includes meals and snacks, along with some drinks.  There's also the option to spend more and dine at specialty restaurants.
The good news is you definitely will not go hungry on this cruise with all the dining options.
Complimentary dining venues on Adventure of the Seas:
Main Dining Room, the main restaurant on any Royal Caribbean ship, offering a classic sit-down dining experience in a 3-story venue
Windjammer Marketplace, a buffet open for breakfast, lunch, and dinner with a variety of both American and international cuisines
Cafe Promenade, a small cafe offering specialty coffees and teas along with small grab-and-go items like muffins and sandwiches. There's also complimentary pizza here by the slice
Arctic Zone, soft-serve frozen yogurt by the pool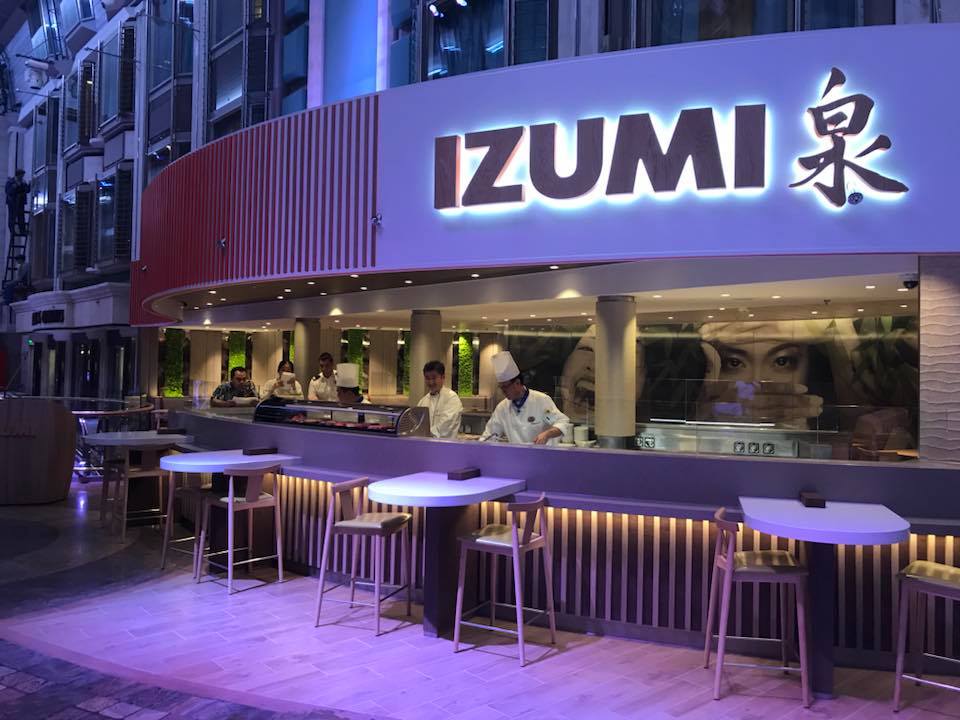 Specialty dining venues on Adventure of the Seas:
Chops Grille, Royal Caribbean's signature steakhouse
Izumi Sushi, Japanese cuisine and sushi
Giovanni's Table Italian Restaurant, classic Italian food featuring freshly-made pastas
Johnny Rockets, a 1950s style American restaurant with milkshakes, burgers, and fries
Chef's Table, an intimate group dining experience where each course is paired with wine
Ben & Jerry's, serving scoops of ice cream, sundaes, and milkshakes
Room service, Nearly 24 hour room service delivered to your cabin.
Should you spend extra for specialty dining? It depends on your tastes and budget.
There is nothing wrong with the food included with your cruise fare. The main dining room and Windjammer offer so much food for each meal, that you're likely to dine there and be quite content.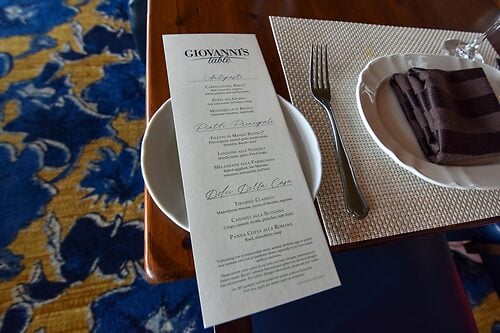 What specialty dining offers is a greater variety of food, which a lot of cruisers really enjoy. Steaks, lasgana, sushi, and more are what you get with specialty dining and in many cases, these foods are not otherwise available in the complimentary venues. Moreover, the quality of the food tends to be higher than similar offerings in the dining rooms.
Most people tend to book a blend, and sprinkle in specialty dining to augment the main dining room or buffet.
Adventure of the Seas bars & lounges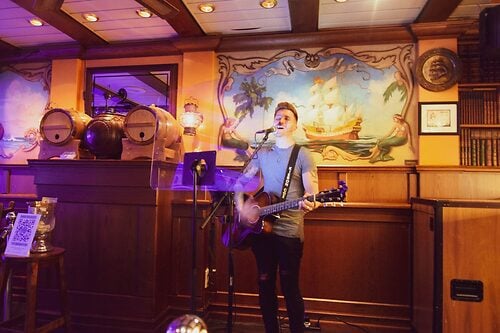 You'll find many bars and lounges to enjoy a cocktail while on your cruise.
Here's a list of bars and lounges on Adventure of the Seas:
Schooner Bar
Boleros
Solarium Bar
Casino bar
Imperial Lounge
Duck & Dog English Pub
Champagne Bar
The Plaza Bar (Windjammer)
Viking Crown Lounge (Blue Moon)
Diamond Club
Suite Lounge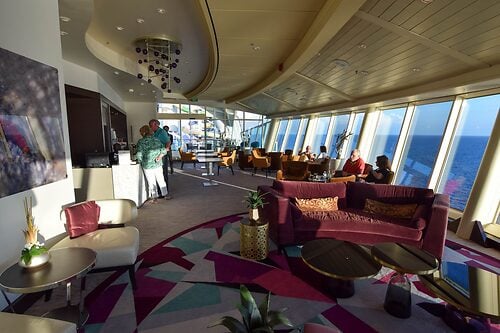 Most bars have the same drink menu, so what makes each special is the decor. Some are more laid back venues, while others offer more of a focus on music or entertainment.
The Schooner Bar is a staple of the Royal Caribbean fleet, with live piano music each night of the cruise. It's a great place to sing along and have a drink.
If you prefer something more laid back, check out the Blue Moon in the Viking Crown Lounge on Deck 14. There's wonderful views of the pool deck and area around you.
Kids Club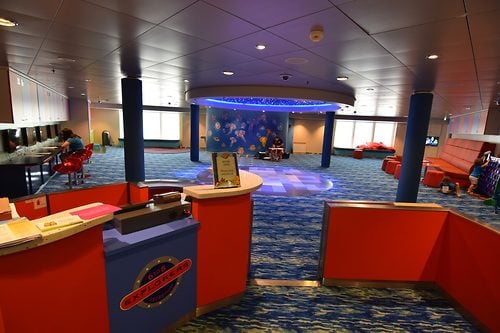 Adventure Ocean is the name of the kids club on Adventure of the Seas, which is available for kids between the age of 3 and 17 years old.
Adventure Ocean is divided into four age groups, with each group having their own programming and rooms suitable to the age range:
Aquanauts (3-5 years old)
Explorers (6-8 years old)
Voyagers (9-11 years old)
Teens (12-17 years old)
Adventure Ocean is mostly complimentary, with the exception of childcare after 10PM.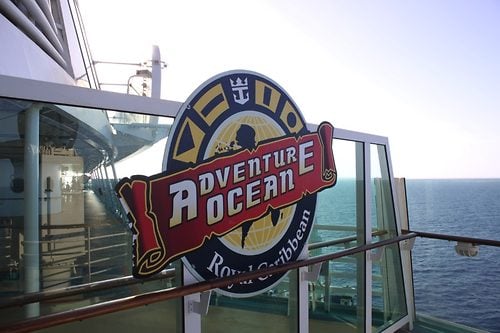 Aside from embarkation day, there are two types of Adventure Ocean operating hours: port days and sea days.
On sea days, Adventure Ocean is typically open
9am - noon
2pm - 5pm
7pm - 10pm
On port days, Adventure Ocean is open for the entire duration your Royal Caribbean ship is in port.  Once the ship leaves port, it resumes the normal schedule described in sea days.
An arcade is also located in Adventure Ocean and open to guests of all ages, although it comes at an extra cost.
On the first day of your Royal Caribbean cruise, guests can register their children in Adventure Ocean prior to Adventure Ocean opening.  While you can register kids at any point in the cruise, take advantage of the open house on embarkation day for an optimal experience.
Adventure of the Seas Entertainment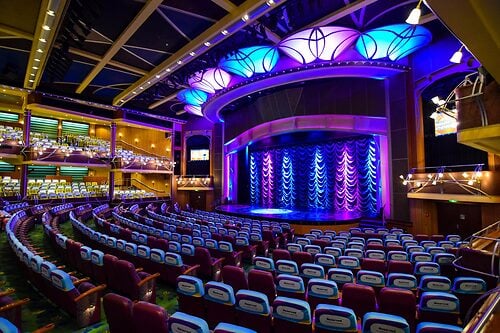 You'll find shows performed in two venues on Adventure of the Seas: the Lyric Theater and Studio B ice skating rink.
In the Royal Theater, there are different shows performed each night. This includes a welcome aboard show on the first night and a farewell show on the last night. In-between, the singers and dancers perform shows such as Invitation to Dance and Can't Stop The Rock.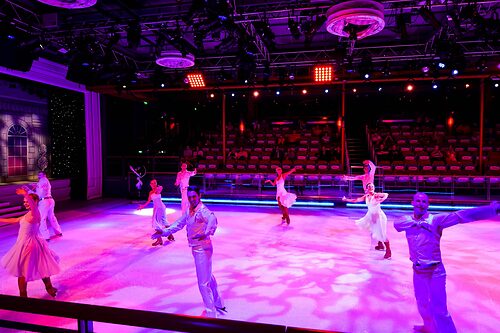 In Studio B, guests can enjoy Cool Art...Hot Ice!, an ice skating show, which is described as, "a journey through time and space. The story unfolds when Arthur falls in love with a statue that comes to life. He's led by his muse on a whimsical journey where nothing is truly as it seems." It's a fun show that is worth seeing for the talented ice skaters.
Outside of signature production shows, a variety of other entertainment can be found on Adventure of the Seas, including live music, karaoke, and game shows.
Spa & fitness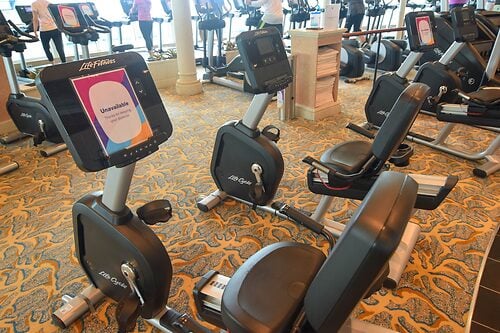 If you're looking to forget your cares, or stay in shape, while onboard Adventure of the Seas, the Vitality Spa and Fitness Center is where you want to go.
The fitness center is complimentary (although classes cost extra) and has cardio and strength equipment you can use on a first-come, first served basis.
Over in the spa, you can reserve an appointment for a massages, facials or a salon treatment. These all cost extra. Port days often have better discounts available than sea days, so be sure to ask about any onboard specials in the spa.
Adventure of the Seas Review
While not the newest or glitziest ship in the fleet, Adventure of the Seas has plenty to do onboard at a very reasonable price.
A Voyager-Class cruise ship is an excellent value, because they are still big ships with lots of activities that don't cost a lot to sail on. It has the signature venues most people expect with a Royal Caribbean ship, so there is not much compromise aside from lacking the absolute newest innovations. 
Often people considering Adventure of the Seas are worried they are making a mistake by booking a ship that is 20 years old instead of newer ships. The reality is the age of a ship isn't what it once was, and recent upgrades in 2016 and 2018 really raised the bar for what you can do onboard. Yes, they are one of the older ships, but that isn't the end-all, be-all, of what makes a great ship.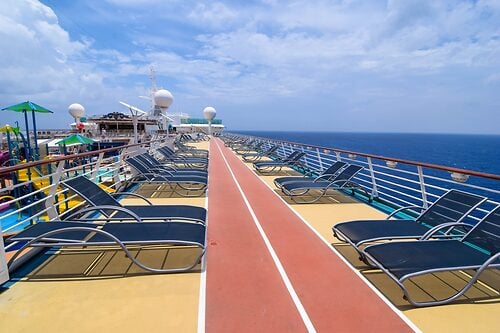 If there's something lacking on Adventure of the Seas, it's the staterooms still have the older feel to them compared to cabins on new Oasis or Quantum-Class ships. Besides the decor, there's less storage space.
In addition, the suite experience on Adventure pales compared to the services and amenities you get for staying in a suite on Oasis or Quantum-Class ships. Of course, the price of a suite is a lot more affordable on Adventure, the the Suite Lounge and concierge services are still lovely.
What draws us to Adventure of the Seas is the price. You can sail on Adventure of the Seas for likely half the cost of a newer ship, and unlike smaller  Royal Caribbean ships, there's still plenty to do. For most families, they should find enough activities to keep them busy without feeling like the ship lacks too much.
The crew members on Adventure of the Seas have always been quite good, and work hard to deliver a great cruise experience.
If you're a new cruiser, Adventure of the Seas is one of the cruise vessels you won't feel out of place on because of all the extra space and fun things to do. Voyager-Class vessels are destination experiences, which make it a good choice for a first time cruiser.
Between the value and fun offerings, you'll have no trouble enjoying a relaxing cruise aboard Adventure of the Seas.