In:
There's good and bad things about every cruise, including the one I just enjoyed.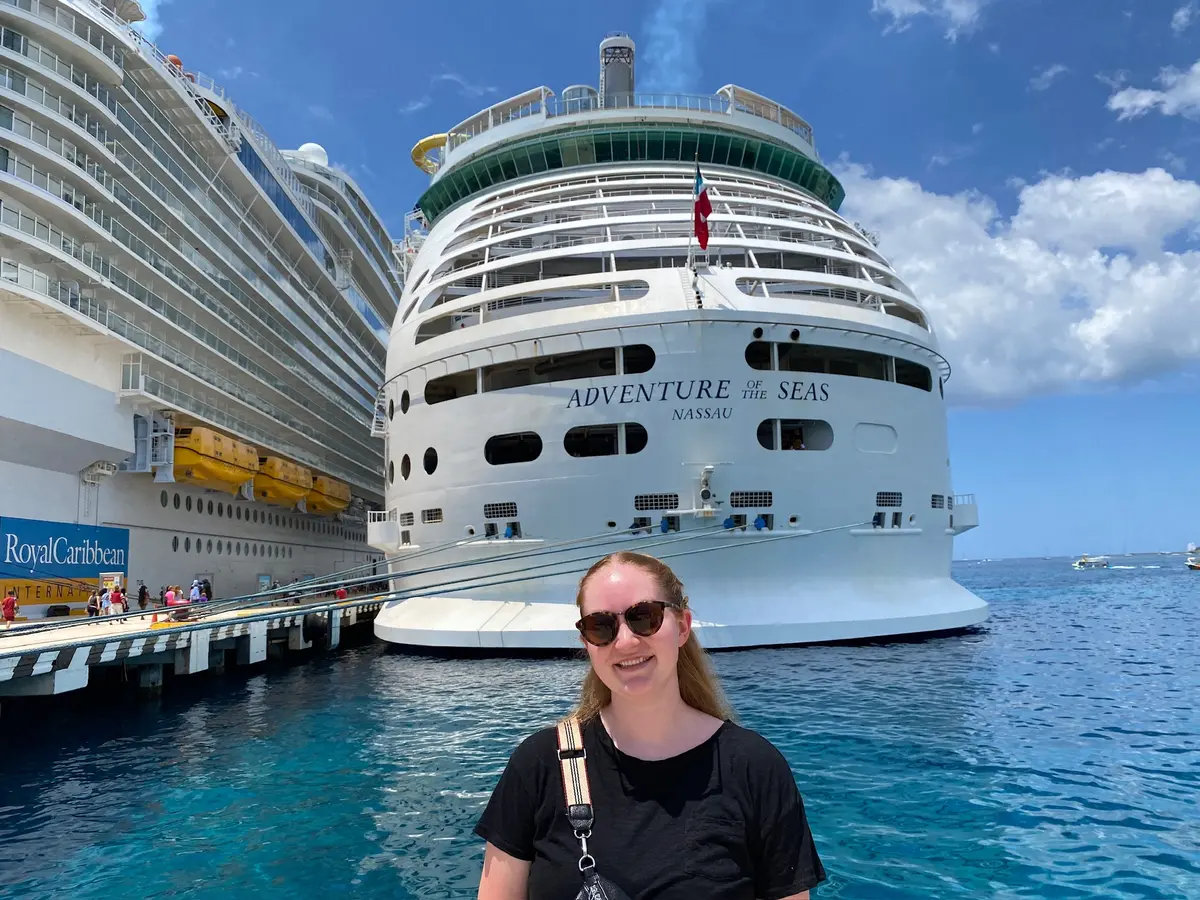 I recently disembarked from a seven-day voyage onboard Adventure of the Seas. I had a fantastic time, but like many things in life, it wasn't perfect.
Honestly, it's easy to come up with things that I loved about my time on Adventure. I always love the food, entertainment, activities, and relaxation that comes with cruising. Adventure of the Seas is over 20 years old, but she is in excellent shape and offers a great value for cruisers.
Finding bad things about my trip was a little more difficult to do. I'd say that's a good thing!
Nonetheless, here are the five things I loved and the five things I hated about my trip on Adventure of the Seas.
Love: The cruise director
Most cruise directors don't stand out to me that much, but that is not the case with Kabir Bageria. Kabir was awesome! He made my trip on Adventure very memorable.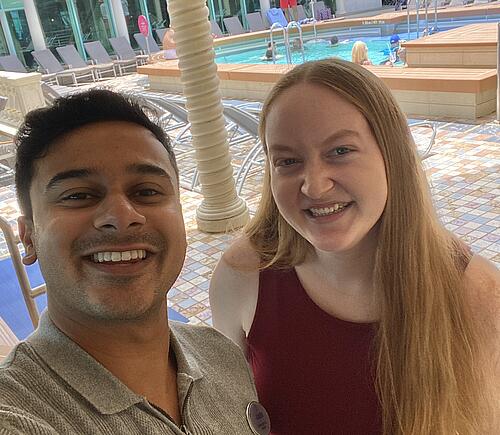 So many things about Kabir impressed me. His energy, enthusiasm, and upbeat personality are unmatched. He makes it his priority to ensure every guest feels welcome onboard.
He loves teaching his energetic signature dance classes on the pool deck multiple times throughout the voyage. He had a plethora of dad jokes he would share before and after shows, which were always funny (some more than others). He shared with me he tries to respond to every message he receives, and that truly sets him apart in my mind.
Every time he saw me or my mom, he would go out of his way to say hello and chat with us. Of all my cruises, Kabir was the most hospitable and accommodating! He made his home at sea feel like mine for my seven days onboard.
Kabir was nice enough to meet with me during his busy day so we could make content together for our social media channels. You can watch the interview here, and be sure to follow him on Instagram if you want to see what it's like to be a cruise director!
Hate: Lack of outlets in our cabin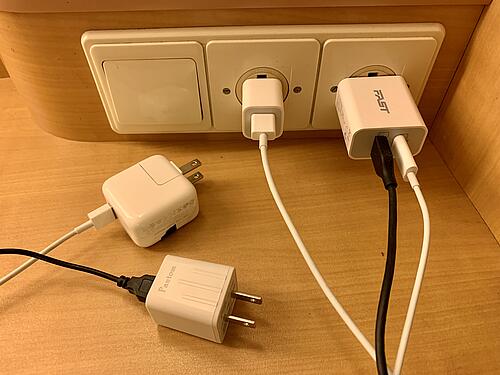 The thing I hated the most about this cruise was the lack of electrical outlets in our stateroom. There were only two outlets on the vanity for me and my mom to use. Between both of us, we had two cell phones, two smartwatches, two iPads, a laptop and camera to charge throughout the week. 
There were also a few instances when we had to blow dry our hair. We were constantly shuffling around our devices to see what needed to be charged first and plan ahead. 
Read more: I stayed in the cheapest cabin on Adventure of the Seas. It was small and windowless, but for $300 a night, it was a great deal. Take a look inside.
I thought I had read online that there was an outlet or two behind the beds. I made sure to check behind both of our beds for an outlet, and I was disappointed to not find one.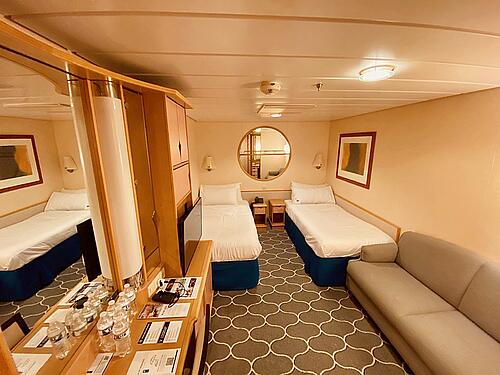 I will definitely look at bringing a power adapter like this one next time.
Another thing I wanted to note about our cabin is that I wasn't sure if our air conditioner worked as it should have.
We had the air conditioner on the coldest setting we could and it was comfortable enough, but some may have found our cabin a little warm. It matched the refrigerator in our cabin — not that cool.
Love: Location of our cabin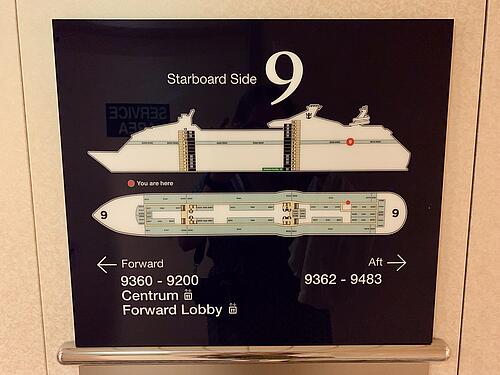 While I hated there not being enough outlets in the cabin, I loved its location on the ship. We stayed in cabin 9379, which is on the ninth floor.
This floor proved to be very convenient because we were only two floors below the Windjammer and pool deck. Then, we had to go down just four floors to be at the Royal Promenade, the hub of activity on Voyager Class ships. 
The fact that we were in the far aft of the ship, the amount of people walking by our cabin was minimal. This made for a secluded cabin both in the mornings and the evenings when we really appreciated the quiet. 
Hate: Disrespectful kids
Because our over-capacity sailing (3,947 total passengers) had nearly 1,000 people under the age of 18 onboard, kids were everywhere. My guess is that many families were having their last summer vacation before school started (keep in mind, we cruised in early August).
Of course, kids onboard are fine, but my complaint is about the ones that weren't respectful during shows.
My mom and I went to every headliner show in The Lyric Theatre. We usually went to the earlier show at 7:30 p.m., and these were well attended by all ages.
But, there were kids and teenagers that would be there who clearly didn't want to! So many teenagers would be on their cell phones the entire show, and the light from their phones was distracting. Others would talk during the show – pretty loudly.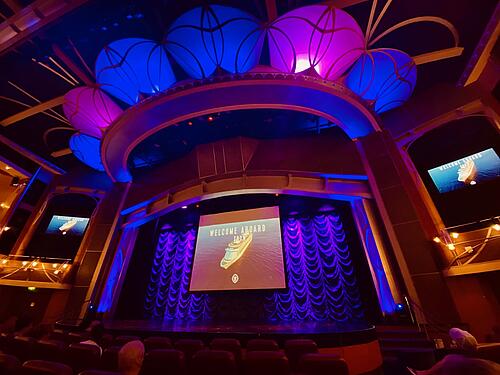 Many instances, parents would drag their young kids into the show and sit in one of the front rows – during the show! Families would come in last minute, start to crawl over us, and no more than 15 minutes later, crawl over us again to go the bathroom or leave because they're bored. I don't know why they would come to the front of the show when they can sit in the back or the side where they can easily slip out if they need to.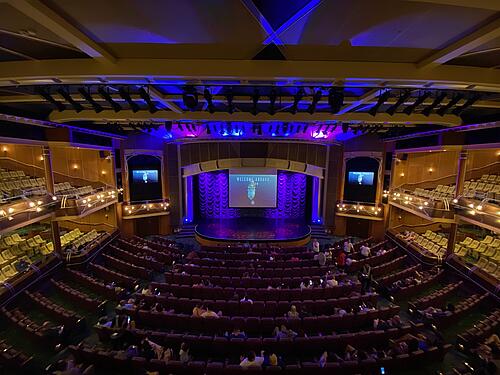 One night, a young boy kept bopping up and down so hard in his chair behind us that our chairs rattled and vibrated during the show. My mom had a kid behind her kick her seat throughout the show another night. I know it is their vacation as well, but I wish these parents would've had their children be more courteous to those of us around them.
We were thrilled if we had a non-interrupted 45 minutes of viewing enjoyment.
This leads to the next thing I loved about Adventure of the Seas.
Love: Entertainment and activities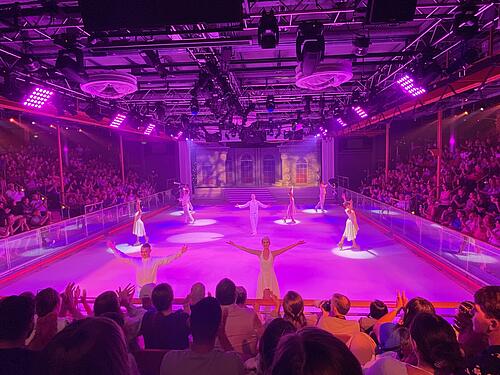 The entertainment and activity options onboard Adventure of the Seas were plentiful! I was never bored. As mentioned earlier, my mom and I attended every headliner show. Sometimes, we saw the shows twice because we enjoyed them so much!
Read more: Royal Caribbean's Adventure of the Seas review: What it's like to cruise on this ship today
The comedian, IMPACT, and the ice skating shows were some of my favorite entertainment. I also attended many of the game shows in the Imperial Lounge, including Majority Rules, Battle of the Sexes, and The Quest.
After attending the "Up Close & Personal with our Entertainment Family" event, Kabir, the cruise director, explained how important filling out the post-cruise survey is in terms of what entertainment the ship offers.
For example, after reading all the survey comments, Adventure of the Seas is considering adding an 80's party in addition to the popular 70's party. I like how they take into account what we as guests liked (or disliked) and want to see on a future cruise.
Hate: Numerous time zone changes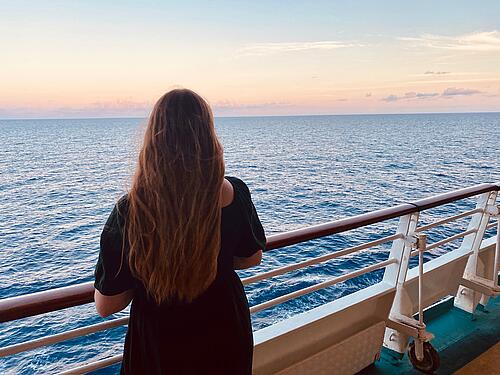 Our cruise visited Cozumel, Mexico; Belize City, Belize; Roatan, Honduras; and Perfect Day at CocoCay. We had a total of four nights with time changes.
For some reason, our cell phones didn't always update when there was a time change. We found ourselves getting times messed up and missing a few activities because of it. 
Gaining an hour twice at the beginning of our trip was great (yay extra sleep!), but then it wasn't so great when we had to lose them a few days later.
There was an instance when we were taking our sweet time getting ready before dinner in the Main Dining Room. I was in the shower when my mom frantically yelled, "It's actually 5:30, not 4:30! We are late for dinner!" My mom ran to our dinner table and told our waiter, and luckily, they were nice enough to still serve us even though we were about 30 minutes late. They were so accommodating and didn't make us feel bad for messing up their schedule.
It is only because my mom checked the Royal Caribbean app that she realized it was actually 5:30 p.m. instead of 4:30 p.m. With all the time changes, I would recommend using the trusty Royal Caribbean app when in doubt because the app is in ship time, the time you need to know for all onboard activities, events, dining, etc.
Love: The staff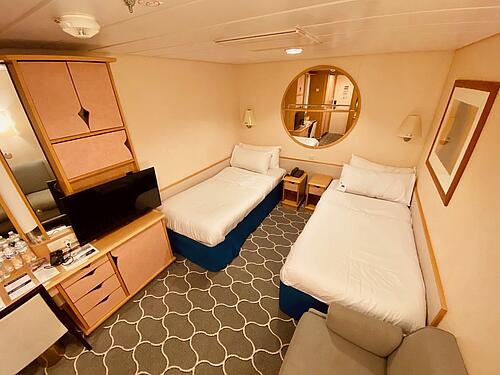 Speaking of being accommodating, the staff on Adventure of the Seas took excellent care of us!
Our stateroom attendant did everything she could to keep our cabin well stocked, clean and comfortable. She brought us extra pillows, extra towels, extra lotion and daily Cruise Compasses upon our request. If we requested something, she was always on it and did it with a smile on her face.
We chose to eat in the Main Dining Room every night. Our waiter and assistant waiter did a spectacular job! If we weren't happy with something, they were great about recommending something else. They would always give us their honest opinion if something was good or not. We found them to be spot-on and we appreciated their candor.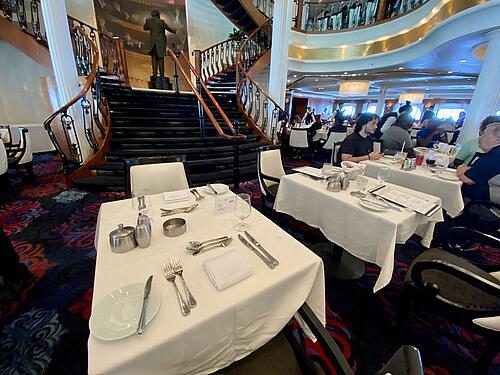 My mom and I also made a friend in the Windjammer. After his initial question about getting us drinks, we stirred up a conversation with him. He shared how he missed his family and six dogs in the Philippines. 
The next day morning, he showed us a picture of his dogs! After making a connection, he took great care of us each morning, even when the Windjammer was super busy.
Hate: Inconsistent food temperature
While I liked having dinner in the Main Dining Room every night, there were times when my food wasn't hot like I would've wanted.
Either the food was super hot and steaming, or it was lukewarm. For example, the spinach artichoke dip appetizer was nice and hot while my mom's escargot was not on the same night.
The food still tasted good when it was lukewarm, but it would've been better if it was hotter.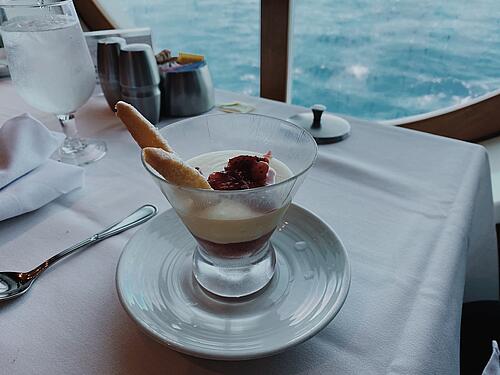 Love: The Key
This cruise was the first time I tried The Key. After experiencing it, I would definitely consider getting it again for a future cruise.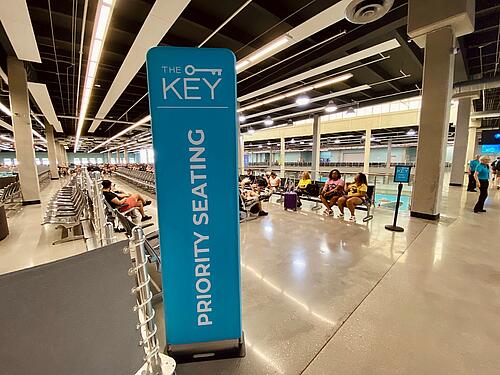 Our embarkation day was amazing mostly because of The Key. Being able to check in at 11 a.m. (an hour earlier than our regular check-in time) was extremely convenient and within a few short minutes, we were able to walk onto the ship.
After a quick muster drill, we enjoyed a tasty lunch in the Main Dining Room with a menu from Chops Grille. Before we even had dessert, our cabin was ready. When we opened our stateroom door, my carry-on was there on the couch.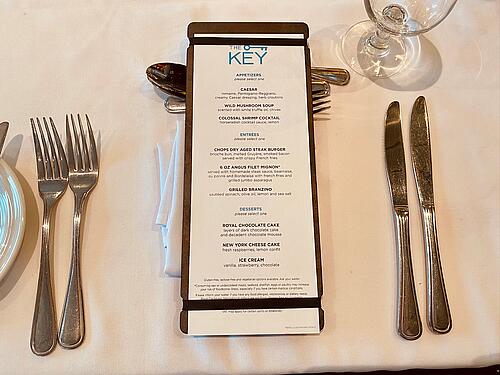 All the perks of The Key made the first day of our vacation much more relaxing. Day one of our voyage felt like a full-day experience instead of a travel day! Basically, if you subtract the internet we wanted to get for the seven days onboard, the extra benefits were less than $60 per person. 
I wrote an article detailing my Key experience that you can read on our sister site, Cruise.Blog, here.
Hate: A stinky situation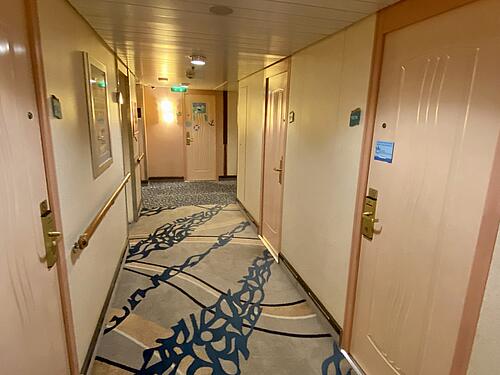 We had quite the stinky situation for two days. I was sitting in my cabin when I all of a sudden got a whiff of the skunky smell of marijuana. I went into the hallway and could smell it wafting from someone's cabin.
For the next two days, we noticed the same bad smell in our hallway as we left our cabin. Then one time as we were trying to figure out the exact location of the smell, a stateroom attendant started talking to us and explained how he smelt it too. He stated that it wasn't allowed on the ship and that he was going to report it. We were happy to hear that.
After this conversation, we never noticed the smell again. We assumed the warning was made and we were pleased that it was dealt with quickly!
Read more: Things that can get you kicked off a cruise ship in an instant