In:
Royal Caribbean has released version 1.10.0 of its new smart phone app, which adds support to Adventure of the Seas.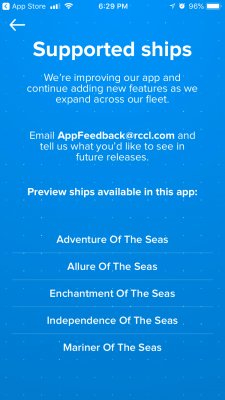 The new version does not list Adventure as a supported ship in the app store, but opening the app shows both ships on the list.  Some blog readers have reported seeing Brilliance of the Seas and Majesty of the Seas supported in their apps, but we have not been able to see that on our devices.
Independence and Mariner of the Seas were recently added as well.
The new app is being actively developed, which means not all features area available on the app yet.  Moreover, the cruise line is slowly rolling out support for more ships.
The app is available on the iTunes App Store and Google Play Store.