In:
Royal Caribbean is introducing a new bid-based stateroom upgrade program, known as RoyalUp.
RoyalUp begins on November 28, 2018. Guests will receive an email if their sailing is eligible and they will have the opportunity to browse through staterooms available for upgrade on their sailing. They will select the dollar amount they are willing to pay for the upgrade and submit their bid.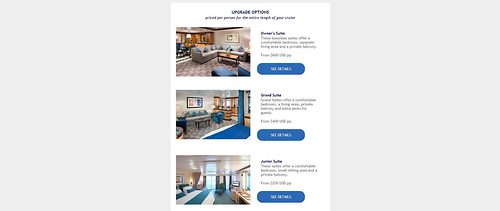 The RoyalUp offer amount is per person for the entire duration of the cruise. Offers are based on two occupants per stateroom - only the first and second guest will be charged. If there are more than 2 guests in the reservation (between 2 and 5 passengers), the offer amount submitted will be per guest but only for the first and second guest on the reservation.
Guests cannot choose the location or specific features of the upgraded cabin, as it depends on availability.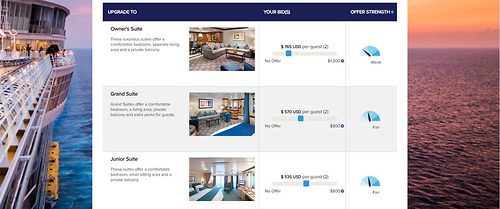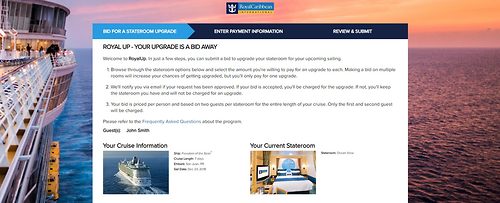 In terms of groups,  Royal Caribbean cannot guarantee that all reservations traveling together will be upgraded. Under the circumstance that all reservations are upgraded, Royal Caribbean cannot guarantee that all the upgraded cabins will be close together.
Guests can make bids across multiple categories to increase your chances of having an offer accepted. If using a travel agent, they can handle the entire bidding process for you.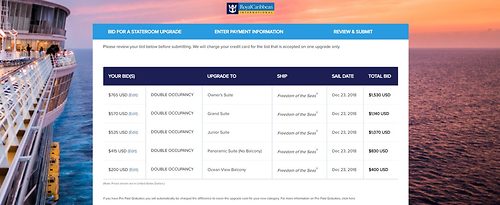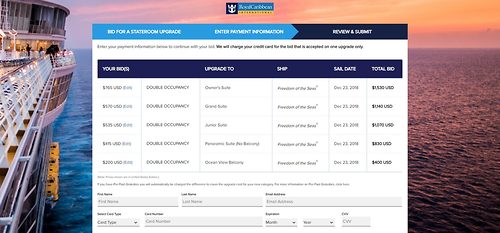 Upgrade bids can be accepted anytime from the moment it is submitted up until 2 days prior to voyage departure. You will receive an email notifying you of the accepted offer.
Guests can modify or cancel the offer up until 2 days prior to departure, provided that the offer has not already been accepted by RCI and provided their credit card has not been charged.
What do you think of this new offer? Will you be using it? Share your thoughts in the comments.