In:
Royal Caribbean announced guests who live in the Asia Pacific region can now bid for a stateroom upgrade via RoyalUp.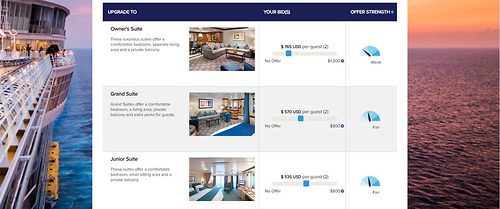 RoyalUp is Royal Caribbean's stateroom bidding program, where the cruise line may offer guests the opportunity to bid for a higher stateroom category by inviting them to submit an offer of their choice. If the offer is accepted, the guests will be automatically charged and upgraded.
Accepted offers will be automatically charged, and the guests will be upgraded to their desired staterooms, marking the perfect start of their Royal Caribbean holiday. In the case of unsuccessful bids, the guests will keep their original staterooms without incurring any charges.
The program is currently available for most Royal Caribbean International ships, including Voyager of the Seas in Singapore, Ovation of the Seas in Alaska and Oasis of the Seas in the Mediterranean.  Guests will have a chance to bid for upgrading to a variety of higher category staterooms including the luxurious two-storey Loft Suites on available sailings of the Oasis and Quantum Class ships. 
Angie Stephen, Managing Director, Asia Pacific of Royal Caribbean Cruises Ltd. said, "We are seeing very strong response for 'RoyalUp' from our other markets because of the great value it brings to our guests, and we believe that many guests in our region will likewise take advantage of this programme to pamper themselves even more on our cruises, starting from their accommodation."
Royal Caribbean launched the program in North America in November 2018, and Australia/New Zealand in February 2019.