In:
Royal Caribbean cruises offer a ton to see, do and experience onboard the ship and in the ports you visit.  So with so much to do, do you really need a stateroom with a balcony?
If you are on the fence about whether to get a balcony stateroom or not, here are some considerations to factor into your decision.
Length of cruise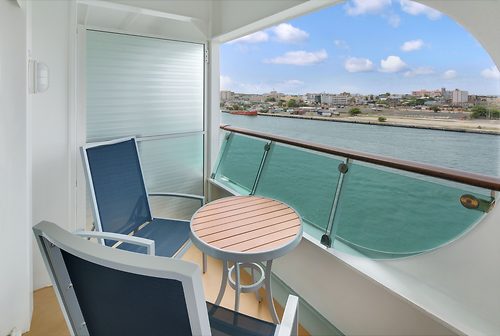 The longer your cruise, the more time you will have to actually spend on your private balcony.  
Sailings that are at least seven nights will afford you more time to enjoy days at sea, sailaways and quiet time on your balcony.  
On shorter sailings, you will have less time to enjoy that balcony space, which makes getting the value out of it less compelling. 
Price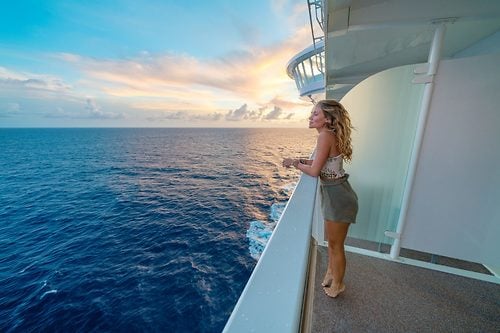 Inevitably, the cost to move up to a balcony from a lower category stateroom may dictate how practical a balcony room is from a budgeting standpoint.
Depending on the season, booking demand and availability, the price of a balcony stateroom may be a significant price jump, or just a nominal fee extra.
In addition, the longer the sailing, usually the higher the price tag for that private balcony experience.
Privacy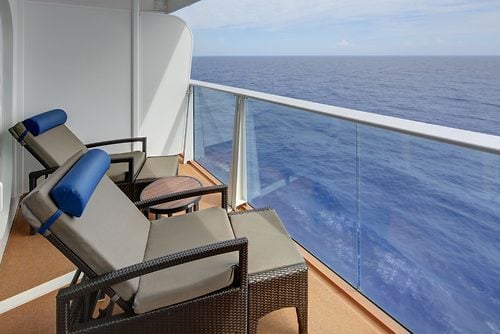 One of the most compelling reasons to get a balcony stateroom is to have your own private space to enjoy the view of the ocean, ports and anything inbetween without competing with other guests.
Public space around the ship to view what is around you is surprisingly ample, but some folks prefer the seclusion that their own balcony can provide. Whether it is somewhere to enjoy a morning coffee, read a book, or take photos, a balcony stateroom offers all of that and more.
Of course, your neighbors can easily peek around or through the balcony divider into your balcony and there is no guarantee they will not be talkative on their balcony, so total serenity is not certain. Your balcony, however, is certain to be quieter than the pool deck.
Extra living space
A balcony room not only provides more square footage in the balcony, but the rooms are larger inside than lower category rooms.
By having extra living space, it limits the claustrophobia that sometimes comes with small cabins on a cruise ship. 
Moreover, balcony rooms are great for giving you that much needed bit of personal space when sharing a room with someone else. If your cabin mate wants to nap or sleep in, but you are wide awake, a balcony offers you a place to hang out without disturbing them. And having your own outdoor space for reading or relaxing while the kids nap inside, or for having an additional spot for snacking or playing games, feels especially decadent during your days at sea or even in port.
Motion sickness concerns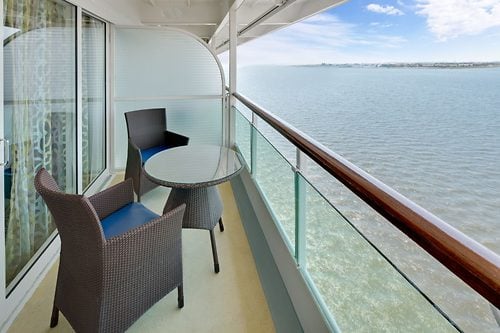 If you are new to cruising, or simply worried about the effect of the ocean's movement while cruising, a midship balcony stateroom can greatly assist.
 Having a balcony also enables you to consistently focus on the horizon line, which tends to keep what you see in sync with the ship's movement, thereby minimizing any feelings of motion.
X-Factor: How much time will you spend in the room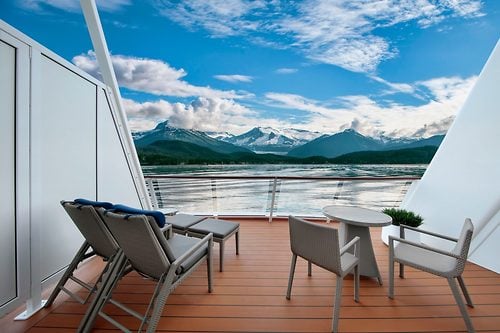 In my opinion, the real question when it comes to booking a balcony or not is how much time will you really spend in the room to take advantage of the balcony.
Interior staterooms tend to be the starting point in terms of pricing and square footage, and they are ideal for anyone who does not plan to spend much time in their rooms beyond sleeping and showering. A balcony room offers more space and great views, but with so much going onboard your ship it is easy to end up elsewhere beyond your room.
Unfortunately first time cruisers will not know until they actually get onboard which parts of the ship they will gravitate towards, so it is more of a guess.  
Ultimately, you need to consider what your plans are for onboard the ship and on shore and think about how much a balcony stateroom would enhance your cruise vacation.
Your thoughts
Do you think a balcony room is worth it? Have you stayed in a balcony room before? Share your experiences in the comments below!