In:
Royal Caribbean announced they are creating a new stateroom category, the Spa Stateroom that adds in-room amenities and spa privileges.
Here is what is included with the Spa Staterooms:
50% off one spa treatment of your choice per stateroom

Spa treatments cannot be prebooked, must be booked onboard

Priority when booking spa treatments
Upgraded carpet & balcony cushioned balcony furniture
Upgraded mattress and pillows
Upgraded jetted shower head
Upgraded toiletries
Welcome gift of fresh fruit on embarkation day
Refreshments delivered daily
King-size down feather pillows
Cozy slippers and luxurious robes
Bluetooth speaker
Succulents
Tranquil artwork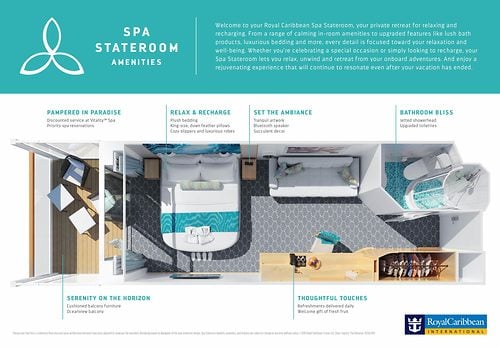 These new Spa Class rooms will be double occupancy only.
Spa Staterooms will be available on all on Radiance Class ships and above as of May 2021. Bookings for the Spa Staterooms will become available beginning the week of October 28, 2019.
UPDATE: These staterooms will eventually be available on Radiance, Voyager, Freedom Oasis, and Quantum Class ships. They will be below a suite, but above a standard ocean balcony room.
Four new Spa Category rooms:
SB -  Spa Oceanview with Large Balcony

Not available on China itineraries
On Freedom, Voyager or Radiance Class these will be known as Spacious Spa Oceanview Balcony

S2 - Mid Ship Spa Ocean View Balcony
S4 - Forward/Aft Spa Ocean View Balcony
XS - Spa Gurantee Category