In:
With a gross registered tonnage of 156,271 and maximum passenger capacity of 4,515, Freedom of the Seas is not a small ship by any means. In fact, when launched in 2006, she was the largest cruise ship in the world and the first to feature the FlowRider surf simulator!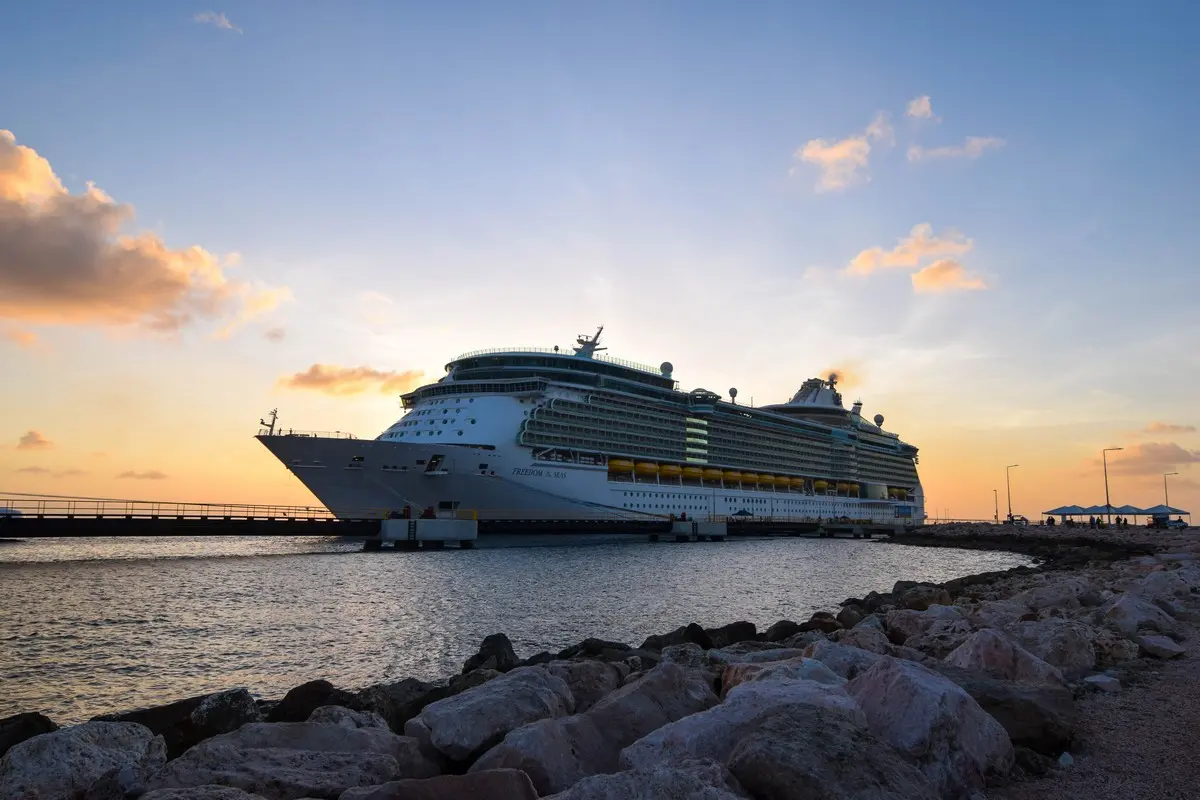 Today, she is surpassed by Oasis and (in 2024) Icon Class ships. While you will not find all the bells and whistles on Freedom that you do onboard newer ships, there is still a lot to appreciate about this beloved vessel. 
Here are 10 things you should know before cruising onboard Freedom of the Seas.
Related: What it's like to cruise on Royal Caribbean's Freedom of the Seas in 2023
Utilize the Cruise Planner ahead of time to take advantage of pre-cruise discounts 
Once you have placed your deposit, you will gain access to Royal Caribbean's Cruise Planner site. This is your go-to place to see everything that is available onboard Freedom of the Seas. 
Here, you will have the option to book shore excursions, drink packages, specialty restaurants, internet packages and more.
You can also decide whether you want to book any for-a-fee activities, such as a FlowRider surf lesson, sushi making class, or All Access Ship Tour. 
By purchasing items and packages in advance, you can take advantage of Royal Caribbean's pre-cruise sales. While the actual discount varies, it is not uncommon to see drink packages marked down anywhere from 20% to 40%. 
If you want until you get on the ship, you will be stuck paying the onboard pricing for everything! 
She underwent a $116 million dollar renovation in 2019, meaning there is more to see and do onboard than before
Freedom of the Seas underwent an extreme bow to stern makeover in 2019. New features, such as the Perfect Storm water slide duo, updated Caribbean resort-style pool deck with The Lime & Coconut Bar, Giovanni's Italian Kitchen, and dedicated spaces for kids and teens, were added. 
Other restaurant additions include the complimentary poolside El Loco Fresh, as well as specialty Izumi Hibachi and Sushi and Playmakers Sports Bar & Arcade. 
Younger children will love the Splashaway Bay aqua park, while teens will appreciate Social033, a teens-only hangout with private outdoor deck. 
Many public areas got a fresh too, including the adults-only Solarium and Boleros.
You will not find any Broadway-style shows on Freedom of the Seas
While Royal Caribbean is known for their entertainment, not all cruise ships have the advertised Broadway-style musicals or water shows with high drivers, aerialists, and dancers. 
From the ice skating show called FreedomIce.com to two Royal Caribbean original productions, headlining acts, and numerous game shows, there's no lack of entertainment options onboard Freedom of the Seas.
The first original production is called Marquee and showcases a collection of Broadway songs with sets that try to replicate the specific show. The second, Once Upon a Time, highlights different fairytales including Cinderella, Rapunzel, Pinocchio, Sleeping Beauty, and Little Red Riding Hood. 
Adults can (and should) relax in the cantilevered hot tubs
Freedom of the Seas was the first cruise ship to add cantilevered hot tubs onboard. Now, you can find them on other Freedom Class ships, as well as Oasis Class ships, too. 
In the Solarium, you will find two hot tubs that jet out over the side of the ship. One is located on the port side, while the other is across the ship on the starboard side. 
They are enclosed with glass panels, making it so that you are able to look out at the surroundings while relaxing in the whirlpool. 
Plan on bringing a portable charger or cruise line approved power strip
Like most older cruise ships, Freedom of the Seas' staterooms are not equipped with endless outlets. You will only find two American plugs in standard staterooms located near the desk, meaning that there are no charging options if you want to use your device in bed. 
There is a third European outlet if you have a converter handy. Even so, you may want to be able to charge multiple devices at once, whether that be phones, tablets, or smart watches.
If you have more than two people staying in one room, you will definitely want to ensure that you have a way for everyone to be able to at least charge their phones at the same time. 
Related: I paid $1500 for an inside cabin on the Freedom of the Seas: take a look inside my tiny windowless room
There is a sun deck at the aft of the ship behind the FlowRider that offers great wake views 
I did not venture up to the FlowRider until the final afternoon of my 4-day cruise. To my surprise, I found there to be an empty sun deck at the back of the ship right behind the surf simulator! Sure, the noise from the sports deck was noticeable, but it was not much different than that found at the pool deck. 
If you are unable to find chairs near the pool or simply want to soak in better ocean views with fewer people around while still sitting in the sun, head to the aft of Deck 13. There, you will find a staircase leading down to this area! 
Take time to familiarize yourself with the deck plans ahead of time, especially for shorter sailings
On a similar note, you should always explore the ship as early as possible. You never know what hidden areas you will come across. 
Prior to boarding the ship, take some time to look over the deck plan. Do you know where your cabin is located in proximity to the Windjammer? What about the Royal Promenade and Adventure Ocean? 
When check-in opens, you might want to consider booking an earlier arrival time, as this will give you more time on embarkation day to wander around the ship before the sail away festivities begin. 
Related: 15 ways to speed up the embarkation process and board your cruise ship faster
Through July 2024, you do not have much variety in itineraries
From now until July 2024, Freedom of the Seas is mostly making 3- and 4-night Bahamas cruises to Nassau and Perfect Day at CocoCay. 
In December, there is a single 5-night sailing to Mexico in CocoCay, while Royal Caribbean is also offering one 4-night cruise to Puerto Plata, Dominican Republic in April 2024. 
Starting next summer, she will begin making 6- to 8-night cruises to the Eastern, Western, and Southern Caribbean. You will be able to visit anywhere from Castries, St. Lucia and Basseterre, St. Kitts & Nevis to Grand Cayman and Falmouth, Jamaica. 
If you are sailing soon, you should expect to find a brand-new port area in Nassau 
In May 2023, Nassau opened the first phase of their upgrade cruise port. This cost $300 million and meant not only the addition of new berths to accommodate more ships, but a new port area that no longer immediately exits into the hustle and bustle of Nassau. 
Instead, you can enjoy a leisurely walk through the plaza and browse the local stores, wait in line for a cab to Atlantis, Cable Beach, and Baha Mar at the decided taxi stand, or grab something to drink. There is even a gelato shop!
Related: Nassau, Bahamas opened the first phase of its cruise port revamp. Here's what's new and different
Onboard, you will find five complimentary dining options, ranging from the three-story Main Dining Room to El Loco Fresh for poolside tacos
Food is a major component of any cruise vacation. Some guests like to get their base fare worth and only dine at complimentary venues, while others prefer to splurge on specialty dining. Regardless of your preference, there are plenty of dining options to choose from.
In addition to room service, which is complimentary if you order continental breakfast during certain hours, you have the Main Dining Room, Sorrento's, Windjammer, Café Promenade, and El Loco Fresh.
None of these venues cost you anything extra, and you can eat as much from them as you'd like! 
Specialty restaurants include Izumi Hibachi and Sushi, Chops Grille, Giovanni's Italian Kitchen, Playmakers Sports Bar & Arcade, Chef's Table, and Johnny Rockets.