In:
I recently took my first cruise on a smaller Royal Caribbean ship, choosing to sail on Radiance on the Seas.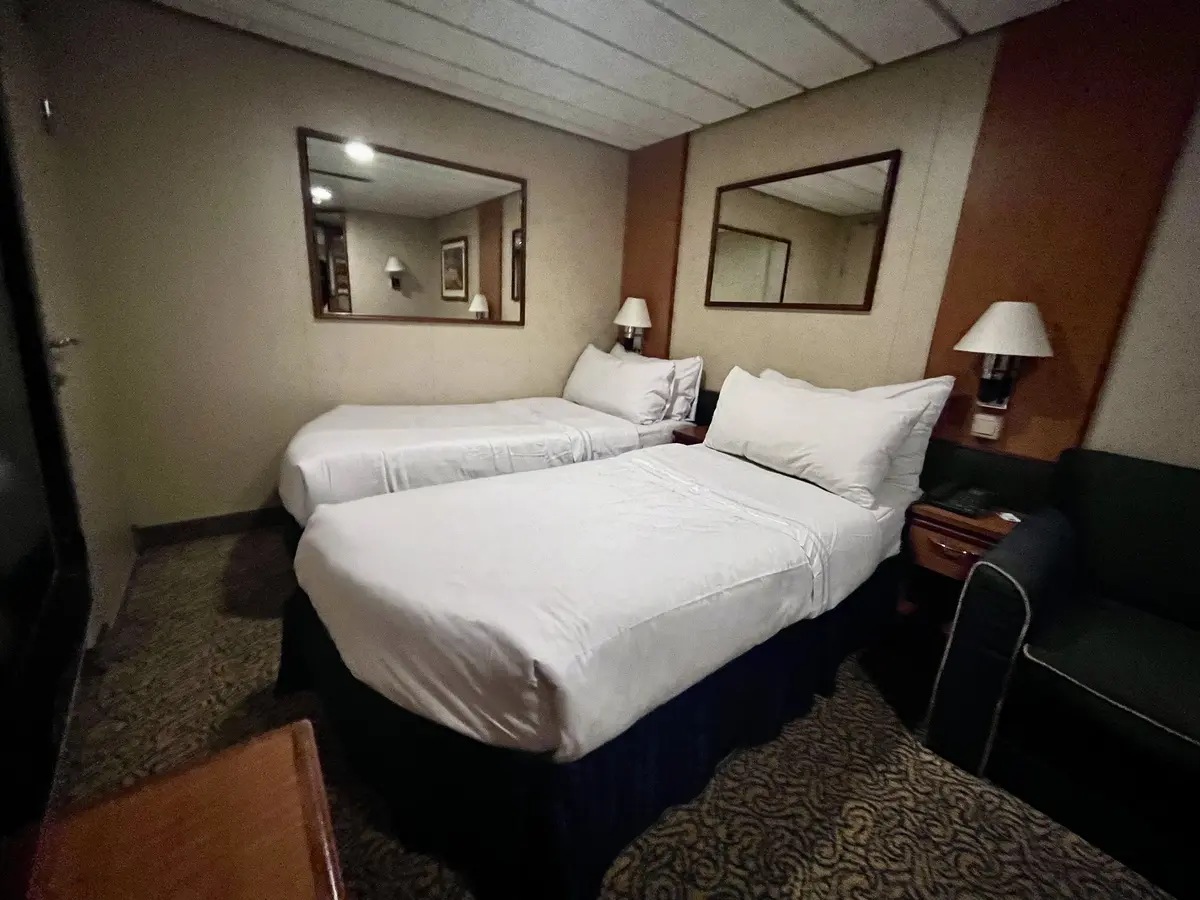 This sailing was a 5-night cruise from Tampa, Florida, stopping at Costa Maya and Cozumel, Mexico. 
Radiance of the Seas, the first Radiance Class ship, was built in 2001 and revitalized in 2011. 
It is a smaller ship in Royal Caribbean's fleets, with a capacity for 2,466 guests. 
Read more: 20 Radiance Class cruise ship tips and secrets
I opted to book a guarantee stateroom, choosing a cheaper price in exchange for letting Royal Caribbean assign us a less desirable cabin. Usually, they assign you the cabins that have not yet sold a few weeks before embarkation. 
The total price of the fare was $1510.74, with pre-paid gratuities included, totaling just $151 a night per person. 
About a week before my cruise, I saw that we had been assigned cabin number 4059. Located midship on the 4th deck, this was the lowest level cabin I've experienced before!
I appreciated the midship location, close to the elevators both in the middle of the ship and the forward end. 
It was also extremely close to our assigned table in the Main Dining Room—right there on deck 4. 
Room 4059 was a windowless inside cabin. Although Radiance of the Seas is the smallest ship I have sailed on so far, the size of the room did not disappoint. 
Despite it being a smaller inside cabin, I thought the stateroom was quite spacious, with a couch in the corner and room for two beds. 
When I walked into the room, I faced the two beds and couch on the right and the vanity and desk on the left. 
The closet was on the front left of the room, directly opposite the bathroom door. 
The bathroom was small, as I am now used to on Royal Caribbean ships. The lights were slow to flicker on, but there was nothing else to suggest that the cabin was outdated. 
Honestly, if I hadn't already known the age of this ship, I would never have guessed that she's as old as I am!
Read more: I sailed again on Royal Caribbean's Radiance Class ships, but think these ships need upgrades
One aspect that I did not like about the bathroom was that the shower curtain was a thin fabric instead of a plexiglass door. Water would spill under the curtain out onto the floor if I wasn't careful. 
However, all other aspects of the bathroom were great: lots of mirrors, enough shelf space, and fresh towels daily. 
Opposite the bathroom, the closet held 6 wide shelves and countless hangers. This is one of the largest closets I've taken advantage of on my cruises. There was enough space for myself and my friend, who was traveling with me, to fill the shelves with our clothes, place our luggage on the floor of the closet, and hang jackets and dresses on the hangers. 
Further on in the room, I loved the full-length mirror opposite the vanity and the vanity aspect with lights under the mirror. 
The desk/vanity had a comfortable chair and many drawers, which were ample enough for my friend and I to store any other items there.
Tucked to the right of this desk was a small refrigerator. However, it didn't have any cooling unit of its own, so it served more as a storage container rather than a cooler. I was able to store food there but found that it didn't stay very cold. I put a vegan sorbet from the Main Dining Room inside this cooler, and it had melted by the next day. 
Above the desk was a small TV, which was not a smart TV but had a few free channels. 
The couch was large enough for two people to sit on, and I loved the small table next to it, where we served ourselves room-service breakfast in the mornings. 
The two beds came separated, each with a small nightstand and a lamp above it. I loved that the lamps had two settings: one dim and one much brighter.
The beds were comfortable and cozy, with fluffy pillows I couldn't wait to rest in every night. 
There were no electricity ports on these nightstands that I could find, so we had to share the ones at the desk. Thankfully, I brought an extension cord to add several extra ports.
I also chose to bring magnetic hooks, as many people suggest, since they can stick to the steel cabin walls. 
I can't believe I didn't take advantage of this hack earlier! It was a great way to hang scarves and jewelry on the wall and keep them from getting tangled up. 
This cabin was my first one with a connecting door to the room next door. The room was connected with #4057. Since we weren't traveling with a group, of course, we kept the connecting door locked. 
However, I did find that it was easy to hear our next-door neighbors, especially when it got quiet at night. I could hear them coughing late at night, and I'm sure they could hear my friend and I talking. 
The walls seemed thin all around, as I could also hear steps above me and people out in the hallway. 
We were also located quite near the elevators, lobby bar, and Guest Services, so we could hear the live music playing and people talking from that area. 
However, it wasn't so loud that we could not sleep. As a matter of fact, the windowless room stayed so dark that we slept very soundly most nights. 
Despite the midship location, I did find myself getting pretty seasick inside the room, maybe due to the lack of windows and no view of the horizon. Getting fresh air and taking Dramamine every day helped a lot. 
I took full advantage of room service breakfast on this trip and found that they would call us about 15 minutes before they came to deliver the breakfast. It was a great way to sleep in and enjoy a meal in the cabin. 
Despite the fact that this was a cheaper inside cabin, I found that it was large enough and nice enough that we wanted to spend time in this cabin. Saving money on booking to receive this cabin was definitely worth it!