In:
While Royal Caribbean is best known for its massive, flashy cruise ships, the cruise line still relies on these older vessels for specific destinations and markets. A cruise line's oldest ships typically feature a more traditional era of cruising with less bells and whistles than you'll find on the new mega ships.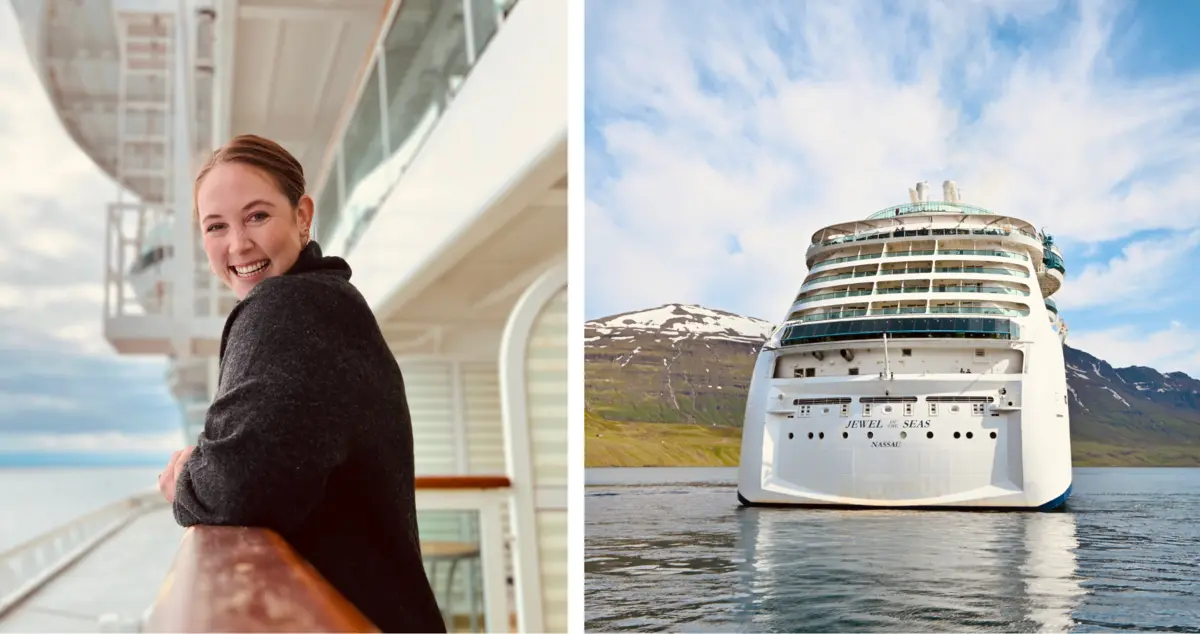 I just returned from a 12-night sailing onboard Jewel of the Seas, which is one of the older ships in Royal Caribbean's fleet. Jewel of the Seas is part of the Radiance Class of ships, the second oldest in the fleet. Our itinerary to Iceland from Amsterdam was very port-intensive and even featured an overnight stay in the capital city, Reykjavik.
Let me preface this by stating that my husband and I had a wonderful cruise! We booked this cruise because of the itinerary, price and date. But, on a longer sailing like this, I had a lot of time to explore Jewel of the Seas - and I have some honest thoughts about the experience. I've sailed on many older cruise ships in the recent years, so I do believe my expectations were appropriately set. 
After 12 nights onboard Jewel of the Seas, I probably won't be planning another cruise on a Radiance Class ship again in the near future. Here's why I think these ships definitely need upgrades. 
Although not the oldest class of ships, Royal Caribbean's Radiance Class first debuted in 2001 - which is over 22 years ago. 
This class consists of four cruise ships, including Radiance of the Seas, Serenade of the Seas, Brilliance of the Seas and Jewel of the Seas. These ships debuted between 2001 and 2004 with all vessels being revitalized between 2012 and 2016. 
The Radiance Class of ships feature many sunlit, glass-covered spaces with large glass elevators. This design gives world-class views of the sea. Since these are smaller vessels, holding just 2,400 to 2,700 passengers, Royal Caribbean relies on these vessels to reach more remote and exotic ports.
An enclosed, heated solarium is another key feature of these ships. You can also enjoy the solarium's pool and hot tub, along with a small cafe. The pool deck features one large pool and two hot tubs, surrounded by loungers. 
Radiance Class ships are classic, beautiful and elegant. Onboard, you truly feel like you are on a ship and not a floating resort. Everywhere you look, you'll find sweeping views of the sea and the ports. This is one of my favorite aspects of Radiance Class ships. 
Royal Caribbean sails these ships around the world, although you will most likely find them sailing to Alaska, Europe and the Caribbean. In fact, Royal Caribbean will be sailing Serenade of the Seas on the Ultimate World Cruise most likely due to its convenient size for sailing on such an exotic itinerary. 
I'm no stranger to these ships, as I've sailed on every Radiance Class ship over the last 13 years.
When I first booked our Iceland cruise, I was expecting to sail on a Radiance Class ship. These vessels are perfect for port-intensive itineraries to visit remote Icelandic towns with populations that double in size when a cruise ship visits. I didn't have any hesitations, as I knew most of our time would be spent ashore. 
My first Radiance Class ship was on the Radiance of the Seas in 2010 to Alaska and last year, I sailed on Radiance of the Seas to Alaska again. In all honesty, the ship looked pretty tired last year, but it was one of the first post-pandemic sailings for the vessel and the price was dirt cheap - so, I didn't think too much of it. 
I also sailed on Serenade of the Seas in 2016 for a 13-night cruise to the Baltics. My husband and I would return in July 2021 for another sailing to Alaska on the same ship. Perhaps the novelty for the return of cruising blurred my vision, but we had a fantastic time and I had no gripes about Radiance Class ships after. 
Similarly, Brilliance of the Seas holds a special place in my heart, as it's where my husband proposed back in 2017 during a 12-night Mediterranean cruise. This is the only Radiance Class ship that I haven't sailed on again!
Finally, we sailed on Jewel of the Seas to the Caribbean in 2018 before also setting sail a few weeks ago to Iceland onboard the same vessel. Jewel of the Seas received a $30 million investment for bow-to-stern renovations in 2016, but this was seven years ago. 
I think I speak for most people when I say that none of these cruises were booked solely for the ship itself. Newer ships can be destinations themselves, but this isn't usually the case with Radiance Class ships. Instead, all of these were booked because the date, price and itinerary fit everything we were looking for.
Needless to say, I've spent a lot of time onboard Radiance Class ships. While they hold special memories for me, I've seen these ships slowly age overtime. I wish Royal Caribbean would make some necessary updates to keep them looking fresh and modern. 
One of my biggest complaints about Radiance Class ships is an overall lack of complimentary dining options onboard.
Radiance Class ships rely mostly on the main dining room and Windjammer buffet for complimentary dining venues. Additionally, you can find light snacks in the Solarium Cafe and Latitude Cafe throughout the day, but that's really about it. 
Newer Royal Caribbean ships feature a slew of complimentary dining options, such as Sorrento's Pizzeria, Cafe Two Seventy, El Loco Fresh, Cafe Promenade, Dog House, Solarium Bistro and Mini Bites, to name a few. These are casual dining places where you can grab a quick bite to eat throughout the day. 
Royal Caribbean absolutely needs to consider adding a few of these complimentary dining options onboard Radiance Class ships! During our cruise, if you wanted to eat between 3 p.m. and 6 p.m., you could only find a very minimal selection of food at Solarium Cafe. After trying this twice, the mediocre food left us preferring to stay hungry until dinner. 
Normally, this isn't anything to gripe about; however, a European itinerary is very different than a Caribbean one. Most are spending long days in the port and looking for something substantial when getting back onboard. We were out in port most days until the late afternoon. Since we had My Time Dining, we couldn't eat dinner until at least 6:30 p.m. 
After a long day exploring, we really wanted a late lunch to hold us over until dinner. Solarium Cafe only served the same few sandwiches each day and none of them hit the spot. Late in the evening, this was also the only place you can find a snack as well, meaning everyone crowded into this corner of the Solarium for a late-night snack. 
It would make sense for a venue like Sorrento's Pizzeria or El Loco Fresh - something with quick, complimentary service - to be added onboard with more accessible hours.
Other cruise lines, like Carnival and Norwegian, have prioritized adding newer dining options to their older ships. 
Because of my job as a cruise blogger, I've sailed on many different ships from multiple cruise lines. Last summer, I sailed on Carnival's oldest ship, Carnival Ecstasy, and I was astounded to see many of the cruise line's signature dining options onboard. I definitely didn't expect this, as Royal Caribbean's older ships have never been amplified like this. 
Even though Carnival Ecstasy was 31 years old, we were able to dine at Guy's Burger Joint and BlueIguana Cantina. The ship also featured Carnival's signature pizza parlor and panini shop. All of this was in addition to the Lido Buffet and Main Dining Room! 
Similarly, Norwegian Cruise Line has added newer dining options to their older ships during refurbishment. For example, Norwegian Sky was refurbished in 2018 and the cruise line added eight new dining venues onboard! 
With more dining options onboard, you create less congestion in the buffet as well. On Jewel of the Seas, we found the Windjammer buffet to be packed for breakfast and lunch during peak times. We could barely find a table most days since there were really no other complimentary places onboard for lunch. 
Royal Caribbean's amplification program has been adding newer venues to older ships, but the program skipped over Vision and Radiance Class ships. I'd argue that the cruise line's oldest ships are in need of some amplification more than the newer ships!
In addition to a lack of dining, our balcony stateroom onboard Jewel of the Seas had a lot of wear and tear.
Once onboard in Amsterdam, we made our way to our balcony stateroom to unpack and get settled in. 
The first time I walked on the balcony, I was surprised to see the balcony looking very dry and worn out. I was honestly worried I might get a splinter if I move my hand the wrong way! We also could see a lot of rust around our balcony area, which is expected on an older ship, but it was more than I anticipated. 
We also found the small table in our cabin to be pretty worn down, with scuffs surrounding the exterior. Similarly, our drawers were very damaged. 
Finally, we only had one outlet in our room to share. Luckily, we brought an extender with USB ports, as this was expected. While newer ships have plenty of outlets and USB plugs, older ships were not designed in this way. However, some cruise lines have been adding more outlets when they refurbish their older ships. 
For example, I sailed on Norwegian Sun in March, which is one of Norwegian's oldest ships. I was pleasantly surprised to see that the cabins had been recently upgraded. Everything from the carpet to the counter tops looked to be refreshed. Most importantly, the cruise line had installed USB plugs on the table side lamps. 
These small touches make a big difference when it comes to the stateroom's appearance. While having a scuffed table or balcony didn't dampen our cruise by any means, I do think it aligns with most Radiance Class ships looking pretty aged and tired. I expected the room to have aged decor and design, but I was surprised to see how worn it looked. 
Without all of the bells and whistles onboard, Radiance Class ships need to be updated with more hot tubs and pools. 
On Jewel of the Seas, there were only two pools and three hot tubs. You could find the Solarium pool and hot tub, in addition to the lido deck's pool and two hot tubs. 
It's totally fine that Radiance Class ships do not have all of the onboard thrills like newer ships, such as waterslides and zip lines. But, it would be nice to have more options for hot tubbing and swimming. For more than 2,000 guests onboard, everyone tends to crowd to the same places. 
Now, granted, on our sailing to Iceland it was very cold and most did not utilize the outdoor pools. Instead, the Solarium was quite busy on sea days since it was covered and heated. I'd love to see the addition of another hot tub or pool, especially considering Radiance ships sail to cooler destinations and there isn't as much to do onboard. I can only imagine how crowded the pool gets during a Caribbean sailing with warmer weather!
The Royal Amplification program does not include Vision and Radiance Class ships, but I think this is a mistake. 
Royal Caribbean has been amplifying its older Freedom and Voyager Class ships to add new venues, bars and lounges onboard, although most of those took place before 2020 when the company's financial situation was vastly different.
The company is undoubtedly focused on its moneymakers: their mega cruise ships. Their newest cruise ships are the biggest in the world and feature more wow-factors than any other cruise line. Royal Caribbean has even stated that its newer ships are more profitable than older ones. From a business perspective, it makes sense to invest more in the areas that have a higher return on investment. 
However, allocating even a fraction of these amplification resources could be used to update, maintain and modify Royal Caribbean's Radiance Class ships.
While I used to say that I'd rather sail on an older Royal Caribbean ship than an older ship from Carnival or Norwegian, that perspective might be changing. With Royal Caribbean simply letting their oldest ships age without any major TLC, I am losing my zest to sail on these ships. 
I am someone that books cruises mostly based on the itinerary with little care about which ship is being sailed on. If other cruise lines are investing into their older ships and those itineraries are equally as appealing to me, I probably wouldn't hesitate to book with another cruise line. A few years ago, I would have never felt this way!
Perhaps Royal Caribbean will add Radiance and Vision Class ships to their Royal Amplification program eventually, even if these ships receive a smaller investment than others. Adding newer venues to older ships, along with updating staterooms, would have a major impact on the cruising experience for these older vessels.