In:
In the world of cruising, bigger isn't always better.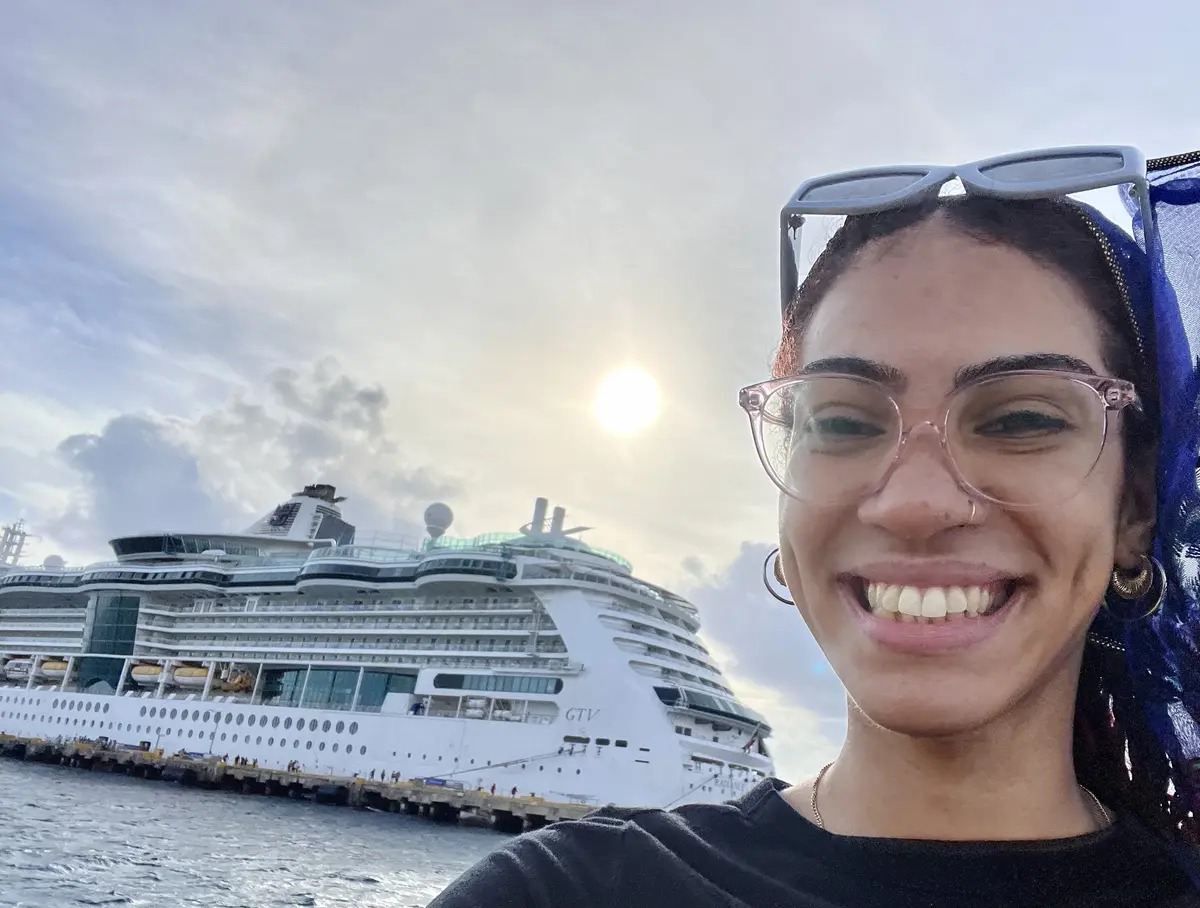 Many cruisers are familiar with the grandeur and scale of Royal Caribbean's exciting mega-ships. 
I personally experienced luxury cruises on some of those colossal vessels, such as the Wonder of the Seas and Freedom of the Seas. 
After cruises on the bigger Oasis and Freedom Class ships, it was time for me to try a cruise on a smaller ship.
I sailed on Radiance of the Seas, a Radiance Class ship.
While not the smallest Royal Caribbean has to offer, the ship only has 13 decks and a capacity of 2,500 guests. 
The contrast from the larger ships was stark. The experience opened my eyes to the potential charm and advantages of a smaller cruise adventure. 
I found that, although there are disadvantages to a smaller ship, this type of cruise can also offer a refreshing change of pace.
In this article, I'll share my insights into the unique aspects that set small Royal Caribbean ships apart from their larger counterparts. 
1. The ship had a more defined, intimate culture
One of the most significant differences of sailing on a small ship was the sense of a more defined, intimate ship culture that permeated the experience.
While on the ship, I noticed crew members acting closely and calling one another by name, even over ship announcements. 
The ship's captain, Captain Marek, also brought a much more personal touch to the sailing. I saw him walk around the ship, taking pictures with guests. He even performed one night, singing songs in the Centrum. 
I also attended the Captain's Q&A, which is present on other Royal Caribbean ships, but felt more personal with a smaller group.
While some of this is dependent on Captain Marek's sociable and kind personality, I'm sure that piloting a smaller ship helps him spread that friendly energy and create a more intimate ship community.
Personal touches like these make the ship a warm, welcoming atmosphere and allow guests to feel like more than just passengers—they feel like part of a close-knit cruising community.
2. The atmosphere felt quiet and calm
One difference that became very apparent once I stopped onboard was the sense of calm and serenity around the vessel. Unlike some of the larger, bustling ships, Radiance of the Seas felt like a much more tranquil and laid-back place.
There were so few crowds and noise everywhere onboard that my introverted spirit began to soar.
Especially at night, I could walk around a completely quiet ship. Most cruisers clustered at the bars or in the nightclub, leaving the majority of the ship tranquil.
For example, my friend and I would walk around the upper decks to look at the stars outdoors. Sometimes we would travel the whole deck without seeing anyone else!
This was a stark contrast to my cruises on larger ships, especially on Wonder of the Seas, where I could barely find a quiet place, much less one with no people around. 
If getting some peace and quiet is a concern for your future cruises, I highly recommend sailing on a smaller ship.
The absence of crowds and noise made it easier to unwind and enjoy the breathtaking views of the open sea without the noise and distractions found on larger ships.
Read more: 10 reasons why I didn't want to go on a cruise, but glad I gave it a try
3. Staff was more attentive, providing a personalized experience 
While Royal Caribbean has always impressed me with the quality of guest care, I could tell that the smaller scale of the ship allowed staff to be even more attentive to the needs of each guest.
From the dining room to the room service, the crew members went above and beyond to ensure a comfortable cruise experience. 
I noticed that crew members would recognize and greet me again after seeing me on the deck.
When we ordered room service breakfast, staff would call us before delivering to make sure we were ready to receive it. 
This attention to detail made sure my needs were always anticipated and met. I felt that the smaller ship lent itself to more genuine hospitality from crew members and created an environment where passengers' individual needs could be even more prioritized. 
4. I navigated the ship with ease
Navigating Royal Caribbean's mega-ships had felt like a daunting task. The larger ships, such as Wonder of the Seas, have multiple neighborhoods and many decks, making you feel like you're traversing a small town.
I'm not the best with directions, so took me about 3-4 days to get comfortable navigating the larger ships. It was hard to even remember which end was the fore and which was the aft!
On the smaller cruise ship, however, the layout was more straightforward and compact, making it easy for me to find my way around. With fewer decks and a more compact design, I felt comfortable traversing Radiance of the Seas by Day 2 of the cruise.
This saved us time when it came to getting lost and deciphering maps and allowed us to spend more time enjoying the amenities and activities onboard.
We didn't have to rely on crowded, slow elevators for the whole of the cruise, as well. I was comfortable taking the stairs for much more of this cruise due to the ship's smaller size. 
5. There was no need to make reservations
On my larger cruise ship experiences, I had to be on the lookout for events and venues that could fill up quickly or require a reservation.
We had to move fast when it came to dining reservations and show up early to find a seat in the shows.
Unlike on mega-ships, where availability was limited, my smaller cruise offered a hassle-free experience. There was no need for me to plan ahead, as I found I could simply show up to whatever activity or event I wanted and find plenty of spots available. 
These events, such as comedy shows, Zumba classes, or groups on the pool deck, felt more intimate and connected with much fewer people present.
6. Seating was more easily available 
One common struggle on larger ships is finding a vacant seat, especially in popular dining areas like the Windjammer buffet. 
On the smaller ship, I found that many more seating options were available. In the Windjammer, I could enjoy meals without the stress of searching for a table.
And the bars had hardly any lines, whereas I would have had to wait for several minutes on a larger ship.
This contrast added comfort to the already-relaxed atmosphere onboard.
Of course, this difference has two sides: on one hand, the smaller ship has fewer people aboard, meaning that more seating was available in some areas. 
However, on the other hand, the smaller ship meant smaller areas, so I did find fewer seats available in places like the pool deck.
7. Provides the unique experience of sailing out of small ports
Choosing a smaller ship opens up the possibility of disembarking from smaller ports.
In the case of my Radiance of the Seas cruise, this meant we could sail out of Tampa.
This smaller port allowed for a more convenient, streamlined departure experience. 
The ship could also sail directly under the iconic Sunshine Skyway Bridge, the gateway to Tampa Bay. Radiance of the Seas clears the bridge with just 6 feet of leeway, so it is an incredible opportunity to watch the small ship navigate.
We could also sail right up to our ports of call at Costa Maya and Cozumel, meaning no extra tender ships were required.