In:
Cruising has grown in popularity over the last ten years, an enjoyable vacation choice for many individuals.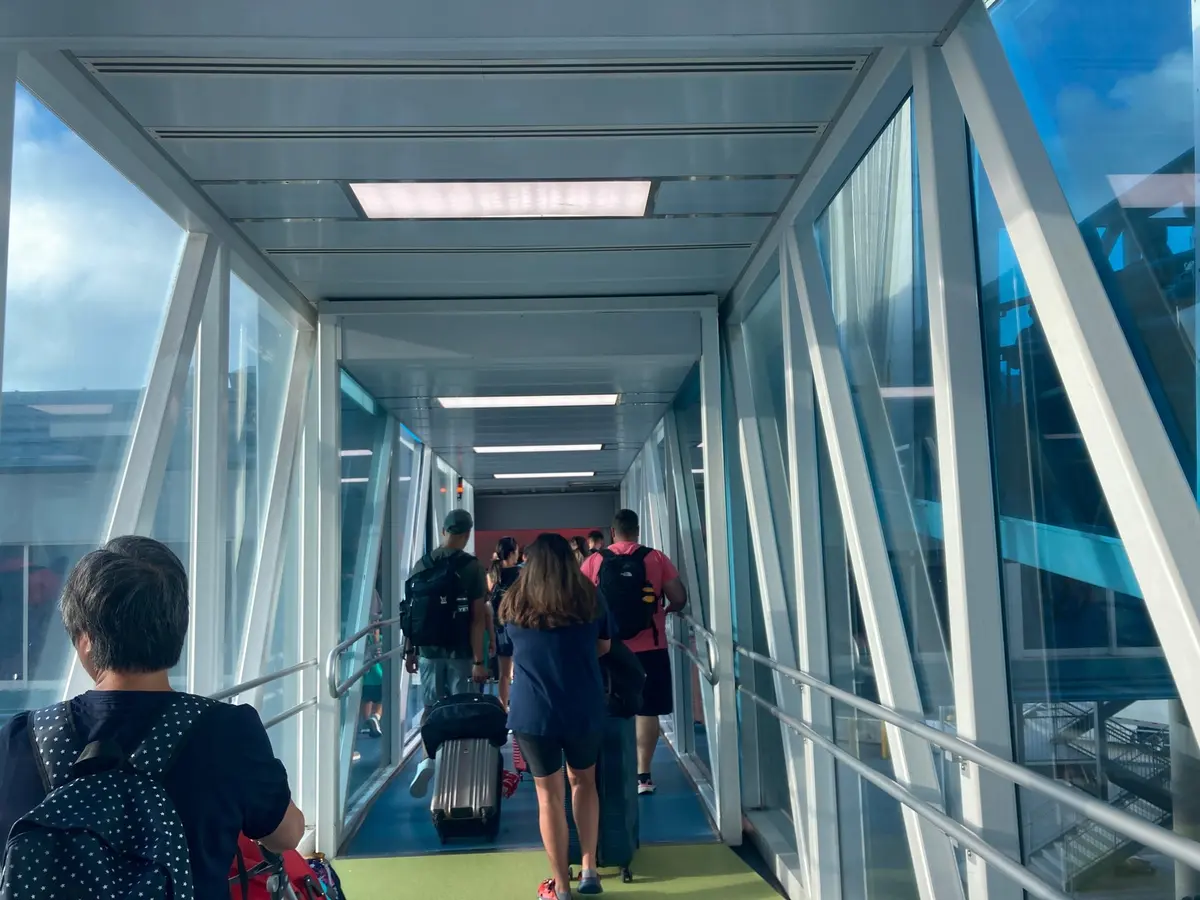 However, some people might still feel skeptical about the value of this form of travel.
Besides the fact that travel is not accessible to everyone, there are many reasons why someone might choose not to go on a cruise. 
My opinion on cruising was no exception until recently. I have explored various other modes of travel but hadn't wanted to cruise until I ventured onto the seas for the first time just last month aboard Wonder of the Seas.
Like many preconceived ideas, my cruising reservations were based on misinformation and inexperience and could only be disproved with further research or personal experience. 
From concerns about the overall cost to health issues in the age of COVID-19, I'll introduce the top reasons I never wanted to cruise before.
In light of my recent cruise on Wonder of the Seas, I'll also explain whether or not I found my concerns accurate.
Read more: 10 Ways Cruising Has Changed in the Last 30 Years
1. It's too expensive
Before my first cruise, I assumed that cruising would be a too-expensive luxury. 
As it turns out, cruising is one of the most affordable forms of travel since accommodations, meals, and entertainment are all included in the base fare.
On my Wonder of the Seas cruise, we paid $2,674.76 for the base fare, about $382 per night for two people.
Since we only booked this cruise about a month beforehand, this is still a competitive price for such a new, large cruise ship.
We definitely could have saved money by booking our cruise earlier, ahead of time, or waiting for sales. 
Considering that traditional travel includes the cost of transportation, hotel or Airbnb accommodations, and meals, even before the cost of activities and entertainment, I think our cruise offered more value for the money.
Additional expenses, like drinks, specialty dining, or shore excursions, do quickly add up, but those costs can be minimized with careful planning.
In fact, it's possible to plan a cruise for less than $100 a day.
Read more: I'm a budget cruiser. Here are 8 easy strategies I used on my recent Royal Caribbean cruise to save money
2. There are too many options
It's true that choosing a cruise line and ship can be overwhelming. 
Without the help of a travel agent, I may not have been able to decide on one particular cruise, especially as a first-time cruiser. 
But you can always start with online research as well. We have several posts on planning your cruise, including how to start and choose a cruise ship.
Now that I've experienced my first cruise, I suggest starting your cruise plans with a certain destination. Choose what part of the world you would like to sail to, and then examine your budget. Make sure you find a ship that fits your pricing needs.
After that, you can focus on the particular ship and activities available. Some people look for specific slides, shows, or speciality restaurants when choosing their ship.
In general, you can set your own criteria, then you can see what's available within those criteria and choose from those options.
3. I'm afraid of the ocean
Deep water makes me nervous, so the idea of cruising was formidable at first. 
Nightmarish news stories seem to pop up daily in the cruising world, whether it's people falling overboard, getting sick, or losing their way at port.
In general, sailing out into the vast ocean can be quite nerve-wracking. 
But cruising is very safe when you stick to ship protocol. Cruise ships are prepared with safety drills, onboard medical professionals, lifeguards, and emergency lifeboats.
Rather than ocean safety, seasickness would be a genuine concern. But this can also be minimized by taking medication, gazing at the horizon, and staying in the middle of the ship.
Even as someone who experienced seasickness, I could power through it and found that the vacation was worth it.
Also, if you are scared of the ocean, cruising can be a fun way to overpower that fear! 
I enjoyed gazing at the sea in the mornings, experiencing beautiful new beaches, and swimming in pools, knowing we were perfectly safe.
4. Time in ports is limited
If you're like me, you may prefer longer international travel where you can fully immerse yourself in a destination and explore it to the fullest. Cruise itineraries don't usually allow for this slow-paced cultural immersion. 
On my first cruise, we visited multiple ports of call—Perfect Day at CocoCay, St. Thomas, and St. Maarten, and purchased Royal Caribbean shore excursions on St. Thomas and St. Maarten.
While I enjoyed seeing multiple places on one cruise, it's true that the short stop did not allow us enough time to get out of the tourist traps and see more authentic parts of the islands. 
In fact, while we relaxed at Magens Bay in St. Thomas, a lifeguard told us that it was not nearly the best beach St. Thomas had to offer, just the most commonly known among tourists. 
Cruising port visits and excursions may not provide the authentic cultural experiences some travelers prefer.
Read more: Your really dumb cruise ship shore excursion questions answered
5. It's not for my age group
A common misconception about cruising is that only old, retired folks go on cruises. 
Many people believe that cruises take much more time and money than other forms of travel. 
In that case, it would make sense that only those who are retired and have money saved up could afford to go on a cruise vacation.
On my cruise, I learned about seniors who choose to cruise instead of living in an assisted living facility. This choice is a cheaper option that allows more independence for senior citizens.
However, this group was not the majority. I was also surprised by the amount of couples, younger friend groups, and families with children of all ages on my cruise. I saw people from every age group on my cruise, from retirees to young adults.
I could also tell that the Royal Caribbean ship had tried to include activities for people of all ages: child-sitting services, kids club, teen group, and the Hyperlink young adults group.
Personally, as a young person in my twenties, I enjoyed the Hyperlink meet-ups, spending time at the nightclub, and relaxing by the pool. I'm not ashamed to say I loved the laser tag, too! 
6. There won't be any people of color
Another common misconception is that only white people go on cruise vacations. 
Although luxury sailing has long been associated with rich Caucasian communities, cruising has become popular among many other groups. 
African Americans, in particular, are increasingly rating cruises as a preferred form of vacation.
It was to my pleasant surprise when I realized that my prior misconception about the demographics of cruisers was one of the most false things I believed before my cruise. 
Once we got onboard, I saw much more diversity than I expected.
This diversity was not just limited to crew members—who hailed from all over the world, a majority from Southeast Asia—but expanded to passengers and the people we met at ports of call.
The passengers I saw onboard were made up of every race, and many were from international locations.
For example, I met many Black people from all over the diaspora, from Trinidad and Tobago to the U.K.
7. I might get sick 
Illnesses can indeed spread quickly in the close quarters of a cruise ship.
In light of the COVID-19 pandemic, many people have become much more aware of the potential for disease or infection in certain locations. 
However, whether you're cruising or not, travel of any kind runs the risk of contracting a disease, especially between different cities or countries. 
Although this is just a personal anecdote, I can share that I did not contract any sicknesses from my first cruise or see anyone sick. 
In case of any emergency, I also felt assured knowing there were medical professionals onboard the ship.
However, those who are immunocompromised or concerned about potential illness might want to avoid cruising. 
Read more: What happened when I tested positive for Covid on a Royal Caribbean cruise ship
8. It would take too long
Due to the history of sailing, many people associate cruising with long, excruciating days of travel on the wide sea. 
Many first-time cruisers are concerned they will get bored on the ship while waiting to dock at port. 
Personally, I did take a slightly longer cruise at 7 nights, but we only had 8 full days of travel in total. 
Considering that this was an international trip, we visited 3 separate islands in addition to our port in Cape Canaveral, Florida, which is remarkably quick.
Additionally, we didn't suffer from jet lag or face any major time differences. 
If you have time for a more extended vacation, I recommend a cruise for the value: you'll be able to experience many different ports, shows, and activities within that timeline. 
And even if you don't have a longer vacation planned, plenty of shorter cruisers are available, such as 3-day trips that sail Friday through Sunday.
9. I don't like big crowds 
If you have social anxiety or an aversion to large crowds, a cruise vacation may not be the spot for you. 
Depending on your cruise's date, size, and popularity, the ship can be pretty crowded. 
My Wonder of the Seas ship, currently the largest cruise ship in the world, accommodates up to 6,988 passengers and 2,300 crew members. 
Although the ship itself was expansive, with lots of space to explore, it makes sense that the cruise would feel pretty full.
As someone who doesn't like large crowds, I appreciated that there were many places to go, some with a peaceful and quiet atmosphere. 
But I can confirm that there were people everywhere. You would be hard-pressed to find a place to be completely alone. 
And—a warning for the introverts out there—most events did take a lot of social energy, whether they were main dining dinners, shore excursions, or trivia game nights. 
Additionally, there was noise and music in almost every location: a cruise feels like a constant celebration, and it's hard to escape.
10. I don't have anyone to take with me
Who should you cruise with?
If you're single or far from family, it can be challenging to figure out who to take on your cruise, and many people (understandably) have an aversion to traveling alone. 
Don't be afraid if you're still concerned about convincing someone to go with you. 
Personally, I took my younger sister with me, and we had a blast! 
Cruising with another person can be much different than a land vacation: cruising provides much more independence while ensuring you both are safe in the same space.
For my sister and I, we enjoyed time together in our cabin, on shore excursions, and at the same activities we enjoyed. 
If we had been on a land vacation, my sister and I might have been worried about the safety of separating and spending time apart.
However, on one private ship with security and staff everywhere, we felt comfortable separating and doing the activities we liked most. Some days, I could spend time at the pool while she slept in. Other times, we felt like eating separately, and neither of us had any problems eating alone. 
A cruise vacation gave us much more freedom to enjoy time together but also to be alone without feeling unsafe.