In:
Are you about to go on your first Royal Caribbean cruise? If you answered yes, then very likely you have a lot of questions.  You might have questions about concepts that are completely new to you, or you simply want verification about what to expect.
We receive many questions from our readers about their first Royal Caribbean cruise, and here are answers to ten of the most common questions from first time cruisers.
How do I get the lowest price for a Royal Caribbean cruise?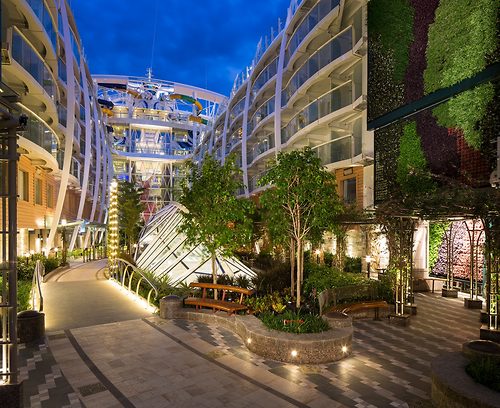 Everyone wants to save money on their vacation and get the best possible price, so the question most first timers have is how does one get a deal on their Royal Caribbean cruise.
If you were to ask veteran cruisers who have taken many Royal Caribbean cruises over the years how they get the lowest prices, they will tell you the key is to book a cruise as early as possible. In general, Royal Caribbean fares are the lowest when sailings first go on sale, and as the ship fills up with guests, prices tend to go up.
How early do you need to book? Ideally, booking anywhere from 12-24 months in advance is a great strategy.  Not everyone can plan that far ahead, but if you really want to lock in the best possible price, the best strategy is to book early and then re-price the cruise if new promotions come out that lower the price.  Check with Royal Caribbean what the rules/laws are that pertain to you and the country you reside in for the ability to re-price a booked cruise. North American residents have the ability to re-book and adjust prices with no penalty up until their final payment date.
The other secret to getting the lowest possible price on your cruise is to use a travel agent. Trust us.
What time can I arrive to the cruise?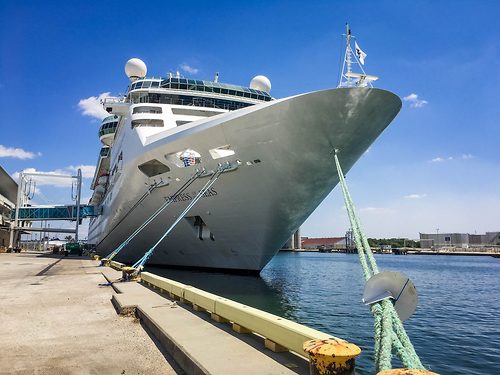 When you complete the online check-in for your Royal Caribbean cruise, a boarding time will be assigned to you.  However, that time is more of a suggestion than a rule.
What that means is you can arrive to the cruise port earlier than the posted time.  In most cases, arriving before noon will ensure minimal waits at check-in and during boarding.
If you plan on arriving later, keep in mind what time you have to be onboard prior to the sailaway time.  Check with Royal Caribbean on the later boarding times, but plan on arriving earlier than that to ensure no delays.
When can I start booking shows, drink packages, or shore excursions for my cruise?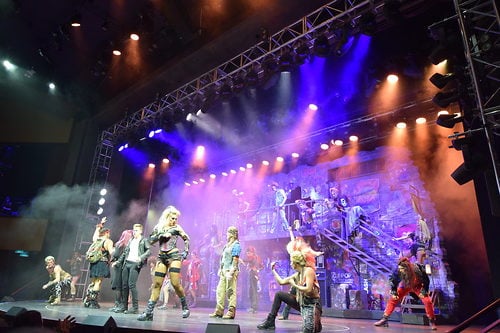 The simple answer is, it depends. There is no rule that applies to all sailings when these kinds of activities become available for booking. Based on our experience, here are some basic guidelines for when Royal Caribbean usually makes them available for guests to reserve.
Generally, they become available around 90 days, although they can show up earlier than that.
If you do not see any options available, keep checking back for updates.
Can I bring bottled water and/or soda to my cruise?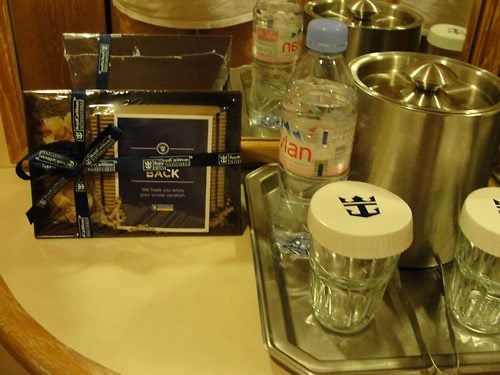 Yes, you may bring small quantities of non-alcoholic beverages in a carry-on or hand luggage onboard only on boarding day. Checking in non-alcoholic beverages will no longer be permitted.
Specifically, non-alcoholic beverages brought onboard may not exceed 12 standard (17 oz) cans, bottles or cartons per stateroom. Distilled water or specialized beverages such as, milk for medical purposes, dietary or infant use, are permitted.
Can I bring wine on my cruise?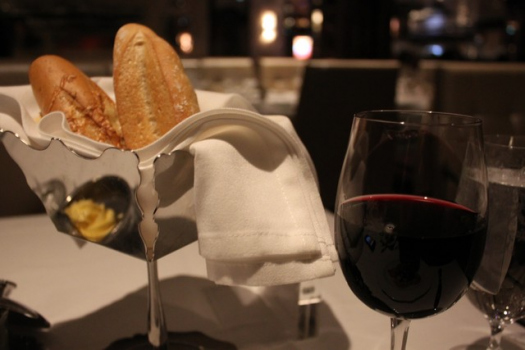 While Royal Caribbean prohibits guests from bringing beer, hard liquor, or fortified wines onboard, wine is allowed.
Guests wishing to bring personal wine and champagne onboard may do so only on boarding day, limited to two (2) 750 ml bottles per stateroom. Wine may be consumed in any shipboard restaurant, dining venue, or within the guests' stateroom.
Keep in mind that you may be charged a corkage fee for opening your wine in a restaurant, bar or lounge onboard.
What drinks and food are included with my cruise fare?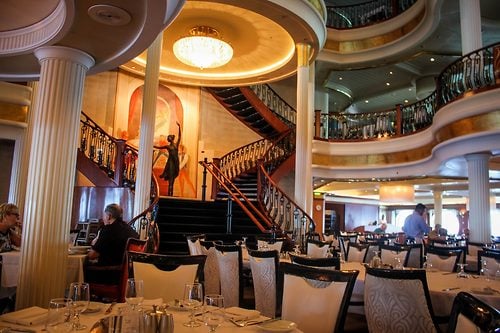 Guests will find plenty of complimentary food and drink available throughout the cruise. While there are some food and drink that come with an additional charge, there is lots provided at no additional charge.
For breakfast, lunch, dinner and snacking times inbetween, there will often be a variety of options available at different venues. There are dining rooms and buffet options, as well as grab-and-go snacking stations throughout the ship. The Cruise Compass (Royal Caribbean's daily newspaper of events and happenings), will list times and locations for all dining options.
In terms of which beverages are included with your Royal Caribbean cruise, Royal Caribbean provides all its guests on all its cruise ships a variety of drinks throughout the day that are included in your cruise fare.
tap water
milk
tea
coffee (regular and decaf)
lemonade
iced tea
flavored waters juices (at breakfast and not fresh squeezed)
hot chocolate (via instant packets)
These drinks are available throughout your cruise at a number of locations, so there will always be somewhere to get something to drink for free.
What is formal night, when is it, and how dressed up do I need to be?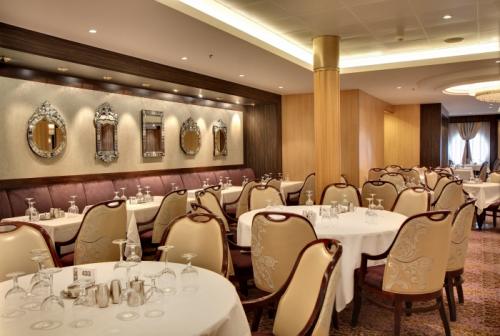 Formal night is an evening where the dress code at the main dining room is more upscale. For men, this means collared shirts with nice pants (tie and jacket optional) and for ladies, it is a nice cocktail dress, dress or something else similar.
A typical Royal Caribbean 7-night cruise will feature two formal nights, so be sure to pack accordingly. Keep in mind that formal night dress attire only applies to the main dining room and no where else on the ship.
The first formal night will usually be on the second night of the sailing, whereas the second formal night can vary between the fifth or sixth nights of a 7-night cruise. Shorter cruises (5-nights or less) will only have one formal night.  Cruises 14 nights or longer will have three formal nights.
If I buy a drink package, does the other adult in my stateroom also have to buy a drink package?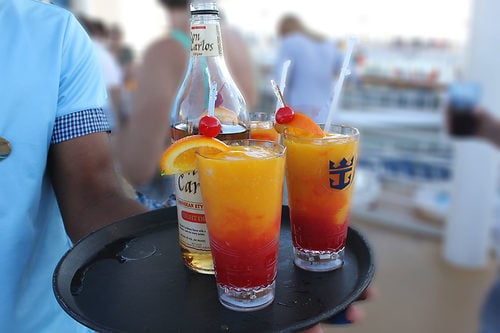 Yes, as of 2018, Royal Caribbean requires if one adult elects to purchase an unlimited alcohol package, all adults in the same stateroom must each buy a drink package.
What is the best way to communicate with other guests onboard (like my kids)?
Depending on the age of the people you want to stay in contact with and you/their budget, there are a few different options to allow for easy communication onboard.
Each stateroom has a phone that can be called from any other stateroom or public phone onboard.  If you are trying to reach a guest onboard the ship, you can make a call to their stateroom and optionally leave a message. Use of the phones for calls to a guest's stateroom is complimentary. Of course, it requires the guest to be in the room to answer the call and/or check the voicemail. This can result in "phone tag," where it seems like you are always missing each other.
Some guests opt to use their cell phones, although it is important to understand how to use cell phones on a cruise without racking up a very large bill. There are a variety of messaging apps that can be used with a Royal Caribbean internet package. Alternatively, text messaging may be simpler and more economical.
There are also some low-tech options, such as walkie-talkies or leaving notes on the stateroom door of the person you are trying to contact.
How do I make a dietary restriction/request?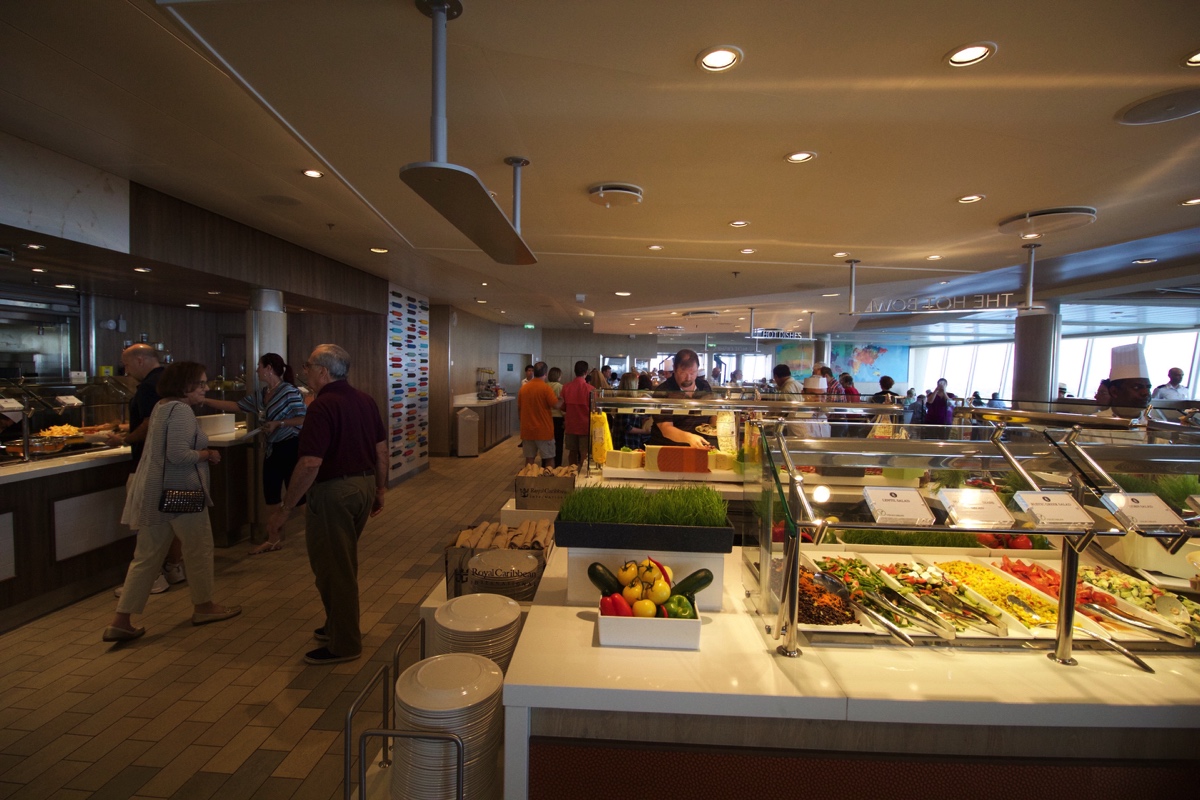 Whether you have a dietary restriction or just a special request with your meals, you will want to make dietary requests up front.
Royal Caribbean can accommodate dietary needs such as food allergies, gluten-free, Kosher, low-fat, and low-sodium.
In additional, vegetarian meals (including Indian-style vegetarian) are available on all menus in the main dining room.  Guests do not need to make a special request for these meals.
Lactose-free/soy milk, Ensure, and Kosher meals are available no extra charge. All you have to do is notify Royal Caribbean at least 45 days prior to sailing (90 days for European/South American Itineraries).
You may also send an e-mail request to [email protected]; please include in the e-mail the guests' names, booking number, ship name and sail date.  It's best to make requests like this at least 90 days in advance of your sailing.
If you forget to make the request in advance, you can always speak to the head waiter in the main dining room. These requests can be for a table or dining rotation change, dietary request or anything else special you want to make certain is covered.