In:
If you are planning your first cruise, you are probably wondering what the best itinerary length is.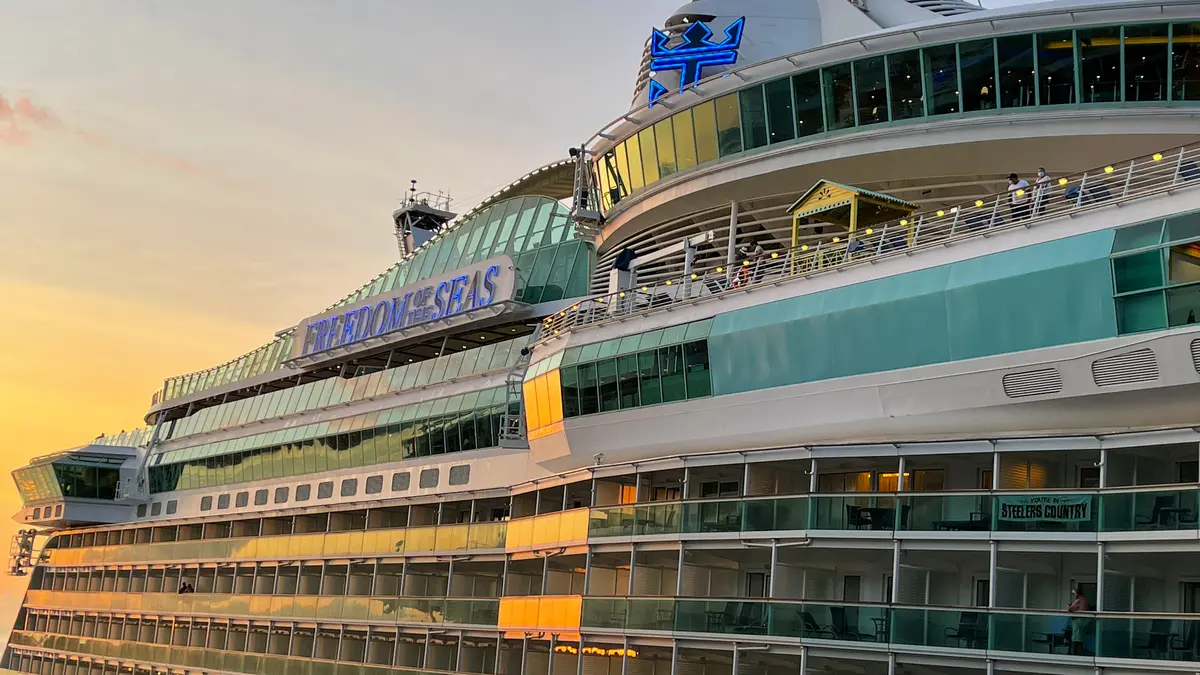 Most cruises fall somewhere between 3- and 7-nights; however, it is not uncommon to find some that are longer! In fact, Royal Caribbean offers cruises that are 12+ nights long. 
These are often more destination-focused or are repositioning from one departure port to another (i.e., transatlantic cruises).
While shorter cruises do have their advantages, with the most obvious being that the overall cost will be less, the sweet spot for most first-time cruisers tends to be one week. 
This gives you enough time to explore what the ship has to offer without feeling rushed, as well as visit more ports of call. 
No matter how long your first cruise ends up being, you are sure to get off wishing it was longer! 
Related: Best first-time cruises on Royal Caribbean
For those looking for a quick getaway, book a 3- or 4-night cruise
Due to the Passenger Vessel Services Act, which is also known as the Jones Act,, all foreign-flagged ships departing from the United States must include a stop in a foreign country. 
For that reason, the itineraries of 3- and 4-night cruises are often pretty limited. If you are wanting to visit more unique destinations, like the Caribbean, Mexico, Europe, or Alaska, you will need to look into a longer cruise. 
Because of their short length, 3- and 4-night cruises tend to be port intensive, meaning they are great options for those who do not  necessarily want to spend a lot of time onboard. You can spend your days exploring new ports and the evenings taking in what the ship has to offer. 
One of the biggest benefits to booking a shorter cruise is that optional packages (i.e., drink and dining packages) are cheaper than on longer sailings because you are paying for fewer days. Paying $70 per night for a Deluxe Beverage Package for 3- or 4-nights seems more reasonable than 7-nights!
Both cruises, however, tend to have more of a party atmosphere, which families might not enjoy. 
Related: Guide to weekend cruises: Tips for taking a 3-night Royal Caribbean cruise
What are the differences between 3- and 4-night cruises?
3-night cruises tend to depart on Friday and return on Monday, making them ideal for those with limited time off since two of your vacation days take place over the weekend! 
On the other hand, 4-night cruises usually take place during the week, or Monday through Friday, so you will most likely have to take an entire week of vacation. 
Additionally, 4-night cruises often include a sea day, which would allow you to experience onboard amenities during the day. It is unlikely that you will want to stay on the ship and relax by the pool if you could spend it on the beach in the Bahamas or Mexico instead!
5- or 6-nights cruises are a good in between
Compared to 3- and 4-night cruises, those that are 5- or 6-nights give you more options when it comes to choosing an appealing itinerary. While you may occasionally find a 4-night cruise that visits a Caribbean port, it is likely only going to be one followed by two days at sea. 
A 4-night cruise from Miami, for instance, might only visit Puerto Plata, Dominican Republican or Cozumel, Mexico before returning back to Florida. A similar itinerary on a 5- or 6-night cruise will visit at least two ports of call (think Cozumel and Perfect Day at CocoCay or Grand Cayman), giving you more time to explore new places!
While these will seldom be on the newest ships in the fleet, that does not mean you will be lacking onboard excitement. In 2024, for instance, Voyager of the Seas, Mariner of the Seas, Liberty of the Seas, Independence of the Seas, and Explorer of the Seas are all scheduled to sail 5-night cruises. 
Each ship has a FlowRider surf simulator, waterslides, an ice skating rink, and more. It is enough to see and do in 5-nights without feeling like you missed out on anything! 
Another advantage to longer cruises (those that are 5-nights and longer) is that you have more flexibility with departure ports. You will rarely find a 4-night cruise the departs from Baltimore, Maryland; however, this is where Vision of the Seas will depart from when making roundtrip 5-night cruises to Bermuda in 2023 and 2024. 
7- to 9-nights will give you more time to get your sea legs
You can visit more exciting ports on a longer cruise. Plus, you will be able to experience more of what the ship has to offer. It would be hard to check absolutely everything off of your "must-do" list in only 3-nights, especially if you are taking a short cruise on Allure of the Seas. 
With cruises that are 6- to 9-nights, you are more likely to be able to unpack and settle into your cabin, too. On my first 3-night cruise, I did not even bother to unpack my suitcase! I knew that in a few nights, I would just have to spend time repacking it when I could be doing other things on the ship. 
Moreover, you have more time to get the lay of the land. By the end of the trip, you might feel like a navigational pro! You will not need to look at the deck plan to get from point A to point B like during the first few days. 
If you are hoping to sail on some of Royal Caribbean's newest and most innovative ships, you will have to be prepared to take a 7-night cruise. Wonder of the Seas, the world's largest cruise ship, is currently scheduled to sail roundtrip from Port Canaveral, Florida through at least April 2025. 
Sometimes, you can find shorter cruises on these ships; however, you will have more options when it comes to dates if you are content with a weeklong cruise. Plus, due to the size of these ships, you really do need a full week onboard! 
As mentioned earlier, you will need at least 7-nights to visit more interesting destinations. It is rare, for instance, to find a 5-night Alaska cruise. If you are going to make that kind of trip, you should be committed to seeing as much as possible, anyway! 
10+ nights if you are really focused on the itinerary 
If you are looking at your first cruise to be longer than 10-nights, it is probably because it is destination-focused and visiting ports of call that are less common, especially on today's mega ships. 
You are likely to embrace the sea days and rest up after spending long days exploring. Unlike a 7-night cruise, you may not want to attend dance parties or other high energy evening entertainment. 
Oftentimes, the crowd on these sailings tends to skew older than weeklong ones and can often foster a greater sense of community since you will have longer to get to know your shipmates. 
Plus, if it is an exotic itinerary, a longer cruise might be able to help you justify the cost of travel to get to the embarkation port. In the end, the longer cruise normally provides a better value per day compared to shorter cruises.
If you are worried about motion sickness, just come prepared!
Do not let your fear of getting seasick prevent you from going on the cruise that you want to go on! There are plenty of remedies that will help lessen the severity of this issue, if it arises. 
For over-the-counter medication, there's Bonine and Dramamine.
Today, both brands offer medication whose formula includes meclizine hydrochloride, a synthetic antihistamine that was developed in the early 1950s and is meant to cause less drowsiness than dimenhydrinate. Plus, they also have medications that are more natural whose base is ginger, whether it be ginger root or extract. 
You can also purchase motion sickness patches or bands! 
It is best to do research prior to purchasing any to see what will work best for you. Alternatively, you can speak to your physician to see what they recommend. 
If you wait until you are on the ship, you may find your options to be limited; however, they will have some medication available if you do desperately need it. 
Note that Royal Caribbean Blog makes no warranties with regard to the safety or effectiveness of any anti-nausea medication or natural remedy. You should consult with a physician to get professional medical advice prior to taking any medication, especially if you have existing medical conditions, you're pregnant, or you're already taking other medications. 
Read more: What other cruisers wish they knew before going on their first cruise