In:
Planning your first Royal Caribbean cruise? With 26 ships in the fleet sailing to destinations around the world, it can be challenging to figure out the best first-time cruise.
Although you can't go wrong with any Royal Caribbean cruise, there are a few itineraries and ships we recommend most for first-timers. These ships offer a wide selection of activities for both kids and adults while providing an excellent value in a cruise vacation.
Before booking any cruise, though, make sure to research the itinerary, ship, and cabin choices before booking. By researching in advance and following our recommendations below, you're guaranteed to have an enjoyable first cruise experience.
Here are the five best first-time cruises on Royal Caribbean.
7-night Caribbean cruise on Oasis of the Seas
If you see a Royal Caribbean television commercial, there's a big chance the commercial is highlighting an Oasis Class cruise ship. Royal Caribbean's Oasis Class ships are unlike any other cruise ship at sea, and they're a fantastic choice for a first-time cruise.
Oasis Class ships are the largest cruise ships in the world, and they're split into distinct neighborhoods, each of which offers its own ambiance, amenities, and activities.
Related: All about Oasis Class cruise ships
The sheer range of things to do on an Oasis Class ship—from zip lining to watching Broadway musicals and relaxing in the ship's outdoor park—is unmatched on any other Royal Caribbean ship.
What makes Oasis Class ships so nice for first-time cruisers is that there are nearly endless options onboard. Many new to cruising are concerned they will feel bored and not know how to spend their time on the ship. On an Oasis Class ship, feeling bored is practically impossible!
There are five Oasis Class ships. While you can't go wrong with any ship, we feel Oasis of the Seas is the best choice for a first-time cruise.
Oasis of the Seas is the first ship in the class, having launched in 2009, but she was amplified in 2019 to add exciting features to the ship, such as waterslides, the Ultimate Abyss dry slide, and a Caribbean-style pool deck.
Related: Oasis of the Seas guide: Cabins, itineraries, what to expect
Despite the new features, Oasis of the Seas is typically priced lower than newer Oasis Class ships like Harmony, Symphony, and Wonder of the Seas. This means you can still enjoy the perks of sailing on an Oasis Class ship while saving money on cruise fare.
Money saved on cruise fare can be put toward cruise add-ons like drink and dining packages, spa treatments, and shore excursions, which can greatly enhance your first cruise experience.
4 or 5-night Caribbean cruise on Mariner of the Seas
Mariner of the Seas may not be Royal Caribbean's biggest cruise ship, but she is a favorite among many cruisers. Recently refurbished in 2018, Mariner of the Seas features many of Royal Caribbean's most popular amenities at a fraction of the cost of the fleet's newest ships.
Related: Mariner of the Seas Guide & Review
During her 2018 amplification, a variety of activities were added to the ship, including waterslides, an escape room, virtual reality bungee jumping, and laser tag, among others. New dining venues and bars were added, too, including Izumi hibachi and the Polynesian-themed Bamboo Room lounge.
Due to these recent refurbishments, Mariner of the Seas provides an excellent value in a cruise vacation. She primarily sails 4 and 5-night itineraries to The Bahamas and the Western Caribbean, and these cruises are perfect for first-timers.
Booking a 4 or 5-night cruise offers a mix of sea days and port days, allowing first-time cruisers to experience the best of both worlds.
Related: Top things to do on a sea day on a Royal Caribbean cruise
Fun-filled port days in Mexico and The Bahamas mean passengers can enjoy delicious food, beautiful beaches, and diverse cultures. The sea days, on the other hand, give ample time to relax and explore the ship's wide selection of activities, entertainment, bars, and restaurants.
7-night Alaska cruise on Ovation of the Seas
Royal Caribbean's Alaska cruise season runs from May to September each year, and visiting Alaska can make a wonderful choice for a first-time cruise.
Alaska's scenery is beyond stunning, with glaciers, rocky mountains, and quaint towns. Even when you're not in port, you can still see gorgeous scenery on both sides of the ship as you sail through the state's famous Inside Passage.
Related: Alaska cruise guide
What makes Alaska so special for first-time cruisers is that an Alaska cruise provides wildlife viewing opportunities and outdoor adventures like no other itinerary. Whether you book a whale watching tour or hike through the Tongass National Forest, there's always something exciting to see and do in Alaska.
Royal Caribbean sends four ships to Alaska each year, but our top recommendation is Ovation of the Seas. Launched in 2016, Ovation of the Seas is a modern Quantum Class cruise ship offering 7-night itineraries departing Seattle.
Ovation of the Seas is perfect for guests of all ages. Built to sail in chilly climates, the ship features many indoor spaces including a pool, adults-only Solarium, SeaPlex sports center, and even indoor skydiving!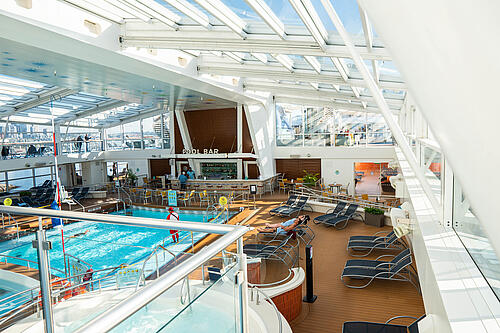 Passengers shouldn't miss a ride on The North Star, an observational pod that rises 300 feet above sea level, offering unparalleled views of both the ship and Alaska's scenery.
Related: All about Quantum Class ships
Outside of these activities are a variety of entertainment and dining venues. The most notable venue is Two70, an entertainment and lounge space featuring floor-to-ceiling windows with a 270 degree view of the outdoors.
Modernity is a theme around the ship, and the staterooms are equipped with plenty of outlets and storage space. They feature a sleek design, making the cabins comfortable for every passenger onboard.
3-night weekend cruise on Freedom of the Seas
Planning a cruise with limited PTO time? There's no better choice than Freedom of the Seas, which sails 3-night Bahamas cruises from Miami each weekend.
Freedom of the Seas was recently amplified in 2020, adding new bars, restaurants, activities, and amenities to the ship. A colorful, Caribbean-resort style pool deck was added along with the popular Lime & Coconut bar, Giovanni's Italian Kitchen restaurant, and waterslides.
3-night itineraries on Freedom of the Seas depart Miami on Friday afternoon and return Monday morning. Most itineraries visit both Nassau and Perfect Day at CocoCay, Bahamas, although some may visit just one port and spend the other day at sea.
Related: Guide to weekend cruises: Tips for taking a 3-night Royal Caribbean cruise
3-night itineraries can be an excellent time to try out Royal Caribbean's drink package or dining package and splurge on a shore excursion in The Bahamas, such as visiting Pearl Island or spending the day at the Coco Beach Club.
What makes a weekend cruise such a great option for first-time cruisers is the short length combined with an exciting itinerary. A shorter cruise typically comes with a lower price, even if the price per night of a 3-night itinerary is higher than that of a 7-night cruise.
It's important to note, however, that if you have to fly to Miami to embark Freedom of the Seas, it may be worth booking a longer cruise itinerary. Flying to Florida for a 3-night cruise won't provide as much value as a longer sailing, and can significantly increase the daily price of your vacation.
In addition, if you're driving from northern Florida or a nearby state, sailing on Independence of the Seas from Port Canaveral may be a more convenient option.
Nonetheless, if you're looking for a short weekend getaway, cruising on Freedom of the Seas to the white sand beaches and crystal clear waters of The Bahamas is sure to impress.
7-night Greek & Adriatic cruise on Explorer of the Seas
When planning a European cruise for the first time, many people look to book Western Mediterranean itineraries. These itineraries visit ports like Rome, Barcelona, and Florence, making them an enticing choice for those new to both cruising and European travel.
However, I wouldn't recommend these itineraries to a first-time cruiser. Western Mediterranean cruises tend to be jam packed with sightseeing, and several of the ports are a far bus or train ride away from the main attraction.
Related: Western Mediterranean cruise guide
Unfortunately, busy days sightseeing combined with long travel times can make first-time cruisers feel exhausted rather than relaxed on their vacation, even if they are visiting some of the world's most famous cities.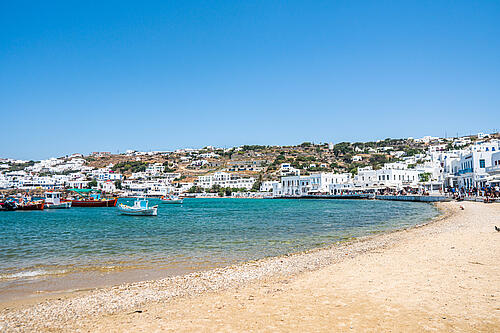 Instead, look at European cruise itineraries to Greece and the Adriatic. These cruises visit picturesque destinations such as Dubrovnik, Kotor, Mykonos, and Santorini, all of which are well suited for cruise ship travel due to their smaller size and more remote locations.
Related: Ultimate Greek Isles cruise guide
Many of the ports on a Greek and Adriatic cruise are well-preserved medieval towns, which are excellent for exploring on foot. Others, such as Santorini, offer jaw-dropping scenery and some of the world's most delicious cuisine.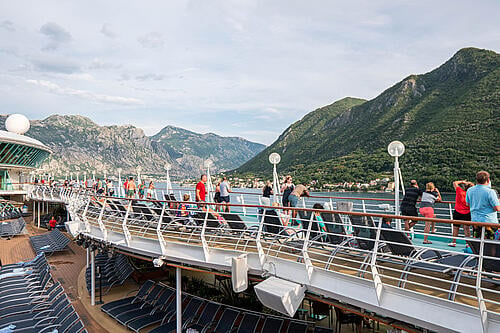 You can't miss the scenic sail through the Bay of Kotor, either, which will make you feel as if you're in Norway instead of the Balkans!
Explorer of the Seas offers cruises to Greece and the Adriatic during the summer 2023 and 2024 cruise season. As a Voyager Class ship, Explorer of the Seas fits over 4,000 passengers, yet offers a fantastic value compared to Royal Caribbean's newest cruise ships.
Related: All about Voyager Class cruise ships
Onboard you'll find an outdoor pool, adults-only Solarium, jacuzzis, mini-golf, rock climbing, a sports court, ice-skating, and a set of racing waterslides. Other activities include live music, trivia, production shows, and game shows.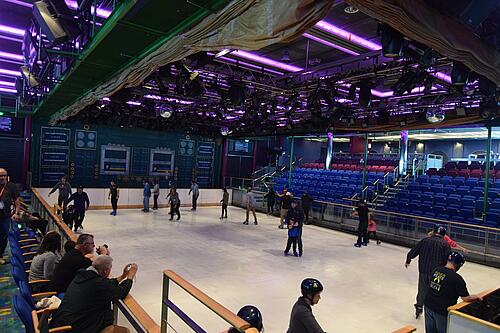 While the ship has not yet received an amplification, she still boasts several dining venues and lounges, including Chops Grille, Izumi, Giovanni's Table, and Johnny Rockets.
Although not as big as Royal Caribbean's newest ships sailing in Europe, Explorer of the Seas is the perfect size for a port-intensive Greek & Adriatic cruise itinerary.