In:
We had a fantastic Royal Caribbean cruise to Alaska.  So much so, it was the kind of cruise vacation that met and exceeded all of our expectations.  As they say, hindsight is 20/20 and looking back on our first Royal Caribbean cruise to Alaska, here are six mistakes we made and three great choices during the cruise.
The mistakes
Assuming a balcony room is a necessity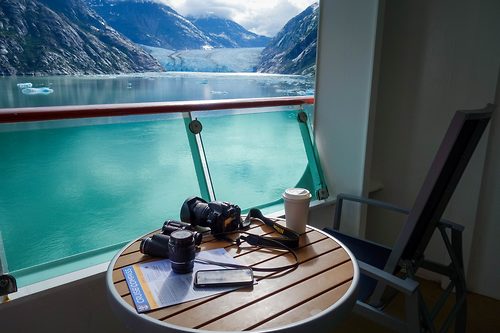 If you read any blog post, feature article or message board post about taking a cruise to Alaska, nearly everyone seems to talk about the importance of booking a balcony stateroom.  So much so that it makes it seem like not booking a balcony stateroom is a mistake.
Over the seven nights of our Alaska cruise, we stayed in a Junior Suite balcony stateroom and it was a spacious room with some nice perks associated with it.  However, I really do not feel that staying in a balcony stateroom is the must-do that everyone makes it out to be.
To be fair, having a balcony stateroom is very nice and I enjoyed walking out whenever I pleased to enjoy the scenery.  Having walked the ship, I felt there were numerous and ample opportunities to enjoy the scenery passing by without a need for a balcony room.
By far the best time for seeing the most compelling scenery is during the Tracy Arm fjords morning, culminating with a marvelous glacier.  
The ship does 360 degree spins to provide everyone with a view of the glacier and surrounding area.  If you rely purely on your balcony, you will miss out on a great deal of the viewing time.  Moreover, the public decks are not that crowded.  I surveyed the crowd on the helipad, pool deck and aft FlowRider area and in all cases, it was quite easy to walk up and snag a spot.
Booking a balcony room is not a mistake by any means, but when you consider how much more a balcony room will cost versus one of the interior rooms, saving a lot of money and opting for an interior room (money that can be spent later on some really amazing excursions) is a fantastic idea.
Booking CityPass in Seattle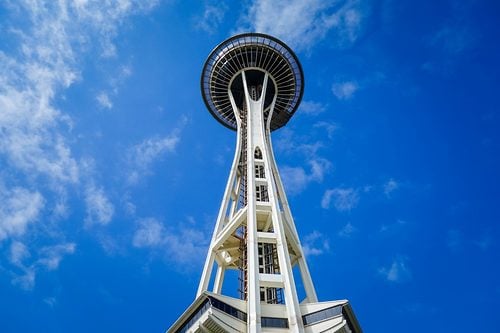 Before and after our cruise, we wanted to get a good sampling of what the city of Seattle, Washington has to offer.  It seemed as though the CityPass option was perfect.  For one low cost, you could experience up to 5 popular Seattle attractions and save quite a bit of money.
There are two reasons why I believe buying a CityPass was a mistake for us.
First, we underestimated the amount of time we would need to do it all.  I really thought between the day we flew into Seatle before the cruise and the day after we got off the ship we would have more than enough time to visit all the attractions included with the CityPass.  Between the travel fatigue of getting into Seattle and the post-cruise fatigue, the reality was we needed more time to see it all (in addition to meals and catching up on sleep).  Moreover, some of the museums included in the CityPass were less than our favorite uses of time (the science museum and aquarium were great, but the Museum of Pop Culture was a dud).
If you happen to be spending more than 3 days in Seattle, it can be a decent money saving option.  Just keep in mind that while it includes five attractions, they are all not made equally.
Not spending more time at Mendenhall Glacier Park
When we planned our day in Juneau, we leaned heavily on the guided tours available. We had a great time learning about the Iditarod race and of course meeting and petting some really cute puppies. However, I wish we had spent much more time at Mendenhall Glacier Park.
I had no idea how close you can get by simply taking a taxi to the park and walking on one of the many easy to navigate trails and get an amazing view of this natural wonder. I am by no means an outdoors man, hiker or park kind of guy. Getting the mail in the summer afternoon is what I consider to be on par with Lewis and Clark's survey of the Louisiana Territory. I found the Nuggets Fall trail to be very easy to walk and my kids loved seeing what was just around the next corner.
If I could go back again, I would grab a taxi and head straight to Mendenhall Glacier Park and walk the trails and enjoy the incredible scenery. There simply was not enough time for my liking on this go around and I would advocate anyone visiting Juneau to plan on lots of time at this park.
Not researching where to eat in port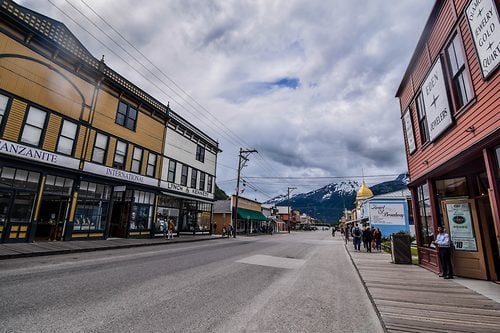 In each port we visited, we spent a lot of time figuring out which excursion to try but no time researching the best local restaurants to dine at. The result was we ended up in good, but not great restaurants.
The ports of Seattle, Juneau, Skagway and even Victoria have a reputation for fresh seafood and while many establishments offer it, I think it is safe to say everyone wants to experience the best while on this kind of a trip.
I relied too heavily on simply pulling up my Yelp app to guide me, but there are a lot of choices and it is hard to know which spots really offer the best seafood, and which offer the okay or good stuff. 
My advice is to figure out which local food you are most interested in and finding a couple of options in each port to visit.  There are a lot of restaurants, but I know we probably ate at a few tourist duds rather than the real deal.
Not renting a car after the cruise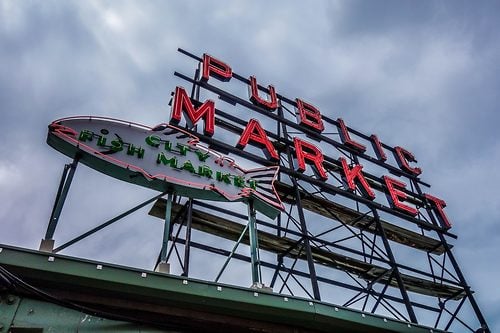 We planned a few days in Seattle after our cruise to explore more of the city.  Since Explorer of the Seas returned on a Friday, we had a built in weekend after the cruise to explore.  I wish I had taken the first day back to explore Seattle, and then rented a car to be able to go beyond the city limits.
Seattle offers a lot to see and do, but there is a ton very close as well.  The Boeing Factory, city of Vancouver and nearby national parks are wonderful places to visit and by the second day in Seattle, I felt like we were going to attractions that were nice, but nearly as compelling as the others I listed.
Moreover, renting a car would have included the cost of getting from our Seattle hotel to the airport, so it would not have been a major additional cost to spring for the rental car.
Not attending the lectures on the ports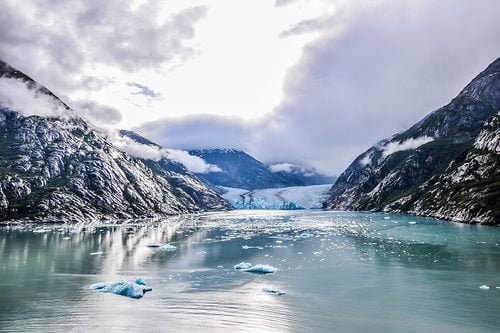 Royal Caribbean offered complimentary lectures presented by higher education staff on the history and culture of the ports we visited, and I wish I had attended these.
As is often the case on Royal Caribbean cruises, we each must juggle the multitude of activities offered onboard (in addition to the ever tempting nap), and unlike a Caribbean itinerary, the lectures provided onboard offer important context for the adventures you will take on shore later in your visit.
These lectures may not offer money saving tips or pitfalls to avoid, but they do offer the kind of insider look at these ports that I think helps improve your appreciation of each city when you go to visit them later.  The other guests on my cruise that did attend these lectures reported back having a better understanding of the history and significance of various landmarks and institutions they would see in port. I think it is far more valuable to know about why the places you visit are important rather than trying to learn and appreciate at the same time.
Things we did right
Bought jackets on eBay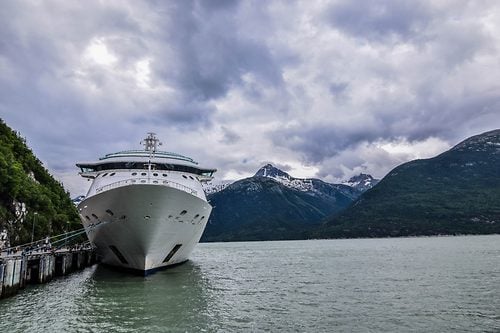 Unless you live in a particularly cold climate to begin with, more than likely you will find yourself buying a lot of clothing to be prepared for an Alaska cruise. One of the mantras of packing for an Alaska cruise is to layer your clothing.
Fleece and waterproof jackets are the bread and butter of layering, but you will find these type of jackets to be pricey (especially the name brand ones).
I have two kids (ages 7 and 3) that needed jackets and I really did not want to invest a lot of money on outerwear that they would quickly outgrow. Moreover, living in Florida means it was not like we would get a whole lot of additional use out of them after the trip.
Buying our kids jackets and my own fleece jacket on eBay saved us so much money. A North Face waterproof jacket and Columbia waterproof jacket cost just $50 total. My North Face black fleece jacket came in at just $13. We saved hundreds of dollars by going this route.
In many cases, it was clear people had bought these expensive jackets for a trip and now have no use for them anymore. When it comes to kids especially, the shelf life of clothing is quite short before they are too small and I am really glad I saved money with this idea.
Moving around the ship in Tracy Arm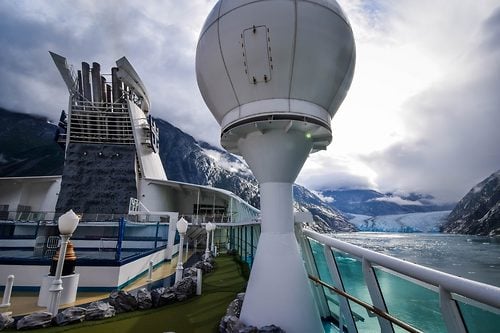 As I mentioned earlier, we had a Junior Suite balcony on our Explorer of the Seas cruise to Alaska, which meant we had a private spot to enjoy the view in Tracy Arm. As the glacier started to slip from view due to the ship's rotation, I wanted to see more and decided to see how crowded it was elsewhere on the ship.
To my surprise, the public decks were not that crowded. I found a one person deep crowd at any given area and it proved to be quite easy to get a spot of my own once someone else moved on.
Not only was it easy to get a spot along the railing to see the glacier, it meant I got more time seeing the glacier and surrounding beauty. Keep in mind that your time viewing the glacier is quite limited, so by moving around the ship to see the glacier on my own, I greatly multiplied my viewing opportunity.
Taking my kids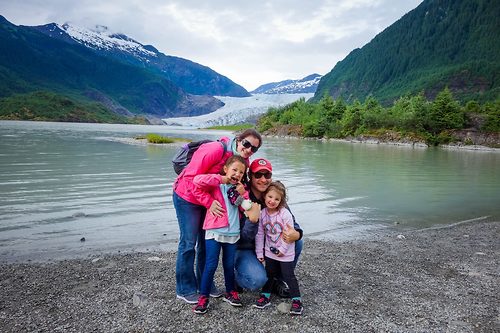 After booking my Alaska cruise, some people asked if I was bringing my kids with us.  I was kind of surprised to hear that question, because I knew it mostly likely came about because going to Alaska is quite expensive and how much will a 7 and 3 year old really get out of the experience.
Bringing my kids with us was a great decision for many reasons.  First, I believe good parenting starts with providing positive learning experiences for children.  Anywhere we take them, including vacations, should be about surrounding them in a positive environment where they can create memories that will guide them for the rest of their life. 
Second, the shore excursions in Alaska are vastly different than ones in the Caribbean.  While going to the beach or renting a boat is also a positive experience they enjoy, our tours in Alaska took us to places they only saw in books iPads and movies.  We often tell them our day trips at home are a kind of adventure, but taking them to Alaska was a true journey.
There is no point in arguing the fact that leaving the kids at home would have saved us thousands of dollars, but the memories we make as a family are so important to me, because it is my own memories of travelling with my parents and sisters years ago that I believe fostered my own drive to visit the world via a cruise ship.
Your thoughts
What do you think about the mistakes and successes from my first Alaska cruise? If you have cruised to or visited Alaska, what mistakes do you feel you made? Any questions for those taking or considering an Alaska cruise? Hearing feedback about your experiences is both interesting to us and helpful to other readers, so please share your thoughts below in the comments!