In:
One of the things I love most about cruising is the fantastic vacation value it can offer, with accommodation, food, entertainment, and amazing destinations included in the cruise fare. It's hard to pass up a cheap cruise deal, especially when the cruise visits Alaska.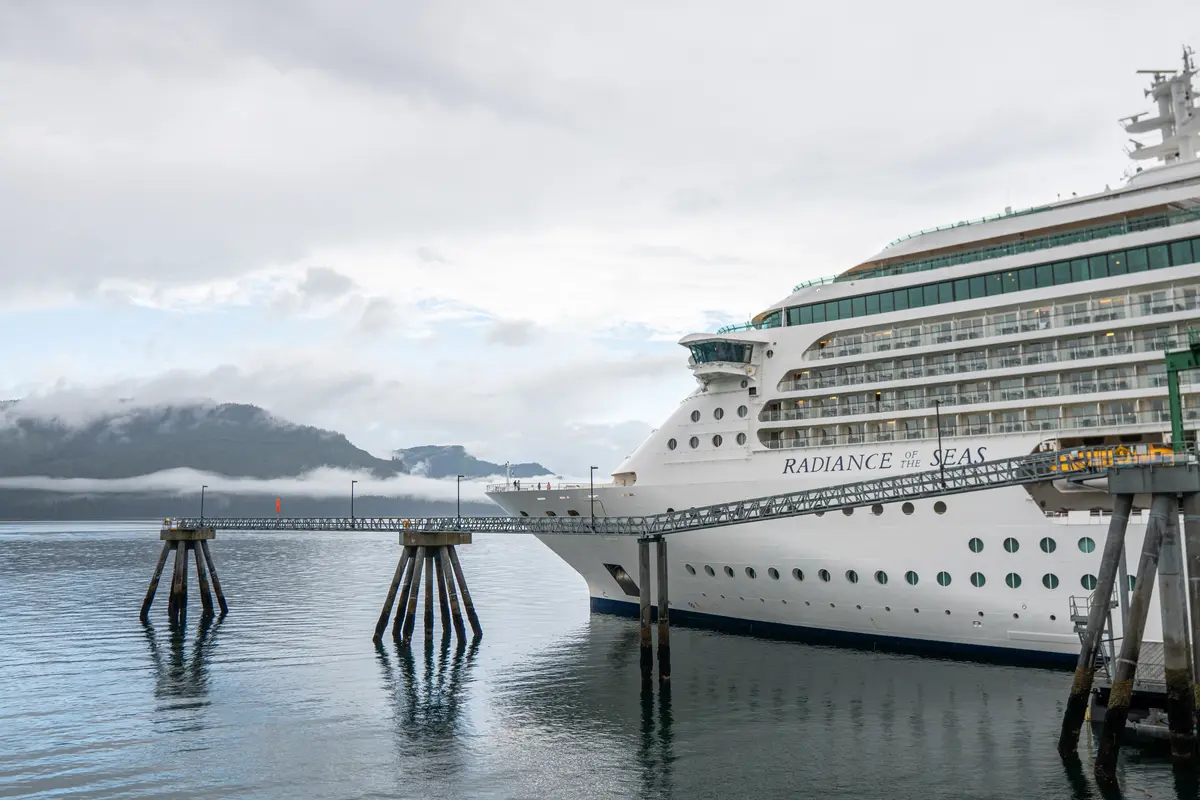 Back in May, I was browsing Royal Caribbean's website when I came across a cheap cruise deal to Alaska: a 7-night one-way cruise on Radiance of the Seas.
The cruise fare was listed at $240 per person with $293 in taxes and fees. As someone who cruises on a budget and loves visiting Alaska, I took the leap and booked the cruise unsure of what to expect.
Cruising to Alaska on the cheap? Yes, please!
Expectations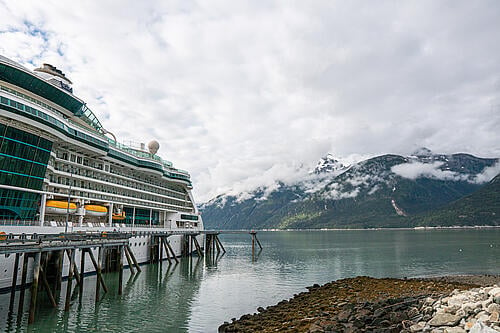 Booking the cheapest cruise you can find often comes with low expectations, but my expectations were set pretty high. I took an Alaska cruise last year, and it remains one of the best vacations I've ever had.
The scenery, food, culture, and ports on an Alaska cruise are simply fantastic and it's definitely my favorite place to cruise in North America.
Things would have to be pretty bad onboard for me not to enjoy my Alaska cruise experience, so I went into the cruise knowing it would likely live up to my expectations.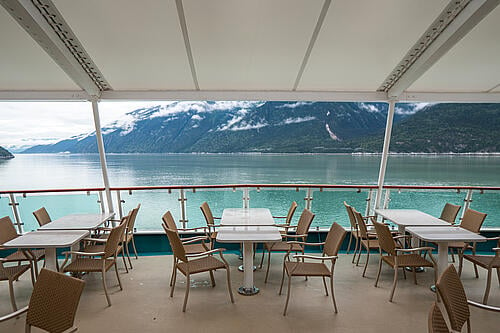 Plus, I assumed the cruise was offered at such a low price not because the product would not be up to par, but because of low demand at the end of the summer season.
In the spirit of booking the "cheapest Alaska cruise," I did not book any excursions, dining packages, or drink packages. Alaska cruise ports are all walkable and full of free activities, so I knew I would be able to find enough to do in port without spending hundreds on shore excursions.
Cruise fare, flights, and hotel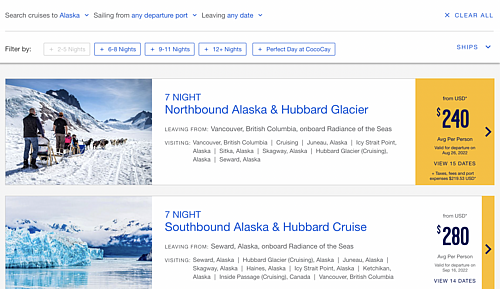 When I booked my cruise on Radiance of the Seas, it was the cheapest Alaska cruise on Royal Caribbean's website. The total cruise fare with taxes & fees for 2 guests in an interior room was $1,118, or $559 per guest.
Gratuities for each guest were $101.50, bringing the total cruise fare to $660.50 per person. At around $94 per day, I felt it was a fantastic deal!
Related: How much does a cruise cost?
Flights & shuttle transfers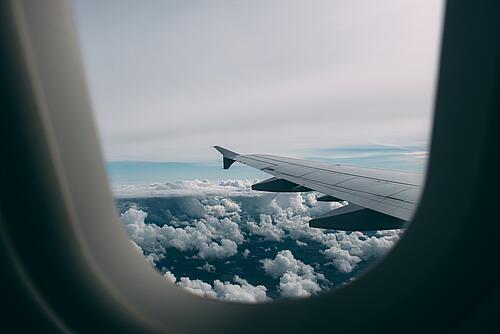 Because the cruise started in Vancouver and ended in Seward, I needed to purchase two one-way flights. Flying to Vancouver was $189 and flying from Anchorage was $347, bringing the total flight cost to $536.
Flying roundtrip from my house to either Seattle or Vancouver usually costs between $200 and $300 total, so the one-way flights were definitely more expensive, especially the one from Anchorage, adding a significant amount to the total cost of the cruise.
Additionally, because the cruise ended in Seward, I needed to purchase a shuttle bus to Anchorage for $78.95. This was the cheaper option; the train transfer was $124.95!
Hotel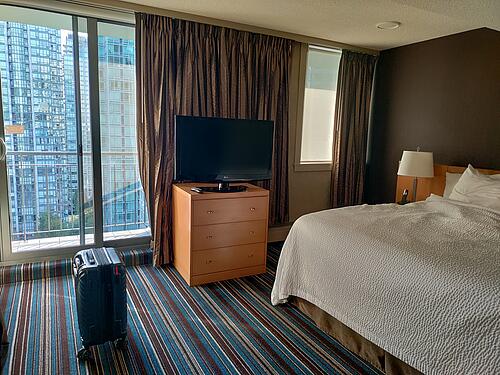 The last purchase I made before the cruise was a hotel in Vancouver. As it's recommended to fly to your cruise departure port the day before you sail, I spent $285 USD to spend the night at the Blue Horizon Hotel in downtown Vancouver ($142.50 per person). This was one of the cheapest hotel options I found downtown, with others as high as $400+ per night.
Related: Why you shouldn't fly to your cruise the same day it begins
I also spent around $10 to get from Vancouver's airport to downtown via the metro and $15 for an Uber from my house to the airport.
Total cost of my cruise fare, flights, hotel, and transfers: $1,442.95
Arrival & Embarkation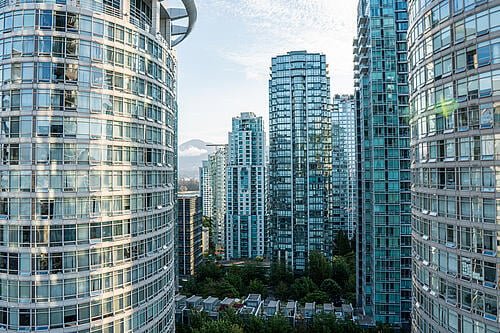 I arrived in Vancouver the night before my cruise and spent about 24 hours in the city before heading to the cruise terminal. Canada Place, Vancouver's cruise terminal, is located walking distance from many hotels in downtown Vancouver.
I was cruising to Alaska with my friend Reeham from Egypt. I met Reeham in graduate school a few years ago and we've remained friends ever since! Reeham and I arrived at the cruise terminal by foot eager to board Radiance of the Seas and start our Alaska vacation.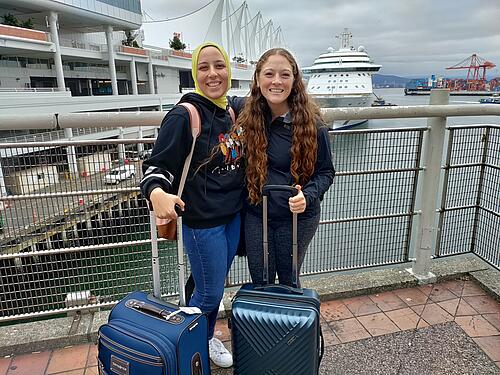 The embarkation process was extremely easy and we were onboard within 20 minutes of arriving at the terminal.
Radiance of the Seas first impressions
I had never sailed on a Radiance Class cruise ship before, so I wasn't sure what to expect. Royal Caribbean has 6 classes of cruise ships, and each has a different layout and size as well as varied onboard dining, activities, and amenities.
One of the first things I noticed was the large Centrum in the middle of Radiance of the Seas. Royal Caribbean is known for their sprawling Royal Promenades inside the ship, but the cruise line's older cruise ships do not have this feature.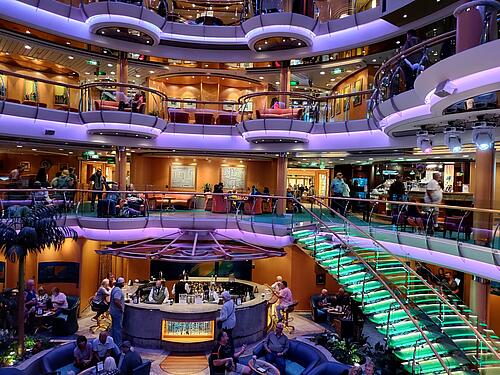 Instead, Radiance of the Seas has a large, 6-story elevator lobby connecting shops, lounges, a coffee shop, and other onboard amenities. I don't mind the Centrum and feel that it connects the ship's decks together nicely, although it seemed a bit cramped, even when compared to the more open Centrum area on my recent cruise on Royal Caribbean's Rhapsody of the Seas.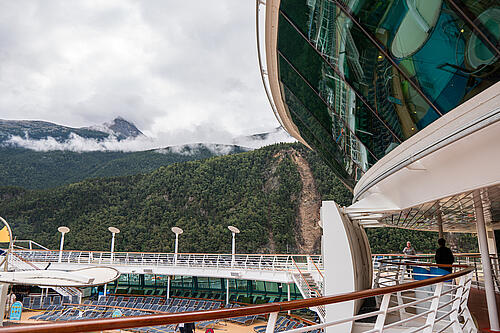 Radiance Class ships are known for the amount of windows found throughout the ship, and this is one of the features I ended up loving most about Radiance of the Seas throughout my cruise. No matter where I was onboard, I could relax with a view and enjoy Alaska's scenery.
Related: 20 Radiance Class cruise ship tips and secrets
The outdoor decks on Radiance of the Seas were really nice as well, although I didn't expect to spend much time there during an Alaska cruise. Having access to the helicopter pad is always a plus, and the indoor pool area in the Solarium was a beautiful space.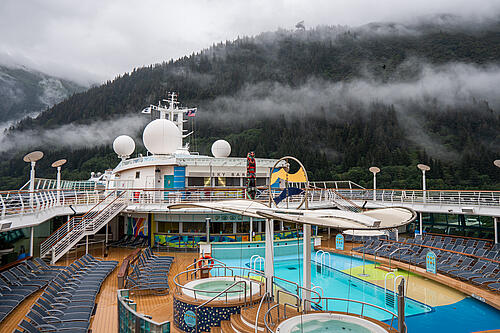 While Radiance of the Seas clearly did not have all the bells and whistles of a newer cruise ship, I thought the ship was perfect for a cruise focusing more on the destinations as opposed to the ship itself.
The vibe onboard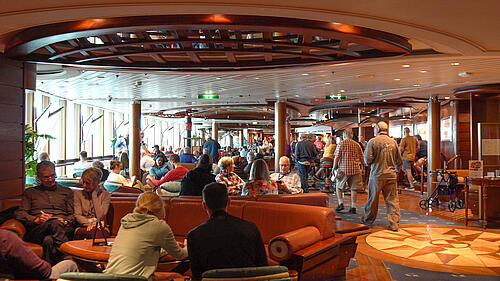 I almost immediately noticed that the vibe on this Alaska cruise would be different from not only Royal Caribbean's Caribbean cruises, but also my Alaska cruise last year on Ovation of the Seas.
I was told there were only around 100 kids onboard and the average age of passengers was probably in the late 50s-70s. I'd say Reeham and I stuck out in comparison to the average demographic on the ship, and the atmosphere felt very tame throughout our entire cruise.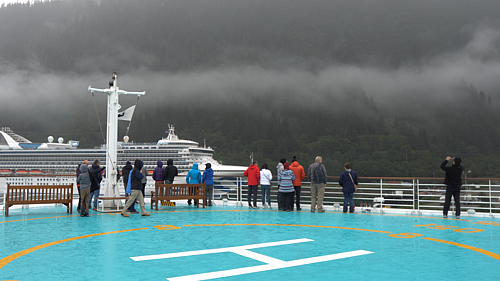 The relaxed vibe onboard was probably due to a few factors:
The school year had just started, so there was a noticeable lack of families and kids.
Those passengers and families looking for a more modern, activity-filled cruise will often choose a Quantum Class ship over a Radiance Class ship. Quantum Class ships have activities like bumper cars and the FlowRider which are not available on smaller ships.
This was a one-way sailing, so logistics were more difficult and expensive for younger passengers with limited PTO time, leading to a higher age demographic onboard.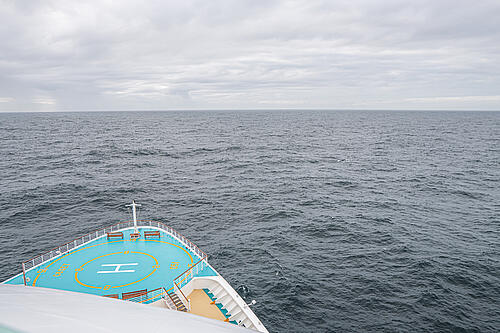 I'm not a huge partier, so I didn't mind the tame atmosphere on the ship. You'll rarely catch me awake after 11PM and after 12 cruises I still haven't been to the nightclub, so the older and calmer vibes onboard were fine with me.
Plus, if you really wanted to find a party you could. There was a nightclub/DJ each night at the Starquest Lounge and live music/dancing in the Centrum. Even if it didn't have the party vibe of a weekend cruise from Miami, there was always something to do in the evenings.
Our cabin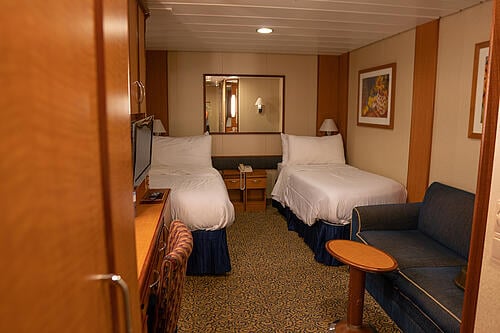 Our cabin was ready around 1:30PM, and we had booked an interior cabin for this cruise. Booking the cheapest cruise to Alaska will almost always mean booking an interior cabin!
While a lot of people may think you have to book a balcony cabin when cruising to Alaska, I'd argue that there are better spaces onboard to watch the scenery than a balcony, which only provides views in one limited direction. I prefer hanging out on the pool deck or a lounge with more panoramic views of the outside.
Related: Choosing a cabin for your cruise
The cabin was room 9009, which was located on deck 9 forward of Radiance of the Seas. The cabin appeared well-maintained and had a nice amount of walking space throughout it. There was a ton of storage, too, with 7 drawers in the vanity, two shelving areas above the TV, one full-sized wardrobe, and one smaller wardrobe with shelves inside.
Because I travel with so much camera gear along with my clothes, I'm always happy when a cruise ship cabin has tons of storage.
Our cabin had two twin beds pushed apart. When traveling with friends, I prefer having the beds pushed apart not only so we get our own space, but it gives the room better walking space. I appreciated that this was done before we arrived as I did not have to track down my stateroom attendant!
The room had four outlets (2 North American style outlets and 2 European), which was more than I expected on a 20+ year old cruise ship. I was glad I packed a European outlet adapter so we could take advantage of all the outlets in the cabin.
Related: The Ultimate Cruise Packing List
The bathroom in our cabin was a standard cruise ship-sized bathroom and nothing too fancy. The bathroom is where I noticed the ship showing its age, as the light would flicker on and off several times before staying on and the paint was faded in some areas, but that didn't matter in the long run.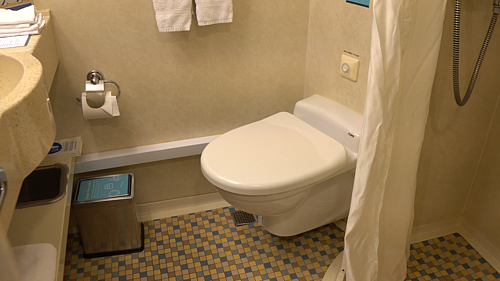 I only had two complaints with our stateroom. First, the walls seemed a lot thinner on Radiance of the Seas compared to other Royal Caribbean ships I've sailed on. One morning, in fact, I was woken up by the alarm in the room next to me!
Second, the internet onboard, which was pretty awful in the first place, was often not functional in our stateroom. As someone who has to do a few hours of blogging onboard each day, it was frustrating having to constantly leave the room and try to get better internet elsewhere.
Food & beverage
One of the first things that comes to mind when anyone thinks of the word "cruise" is endless food, so what was the food like on my cheap Alaska cruise?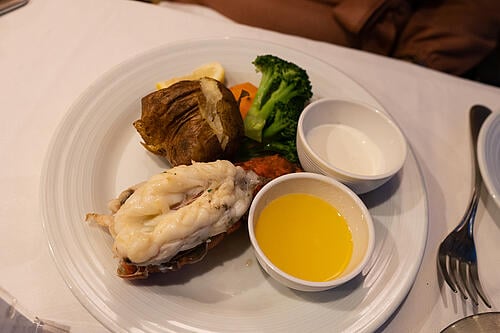 I've never been disappointed by the food on a Royal Caribbean cruise, and I enjoyed every meal I had on Radiance of the Seas. Reeham and I did not dine at any specialty dining venues onboard, choosing only to eat at complimentary venues.
Related: Food on a Royal Caribbean cruise
Thankfully, Radiance of the Seas has several complimentary venues onboard, including the Windjammer buffet, Park Cafe, Boardwalk Dog House, and the Main Dining Room.
Windjammer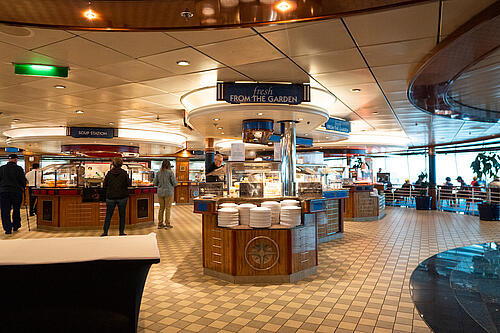 We started most mornings of the cruise at the Windjammer. This is my favorite place to eat breakfast on a Royal Caribbean cruise due to how many options are available. From savory options like made-to-order omelets and bacon to sweets like french toast, cinnamon rolls, and pancakes, I was never disappointed.
My favorite breakfast at the Windjammer is a few slices of french toast topped with whipped cream and chocolate chips. I had this pretty much every morning!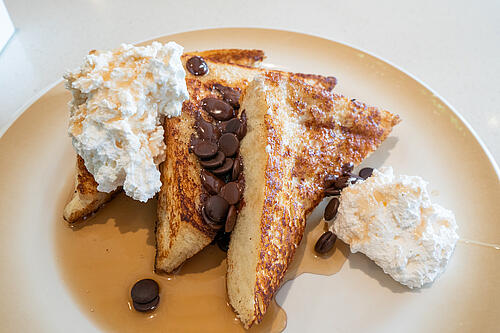 We had a few lunches and dinners at the Windjammer as well. The dinner theme changes every night, and our favorite was Mediterranean night, which had fresh hummus, falafel, lamb kabobs, and other Mediterranean delicacies.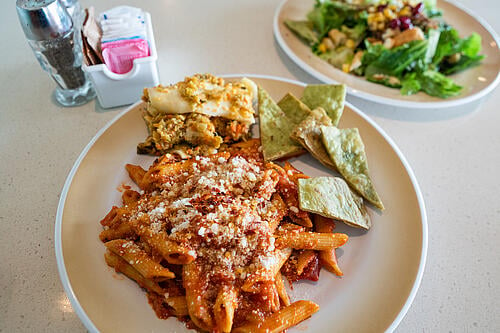 Related: Guide to Royal Caribbean's Windjammer Cafe buffet
Main Dining Room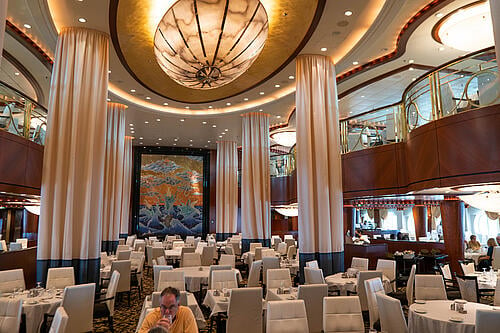 One of my favorite meals during the cruise was brunch in the Main Dining Room, where I had one of the best dishes of the cruise: butternut squash risotto. Both breakfast and lunch options were available at brunch, although the special menu was only offered one day of the cruise.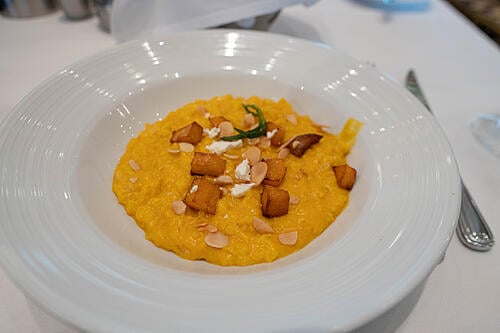 I loved the decor and ambiance in the Main Dining Room, and we ate dinner there 5 out of the 7 nights of our cruise. Dinner would usually take 1-1.5 hours. The French onion soup is by far my favorite item on the menu, but all of the salads, soups, main courses, and desserts were nice as well.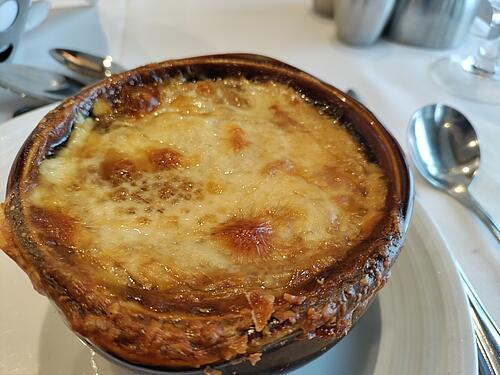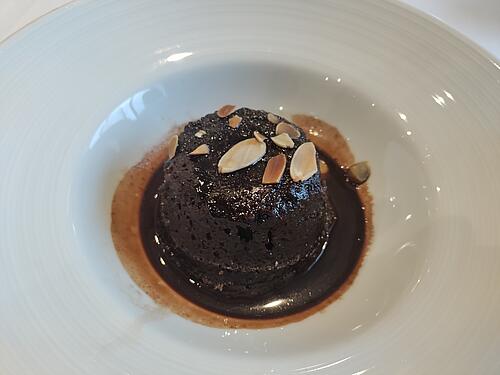 Other dining venues
Outside of the Main Dining Room and Windjammer, I spent most evenings in the Diamond Lounge enjoying complimentary appetizers and small bites. Occasionally I would grab a quick snack from Park Cafe or Caffe Latte-tudes which were free as well.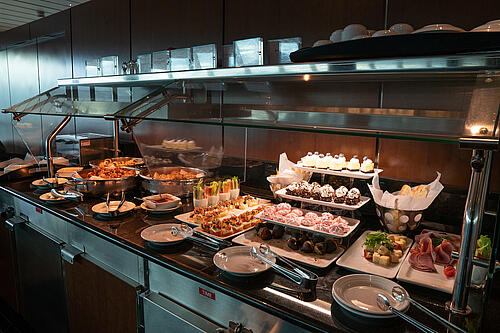 I was impressed with the food overall and never got tired of visiting the same venues for meals. I'm glad I did not purchase a dining package as this allowed me to save money for a nice, fresh lunch in port each day.
Beverages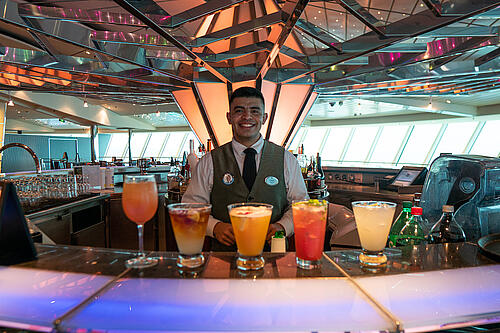 As a Diamond member in Royal Caribbean's Crown & Anchor Society, I receive four free drinks per day of the cruise. This is my favorite benefit of having Diamond status, and I was able to order fresh orange juice, specialty coffees, and cocktails every day!
I only went over my limit twice, adding a total charge of $19 to my account balance.
There were a ton of venues to enjoy a drink, too. My favorite was Starquest and the Diamond Lounge, which are both located on the top deck of Radiance of the Seas. They offered what I think are the best views from the ship, and there were always fewer people there than in other bars and lounges.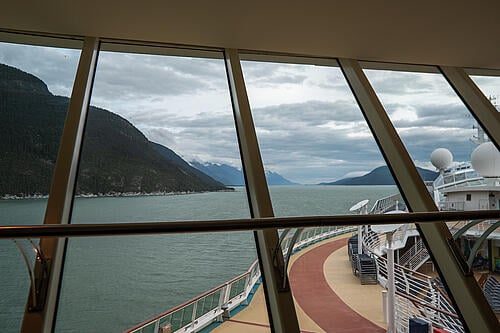 Onboard activities
I don't tend to pack my days onboard full of activities, and most of the time I'm happy to sit back and relax with a coffee and a nice view. That being said, I never felt bored on Radiance of the Seas and there were always activities available whenever I wanted to participate.
The first activity I tried was a movie at the Cinema. Something that makes Radiance Class cruise ships unique is the movie theater, which plays a different movie each day of the cruise! There were five showtimes each day, so it was the perfect thing to do on a chilly day at sea.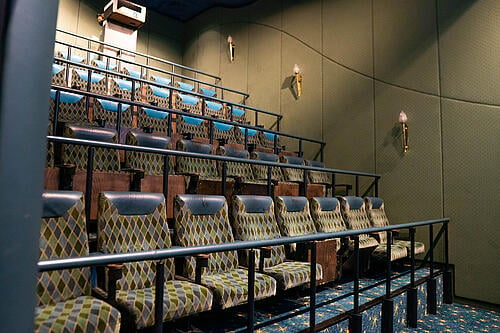 We also attended a round of trivia at the Schooner Bar. Trivia is offered several times throughout the day each day of the cruise, and it's a low-effort activity that can be pretty fun.
Other activities, like bingo, spa seminars, dance classes, etc. were available, although I did not partake in any of these activities.
Music & entertainment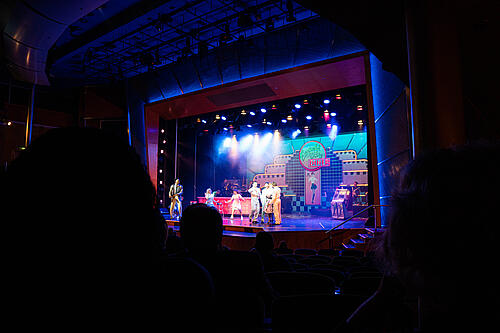 There was always some kind of entertainment or live music every night during the cruise. Guitar music was offered at the pub, piano tunes at Schooner Bar, singers and instrumentalists in the Centrum, and production shows in the Royal Theater.
Related: First time cruisers: Entertainment on Royal Caribbean cruise ships
On our first sea day, I checked out Piano Man in the Royal Theater. The show combined music from Billy Joel, Elton John, and Barry Manilow combined with dancing and singing.
I felt that the show was definitely geared toward an older age demographic, but it was still entertaining to watch. I'm not a huge theater person outside of Royal Caribbean's Broadway shows, so I didn't attend any other performances throughout the week.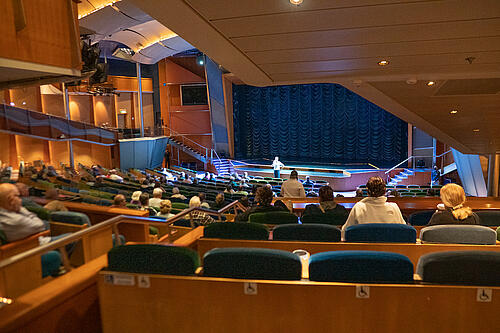 My favorite activity I attended was the Captain's Corner, where the ship's captain had a Q&A session to answer guests' questions about what it's like to work onboard, how ships navigate the ocean, etc. It was fascinating to learn more about what goes on behind the scenes on a cruise ship!
While Radiance of the Seas may not have a zip line or ice-skating rink, it seemed like there were enough activities onboard to keep kids busy. Adventure Ocean kids programming, a basketball court, mini-golf, and rock climbing were available. There is also a children's swimming area with a small slide, although this remained closed during our cruise due to the weather.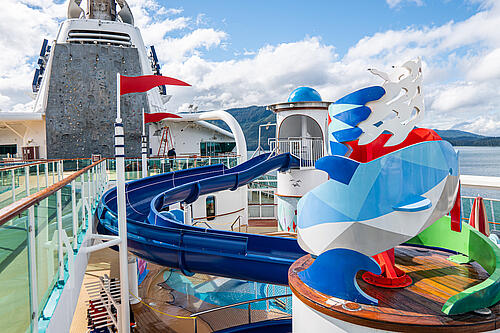 Related: Here are the absolute best cruises for families
Alaska cruise ports
We stopped at four different ports on our Alaska cruise: Juneau, Icy Strait Point, Sitka, and Skagway. We were in port between 8-10 hours each day, and I felt this was plenty of time to explore without getting bored or feeling like we were in a rush.
Juneau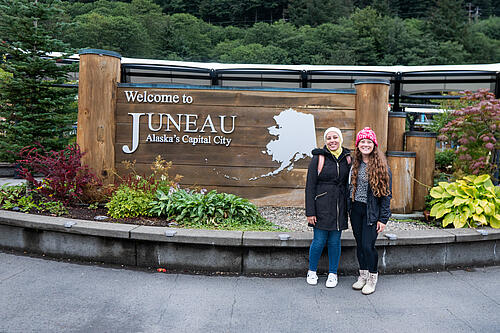 Pretty much every Alaska cruise itinerary stops in the state's capital of Juneau, and it's one of my favorite ports because of how many activities are available. A lot of Juneau's best attractions must be visited either by car or through a tour, so I knew we would probably spend more money here than in any other ports.
Related: Top 10 things to do in Juneau, Alaska
Radiance of the Seas docked at the dock furthest away from downtown Juneau, and while there was a shuttle available for around $6 roundtrip, we decided to save money and make the 20 minute walk into town.
We initially planned to spend $45 to ride the Goldbelt Tram to the top of Mount Roberts, but as there was a ton of fog on the mountaintop, we decided against it as the view would be severely blocked.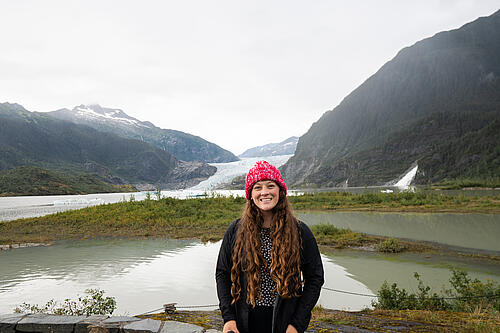 Instead, we found a shuttle bus to and from Mendenhall Glacier for $45. Other tours, like whale watching and helicopter rides, were in the hundreds of dollars, so we figured visiting Mendenhall Glacier would be the most budget-friendly tour option.
The trip was well worth the cost as Mendenhall Glacier is stunning and easily accessible from downtown Juneau. We spent a few hours walking on nature trails around the glacier and taking in the beauty around us. Mendenhall Glacier really is a must-do activity in Juneau.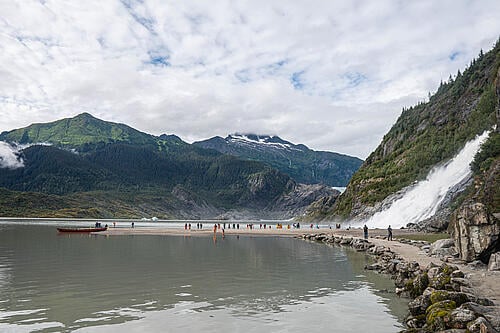 Related: Local's guide of what to do in Juneau, Alaska
Once we returned to downtown Juneau, we visited a few local shops and discovered a cool food truck park in the middle of the city. In total, we spent $9 each on fudge and chocolate and $6 on a salmon taco.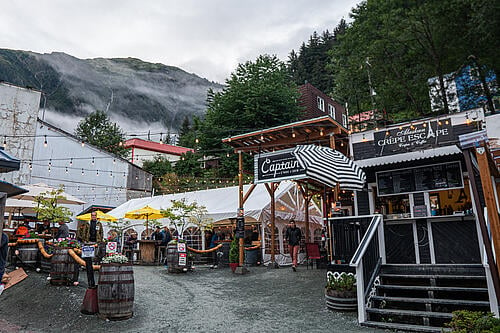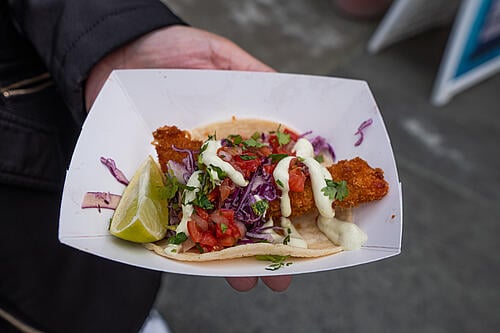 Total cost of my day in Juneau: $69
Icy Strait Point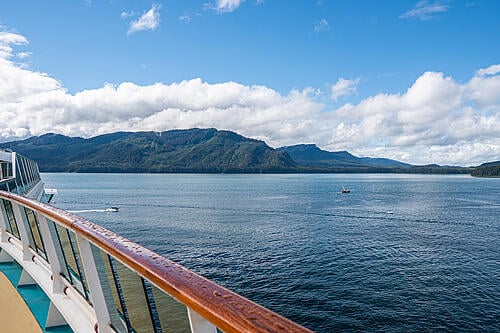 Icy Strait Point is a unique port in that it is privately owned and operated by the Huna, a Tlingit tribe located in the nearby town of Hoonah. I wasn't sure what to expect at this port and assumed there would be little to do, but I ended up enjoying the day a lot more than I initially expected.
Icy Strait Point is well developed and has many free attractions, including nice walking paths, a museum, and a beach. The natural beauty of Icy Strait Point is pristine, and we spent the morning looking through our binoculars trying to spot whales, bears, and sea otters.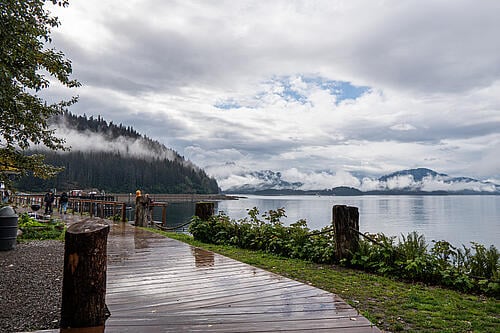 Related: Radiance of the Seas Live Blog - Day 4 - Icy Strait Point
The port is pretty small, however, so Reeham and I decided to walk to the nearby town of Hoonah. Free shuttles are available, but we walked the 40-minute coastal path to town.
While Icy Strait Point is only a port area, Hoonah is where the locals live, and I enjoyed observing local life in a remote town of only 850 people.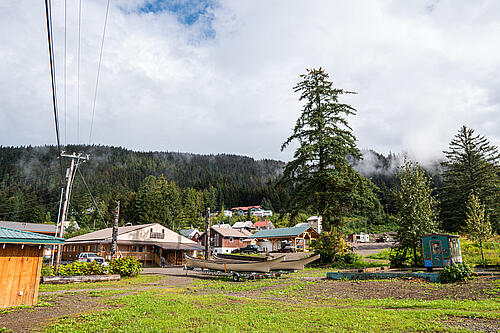 We visited a grocery store where jars of salsa were over $8 and bags of beef jerky over $20, watched a free demonstration of locals carving a traditional totem pole, and enjoyed lunch ($15 each) at a local seafood restaurant. There wasn't too much to do in Hoonah, but it was worth the ~2 hour trip.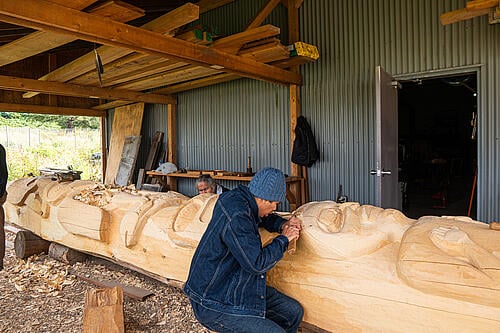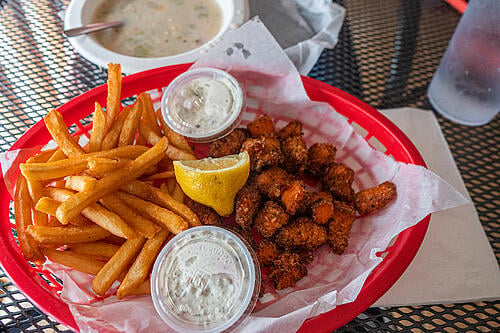 Once back at Icy Strait Point, we enjoyed a bag of mini donuts ($5 each) before walking around a bit more and getting back onboard.
If I visit Icy Strait Point again, I'd probably choose to spend money on a shore excursion for half the day and explore on my own for the other half. We were in Icy Strait Point for the longest time of any ports on the cruise, but I ran out of things to do in the early afternoon. Booking a whale watching tour in addition to walking around on my own would be a nice way to fill up the entire day.
Total cost of my day in Icy Strait Point: $20
Sitka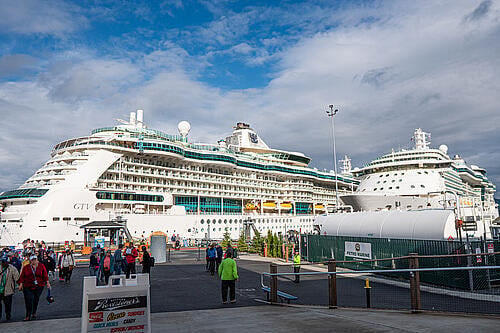 Sitka, the former capital of Russian Alaska, was the next port on our cruise. Like other ports, we planned to explore freely without a prior plan, and it led to a fun yet busy day in town.
I was impressed with the amount of free activities in Sitka. One of my favorite parts of the day was walking around the Sitka National Historic Park, which had gorgeous rainforest nature trails. The salmon were also running when I was in Alaska, so tons of visitors gathered to watch as the salmon frantically swam upstream.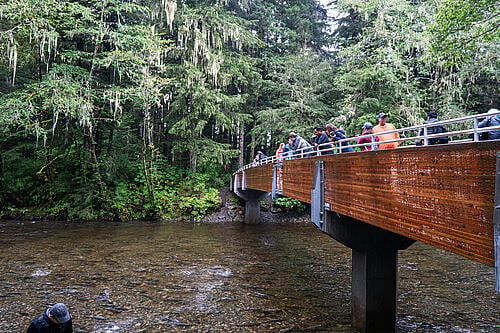 Related: Top 10 things to do in Sitka, Alaska
I was pretty frightened with all the "WARNING: BEAR" signs around town, though, so I didn't venture too far on my own!
I also visited the Alaska Raptor Center, a rehabilitation center for injured birds of prey. Admission to the center was $15 which felt fair as I was contributing to a good cause.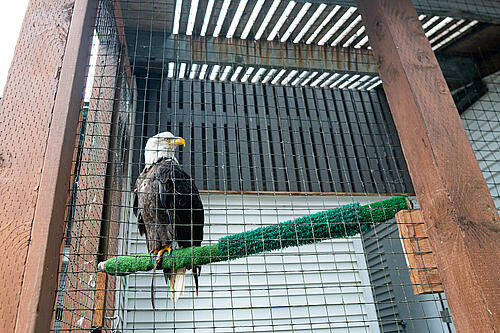 We spent most of the day in downtown Sitka exploring local businesses and attractions. In total, we spent $12 each on fish n' chips, $4 on fudge, $3 on hot chocolates, and $6 on magnets.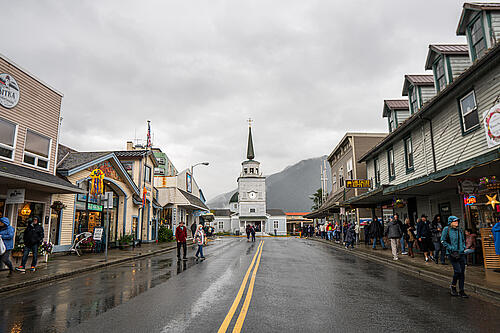 Related: Local's guide of what to do in Sitka, Alaska
My favorite place in town was the Baranof Castle State Historic Site, the location where Russia formally handed off Alaska to the United States. This site is free and the views from the top were beyond beautiful.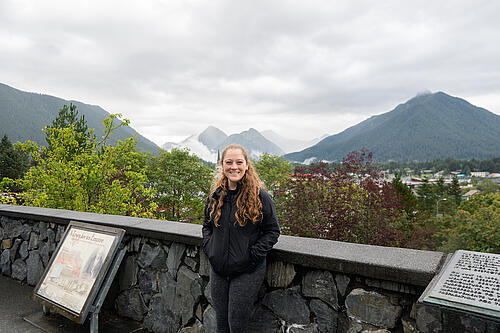 Total cost of my day in Sitka: $37
Skagway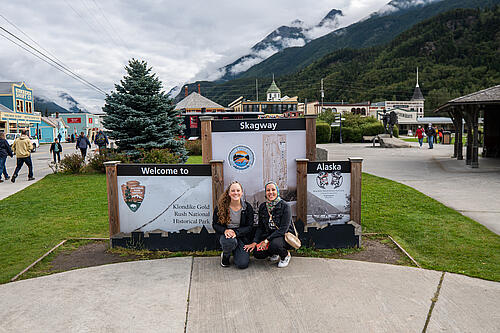 Our last port of call brought us to Skagway, Alaska, the town most known for Alaska's Gold Rush.
Last year I spent $100 to ride the White Pass & Yukon Railroad from Skagway. I would 100% recommend doing this while in port, but as I had done it already, I decided to simply walk around town without a plan.
Skagway is probably the most picturesque town we visited on this cruise, and I could spend hours walking up and down the town's streets, which are lined with historic saloons, museums, souvenir shops, and restaurants.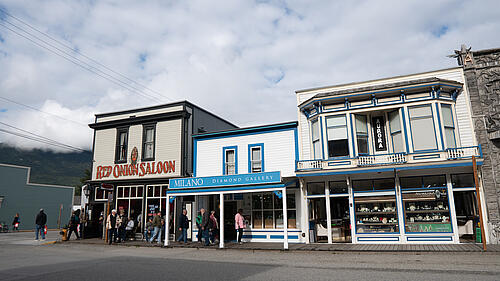 Related: Local's guide of what to do in Skagway, Alaska
Our first stop was to a few souvenir shops where we spent $5 on postcards and stamps to mail to friends and family back home.
We also made a pit stop to my favorite place to eat in Skagway, Klondike Doughboy. Specializing in Alaskan fry bread, Reeham and I shared a cinnamon-sugar fried dough for $7.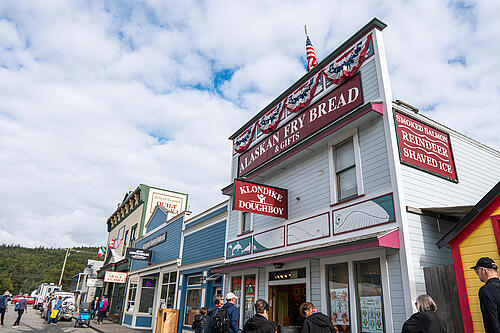 As I mentioned, Reeham is from Egypt and she abruptly stopped in her tracks in front of a jewelry shop when she saw a variety of Egyptian souvenirs and decor inside the shop.
The shop was owned by an Egyptian, and in true Egyptian culture, he invited Reeham and I inside to chat. Mohamed, the shop owner, and Reeham enjoyed talking to a fellow Egyptian in a town as remote as Skagway, and we stayed in the shop for a while to learn more about local life in Alaska.
Mohamed treated us to lunch and we treated him (and us!) to ice cream ($15) before getting back onboard Radiance of the Seas.
Total cost of my day in Skagway: $27
Related: Top 10 things to do in Skagway, Alaska
Weather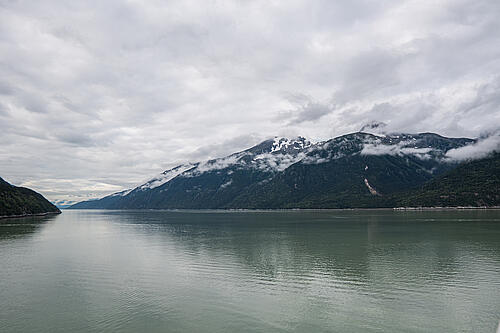 When I cruised to Alaska in October last year, we encountered awful weather. It basically did not stop raining the entire week!
Because this cruise was at the end of August and into September, I did not expect the weather to be nice this year, either, but I was pleasantly surprised by the weather conditions.
While we encountered some rain on and off most days of the cruise, there was usually only a light sprinkle with a couple rare downpours. We saw the sun nearly every day and in Skagway we did not have any rain whatsoever!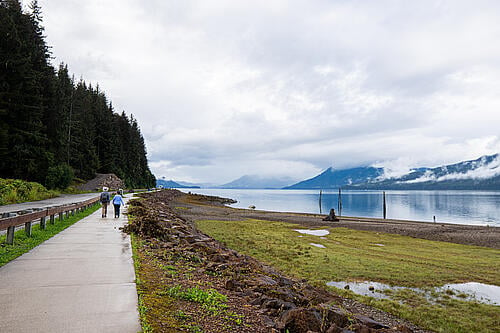 Related: What is the best time to cruise to Alaska?
Weather is unpredictable anywhere in the world, but especially in Alaska, so I think we lucked out on this cruise. I even took off my jacket a few times to walk around in just a long sleeve shirt and remained comfortable.
Last sea day & disembarkation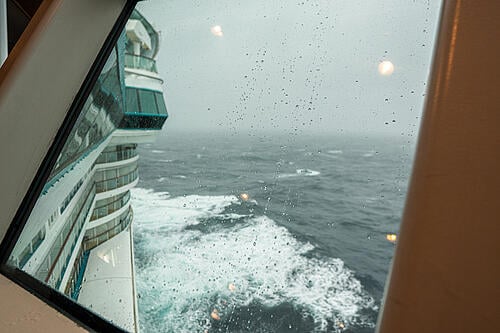 The last full day of our Alaska cruise was supposed to include a visit to Hubbard Glacier, but unfortunately we were unable to approach the glacier due to low visibility.
Bad weather was the theme of the day, and we encountered the roughest waters I've experienced yet on a cruise. I spent most of the day feeling seasick and laying in bed, which was definitely not fun!
As evening approached, however, Reeham and I began to feel better and were able to enjoy our last night onboard before disembarking the next morning in Seward.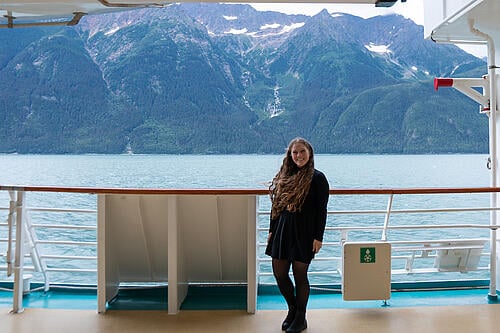 We arrived in Seward early on disembarkation day and took a 3 hour shuttle bus to downtown Anchorage. We still had ten hours before our flight once we arrived in Anchorage, so I was pleased to discover that the city has a complimentary building with luggage storage, tables and chairs, and a free airport shuttle available.
Soon enough, it was time to say goodbye to Alaska's beauty and return home.
Total cost: was it really the cheapest Alaska cruise?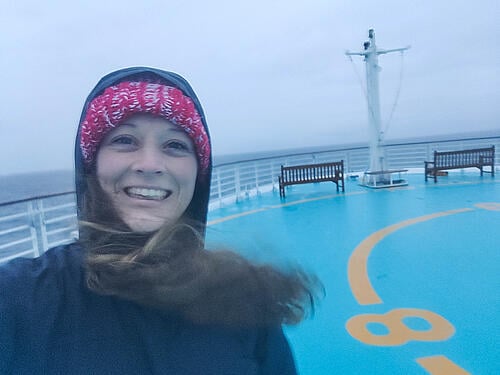 While I may have booked the "cheapest Alaska cruise" based on cruise fare price, the extra add-ons (one-way flights, shuttles, etc.) added a significant cost to the cruise.
Alaska cruise costs (per person):
Pre-cruise purchases (cruise fare, hotel, flights, etc.): $1442.95
Purchases in port: $153
Onboard purchases: $19
Total cost of my Alaska cruise: $1614.95
Looking back, I probably could have booked a more expensive cruise fare on a newer ship from Seattle and still saved money due to cheaper flights and other transportation expenses.
If you're truly looking to save the most amount of money possible, definitely research flight costs and shuttles before booking an Alaska cruise!
I had no idea a shuttle would cost $80 one-way to reach Anchorage from Seward, for example, and this could easily get way more expensive when cruising with a large family.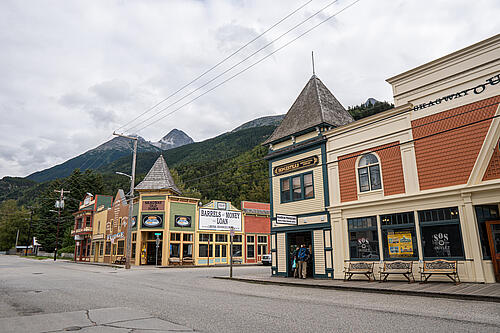 That being said, I definitely saved hundreds of dollars by not booking excursions and instead choosing to explore ports freely on my own. I didn't feel we missed out on anything by not booking excursions.
However, I've already been to Alaska and will cruise to Alaska again in the future. If you're only going to visit Alaska once, I'd book at least 1-2 excursions, such as whale watching and the White Pass & Yukon Railroad train, in order to make the most out of Alaska's attractions.
I was happy to end the cruise in southcentral Alaska as it allowed me to explore Anchorage (and I even saw the peak of Denali from downtown!).
In the end, I made some amazing memories with my friend Reeham and we were able to explore four unique Alaska cruise ports and discover more of Alaska's culture, cuisine, and nature.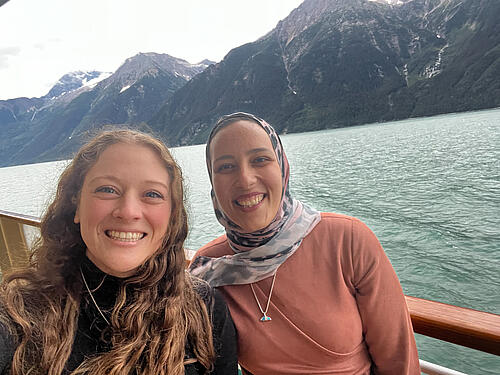 Alaska cruises remain my favorite cruise itineraries in North America and I'll never get tired of relaxing onboard with a scenic view out the window.
Cruising to Alaska on a budget can be done, and while I'm not entirely sure this ended up being the cheapest cruise overall, it was certainly an incredible experience, and I'm already looking forward to returning to Alaska!
Planning an Alaska cruise? Check out our guides for more tips & tricks: