In:
Perched at the northern end of the Taiyla Inlet, Skagway, Alaska is one of the only destinations in Southeast Alaska that you can drive to. This made it a hot spot for thousands of prospectors during the turn of the 20th century. 
Skagway was a boomtown unlike any other. Over 40,000 eager gold-rush prospectors landed in Skagway during the Klondike Gold Rush before heading north to the Yukon along the Chilkoot Trail. Over just a few years, this fisherman village grew into a bustling metropolis and played host to characters from around the world.  
Now, this town has returned to a sleepy fisher's paradise, except for the short months of summer when it transforms into a tourist destination. Over 8,000 visitors a day disembark at this port to adventure through old saloons and pose for photos on Broadway Avenue.
It is easy to get caught up in the crowds, but Skagway offers more than just old Gold Rush charm and pretty backdrops. If you know where to go, this is a town ripe for an outdoor adventurer. So pack your bag and grab your raincoat as we launch into the local's guide of top things to do in Skagway on your Alaska cruise. 
4. Attend a Ranger Chat at the Klondike Gold Rush National Historical Park Visitor Center
The Klondike Gold Rush Visitor Center is on Broadway Street, within easy walking distance of the docks. While this isn't a local's secret, the Visitor Center is the perfect spot to start your day in Skagway. 
Entrance into the center is free, and you can access an array of great interactive exhibits that document the history and cultures of the area, including great exhibits on the Klondike Gold Rush and the individuals that headed north. A free 25-minute movie plays throughout the day to show how much this town has transformed throughout the decades. By starting here, you can walk around town and easily spot historical landmarks on your own. 
One of the biggest benefits of starting at the visitor center is the Ranger presentations given each morning. These 30-minute talks change daily and are a quick way to gain some history and knowledge of the area before heading out on some trails or excursions. Skagway has one of the richest gold rush histories of any town in Alaska, so this is worth checking out.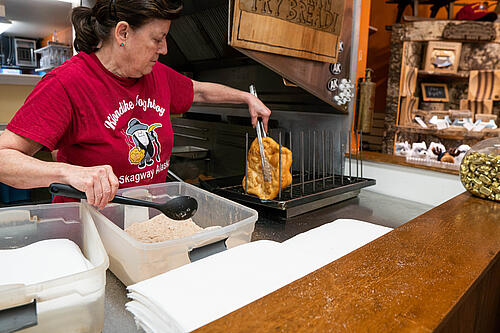 Local Tip: Head north down Broadway when you're done for some photo ops and to admire historical buildings. Pop into Klondike Doughboy on 3rd Avenue for a delicious pastry and coffee to start off your walk. 
3. Go for a Walk at Yakutania Point
At the cruise port, you can walk towards the Skagway Airport to access one of the best hiking areas in town. At the airport, walk across the pedestrian bridge to Yakutania Point. Only about 1.5 miles roundtrip from the port, this is a very accessible walk to any visitor looking to get out in nature during their time in town. 
Yakutania Point is directly west of town and overlooks Tailya Inlet. There are multiple trails to explore in this area, but turn left after the bridge and head towards the point for the best view. This is a great spot to watch eagles fish or explore the rocky beach. If it's sunny, grab a picnic on your way over, and enjoy lunch at one of the numerous picnic areas in the park. 
If you're feeling adventurous, continue on the path past the point to Smuggler's Cove. This path dips into the forest before dropping into the quiet inlet, with a picnic area and outhouse. Most crowds turn back at the point, so the trail is much more peaceful by continuing to the cove. Be sure to pack bug spray, rain gear, and sunscreen during this outing. The cruise port to Smuggler's Cove is a 2-mile round trip with very little elevation gain.
2: Look for Wildlife at Dewey Lake
For those seeking a longer hiking excursion than just Yakutania Point, Skagway has a plethora of trails extending directly out of the town, accessible by foot from the cruise port. One of the best is the Dewey Lake Trail System. While this area is full of a network of tails, my two favorites are the Lower Dewey Lake Trail and the Upper Lake Trail. 
You can access the trails by going across Pullen Creek bridge at the end of Second Avenue. Head north along the path for a quarter of a mile, before seeing the trail marker on the right. This will bring you onto the Lower Dewey Lake loop. 
Lower Dewey Lake Trail is a 2.5-mile loop trail that meanders through pine forest around Lower Dewey lake. Grouse, marmot, and pikas are frequent visitors in this area. In the summer, this trail is filled with wildflowers and colorful mushrooms that make you feel like you are walking in a fantasy world. Expect some climbing in the beginning, as this trail goes up 500 feet before reaching the lake. The climb is worth it for the fantastic views or the town and harbor.
If the trail is crowded, you can continue onto Upper Lake Trail at the north end of the loop. This trail continues for 3 miles to Upper Dewey Lake, where the landscape transforms from pine forest to alpine meadows. Mountain Goats and ptarmigan can be spotted along the route and on the surrounding ridgelines.
If you are hiking this loop, be sure to pack a lot of water and snacks as the trail goes up 3,000 feet. This trail is for only confident hikers with proper footwear. If you want a leisurely meander through the woods, stick to the Lower Dewey Lake Trail or Yakutania Point. 
Local Tip: Treat yourself to a beer at the Skagway Brewing Company when you're back in town. This brewpub has a delicious selection of microbrews and comfort food that are the perfect ending to a long hike. 
1. Take a Drive along the Klondike Highway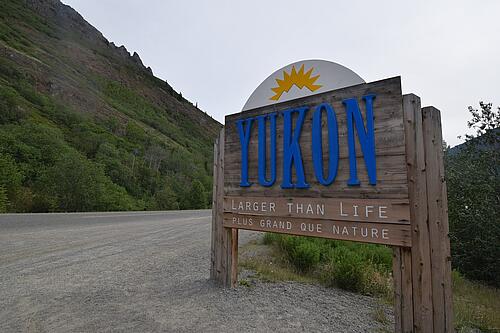 If you're in Skagway for a more extended stop or finishing your cruise here, then renting a car is a great option to see the area. While Skagway is a cute gold rush town, the natural beauty and history lie just beyond the town. Many tours operate rides between Skagway and Emerald Lake for cruise travelers, but these tours cover over 180 miles, with limited options for getting out and exploring.
Instead of taking a tour, opt to rent your own car and go exploring along the Klondike Highway. This gives you the flexibility to stop and explore any places that catch your interest along the way.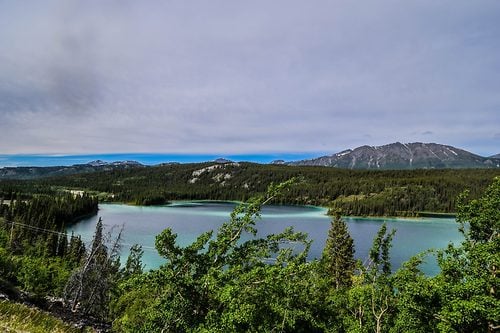 If you have at least 10 hours at port, you can do the entire drive to Emerald Lake on your own. If you get to the lake, consider continuing on a bit further to Robinson Roadhouse. This old rail station is a great place to see marmots. 
If you're limited on time, you can do the shorter 20-mile drive between Skagway and Fraser. This drive crosses into Canada and follows along Summit Lake. The road goes through tundra and high alpine meadows, which is also a great opportunity to spot wildlife.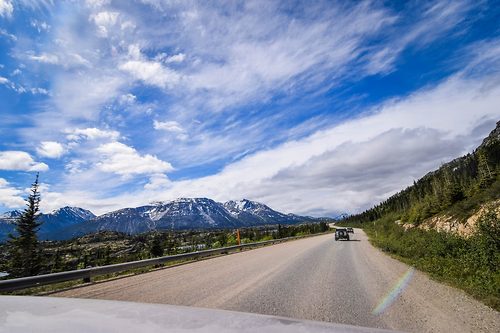 Be sure to pack your passport for this excursion, as you will be crossing into Canada before returning. If you have more time, go past Fraser to the Yukon Suspension Bridge. This stop offers a small gift shop, restaurant, and bridge that spans the infamous Yukon River.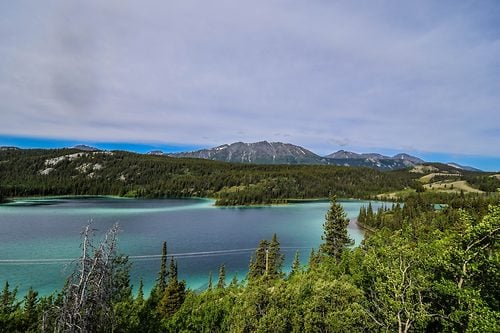 Local Tip: If you are planning to drive to Emerald Lake, leave Skagway right away and don't stop on your way. Get to the lake first, and then plan your stops on the way back. This will allow you to avoid tour buses and traffic on your outward journey and not feel pressed for time.
You can also walk to the rental lot directly from the cruise port. It is about a 10-minute walk, and you will be in front of the shuttle buses that drop off visitors from the port. This will maximize your time with your car rental and time exploring the road.