In:
Every Royal Caribbean cruise offers some great live shows to enjoy onboard.  Musicals, ice skating performances, and comedy shows are just a few of the performances to enjoy on Royal Caribbean.
Royal Caribbean has created a number of impressive shows for its cruise ships, as well as reached out to some very talented performers to round out the entertainment on every ship in the fleet.
Planning for shows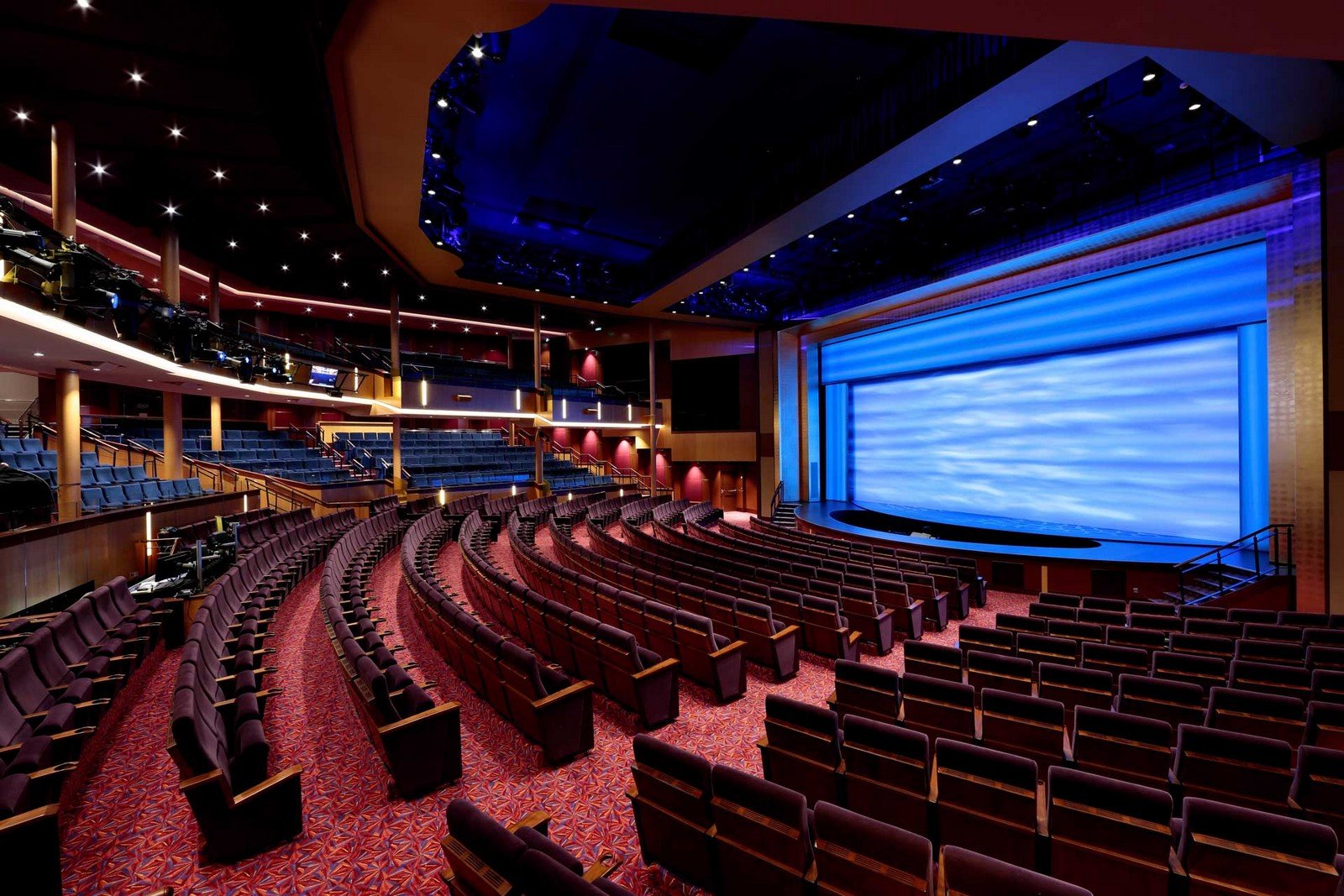 One thing several people have ask is whether it is worth it to see the shows. Our answer is always a qualified "absolutely." We absolutely recommend the shows because these are a big part of what separates Royal Caribbean from the rest of the industry.  In recent years, Royal Caribbean has invested heavily in its onboard shows, and the result has been a number of must-see performances.
Our thought process goes like this: entertainment on your Royal Caribbean cruise is included with your cruise fare, so why not see a couple of shows.  Not only is it very likely to be a fun time, it is a great way for family and friends to enjoy high quality entertainment together with little risk other than your time.
The big impediment you might have in seeing all of these shows is dinner. Often trying to balance show times with your dinner times can be difficult to time properly.  The rise in popularity of specialty dining and My Time Dining has resulted in some scheduling challenges. Depending on your dinner schedule, this may or may not be an issue. Those who are on traditional dining typically have less of a problem making show times work since many shows are scheduled opposite traditional dining schedules.
We have some recommendations if you potentially run into one of these planning risks: The key is to check for additional performances that work better for your schedule, or be prepared to make alternate dining plans.  Changing dining plans is not a major hassle, but something to be aware of to ensure you see as many shows as possible. Consult a prior Cruise Compass, as show times rarely change much (if it all) between sailings on similar itineraries. Once onboard, you can often get a entertainment schedule from Guest Services and better coordinate dining changes at that time.  Making dining changes is always easier early in the cruise, than later on, because reservation spots tend to fill up quickly.
Booking shows before your cruise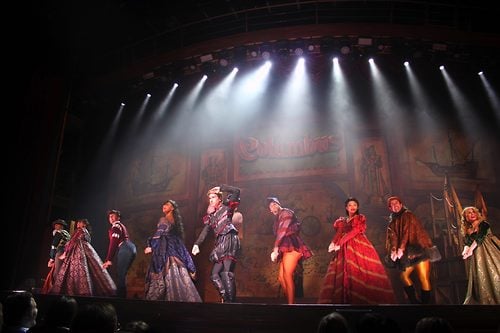 A common question among those new to Royal Caribbean is about when can they begin to reserve shows tickets prior to their cruise, and the answer is it depends on which ship you are sailing on.
Currently, only Oasis Class and Quantum Class ships offers guests the ability to get a virtual ticket for select shows and they are available via Royal Caribbean's Cruise Planner site. All other ships, will have seating available on a first-come, first-served basis and/or complimentary tickets once guests are onboard.
If entertainment is available to reserve for your cruise, we have typically seen shows become available for booking around 75-60 days prior to the sail date, but your experience may vary. The truth is, there is no rule about when these kinds of activities become available for booking, and every sailing can be different.
The best reason to book certain activities, entertainment and dining in advance is to guarantee a spot for you and your family, as well as break up the total cost of the cruise. There is limited capacity for shows, dining and other activities and Royal Caribbean tends to offer guests the option of reserving them prior to their cruise. By booking these activities early, you can ensure you have the time and day that you want all lined up.
Live shows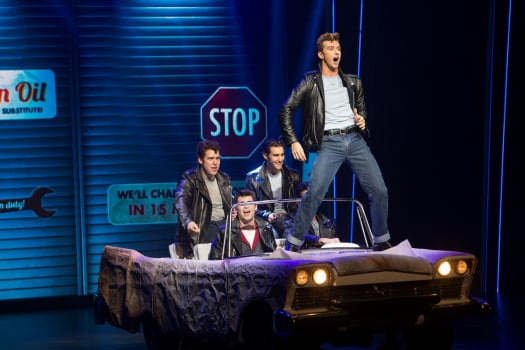 The exact lineup of entertainment will vary from ship to ship, but there are some common genres that span certain classes of ships and some are even fleet-wide. 
The theater performances are arguably the flagship entertainment on any Royal Caribbean ship. Royal Caribbean invests heavily in Broadway-inspired performances, with some ships actually offering full Broadway shows. Classic shows such as Grease, Mamma Mia, CATS and more grace the stage of Royal Caribbean's newest ships.
Royal Caribbean has made a name for itself with the high-diving shows on its Oasis Class ships that are held in the Aquatheater.  This space is an outdoor amphitheater, which features acrobatic and high diving stunts in the largest and deepest freshwater pool at sea. 
Royal Caribbean also offers ice skating shows on ships that have an ice skating rink (Oasis, Freedom and Voyager Class ships). Each ship has its own unique ice skating show, which matches incredible ice skating performances with music and a loose story line.  These shows are not only a means to see some very talented skaters perform some of the most difficult ice skating moves, there is also a great story to enjoy.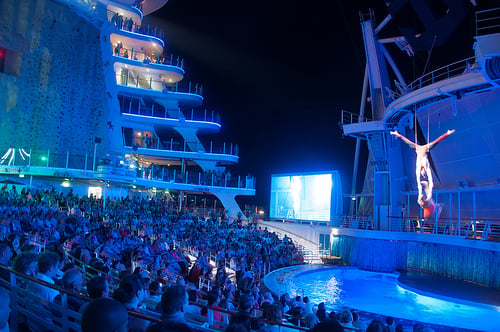 In addition, Royal Caribbean's entertainment staff will host their own live shows onboard, including fan-favorites such as the Love and Marriage Game Show, Battle of the Sexes, The Quest, and more.  These shows involve select members of the audience, and have been a staple of the cruise industry for years. 
Most Royal Caribbean cruises also feature comedians, magicians, and/or entertainers that offer family-friendly and adult-oriented shows onboard.  These performers put on their act to augment the regular entertainment line up, and can offer something a little different than stage productions.
Another popular activity is taking in a newly released or classic film.  Royal Caribbean mixes up the offerings, but will show multiple films each day of the cruise, usually on the large screen by the pool.  On the larger Royal Caribbean ships, there are even 3D films shown in the Royal Theater for no additional cost. Regardless of venue, these films can be the perfect way to finally see that new movie you have been meaning to watch, or a fun movie to see again while you enjoy a swim.
Dancing and singing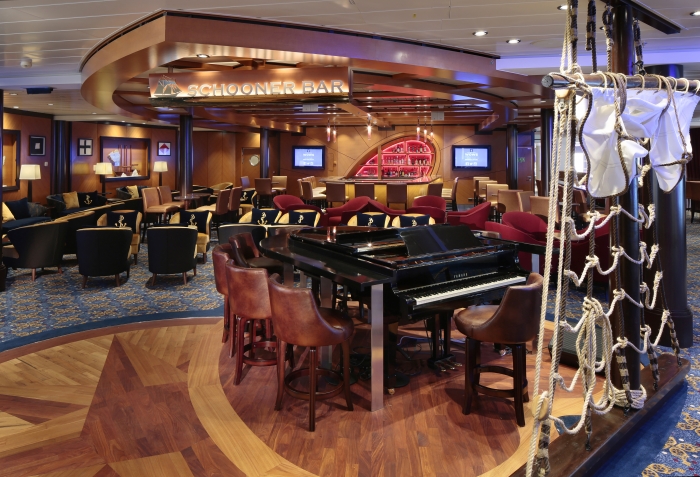 If your idea of fun is live music, with or without you dancing along to it, then you will plenty of that on a Royal Caribbean cruise.  Each ship offers multiple venues each evening that offer live music, sing alongs, dance parties and more.
Each evening, your Cruise Compass will list a multitude of venues that offer live bands playing.  There will be shows at the ships' pubs, lounges, night clubs and even by the pool.  Walk in, and take a seat (or find a spot on the dance floor) and take it all in.  As mentioned, there are often many different live musical opportunities around the ship, appealing to different styles of music.  Guitar sing alongs at the pub, salsa dancing in Boleros lounge, DJ spinning, and more.
On select evenings of your cruise, there are themed parties held, where guests are invited to join in on the fun.  Some parties are themed to the 1970s or 1980s, Caribbean themed nights, and more.  These are essentially large dance parties, where the entertainment staff dress up for the occasion and guests are encouraged to do the same.  
Naturally, you may be wondering how to know which themed nights will be on your sailing and when, but Royal Caribbean does not publish that information in advance.  Your only option is to consult a prior Cruise Compass and see what was offered on previous sailings.  In our experience, the themed night lineups do not change much.
Teens & Kids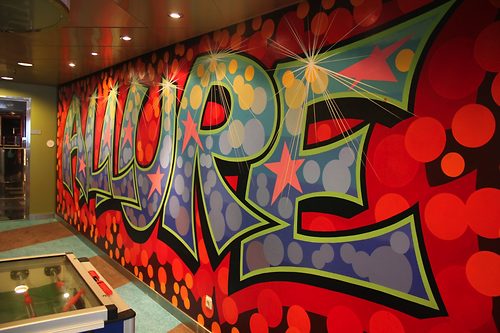 Younger travelers will find lots for them to do onboard as well.  Royal Caribbean has significantly invested in the dedicated space and entertainment options for the under 18 age set over the last decade or so.
Kids 3 to 11 years old have daily programming provided for them in the Adventure Ocean program.  Adventure Ocean is more than just a day camp experience. Kids will find classes, parties and activities offered each day of the cruise.
On select ships, younger kids will love the DreamWorks Experience, where they can meet their favorite characters from Madagascar and Shrek, watch 3D movies, and enjoy themed breakfasts and parades.
Teenagers also have their own rooms onboard to hang out, play games, listen to music... or whatever it is teenagers enjoy doing.  Royal Caribbean also schedules private sessions of popular onboard activities just for teens, such as time on the FlowRider surf simulator.