In:
Sitka is a common port on Royal Caribbean cruises to Alaska, located on the western side of Baranof Island and directly facing the Pacific Ocean. Offering a blend of Russian, Tlingit, and American cultures, Sitka offers everything from breathtaking day hikes to historic monuments.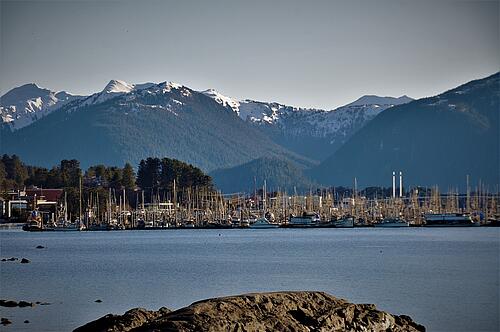 If your Alaska cruise visits Sitka, it's a great idea to learn about what activities are offered in town so you can make the most of your day in port. Let's take a look at the best activities to do on a cruise to Sitka.
Fortress of the Bear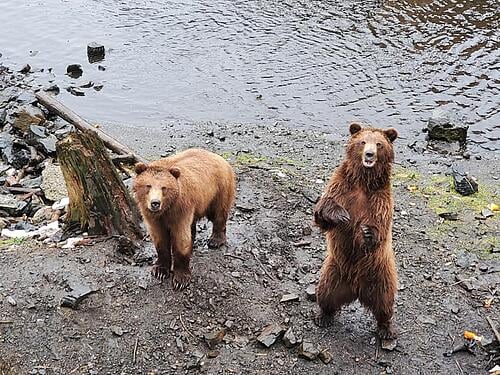 Photo credit: Fortress of the Bear
Fortress of the Bear is a bear rehabilitation facility, offering a second chance at life for orphaned and sick brown bears in Alaska. 8 bears are currently housed at the facility: Toby, Lucky, Chaik, Smokey, Bandit, Tuliaan, Nuka, and Nikishi.
Fortress of the Bear has a three-quarter acre habitat in the Tongass National Forest, and visiting the facility offers the opportunity to get within just 25 feet of Alaska's brown bears in a natural setting. Visitors can view bears from a large, covered viewing platform and learn about the bears from on-site naturalists.
Visiting Fortress of the Bear is an excellent activity for those hoping to catch a glimpse of Alaska's brown bears and support an organization working to improve the lives of young bears that have been orphaned.
Spot marine life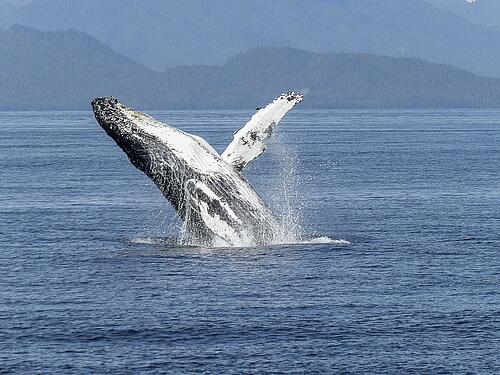 A cruise to Sitka, much like other Alaska cruise ports, brings the opportunity to spot majestic wildlife, particularly in the ocean waters.
You'll find tour operators offering whale watching shore excursions throughout the season. While Sitka may not be as popular for whale watching compared to ports like Juneau or Icy Point Strait, it still offers the opportunity to spot humpback whales, otters, sea lions, seals, and a slim possibility of spotting orcas.
One excursion that may be of interest to animal lovers is the "Sea Otter and Wildlife Quest" tour, which brings guests on a three-hour boat ride through Sitka Sound to spot sea otters, sea lions, porpoise, seals, bald eagles, whales, bears, and other types of wildlife. A naturalist guide accompanies the group as they sail through picturesque mountain scenery, offering insightful information about Sitka's ecosystem and history.
Kayak Sitka Sound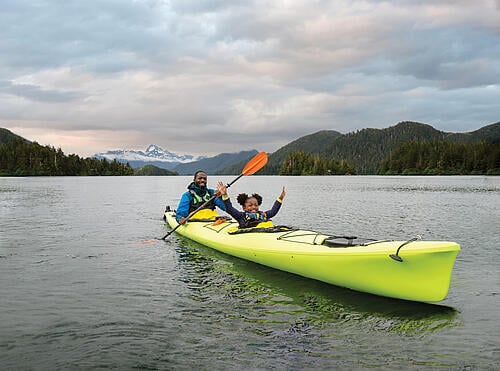 Kayaking is a sport popular for visitors to Alaska, allowing the chance to explore the state's breathtaking scenery and wildlife from the water. Kayak excursions in Sitka take visitors to nearby destinations including Sitka Sound and the remote Siginaka Islands.
While traveling via kayak, visitors have the chance to spot wildlife both above and below the water including otters, sea lions, bald eagles, jellyfish, and crabs. Kayak excursions to Sitka Sound even give visitors the chance to kayak with views of Mount Edgecumbe, a 3,201 foot volcano west of Sitka.
Alaska Raptor Center
Bird lovers will enjoy a visit to the Alaska Raptor Center, a rehabilitation facility for injured raptors. The Alaska Raptor Center works to rescue and rehabilitate hawks, owls, eagles, and other birds of prey.
Visitors to the Alaska Raptor Center will have the opportunity to witness these majestic birds fly through the air and learn more about the center's work to help raptors regain strength and independence before being released back into the wild.
The Alaska Raptor Center can be visited on your own or through a shore excursion.
Walk around the historic town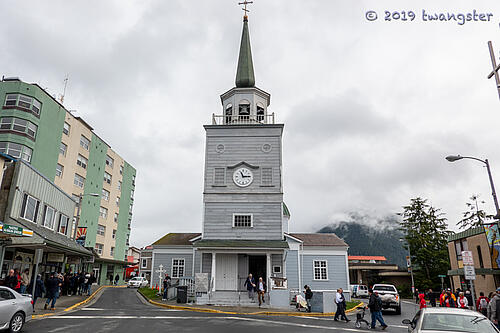 If you don't want to plan an organized excursion while in Sitka, consider walking around town on your own. VisitSitka.org provides a list of historic sites to discover around town, from the Sitka Maritime Heritage Society to the Russian Block House.
The Sheldon Jackson Museum makes for an interesting activity in Sitka, which houses a collection of Alaska Native ethnographic material including totems, baskets, masks, and traditional clothing.
The Sitka Sound Science Center is another activity to add to a day exploring town. The center's small aquarium houses sea urchins, anemones, starfish, rockfish, sculpins, salmon, a wolf eel, and more. There's also interactive exhibits and a skeleton of an adolescent killer whale on display.
Outside of museums, monuments, and educational centers are plenty of restaurants, cafes, and shopping.
Discover Sitka's Russian influence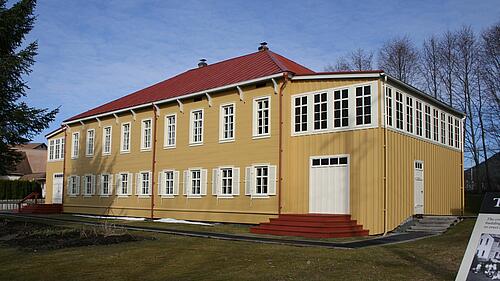 Sitka was originally inhabited by the Native Tlingit people. In 1799, Russian explorers settled Old Sitka, much to the dismay of the Native people. Russians were victorious during the 4-day long Battle of Sitka in October 1804, though, and established a settlement named Novo Arkhangelsk (New Archangel).
The city grew in the early 1800s, and it was officially designated the capital of Russian America in 1808. Russians remained in Sitka until the land was transferred to the United States in 1867, following Russia's defeat in the Crimean War.
Visitors to Sitka today can discover the remnants of Russia's influence in Sitka by visiting monuments and tasting Russian cuisine.
The Russian Bishop's House is a popular spot to visit, which was the residence of Ivan Veniaminov, the first Bishop of Alaska and the headquarters of the Russian Orthodox Church in Alaska. Today the Russian Bishop's House has been transformed into a museum, offering artifact displays and information about daily life in Russian Alaska.
Another popular spot to visit is St. Michael Cathedral. While technically a reconstruction of the original church following a fire in 1966, St. Michael Cathedral is a designated National Landmark giving insights into Russia's influence in Alaska.
Those looking to taste Russian-influenced cuisine while in Sitka may enjoy Pel'Meni, a casual, quick-serve Russian dumpling restaurant serving beef and potato dumplings topped with curry powder, butter, sriracha, rice vinegar, and cilantro.
Visit the Sitka National Historical Park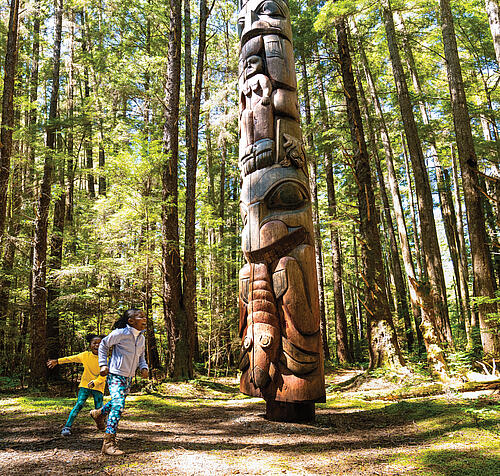 The Sitka National Historical Park is a 113-acre waterfront park in Sitka that preserves the site of a battle between the Native Tlingit people and Russian traders.
The park is free to visit and within walking distance from downtown Sitka. It includes nature trails, a visitor center, and a theater showing a video about Sitka's history.
A popular trail at the park is the Totem Trail, a mile long walkway through the forest that has eighteen hand carved Tlingit and Haida totem poles. Also in the park is the Russian Memorial Trail, leading visitors to the grounds of the Battle of Sitka. Visitors can explore the trails on their own or join a guided walk with a park ranger.
Visiting the Sitka National Historical Park can be a relaxing way to spend time in Sitka while taking in the surrounding nature and history.
Visit the Baranof Castle State Historic Site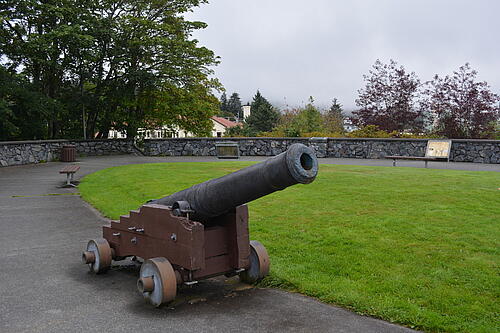 Photo credit: Jrozwado
Take in the best views of Sitka from the Baranof Castle State Historic Site, also known as Castle Hill. The formal transfer ceremony of Alaska from Russia to the United States occurred on top of Castle Hill, making the Baranof Castle State Historic Site an integral part of Alaska's history and transformation.
Castle Hill was originally inhabited by the Native Tlingit people who built a fortification on the land. From 1804 to 1967, the site was occupied by Russians, at which point Alaska was officially transferred to the United States.
As the site is accessible from downtown Sitka, it makes for an easy activity to add to your day exploring the town.
Go on a day hike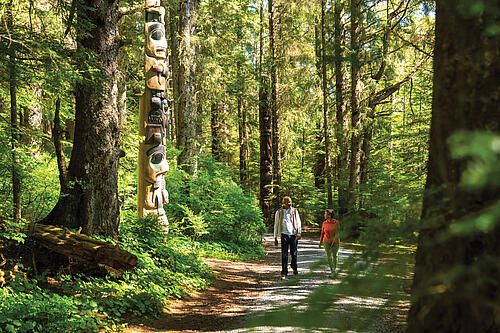 Like all of southeast Alaska, Sitka is surrounded by mountain peaks emerging dramatically from the ocean below. Visitors looking to explore Sitka's nature are in luck, as there are a variety of day hikes to choose from.
A top rated trail in Sitka is the Mount Verstovia Trail, a 4.5 mile out and back hike leaving near downtown Sitka and to the peak of Mt. Verstovia at 3,300 feet. A challenging hike with several thousand feet of elevation gain, this hike is not for beginners, although it offers unparalleled views of Sitka's scenery. Most hikers will stop at Picnic Rock (2,550') as the trail to the top of Mt. Verstovia from there is unmaintained. 
If you're looking for something easier, consider Sitka's Cross Trail, an accessible gravel-paved trail for cycling and walking. The trail is 3.8 miles each way and connects through Sitka's neighborhoods and tourist destinations, offering a tranquil place to walk while remaining close to town.
Passengers looking to get extra active may enjoy the "Sitka Bike and Hike" excursion, which brings guests on a 4 mile bike ride along the shore of the Pacific ocean and 1 mile hike through the rainforest.
Eat and drink your way through town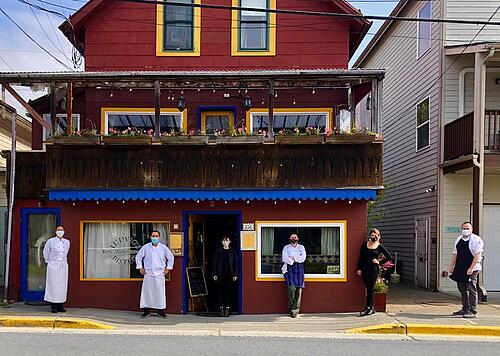 Photo credit: Ludvig's Bistro
A wonderful way to experience Sitka's cultural melting pot is through food and drink. Cuisines from around the world can be found in Sitka, from upscale Mediterranean to quick-service seafood.
If you're interested in a fancier sit-down meal while in Sitka, consider dining at Ludvig's Bistro, the highest rated restaurant in town. Menu highlights at Ludvig's Bistro include Wild Alaskan Paella Mixta, Rockfish n Chips, Ludvig's Chowder, Bistro Steak, and Tuscan Scallops.
For a more casual meal, head to Ashmo's food truck for fish and chips, salmon mac and cheese, and black cod over rice.
Looking for a drink? Check out Ernie's Old Time Saloon for a variety of beers on tap or a cocktail. On days with particularly cold weather, spend some time in one of Sitka's coffee shops to warm up with a coffee and pastry.
More information on what to do in Alaska's cruise ports: