In:
Royal Caribbean offers cruises on 25 cruise ships to destinations in the Caribbean, Europe, Alaska, Asia, Australia and everywhere in between. 
That is a lot of cruises!
First time cruisers may find the choices a bit overwhelming with the various options. The good news is, the decision is not as complicated as it may seem. 
Here are a few guidelines that would make for a perfect first cruise.  
Ships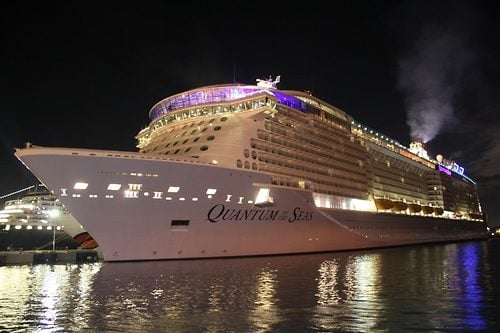 Royal Caribbean has built up a lot of cruise ships over the years and they each offer something different and interesting. 
For first time cruisers, the best choice is to lean towards the newer ships in the fleet because they will offer the latest innovations, entertainment and choices. 
Royal Caribbean's Oasis and Quantum class ships are perfect for first timers. In fact, it can be argued the Quantum class was designed with first time cruisers in mind.  
Ships such as Allure of the Seas and Anthem of the Seas pack a lot of entertainment, dining and tech onboard that offer the kind of "WOW moment" experiences many new to cruise guests have heard about. 
The other ships in the fleet are wonderful too, but we feel the Oasis and Quantum class ships are best suited for new cruisers. 
Itineraries
If you are trying to decide between itineraries like eastern or western Mediterranean or a Bahamas cruise or to visit Cozumel or St. Thomas, these are the typical quandaries those new to cruising all go through.
For a fist time cruiser, we think it makes the most sense to pick an itinerary that mixes in an even amount of sea days with port days.  The reason for this is so that you have ample opportunity to explore the ship as well as the places you visit.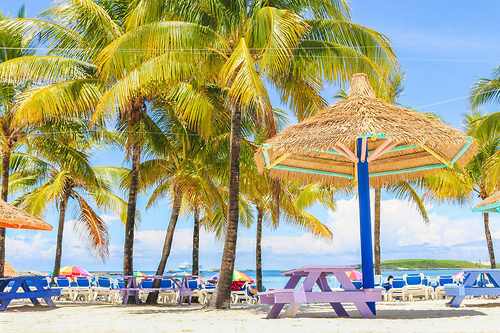 Cruise length
It may be tempting to pick a shorter cruise, but we recommend going with a five to seven night sailing because those three and four night cruises are really, really short.
By going with a slightly longer cruise, you will have the opportunity to really explore the ship and enjoy the experience.  Shorter cruises go by so quickly and for someone new to cruising, it may not provide enough time on ship or on shore to really get a sense of it all.
Royal Caribbean ships are designed to be destinations rather than just a floating hotel room, so you will want more time to experience it all.  We typically find cruises closer to a week in length provide a great balance of value, time and opportunity.
Picking the right sailing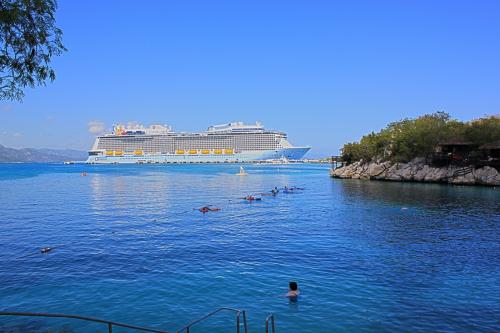 An itinerary with a good mix of port calls and sea days will give first time cruisers a good sense of what a cruise is like, so try to avoid sailings with lots of sea days (such as repositioning cruises) or lots of port stops.
It is difficult to go wrong with an eastern or western Caribbean sailing that includes a stop at Royal Caribbean's private destinations of Labadee or CocoCay.  These private stops are great for a beach day and many guests really enjoy their time there.
In addition, cruises to the Caribbean offer fun islands to visit that are well-established with plenty to offer in terms of shore excursions.
For cruises that go to Europe, Asia or Alaska, it is important to look for sailings that mix in that blend of port stops and sea days. 
Saving money on your cruise
Regardless of which ship you pick and which sailing you want to cruise on, everyone wants to make sure they are getting the lowest price.  There are some good strategies for ensuring you get the lowest price possible.
Book early
If there is one rule of cruise pricing that you should remember, it is that it is always best to book your Royal Caribbean cruise as far in advance as you can.
There is no such thing as booking your cruise too early because as more guests book a sailing, inventory drops and prices start to creep up.
Cruising has never been more popular and Royal Caribbean ships routinely sail completely full, so it is best to book well in advance.
Ideally, you will book somewhere between 7-18 months prior to your sail date.  If you can manage to book earlier, that is even better.
Cruise during less busy times of the year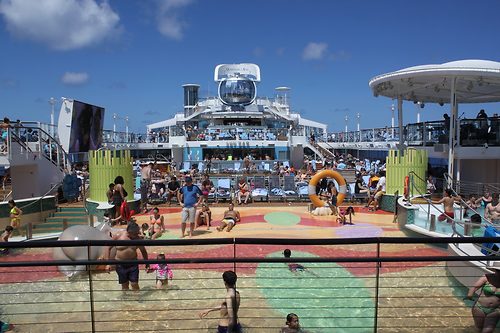 A great strategy to keeping your cruise fare low is to choose times of the year to sail when many others are not.
Royal Caribbean offers cruises year-round and like every industry, there are high seasons and low seasons.
For the best fares, consider cruises during these times of the year
January (excluding New Years)
Early February
September
October
Early November
First two weeks of December
If you can take a cruise during times of the year that do not coincide with school or government holidays, you will find lower prices overall.