In:
From forgetting underwear to leaving your passport at home, there's an array of mishaps that can happen on any Royal Caribbean cruise, and we're sharing our top cruiser fails with you.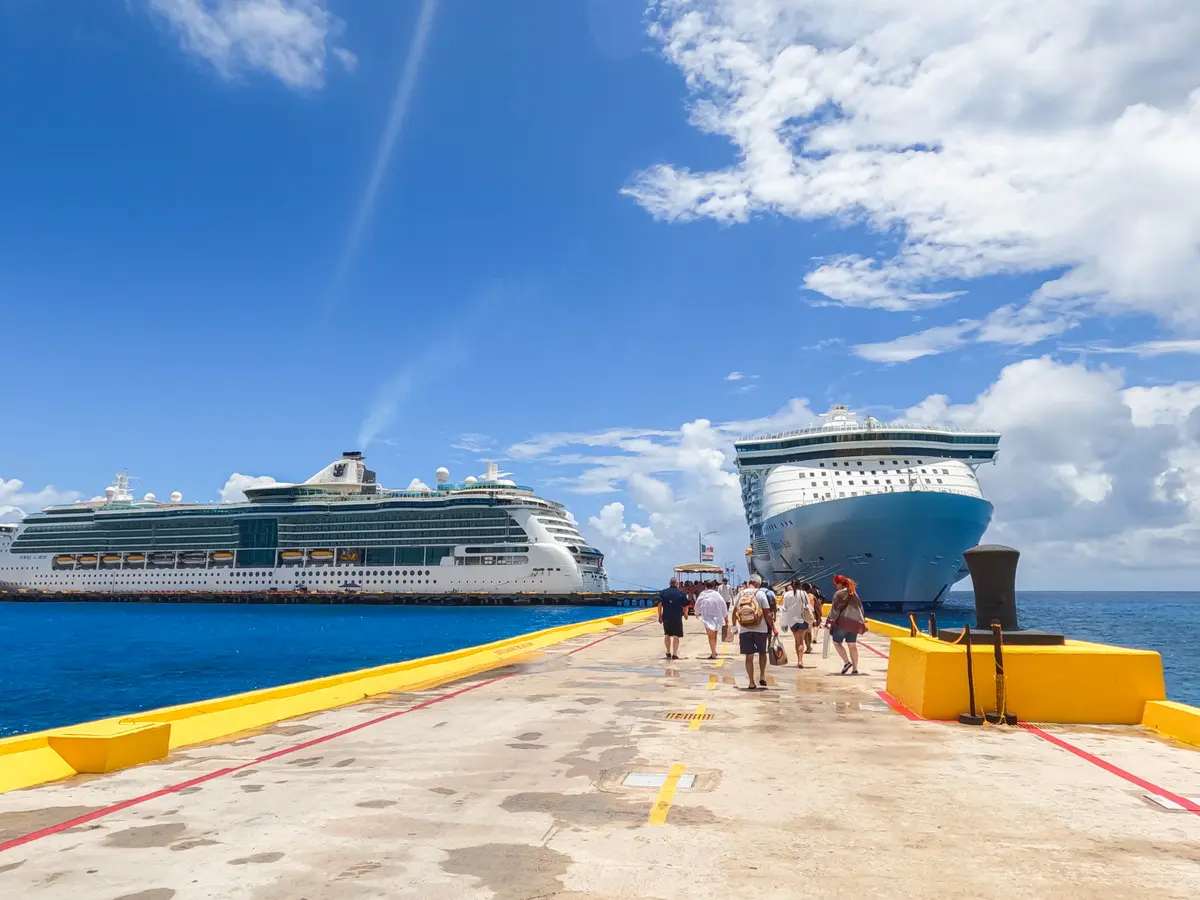 We asked Royal Caribbean Blog fans on our message boards about the worst failures they have experienced on a Royal Caribbean cruise. Some responses were downright hilarious whereas others made us scratch our heads in disbelief.
Here are our top cruiser fails that you should try to avoid on a Royal Caribbean cruise.
Not knowing about the "tunnel of wind"
When your balcony door and cabin door are open at the same time, it creates a strong wind tunnel that rushes through the cabin. User SweetPea was unaware of this occurrence while her ship was docked in Nassau, and it led to an embarrassing consequence!
"The Do Not Disturb sign had fallen off our door," she said. "Our cabin steward had come in just as I, in my bathrobe, was opening the balcony door to chat with my husband, and I hadn't heard the steward knock.
We were docked in Nassau at the time, directly across from, of all ships, the Disney Wonder, who I managed to flash full frontal as my bathrobe totally opened in the tunnel of wind!"
Lesson learned: Take caution when opening your cabin door if the balcony door is open to avoid unexpectedly flashing unprepared passengers.
Sunburns galore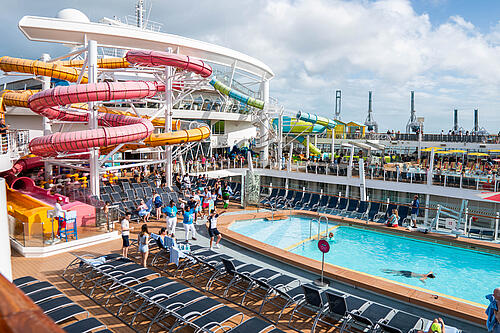 One of the best parts of cruising is enjoying the tropical weather of the Caribbean, but don't forget to use sunscreen!
User RockerDom31 was eager for a cruise vacation with his wife, and they spent embarkation day under the sun sipping cocktails. The one thing they forgot to use? Sunscreen.
"Unfortunately, we didn't feel the consequence of this [not using sunscreen] until the following morning when we experienced some extremely painful showers. And with 3 sea days and the first port being Labadee, we had to live off the vending machine aloe for 4 days. I'm pretty sure we emptied the vending machine!"
Luckily, they were able to visit CVS once their ship docked in Puerto Rico and stock up on aloe, which was priced much lower than that on the ship.
Lesson learned: Always apply sunscreen on a cruise, and consider packing aloe if you're prone to sunburns.
Health questionnaire mistake
The day before your cruise, a health questionnaire opens on the Royal Caribbean app, and this questionnaire must be completed by each guest before boarding.
On the questionnaire, guests are asked if they have had any symptoms of illness within the previous 10 days, including nausea, fever, and difficulty breathing. It also includes a question about pregnancy, asking guests whether they will be over 23 weeks pregnant at the start of the cruise.
Answering "yes" to any of the questions on the questionnaire can result in denial of boarding, as Royal Caribbean cannot permit guests with covid symptoms onboard. In addition, pregnant women over 23 weeks are unable to sail on Royal Caribbean.
Unfortunately, responses cannot be edited once submitted, and this led to trouble for Royal Caribbean Blog message board user DoomSlayer.
"I accidentally answered that my daughter was pregnant (over 23 weeks) in the health section of check-in, which got an instant denial of boarding message for her. A phone call later and an explanation at the terminal fixed it all, but my daughter was worried they wouldn't let her on."
Lesson learned: Double check your answers to the health questionnaire before hitting submit!
Pier runners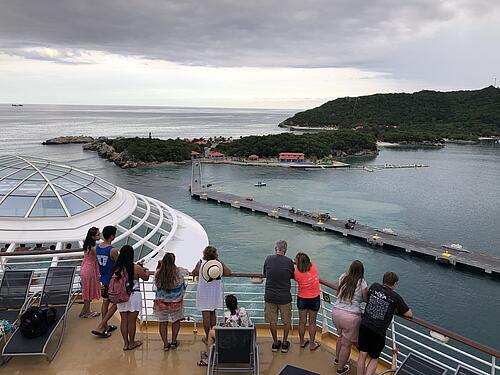 We've all seen videos of frantic cruisers sprinting down the pier to reach their cruise ship before it leaves port. While entertaining to watch from the comfort of your balcony, it's not a situation anyone wants to find themselves in while on a cruise.
Related: What happens if you miss your cruise ship?
Cruiser4Life explained how they were once pier runners during a port day in Key West, Florida.
"Our family has the largest plot in the Key West Cemetery, so we took a walk there after our excursion to freshen up the flowers there," they mentioned. "We accidentally exited the wrong gate when we were done and got completely turned around heading back!"
Unfortunately, the cruise ship will not wait for you if you get lost on your way back to port, and Cruiser4Life's travel party found themselves rushing back to the ship.
Lesson learned: Always provide enough time to get back to your cruise ship before all aboard.
Flying the night before a European cruise
Most flights from North America to Europe depart in the evening and arrive in Europe the following morning. While we always recommend flying to your cruise port the day before your cruise begins, you should fly two days ahead of time before a European cruise.
Flying to Europe the night before a European cruise means you will arrive in your departure city just a few hours before the cruise begins, which leaves little to no space for travel delays.
Royal Caribbean Blog Message Board reader KDK told a story of how unforeseen weather delays impacted their European cruise experience.
"We flew out the night before our cruise to Europe. Horrible rain storms shut down all of the flights out of New Jersey. We missed the first two days of our cruise and had to pick it up at the next port, missing both the sail away and the first day at sea."
Lesson learned: Fly to Europe 2 days before a European cruise begins.
Forgetting a passport
User loki007's son drove from Daytona Beach to Fort Lauderdale before a Celebrity Apex cruise last December. He arrived at 10PM the night before embarkation day, but there was one major problem: he forgot his passport at home!
"He got back in his car for the 7 hour round trip to pick up the passport sitting on his kitchen counter," loki007 explained.
It's critical to ensure you have all necessary documents to board a Royal Caribbean cruise. We recommend a passport, but if you're sailing on a cruise departing and returning to the same port in the United States, an official birth certificate and ID are also permitted.
Related: Do you need a passport for a cruise?
Lesson learned: Check (and double check) that you have your identification documents before leaving for a cruise. You can find the official list of permitted documents here.
Forgetting dress shoes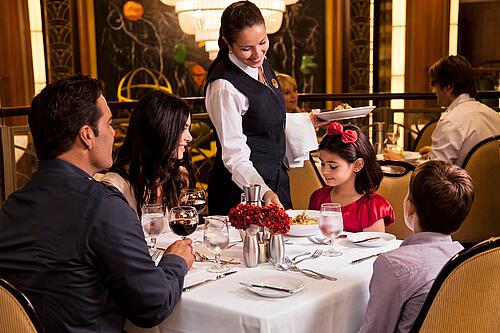 Several of our readers made the rookie mistake of forgetting to bring formal wear on a cruise.
User ChessE4 forgot to pack dress socks for his formal shoes, and he could not find any to purchase on the ship or in port! However, he was still one step ahead of user Srp431, who forgot dress shoes altogether!
"I had to wear tennis shoes during formal nights," said Srp431. "My wife is still upset after all these years!"
Lesson learned: Remember to bring dress shoes so you aren't forced to wear tennis shoes or flip flops to dinner!
Forgot to buy travel insurance
User She Sails Away overlooked purchasing travel insurance on a transatlantic cruise and it led to unnecessary stress and frustration later on.
"On day five of the transatlantic, I thought to myself 'Wait… I never bought travel insurance.' I figured it was too late and just hoped that I would not need it," she explained.
On day six I needed it. I had all the signs of a detached retina and had to go to medical. We were looking at our very last stop on land the next day in Spain and then we would be at sea for a week. They arranged for me to go see a doctor in Spain the next day.
If it turned out I had a detached retina, they would need to do emergency surgery right away, and I would need to stay off an airplane for two weeks."
Related: Should you buy annual travel insurance plans?
Fortunately, She Sails Away did not have a detached retina, but it didn't save her from the stress of worrying about medical costs in addition to spending two additional weeks in a hotel in Spain!
Lesson learned: Always purchase travel insurance before a cruise. You never know if you'll need it, and it's always better to have it.
Almost booked the wrong year for a cruise
From picking a ship, sail date, and cabin, booking a cruise entails making a lot of decisions in the reservation process. When planning a cruise, it's important to double check you booked the correct sailing before hitting submit, and one of our message board readers almost made a huge mistake.
"I almost made a really big fail just yesterday while booking an Alaska cruise," explained user deep1. "I had been looking at a few and they all kind of blended into a mish mash. I finally picked one and went to pull the trigger… right cruise, right month and day. Wrong year!"
Fortunately, he had been on hold with a booking agent when he realized the mistake and was able to change the year of the sailing right away.
Lesson learned: Thoroughly check to make sure you are booking the exact sailing you want before completing a reservation.
Confusing ship time and port time
One common confusion among first-time cruisers is navigating the difference between ship time and port time.
On many cruise itineraries, your ship will remain on the local time of your embarkation port throughout the sailing, even if the ports you visit are in a different time zone (+/- one hour).
This can get confusing when all aboard time is at 4:30PM, but it's only 3:30PM in your port of call. On a recent cruise, the time difference confusion almost caused user RoseofTX to miss a shore excursion.
"I had put all of our booked excursions in our calendars on our phone. The one in Cozumel left at 11:00, so I let my wife sleep in before a casual stroll to the meeting point," he mentioned. "I happen to look at the app and notice that the excursion is at 10:00 ship time (11:00 local!)"
The mishap with time zones caused RoseofTX's travel party to rush to the excursion, and they were gratefully able to make it to the meeting point in time.
Lesson learned: Thoroughly check the Royal Caribbean app or your excursion ticket for information on which time to meet for your excursion.