In:
Royal Caribbean is known for its amazing cruise ships but another Royal Caribbean creation is worthy of equal admiration, the private destination of Labadee.  Located in Haiti, this "island" (it's actually a peninsula) is a private retreat for Royal Caribbean guests who sail western Caribbean itineraries.  Featuring beautiful beaches, shopping and lots of activities, Labadee is a great beach destination.  
For those who will take their first trip to Labdee, here's a primer to get you ready for this beautiful island paradise.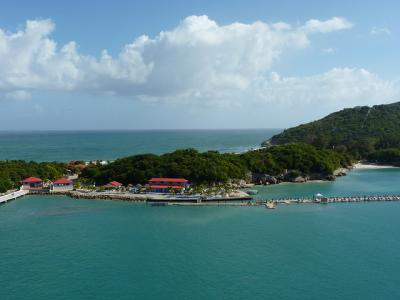 Getting around Labadee
Labadee is fairly easy to navigate, but it helps to know what to expect before you arrive.  Your ship will dock at the pier, so getting on and off Labadee is quite simple.  
Once on shore, you will find Labadee broken up into a few different areas.
Dragon's Plaza

This is where you enter/leave Labadee from the dock and is named after Dragon's Breath, a rocky cove near the ocean that sounds like a dragon when the ocean hits the rocks.

Buccaneer's Bay

This where you go to embark on most acquatic excursions, such as jet skiing, parasailing and more.  You can also book excursions here.

Barefoot Beach Club

Private beach for suite guests that features cabanas for rent.

Town Square

Many of the restaurants, bars and other facilities are found in this area.

Adrenaline Beach

Beach located underneath the zipline and in front of the roller coaster.  

Columbus Cove

Beach area that has water toys, such as the floating mat and aqua park
The Beaches
By far, the number one reason to go to Labadee is to spend time at the beach.  Labadee has a number of beaches for you to try and there isn't any bad beach, but which beach you go to may depend on what you're interested in doing on your day.
In our experience, we've found the beaches to be swimmable but a little rocky.  It may be easier (and less painful) if you bring water shoes with you so you can avoid worrying about the rocks.  
Dragon Tail Beach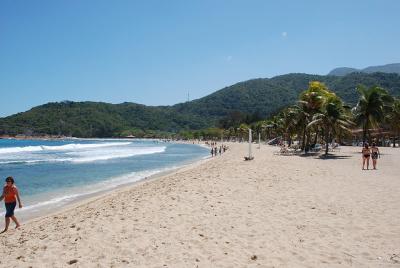 The largest stretch of beach is on the north shore of the peninsula and spans nearly the entire width of the peninsula.  This beach is fairly centrally located and offers good surf, swimming and snorkeling.  
There are no water toys here, so it's best for those who want to relax and enjoy what the beach has to offer.  Because it's centrally located and fairly close to the pier, it tends to be the most crowded.
Loungers and sun shelters are available for rent.
Barefoot Beach Club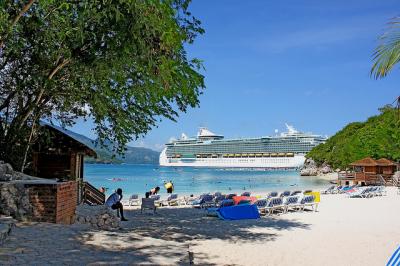 This beach area is reserved for guests who have booked cabanas, which is usually available to guests who are suite guests.  We have had luck in the past showing up to the beach early and requesting to rent a unbooked cabanas.
The beach is fenced off from the rest of Labadee and in addition to the open-air cabanas, offers waiter service to each cabana.  In addition, there is private beach access for guests admitted to the Barefoot Beach Club area.
The cost of a cabana at Barefoot Beach is $225-250, depending on location.  Each cabana can accommodate four to five guests. The daily rental fee includes a dedicated cabana attendant, complimentary bottled water, complimentary floating mats and snorkeling equipment, a beverage menu (prices charged accordingly), and an upgraded lunch menu at the private BBQ facility.
Nellie's Beach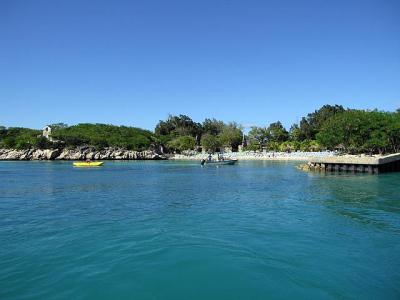 Located adjacent to Barefood Beach, Nellie's Beach is a small cove that also has cabanas (16 at last count) for rent.
The daily rental fee for cabanas on Nellie's Beach is $175-200, depending on location.
Columbus Cove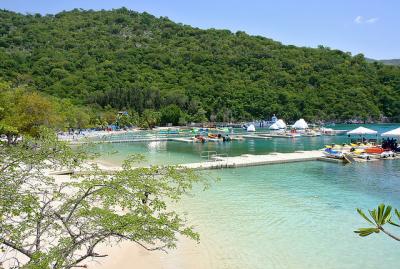 If you want to water toys with your beach day, then this is the place for you.  Columbus Cove features the Arawak Aqua Park along with Dragon's Splash Waterslide.  
Columbus Cove runs along the the southern part of the peninsula. The beach water is sheltered and there is a white sandy beach with trees that go down to the water's edge. This area has its own bar and dining facility.
Adrenaline Beach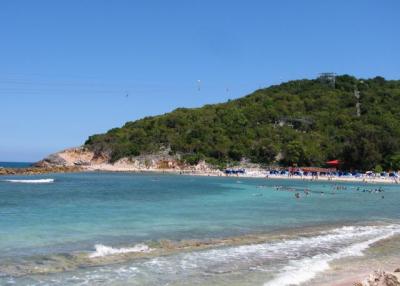 If you want a more secluded beach experience, Adrenaline Beach generally has the least guests because it is the furthest beach from the ship and has no water toys.  
Unlike nearby Dragon Tail Beach, there are no barrier rocks to block the ocean so the surf here can be stronger. As such, Royal Caribbean lists this beach more for sunbathing than swimming.
Loungers and sun shelters are available for rent.
Eating on Labadee
Like onboard Royal Caribbean's ships, there is complimentary food offered on Labadee, although the availability is limited to certain hours.  In addition, waiter and bar service is available throughout the island.
Lunch is available at a number of locations throughout the island, although the food is mostly the same barbecued meats and salads.  Lunch is served buffet style.
Since your cruise ship is docked, getting back on the ship is relatively easy and we suggest going back to the ship for lunch because of the better quality food available there, as well as shorter lines.
We would be remiss if we did not mention the labadoozie.  You will see and hear references to this drink all over.  The labadoozie is the official drink of Labadee and is a frozen alcoholic drink that features a number of fruit juices and rum, served in a sports drink bottle.  You can also order the drink without alcohol.  Haing a labadoozie while in Labadee is a must-do!
Things to do on Labadee
Royal Caribbean offers a number of activities for its guests to try on their cruise and there's usually something to suit each taste.
Dragon's Tail Roller Coaster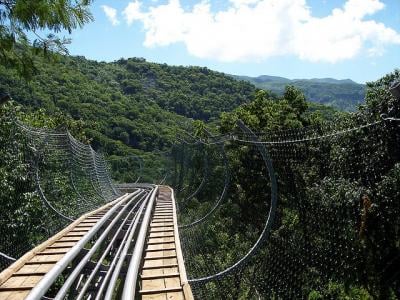 Located 680 feet up on Santa Maria's lookout mountain, you will find the Dragon's Tail roller coaster, which is an alpine coaster.  You may have seen these sort of rides at some ski resorts during the summer months. 
Essentially it's a single car vehicle that races down a track at 30 miles per hour and features 360-degree turns as well as dips, waves and curves, you can catch glimpses of the ocean.
Minimum age to be a single rider is 12 years old. Children between the ages of 5 and 11 may ride in the same cart with their parent/guardian. Maximum occupancy per cart is 2 persons with a maximum combined weight of 360 pounds. Total ride time is approximately 3-5 minutes.
Dragon's Breath Zip Line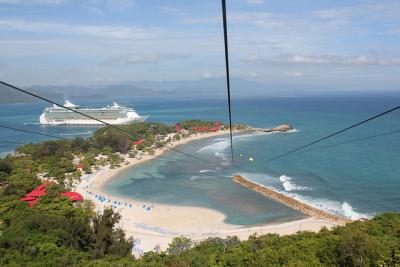 If you want to soar above Labadee and get a spectacular view in the process, then the Dragon's Breath Zip Line is for you.  The zip line takes you 500 feet above the beach as you reach speeds of 40-50 miles per hour.
The zip line is 2,600 feet long and begins atop lookout mointain.  The zip line is advertised as one of the longest zip lines in the world, and will take you above the ocean and land.  Your flight lands at Dragon's Breath Rock.
Arawak Aqua park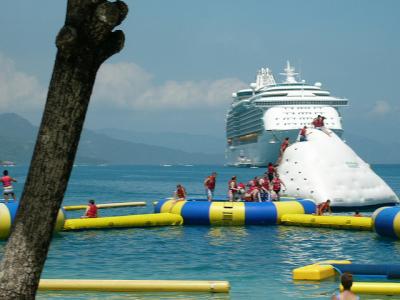 For kids, it's touch to beat the water park available at Columbus Cove.  Floating trampolines, pyramids and water slides await you as you jump, climb and splash to your heart's content.
Admission to Arawak is limited by times, which helps keep crowding issues down. We've generally found the cost here to be fairly inexpensive and a great way for kids to burn off extra energy.
Dragon's Breath Point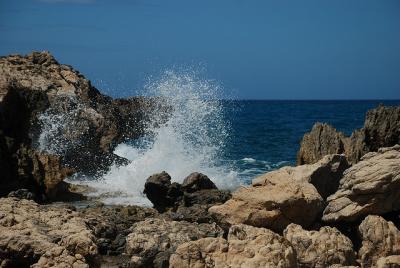 Not everything in Labadee requires an adrenaline rush, and a prime example of this is Dragon's Breath Point.  As the water flows in and out among the rocks, you hear a "hissing" noise that sounds like "dragon's breath".  What's happening is the air is compressed in small caves under the rocks and is forced out through cracks in the rocks. It is worth the walk to hear it.
The surrounding area is quite beautiful and you should bring a camera to snap a few photos of the beautiful vistas you will find here.