In:
Few things can put a damper on a cruise like bad weather. At their best, poor conditions can mean that your fun day in port is rained out; at their worst, your itinerary could be heavily altered or canceled completely.
When it comes to weather, you've got questions, and we've got the answers. Read on to find out what to expect. 
Will a cruise line cancel a cruise due to weather?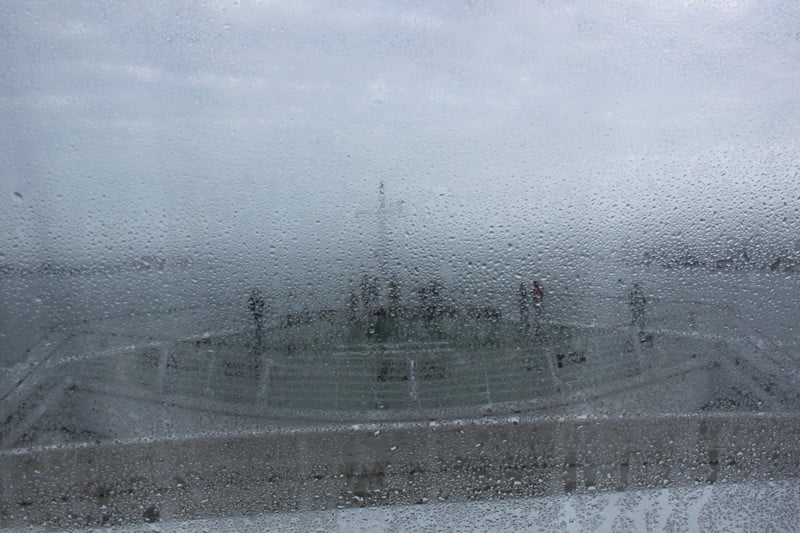 The safety of passengers and crew is always the top priority, so if weather conditions are severe enough to warrant it, yes, cruise lines will cancel sailings. If that happens before you set sail, you will be given a full refund.
However, because cancellations result in unhappy passengers and a logistical nightmare -- not to mention a financial hit -- for cruise lines, ships will most often attempt to reroute if bad weather is on the way.
That could mean something as simple as swapping the order of ports on the itinerary, canceling certain calls altogether or switching the sailing region completely from, say, a Caribbean voyage to one that instead visits Canada and New England.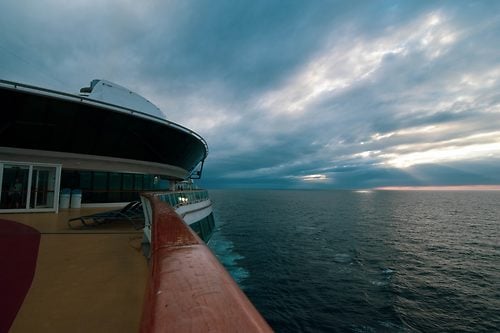 It's crucial for passengers to understand that they should prepare to roll with the changes.
Alterations made to the planned cruise schedule because of weather are beyond cruise line control and, therefore, affected travelers are not entitled to compensation. (This is one of many solid reasons to purchase travel insurance.)
Can cruise ships withstand storms?
Modern cruise ships are equipped with the latest technology to help them anticipate storms. Officers on the bridge carefully track and monitor any systems that creep up, allowing them to quickly maneuver their vessels out of the way.
Additionally, some lines have their very own shoreside meteorologists (such as Royal Caribbean's James Van Fleet) and command centers to assist with weather predictions and relay important information to all ships that are sailing in the area. 
Should a ship be caught in a storm, there are several safety mechanisms in place to help it stay afloat.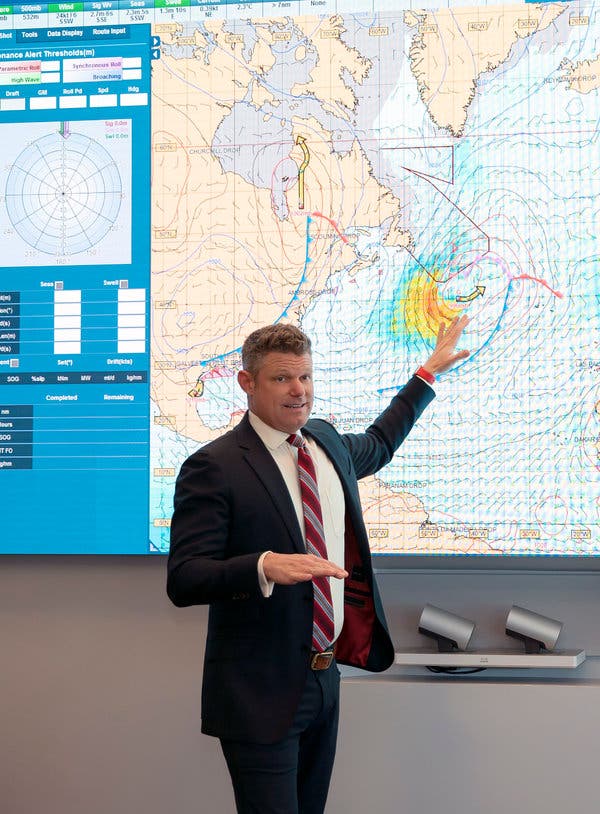 Cruise ships are built to include stabilizers, which minimize the rolling (side-to-side leaning) passengers feel in choppy seas. Vessels are also constructed with water-tight bulkheads that seal off areas where unwanted water might enter, as well as water expulsion systems that allow H2O to be pumped out of the vessel to make it more buoyant or from one side of the ship to the other to further minimize rolling.
Ultimately, most ships would have to list more than 60 degrees to either side in order to be in danger of sinking -- something that, to date, hasn't ever happened to a modern cruise ship as a result of weather conditions.
Read more: Things not to worry about on a Royal Caribbean cruise
What happens if it rains on a cruise?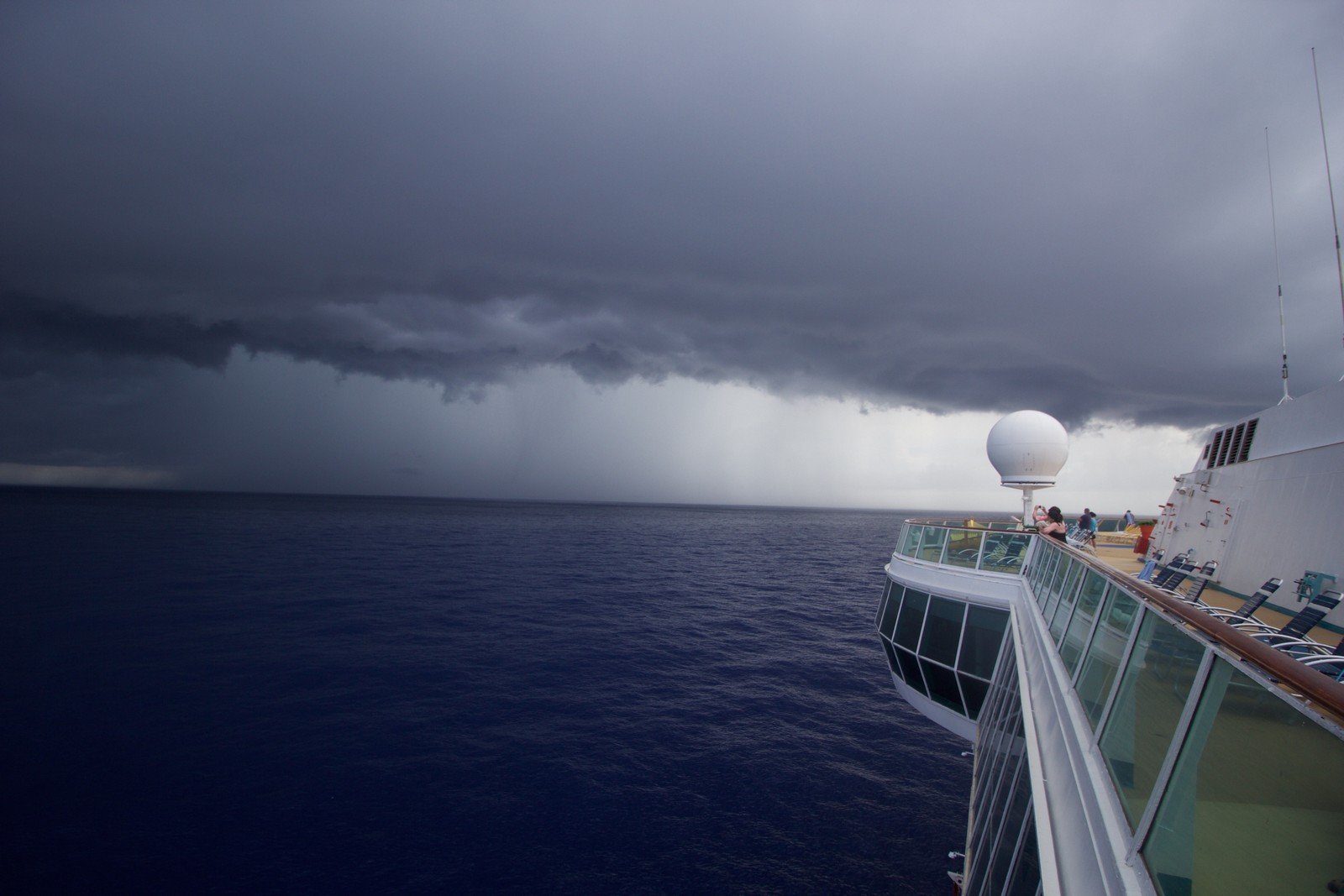 Unfortunately, cruise lines can't control the weather, and rain happens. You're entitled to pout, but what you're not entitled to is compensation for bad weather, so don't expect a refund for your sailing -- even a partial one.
When it does precipitate, crew do their best to swab the decks and put down non-slip mats to reduce the risk of passengers' falling.
If conditions are bad enough, some outdoor attractions like surf simulators and rock climbing walls may be shut down until the rain stops and the crew deems them safe to use again. But don't worry -- you'll find plenty of onboard activities taking place inside, so you won't be bored on sea days.
On port days, excursions might be canceled. If that's the case and you booked your tour through your cruise line, your money will be refunded. If you booked independently through a third party or directly through your tour operator, you'll have to check with them to ask about cancellations and refund policies.
If you haven't booked an excursion and don't feel like traipsing around with an umbrella all day, you can either seek out something fun to do inside, such as a museum tour or shopping, or you can simply elect to stay onboard and take advantage of a less crowded ship (and, often, spa discounts).
Read more: Help! It's supposed to rain my entire cruise!
Do you feel waves on a cruise ship?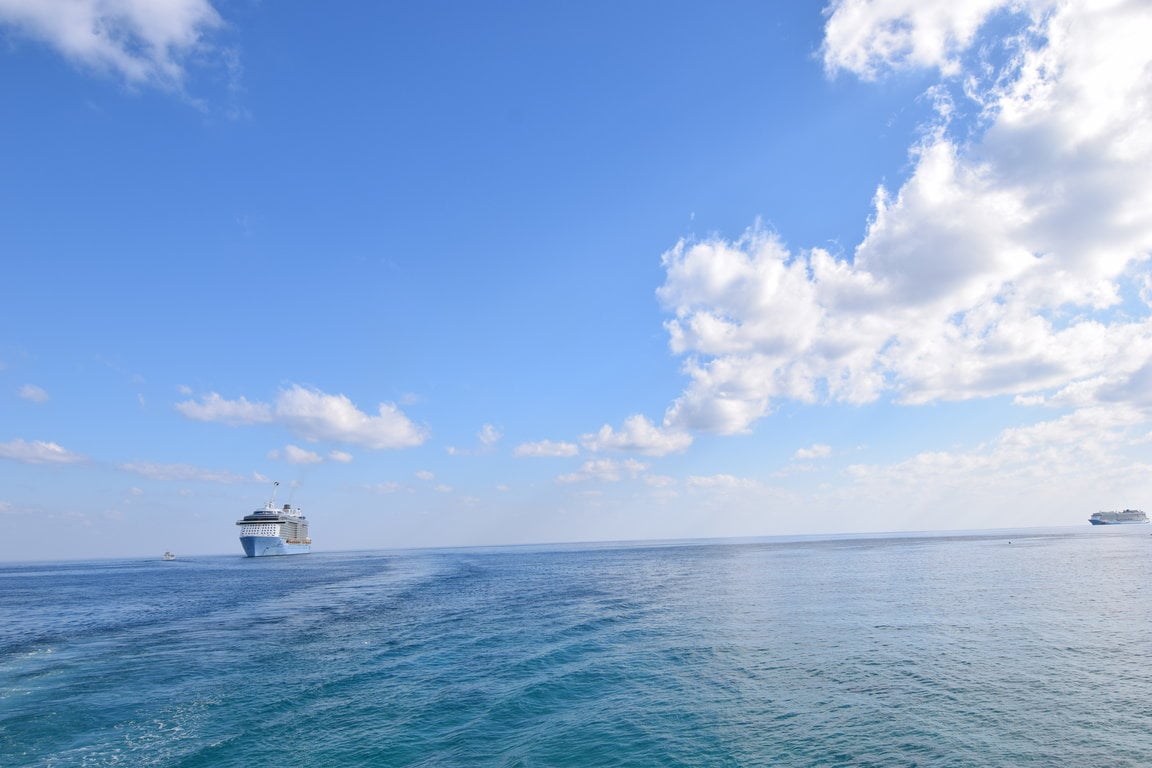 Some cruisers are more sensitive to ship movement than others, but you're sure to feel at least some minor movement while cruising. Ocean conditions are almost always the determining factor when it comes to the amount of movement you'll experience.
Although some movement is inevitable, mainstream cruise vessels are built and operated with travelers' comfort in mind. Passenger vessels are equipped with stabilizers that extend off the ships' sides to reduce the amount of rolling.
If you suffer from seasickness, book a cabin with a view on a lower deck and near the middle of the ship. Invest in an ear patch or a motion sickness bracelet, or pack some Bonine or Dramamine pills. 
Read more: How To Avoid Getting Sick on a Cruise
Do cruise ships get cold at night?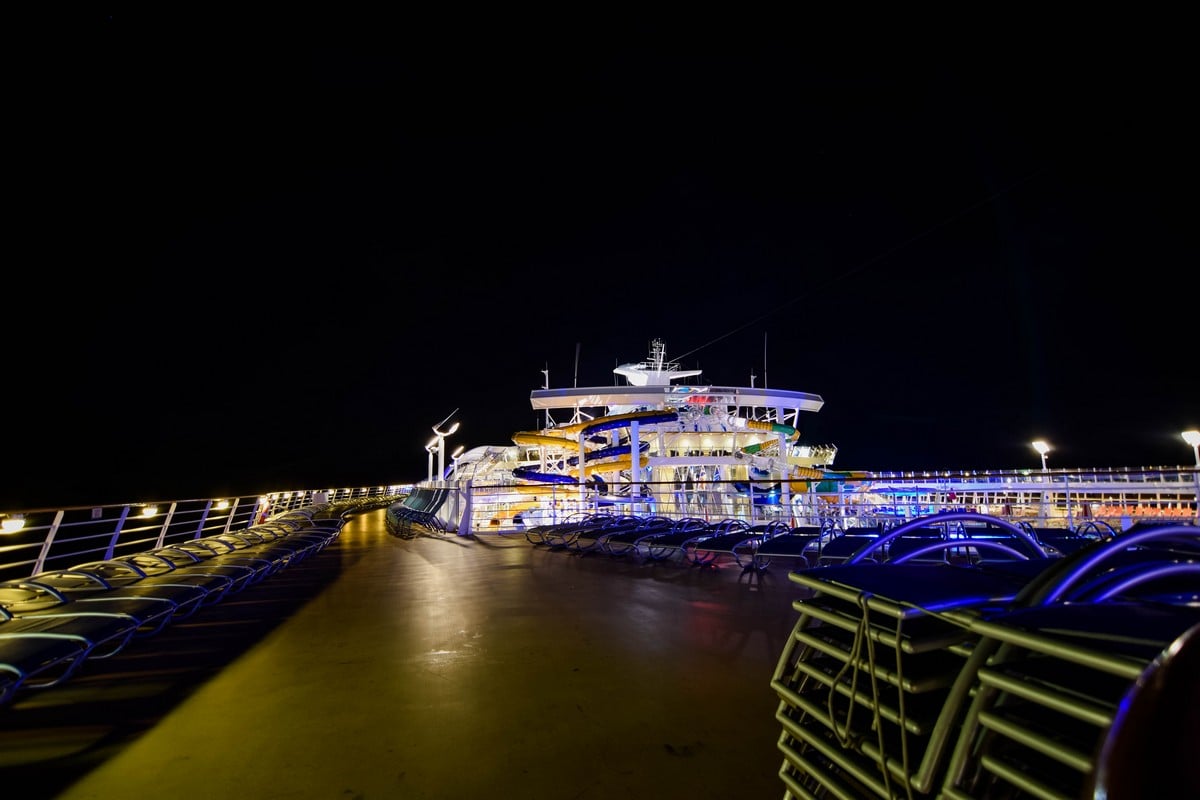 This depends entirely on where you're sailing and where you spend your time indoors in the evenings.
If you're out on deck at night in Alaska, it's likely to be cold. In the Caribbean, it can be chilly after the sun goes down, thanks to the ocean breezes, but chances are good that you won't ever need a down parka to stay warm.
When it comes to the ship's climate control, each cabin has its own settings, which are determined by the passengers staying in them. That means you dictate the temperature in your own room.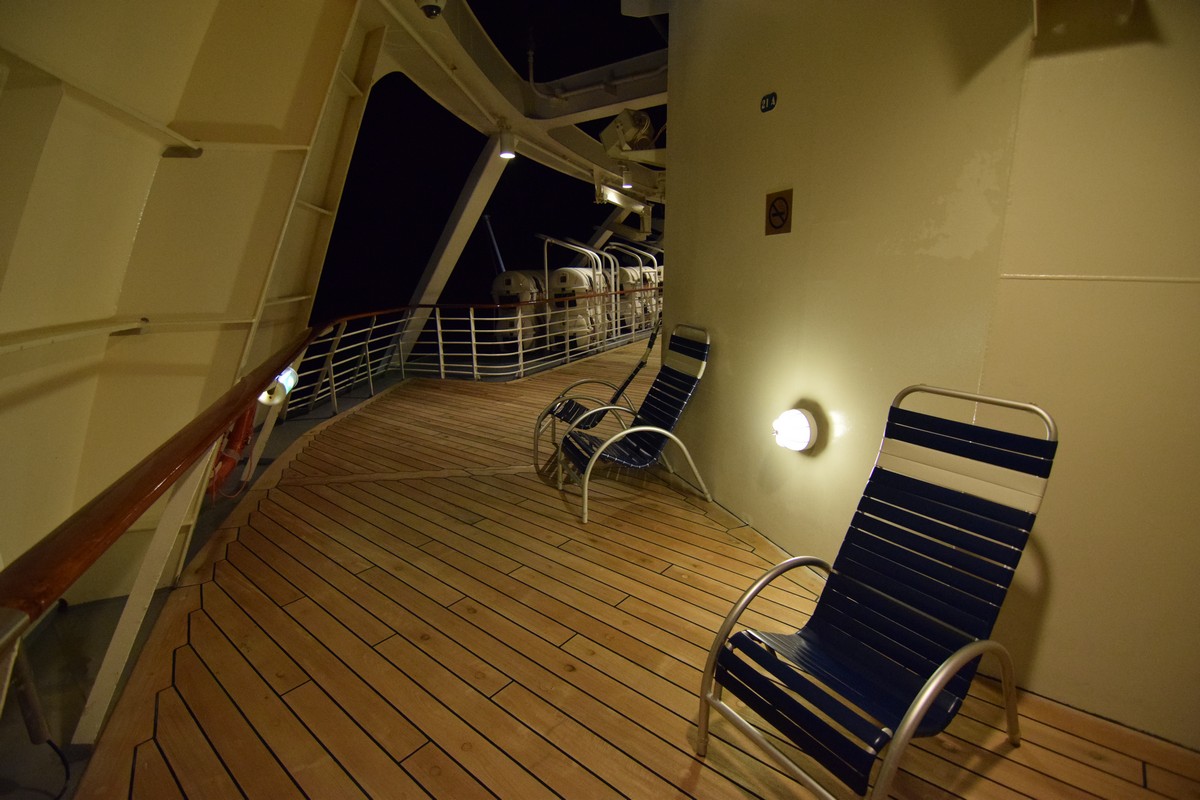 However, ships usually keep public areas, such as restaurants and theaters, at cooler temperatures to offset the humid sea air and warmth from the crowds of people who tend to gather there.
Regardless, we recommend packing a blazer, cardigan or pashmina to wear at night, just in case you find yourself suffering from a case of goosebumps.
Read more: Yes, it does sometimes snow on cruise ships
What is hurricane season on a cruise?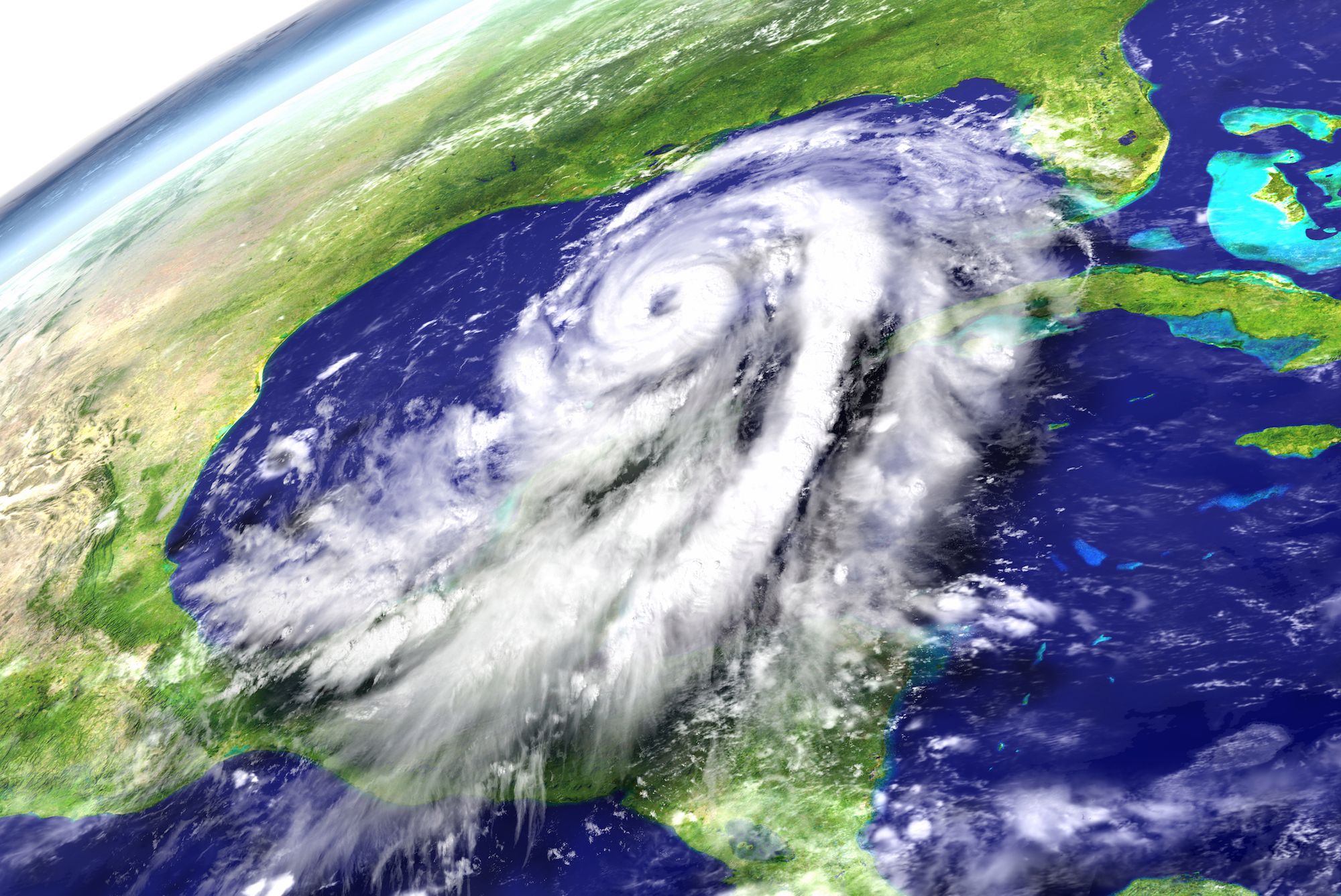 Hurricane season is the span of time between June and November when hurricanes are most likely to form in the Atlantic Ocean.
Caribbean, Bahamas, Bermuda and Mexican Riviera cruise fares are generally the least expensive during this time because passengers have to be more flexible, knowing that a storm could force an itinerary change at a moment's notice.
Keep in mind that the safest place for a ship during a hurricane is at sea, where it can steer well clear of the storm. Ships that are docked are at greater risk when severe weather hits because they have less room to move and are in proximity of other vessels, piers and the shore, which all create the potential for collisions.
So, if your ship has to change course due to a weather event, relax, enjoy the fact that you're still on vacation, and trust that your ship's officers will do all they can to keep you out of harm's way.
Read more: What to know about cruising during hurricane season in the Caribbean