In:
Worried that you might get sea sick or catch a virus on a cruise? Many first time cruisers have that concern, but with a few easy steps, you can remain healthy and having a great time onboard!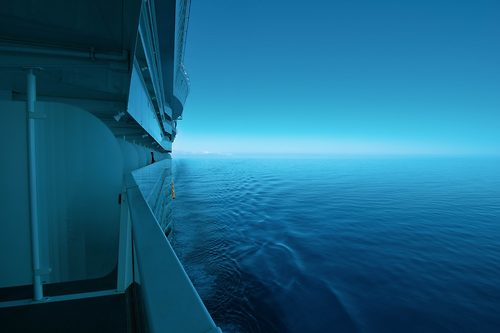 Unfortunately cruise ships are often the subject of the media's attention when there is a rare case of an illness onboard, but the reality is according to the Centers for Disease Control, between between 2008 and 2014 approximately 18/100ths of one percent of cruisers became ill on a cruise ship.  That's 0.18%. 
The idea that a cruise ship is some sort of magnet for easily spreadable diseases is just plain wrong. Royal Caribbean spends a great deal of time and effort to thoroughly sanitize their cruise ships, and illness outbreak is rarer than anywhere on land.
Follow these steps to help keep you and your family healthy, safe, and having a fabulous time onboard!
Prevent getting seasick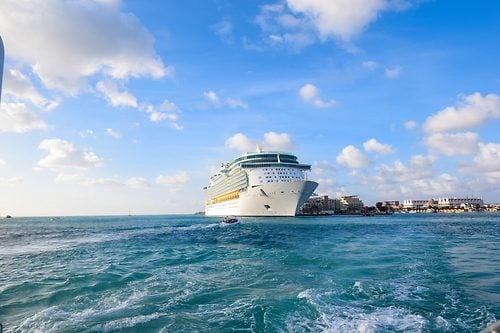 Royal Caribbean's cruise ships are massive vessels that are not easily jostled to a point where you can get queasy easily.
There are some easy to follow steps for lowering the chances you would get seasick in the first place, as well as easy remedies. If you ask cruisers that go on a lot of sailings, they will tell you concern over getting seasick is pretty low on their worry list.
Wash your hands (again and again)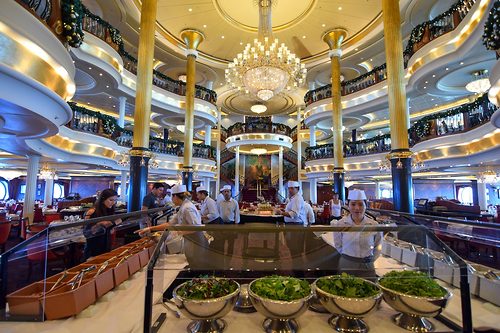 You will hear the cruise line tell you to wash your hands over and over again (heck, they produced an ear worm song about it), and it is because washing your hands before meals and after using the restrooms is the best way to stay healthy onboard.
Whenever possible, take the time to stop and wash your hands, especially before eating. Many illnesses are spread by physical contact, so be sure to take a few seconds and wash thoroughly with warm water.
One thing I like to do is buy a bottle of liquid soap (this link contains an affiliate link) to keep in my stateroom bathroom to make washing hands easier.
Stay hydrated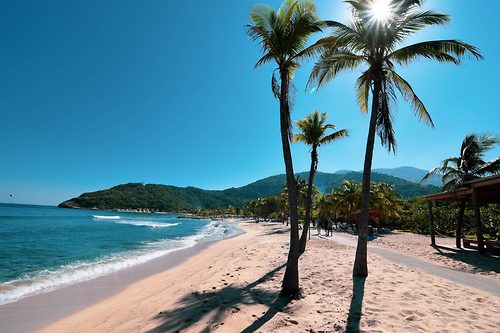 In this age of drink packages, it is very easy to skip drinking enough water. Combined with warm temperatures in the Caribbean or Mediterranean, and dehydration becomes a large threat.
Meal time is always a good point to take a break from alcoholic beverages and have a glass of water (or two). Keep in mind that most drink packages include bottled water.
The bottom line is you want to keep up with drinking water, even if you do not feel thirsty. Water helps cleanse your body and keep you feeling your best.
Get enough sleep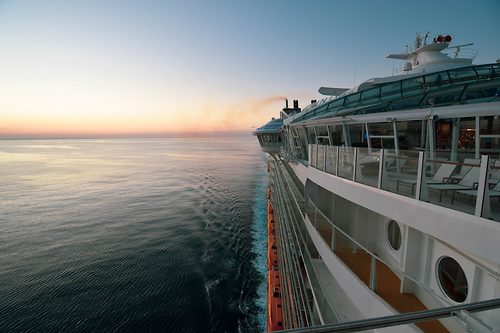 Nothing weakens your immune system faster than not getting enough sleep. Royal Caribbean offers so much to see and do on their cruise ships, so it is easy to "burn the candle at both ends" and try to wake up early and stay up late to do it all.
Make sure you take naps or sleep-in now and then to ensure your body has time to recover from all the fun from the day before.
Pack sunscreen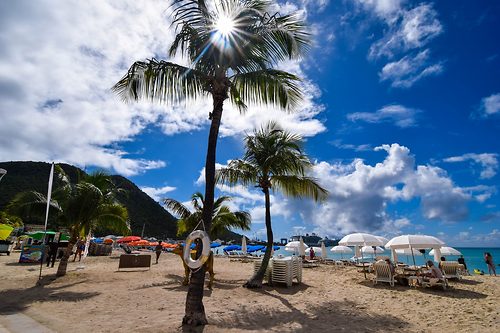 If there is one mistake many first timers overlook it is packing (and subsequently applying) sunscreen while on their cruise. Getting a sun burn will put a real damper on your fun.
It is easy to neglect to bring any sunscreen, so buy some at home (and save money compared to buying it on the ship). Whenever you are outdoors in the morning or afternoon, be sure to apply sunscreen and re-apply every few hours.
Be sure to get a sunscreen that has a high-SPF, and invest in a reef safe sunscreen (link contains affiliate link) to avoid being denied entry to some beaches.
Use your knuckle or elbow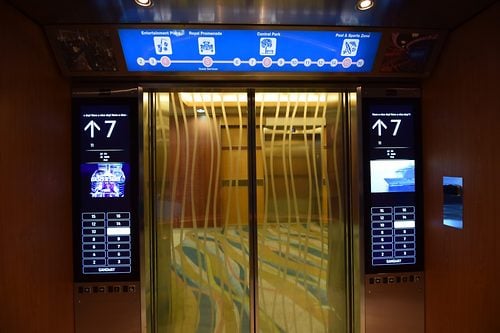 When touching any common surface, like a button, be sure to use your knuckle or even an elbow instead of your finger.  This simple tactic will signficantly help avoid coming in contact with a virus.
Be sure to use the automatic door openers at public restrooms when going in or out of them. While they are labeled for handicap use, anyone can (and should) use them to activate doors and avoid touching door handles. If you do have to touch a door handle, grab a paper towel before doing so.