In:
In preparing for my first cruise ever, I discovered a few things after I sailed that really made a difference onboard.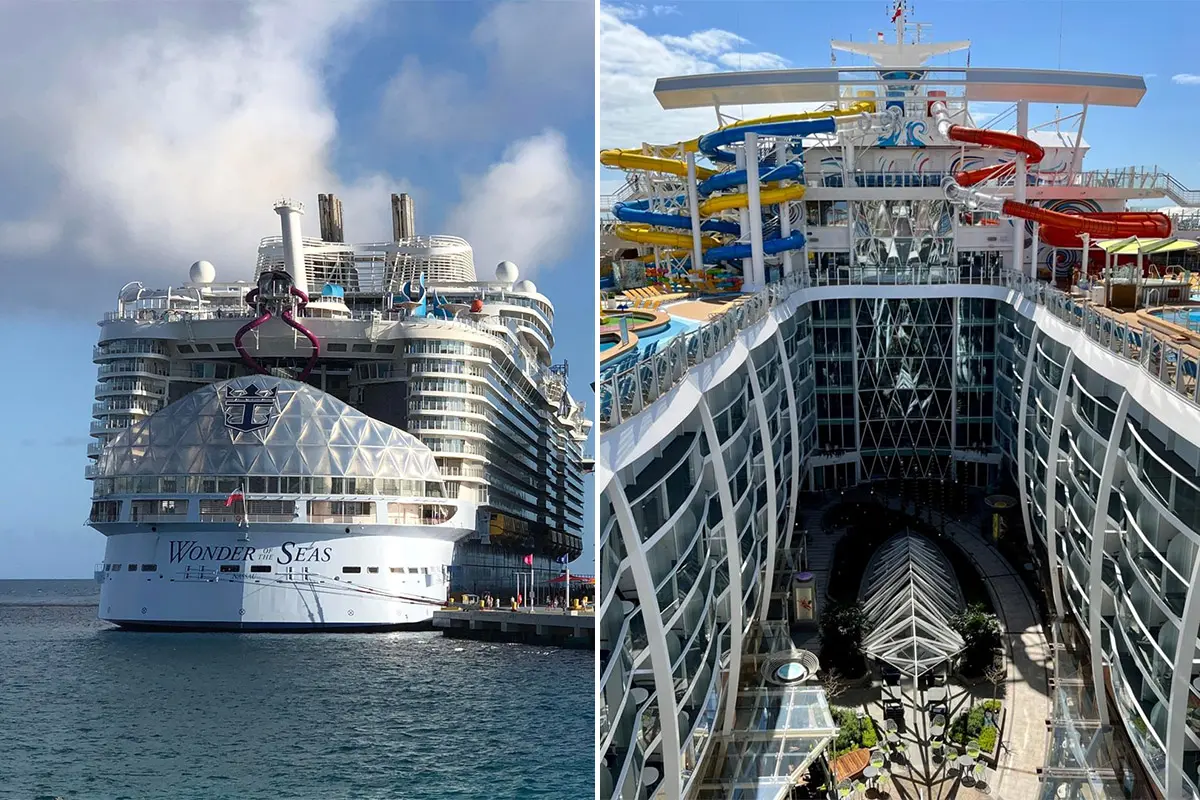 Last month, I took my very first cruise on Wonder of the Seas. The 7-day sailing traveled from Port Canaveral, Florida, to Perfect Day at CocoCay, St. Thomas, and St. Maarten.
There was lots to do to prepare. In addition to packing and planning my travel, I had to actually book the cruise, check in online, and plan my onboard events. 
Although there was a lot to do, planning wasn't impossible. I had plenty of help from our travel agent, and the Royal Caribbean app and website were easily accessible.
I read articles, watched YouTube videos and TikToks, and perused the Royal Caribbean app and website for information. 
Although I still had a lot to learn from experience, researching ahead of time helped me prepare and understand what to expect and save money while ensuring I had the best experience possible.
I wanted to share the top 11 lessons I learned and what information turned out to be most helpful for my first cruise. 
1. It's cheaper to get cash ahead of time
As someone who doesn't usually carry cash, I was surprised to hear that I would need physical money on my cruise.
Thankfully, I listened to the advice I'd heard and went to an ATM before leaving home. I picked up about $40 in change and kept it in my wallet. 
I ended up using cash to tip the porters at the cruise terminal and to purchase souvenirs at our ports of call. 
Using an ATM before I left home also saved me money because the ATMs onboard the cruise ship charge a convenience fee. 
I wished I had brought even more cash, too—to tip our room attendant and tour guides on shore excursions. For my next cruise, I'll be sure to get $50 to $60 in cash ahead of time.
2. Bring a water bottle—or two
I ended up feeling very thankful that I brought my trusty Hydroflask along. (Link contains affiliate link, which costs you nothing extra to use!)
A water bottle is useful for traveling to the cruise terminal, whether by plane, car, or train.
Once you're onboard, as well, you'll want a way to store water in your cabin. I found that I could fill up my Hydroflask with cool water at the Windjammer, then bring it back to our stateroom and have cool water available all through the night.
When I did forget to fill it up, I found myself parched and unable to access water unless I left our room.
Our stateroom attendant did leave plastic cups in the bathroom for teeth brushing, which I could drink from in an emergency. 
However, I prefer to drink filtered or bottled water and mainly try to remember to fill up my personal bottle. 
In the future, I plan to bring at least one water bottle on my cruise.
3. The food is great, but you'll want snacks
I enjoyed all the food offerings onboard. Some of my favorite meals were included in the fare, like the Windjammer's beef stew and cheesecake in the main dining room.
However, packing a few snacks helped tide me between meals or at nighttime when fewer options were available.
Thanks to the advice I saw online, I packed a few options for midnight snacking: Taki chips, sweet candy, and gluten-free cookies. 
I appreciated having something to eat at night or between meals without spending the money for room service or dragging myself out of the cabin to find a snack.
4. Cruise line shore excursions are a good way to get started 
I saw mixed opinions on this point: is it better to go on a shore excursion through your cruise line or to explore independently?
As a first-time cruiser, I chose to go on two Royal Caribbean shore excursions when we visited St. Thomas and St. Maarten. 
On St. Thomas, my sister and I took a bus tour of the island and then spent some time at Magen's Bay. After relaxing at the beach for a few hours, our guides took us to an outlook and souvenir location.
On St. Maarten, we took a bicycle tour of Philipsburg, with a complimentary drink and a break at a local beach.
Although these excursions are usually more pricey than independent tours, I felt reassured when it came to finding the best activities and staying on schedule. 
Royal Caribbean's excursions will ensure you make it back to the boat on time or even delay the ship while waiting for your group to return.
If your ship can't stop at a port for any reason, the shore excursion will also be fully refunded.
I understood that these excursions were more expensive, touristy versions of local adventures. But for my first cruise, they were worth it to put my mind at ease. 
5. Arrive at the port a day early 
When I started booking and preparing for my cruise, I learned that arriving at your port the day before you board the ship is usually recommended.
This was a surprise, as I had to push up my travel plans one day. Since the cruise left on a Sunday, we decided to get into Port Canaveral on Saturday afternoon.
For Saturday night, we booked a hotel room near the port and were able to take a shuttle straight to the ship in the morning. It definitely made the process smoother and stress-free. 
And who doesn't appreciate an extra night in a good hotel?
The only downside with this extra day of travel was that it made our cruise feel extra long. 
Instead of just a 7-day cruise, we had about 8 full days of travel. And by the end, I was ready to be home in my own bed.
Read more: The costly cruising mistake newbies make planning their first cruise
6. Dramamine helps with seasickness
I was glad I read up on the possibility of seasickness before my cruise. Although I didn't think I would experience it, we packed Dramamine just to be sure.
As it turned out, I felt dizzy and nauseous as soon as the ship set sail. Since we had a forward cabin, I felt the rocking of the boat much more intensely. 
Thankfully, I was able to take a Dramamine pill right away, and I felt better. As long as I took one every 12 hours, I was able to survive feeling seasick. 
Heading midship, staring at the horizon, and limiting my alcohol consumption all helped ease my motion sickness too. 
Read more: Dramamine vs Bonine: Which motion sickness medicine is best?
7. Bring your own body wash, shampoo, and conditioner 
Before my cruise, I read many reviews that stated the complimentary body and hair wash offered on the ship were not quality.
With this in mind—and my own preferences for moisturizing, clean products—I was sure to pack my own body wash and hair care.
Sure enough, the complimentary soap in our bathroom was a 3-in-1 body wash, shampoo, and conditioner with a strong scent I didn't like. I was very thankful I brought my own toiletries, allowing me to continue my personal self-care routine.
8. Pack a variety of clothes, including formal outfits
Knowing that Royal Caribbean charges additional fees for laundry services, I consciously packed a varied wardrobe to last me through the entire 7-day trip. 
I carefully selected outfits that would accommodate casual days at sea, outings on shore excursions, and the more formal or themed nights on the cruise. 
By packing a diverse range of clothing options, I was well-prepared without worrying about laundry expenses or missing out on any special events due to inadequate attire.
Still, my research didn't prepare me for the sheer breadth of different activities I would have access to, from laser tag to ice skating to rock climbing. 
I'll be sure to pack an even wider variety of clothing for future cruises. 
9. Prepare to socialize
For more introverted individuals like me, it can help to prepare yourself before social situations.
From my research, I could tell that my cruise would require a lot of social energy.
And I ended up being very sociable: from check-ins with staff, dinners with multiple waiters, friendly conversations with people on elevators to even making friends at events. 
All travel involves social interaction, but cruisers are unusually friendly—I met people in hot tubs, at the casino, and at dance parties. 
While these interactions were delightful, I felt glad I'd prepared myself beforehand.
I was also able to find some quiet locations onboard so I could escape if it all got too overwhelming. 
10. Tour the ship when you first get onboard
A lot of advice online suggests that you start by touring the ship right away when you board—and I followed this to the letter.
After my sister and I boarded, we found the fitness center, toured Central Park and the surrounding decks, and headed to the Windjammer and pool area. 
After having lunch and walking around the pool, we located our cabin.
Especially on a big ship like Wonder of the Seas, it helped to start by getting the lay of things. Handy maps were also located in every hallway and elevator, so getting lost would have been hard.
11. Unpack everything right away
This tip is most helpful for longer cruises. When you have many days of sailing, ports, and activities, it helps to unpack right away and organize your things.
For example, I put my toiletries on shelves and my snacks in drawers. I hung up all my jackets and dresses and then set out my shoes in the corner.
Later on, I was glad that I had unpacked because it helped me stay organized and get ready faster. This also ensured my clothes didn't stay wrinkled or get smelly while packed in a bag.
Since I knew where everything was—and didn't have to dig through a bag to find it—we could get dressed and out the door much quicker. 
This hack saved time and helped us get to activities, events, ports, and dinners on time. 
Read more: 15 Things To Do As Soon as You Get to Your Cruise Cabin