In:
I took my first cruise this past week on Wonder of the Seas, a 7-day trip sailing from Port Canaveral, Florida, to Perfect Day at CocoCay, St. Thomas, and St. Maarten.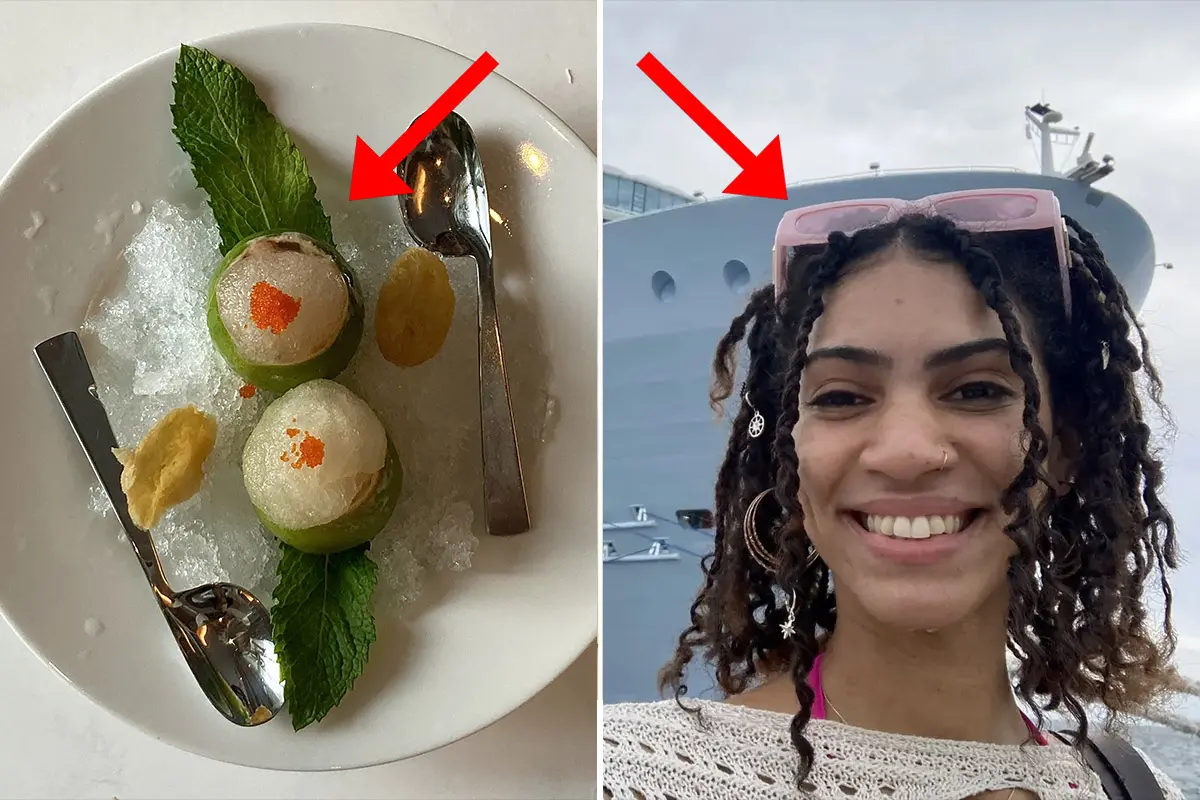 Before my cruise, I made sure to do lots of research, planning everything from my outfits to where I would eat each night.
I made every kind of list possible: packing lists, to-do lists, checklists—and even created a full itinerary, planning every event down to the hour. 
Of course, I should have remembered to ultimately expect the unexpected. 
After my cruise, I realized there are many things one can plan ahead of time, but there's no way to perfectly control your experience. Diving in and being flexible is the best way to ensure you have a good time.
Despite my extensive research, there were many things that surprised me about this new type of travel. 
1. Everything was easy to figure out
Once we arrived on board, I quickly realized that the trip would be much easier than I expected. Most of my planning turned out to be completely unnecessary.
Staff members were ready and willing to help us, guiding me through any questions or concerns I had. 
For example, I was completely confused about the safety briefing we had to complete on day one. But as soon as we got onboard, crew members guided us to our muster station, where the staff told us how to open the briefing and complete it on the app.
The procedure was entirely painless, and we finished the briefing in just a few minutes. 
I could even ask questions through the app's chat feature, which utilizes an AI to assist but connects you to a crew member online if the AI cannot answer your questions.
This feature was so convenient; any question I had was answered immediately, and I would have been able to connect to it even without the WiFi package. 
2. The app became my helpful cruise guide 
Along with my surprise about the ship's accessibility, the Royal Caribbean app far exceeded my expectations. 
Remember that intense itinerary I made before the trip? As it turned out, I didn't need it at all: the app has a feature where you can simply select an event and add it to your schedule.
Not only that, but the app also includes information on when and where each event is, any price included, what you may need to bring, and if there is any age limit.
Additionally, the app allows you to chat with other cruisers using their full name. This works without WiFi, so I could still coordinate with my sister, who did not purchase the WiFi package. 
We could even make a group chat with friends we met onboard and plan which events to attend together. 
The app can also connect your schedules with other cruisers so my sister and I could create and access the same calendar.
Something to note, however, is that the chat feature is blocked for cruisers from the EU, so our friends from the UK could not connect and chat with us.
3. International travel was incredibly simple
As someone who has traveled to other countries, I was shocked at how easy cruising made the process. No visa, passport, or even ID was required when we visited St. Maarten; they simply checked our SeaPasses on the way back onto the ship. 
Disembarking onto American shore was also simple. I brought my passport, so I just had to get my picture taken for identification. My sister brought her birth certificate and had it checked. After that, we picked up our luggage and were good to go.
4. Some of my favorite meals were included in the fare
From an array of options at the Windjammer to classy dinners in the main dining room, we were blown away by the quality of the food and service.
The fact that the Windjammer and main dining room were included in our fare made the experience even more amazing. My sister ordered escargot, for example, at no extra charge.
We also purchased the 3-night specialty dining package and visited Izumi Hibachi, Wonderland, and Mason Jar. All were incredible, with disarmingly friendly service and diverse food choices. 
Read more: 21 Tips for the Best Cruise Ship Main Dining Room Experience
5. The performers were more talented than I could have imagined 
Although I'd already planned to attend the shows before my cruise, I was surprised by the sheer amount and quality of the different shows. 
There was something for everyone, from ice skating to comedy to acapella music. I was amazed by how many different performers must be onboard and how each seemed passionate and skilled in their work. 
My favorite was InTENse, which included a dazzling combination of water stunts, lights, dancing, tightrope walking, and diving. 
I also couldn't get any reservations for shows before the cruise, so I expected them to be sold out with no way to get in. But seeing each show was no problem: more reservation spots opened up, or I just showed up and could grab a seat. 
6. I enjoyed the parties but found the DJ disappointing 
Although my expectations weren't too high on this front, I love a good party or nightclub, so I was excited to see what the cruise offered.
The ship's nightclub was open every night, with a resident DJ and one special event: the RED experience. 
Although I enjoyed each event, I was left disappointed by the music. With such a wide variety of cruisers, I'm sure it would be hard to please everyone, but I would have appreciated more modern music with better transitions between songs.
Most of the DJ's selections seemed to come from the early 2000s and were poorly mixed, to the point of playing the same song multiple times a night. 
Considering how amazing the show's performers were, I was surprised the cruise didn't have an equally impressive DJ.
My favorite parties were the silent disco nights, where guests were given headphones with two channels. We could select which music channel we listened to, giving everyone more options and a sense of camaraderie between people on the same channel.
7. The ship was overwhelmingly large
Our cruise was, of course, on the world's current largest cruise ship, and I could tell. 
The size blew me away—I was quite overwhelmed my first few days. The ship has 18 decks, multiple pools and hot tubs, an entire Boardwalk and Central Park, and many shops and restaurants.
Thankfully, maps were located everywhere, and it became easy to find my way around, but even seven days didn't feel like enough time to explore every corner of the ship.
8. It's hard to escape the ocean
It goes without saying that the most significant difference between a cruise and the travels I've done in the past is the ocean. It is a very unique experience to be traveling in the middle of the ocean.
Being on the sea meant that we were constantly moving. Looking down from higher decks, we could see the water, other ships going by, or even islands we were passing.
I did experience some seasickness on the first day but was able to recover quickly by taking Dramamine once a day. 
Although the ship was huge, I also felt a few moments of claustrophobia since you can't get off until port days or the cruise's end. 
9. I didn't pack for the wide variety of activities 
Although I tried my best to plan ahead and pack for any and every occasion, I could not have predicted the sheer amount of different activities available.
I had no idea we would have the option to do laser tag, ice skating, various parties, water parks, slides, and so much more. 
And that's just on the ship—many options for shore excursions would also require different items packed. 
I probably could not have packed for every event, but my best advice would be to bring as many different outfits as possible.
10. Friendliness from crew and cruisers
Although I did expect quality customer service from a luxury cruise line, I was surprised at the level of friendliness and kindness displayed by crew members all over the ship. 
We couldn't walk down the hall without a "good morning" from everyone we passed. Our waiters in the main dining room and specialty restaurants were hilarious and charming, and I shared smiles with all the staff at the Windjammer. 
The atmosphere was infectious and seemed to spread to fellow cruisers, too. I had conversations everywhere, on the elevator or while waiting in line.
During a week-long cruise, you start to see some familiar faces, and I was delighted to remember them and say hi every time. 
11. Frequent, sometimes confusing, announcements
Compared to other forms of travel, I found that my cruise had much more frequent announcements, such as check-ins from the captains or invitations to events from the activities director.
There were even a few announcements in code that I had to research, such as "alpha alpha alpha," which indicates a medical emergency on Royal Caribbean ships. 
While these announcements were surprising initially, I appreciated the frequent updates over time. 
12. Finding time alone
I'm someone who often needs time by myself to decompress, which can be challenging when traveling with friends or family.
I didn't expect much alone time on a ship with over 5,000 passengers, but I was pleasantly surprised.
The ship's size ensured I could always find a space to myself, such as in Central Park or the Solarium in the mornings. Especially on port days, when more people were exploring the shore, I had plenty of peace and quiet. 
13. The weather can make or break a Perfect Day at CocoCay
Day 2 of our cruise was dedicated to Perfect Day at CocoCay, Royal Caribbean's private island. 
Through my previous research, I understood that most of the activities and food on the island were included in our fare, but I was surprised to see how many things that included. There were multiple beach and pool locations, beach chairs and umbrellas, and a wide variety of complimentary food and drinks.
However, the day started out cloudy and looked even worse as the afternoon approached. My sister and I packed up around 1:00pm, not wanting to get caught in any rain.
On an island like this one, made up of pools and beaches, the weather turned out to have a huge influence on our experience there.
14. The drinks were expensive
The first few times I ordered a drink, I had to hide my expression at the high price. 
I had to keep in mind that the price came with the tip already factored in, but most alcoholic drinks I had onboard came to $16.50 each time, which added up over seven days.
Read more: Royal Caribbean drink prices
I chose not to purchase the drink package beforehand and didn't end up drinking enough to have justified the purchase. Still, every time I ordered a beverage, I found myself cringing a little. 
15. I booked an inside cabin that left me feeling seasick 
Before my cruise, I heard that cruisers can feel the most seasick in the very front and back of the ship. I didn't expect to get seasick myself, but our guarantee stateroom had other plans for me.
Since we opted for a cheaper assigned room, we were given an inside cabin in the very front of the ship. The room was surprisingly rocky, leaving me feeling dizzy and nauseous. 
The front location also came with a lot of noise, constant banging and clanging from the anchor and the waves. Nevertheless, the room was kept clean daily and I was still able to sleep soundly.