In:
Growing up and into adulthood, I had the privilege of being able to travel to many different states and countries.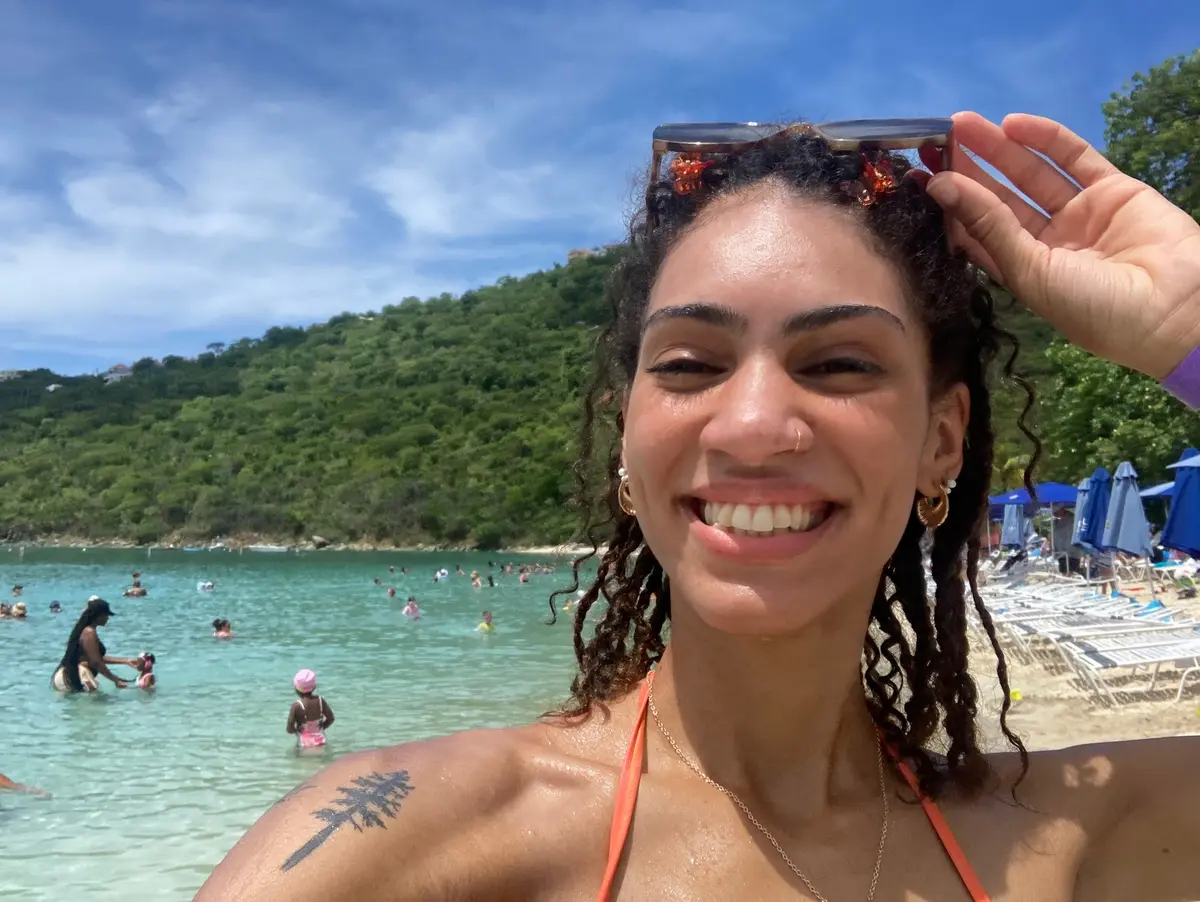 I fell in love with travel, marveling at how much you can learn and explore in a new place. I've been able to experience many different cultures and learn other languages. 
I believe that travel lets you discover more about the world and more about yourself at the same time.
In my lifetime, I've traveled by planes, cars, trains, scooters, and motorboats, but until this past month, I had never been on a cruise ship.
This August, I took my first cruise on Wonder of the Seas. I took my sister along on the sailing, and we traveled from Port Canaveral, Florida, to Perfect Day at CocoCay, St. Thomas, and St. Maarten.
On this cruise, I saw a part of the world I'd never been to before. Additionally, I found that being on a ship for seven days was a completely new method of travel. 
Cruising provided a distinct experience, different from my usual travels. Here are the 8 most notable differences between cruising and my previous traditional travel experiences.
1. Payments were quick and easy
Anytime I travel, I expect to use several methods of payment, including cash and card. During international travel, I also have to convert my cash into local currency.
In contrast, our cruise simply used our SeaPass for all payments, and all our ports of call used US currency. 
Payments were simple and easy, without requiring extra planning to convert cash.
2. The ship felt safe
As a young woman of color, I have to be extra cautious of my safety when it comes to travel. 
It's essential to stay aware and alert. For example, I use special door locks at hotels and don't share my location or travel plans.
However, I felt very safe on a cruise ship with security guards, lots of staff members, cameras everywhere, and private rooms with locked doors. We also felt reassured knowing that there was a medical bay located on deck 2 if we ever needed it.
Of course, I didn't let my guard down completely—it's always important to take precautions—but we felt very secure on our cruise.
3. The ocean was inescapable
The most significant difference between this cruise and my previous travels was the presence of the ocean.
Being in the middle of the sea meant constant movement. I experienced seasickness when we first set sail, but daily doses of Dramamine kept me feeling healthy for the rest of the cruise.
On the other hand, we also had a special view of passing boats and islands. The sight of the ship pulling into its ports was uniquely beautiful.
Despite the ship's size, I did experience some moments of claustrophobia knowing that I was stuck on a boat in the middle of the sea—I couldn't leave until the cruise was over. 
4. Everyone was friendly and welcoming
I was pleasantly surprised to notice how friendly and helpful everyone was. The crew members were lovely and kind, greeting us with "good morning"s and "hello"s throughout the ship.
The waitstaff in the dining areas were charming, and this open atmosphere extended to fellow passengers.
Contrasting other travels where you may explore an entire city, you start seeing familiar faces around the ship during a week-long cruise. Everyone uses the same dining halls, pool, and elevators, so it became common to recognize my fellow passengers.
I delighted in having conversations with everyone and exchanging smiles in the halls.
5. A wide variety of events onboard
In my past travels, I often visited one area with a few main goals in mind for that city. Orlando has Disney World, for example, or we'd visit Pattaya City, Thailand, for the beach.
But the cruise had many different activities, all on one ship! I was blown away by the options, from laser tag to ice skating, water parks, and more. 
In addition to that, we visited multiple ports with their own events and tourist spots.
It would be almost impossible to thoroughly prepare ahead of time for all the activities. But now I know for the future just how diverse my options will be.
6. Everything is scheduled for you on one app
Most of my previous travels have been very independent, combining ideas from Google, Tripadvisor, or friends in the area. This travel requires a lot of self-driven planning and forethought to get your activities in order.
But being on a cruise was utterly different. I found that all the activities were scheduled out for me in convenient proximity. I simply had to decide which events I wanted to attend.
I could even create and update my itinerary in the Royal Caribbean app. The app provides a full daily schedule and event details such as timing, location, pricing, and age restrictions. 
The Royal Caribbean app also has a free chat feature, which can connect you to other passengers even without Wifi. This allows cruisers to communicate, connect schedules, and plan their day all in one app. 
These features made my cruise so much more convenient. I could put down my planner and relax, just going along with the ride. 
7. The world is brought to you
The best way I can describe a cruise is that it feels as if the world's wonders are brought right to you. Usually, land travel feels like rugged exploration: you go out, find a location, and make the most of it.
On the other hand, a secure cruise ship has everything and everyone you need onboard. I was surprised by the diversity onboard, in both crew and passengers, that made me feel as if I was having an international experience.
I spent most of my teenage years living in Java, Indonesia, and I don't usually expect to be reminded of the country unless I return.
But on our cruise, we met many Indonesian staff members, including our waiter and assistant waiter in the main dining room. It was an unexpected delight to chat with them in Indonesian and reminisce about the country. 
The passengers we met, as well came from all over: Toronto, East London, and Turks and Caicos, to name just a few. I enjoyed making new friends and learning all about their homes and cultures. 
8. Access to WiFi made the cruise less relaxing
Before the cruise, I purchased the Vroom WiFi package on one device for all seven days. 
Whereas other trips might require me to use my data plan or even to purchase an international SIM card, the package gave me access to a typical WiFi network, similar to what I might have at home.
The WiFi access was very convenient, easing my mind whenever I needed to research something quickly and allowing me to post photos on social media immediately.
It also allowed me to cast to the cabin's TV and stream my favorite shows from my phone, a comforting way to relax during a long day.
However, I also found that the constant WiFi connection made the cruise feel less relaxing. We all know how consuming social media can be—a beach vacation just isn't the same if you can instantly pull up your email. 
In the future, I think I would follow my sister's example: she purchased the WiFi package for just one day (day 5, when we were cruising and not stopping at any ports). That allowed her to check any important notifications for that day and relax for the rest of the cruise.