In:
What to wear on your Royal Caribbean cruise seems to be a question we get a lot because no one wants to do the wrong thing.  Cruising has changed a lot over the years, but some traditions of dress codes remain to this day.
Before you go on your Royal Caribbean cruise, here is a handy guide to help you understand what cruise clothing you should wear onboard.
Cruise clothing for embarkation day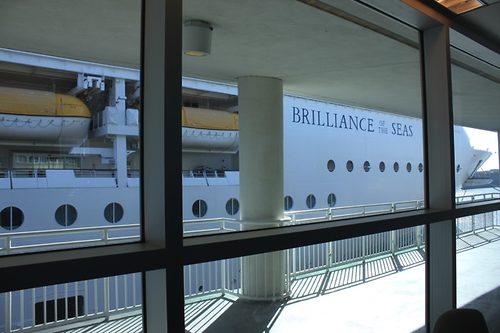 The first day of your cruise is a bit of an odd day, with guests arriving onboard and getting acclimated to their new home.  Moreover, luggage deliveries to staterooms can take a bit of time, so not all guests have access to all of their belongings throughout the day.
Nearly all guests will arrive to their Royal Caribbean ship wearing something comfortable and relaxing.  Depending on the weather conditions at the embarkation port, you will find most guests with t-shirts, shorts/jeans, etc.
While Royal Caribbean offers guests the option to check their luggage and have it delivered later to their stateroom, you might consider retaining a day bag that has a change of clothes, swimsuit, work out clothes and anything else you might need between when you board the ship and when your luggage will actually be delivered.  This is especially important for kids, because the pools will be open on embarkation day, but swim suits packed away in checked luggage could lead to disappointment.
Cruise clothing during the day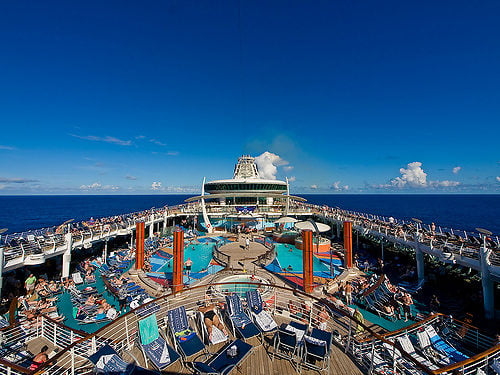 During the morning and afternoon, there is no dress code and your itinerary will largely dictate what you should wear onboard.
Caribbean, Mediterranean and other warm-weather cruises will see a mix of t-shirts, shorts, blouses, bathing suits and whatever else is comfortable.  Since much of the activities and things to do onboard your ship are outdoors, a vast majority of guests will be dressed for a pool day, and swim suits and associated clothing are quite prevalent.
Cruises to cold weather destinations will see guests wearing heavier clothing, including jeans, sweaters, lounge wear and more. Depending on the season and destination, layering your clothes is common, where t-shirts are worn underneath sweaters to allow for greater flexibility with the changing temperatures.
If you are planning to visit the fitness center, be sure to bring extra shorts, t-shirts, socks and running shoes/sneakers to work out in.
The reality is, there are no guidelines about what you wear during the day on your Royal Caribbean cruise.  Restaurants retain some basic dress guidelines, including a casual dress code in specialty restaurants and the main dining room.  Quick service venues, such as the Windjammer, Cafe Promenade and other grab-and-go locations have just basic guidelines when it comes to dress code, such as shoes and a shirt.
Cruise clothing in the evening
During the dinner hours, Royal Caribbean does have a dress code for its main dining room.  The dress code is only for the dining room, and outside that venue, there is no special dress code .
When people hear dress codes, it causes a great deal of anxiety about what is and what is not allowed.  It is a complicated issue because "appropriate" attire for each dress code will depend on the interpretation of the rules.  Royal Caribbean tends to be a bit ambiguous about its dress code rules, especially when it comes to enforcing them. In practice, Royal Caribbean's dress code is more a guideline that can be used as an enforcement tool, but is not frequently administered to all guests.
There are three basic dress codes Royal Caribbean uses.  We will list each one, along with what Royal Caribbean lists as suggested dress for each one.
Casual: Sport shirts and slacks for men, sundresses or pants for women. Pants should have no holes, rips or tears.
Smart Casual: Jackets and ties for men, dresses or pantsuits for women.
Formal: Suits and ties or tuxedos for men (black tie is optional), cocktail dresses or pantsuit for women
Swimsuits, robes, bare feet, tank tops, baseball caps and pool wear are not allowed in the main restaurants or specialty restaurants. T-shirts, shorts and flip-flops are acceptable for lunch.
Formal night
Despite the name, formal night is not nearly as fancy as you might think.  Formal night is certainly the most dressed up evening attire required on your Royal Caribbean cruise, but it is not as ornate as you might imagine.
Evening wear for formal night will vary, and you will see some guests wearing tuxedoes and gowns.  It is our opinion that most guests tend to dress a bit less fancy than that, with men wearing suits or sports coats and women wearing cocktail dresses.  Essentially, it is clothing that is a bit nicer than you might wear on other nights of the cruise.
Royal Caribbean does provide a tuxedo rental option, which can save on packing space.
If the idea of formal night really bothers you and you, the good news is you absolutely do not have to get dressed up on your Royal Caribbean cruise.  The formal night dress code is only for the main dining room and specialty restaurants, so anywhere else on the ship is fair game for shorts, flip flops and tank tops.  The Windjammer and other quick service venues will be open and without any formal wear.
Cruise clothing for kids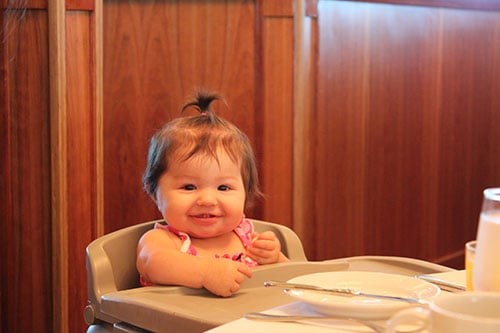 Children on a Royal Caribbean cruise will follow similar patterns to adults in terms of what they wear.  During the day onboard and onshore, it will be casual for kids, so nothing really important to worry about.  Just something they will be comfortable wearing.
In the evening, the dress code for children is the same for adults. There tends to be more leeway in terms of the degree of formality for children's clothing, but at the same time children are expected to be dressed up more than what they would wear during the daytime. The exception would be infants.
For boys, polo shirts and nice pants will suffice for most evenings and girls can wear dresses, skirts and sweaters.