In:
Embarking on your cruise vacation is an exciting experience. After all, a cruise promises adventure, relaxation, entertainment, and exotic destinations, all at your fingertips.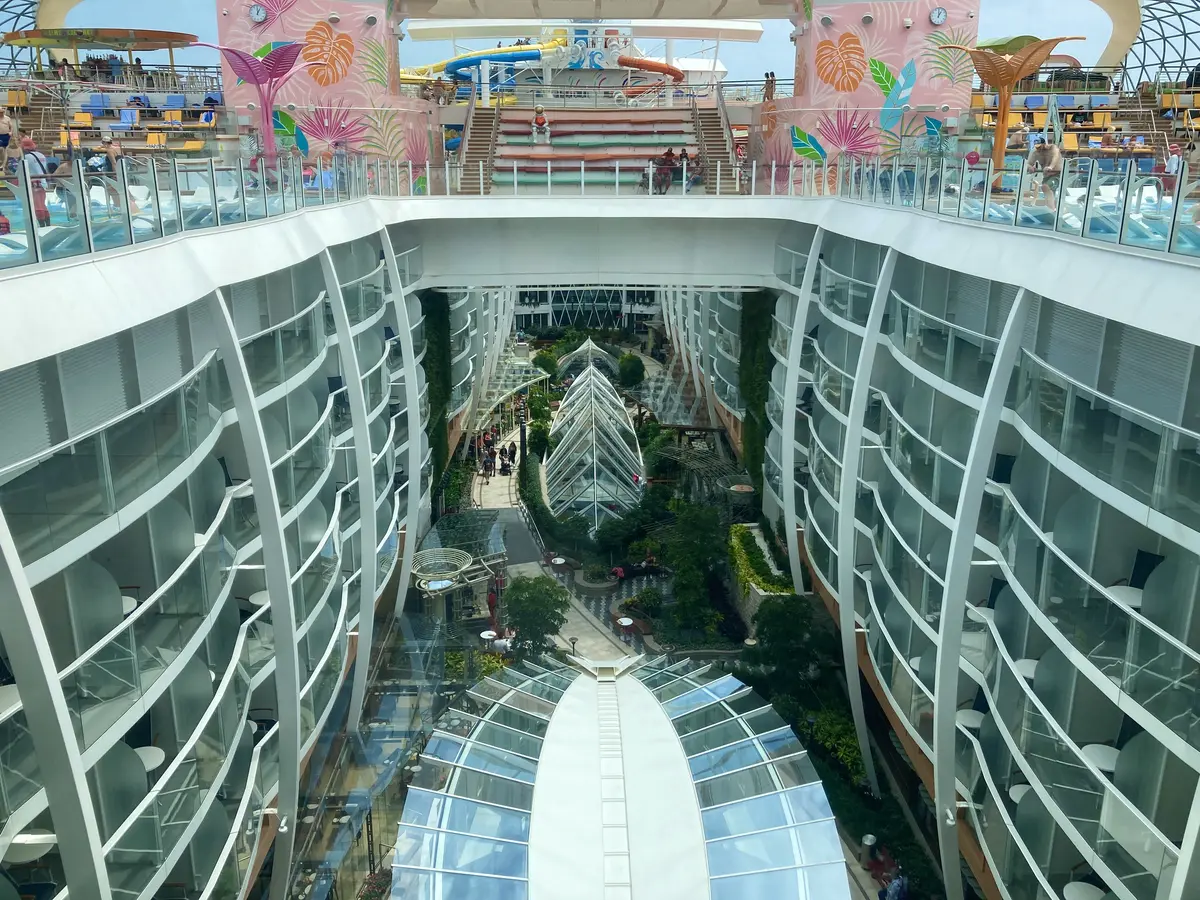 However, as you step onto the ship, it's important to be well-prepared to make the most of your cruise experience.
When it comes to cruising, there are many cruising tips and insider secrets that can enhance your journey and ensure you have smooth sailing.
As a first-time cruiser, I had a lot to learn on my recent Wonder of the Seas sailing. I was surprised by many aspects of cruising, especially compared to the past forms of travel I've taken.
In this post, I'll delve into 11 valuable insights that I wish I'd known before setting foot on that cruise ship. 
Whether you're a first-time cruiser or a veteran looking to enhance your next trip, these tips will help you confidently navigate cruising waters. 
1. If you don't like the entertainment, just leave
During my first few days on the ship, I tried to commit to each activity, especially those we had reserved beforehand. 
If we went to a show, we stuck it out. Or if I attended a night at the Attic nightclub, I ensured I stayed as long as possible. 
But as time went on, I realized that the ship had so many options that it would be ridiculous to try to commit to each and every one. 
I learned to make quick decisions, and if I wasn't feeling an event, to just leave! 
For example, I was viewing one performance of the (very talented) Voices acapella group, but it wasn't my style. The unfamiliar music was made miserable by the fact that I could smell a man's shoeless, stinky feet next to me. 
My sister and I quickly decided to leave the performance and attend a silent disco party instead. The silent disco was much more my speed and became one of my favorite events of the week! 
2. You don't have to watch the balloon drop from below
I stumbled into this tip by accident. 
On night one, before the balloon drop, we decided to quickly explore Central Park, which happened to be located right above the Royal Promenade. We looked down the pretty glass windows and observed all the cruisers waiting for the balloons to drop. 
As a fascinated people-watcher, I decided to stay in that location and watch the balloons fall onto the partygoers below.
This gave us a lovely view and a separation from the noise of all the balloons popping at the end.
If you are growing tired of the balloon drop, scared of loud noises, or even allergic to the balloons, try watching the drop from a more separate location, such as in beautiful Central Park.
3. Keep all essentials in your carry-on
I had read this tip before the cruise, but not following it entirely is one of my biggest regrets.
Before your cruise, you'll pack a smaller carry-on bag and a bigger piece of luggage, much like on an airplane.
Since you'll leave a bigger piece of luggage with the porters, it's important to pack all of your essentials and valuables in your carry-on.
I assumed this tip was just in case your luggage got lost, so I did pack my valuables in my carry-on but left my medicine and other essentials in my larger bag.
On embarkation day, we entered the ship around 12:30 P.M. and could access our cabin around 2:00 P.M. But we did not receive our larger bags until after 4:00 P.M. 
During that gap, I wished I had packed more toiletries and maybe even a change of clothes in my carry-on. You never want to be stuck waiting around for your bag to arrive. 
4. The front of the ship will (probably) make you seasick
I haven't struggled with motion sickness much before, so I did not expect to feel seasick on my cruise. 
However, as soon as the ship set sail, I felt nauseous and unsteady. This was aggravated by the fact that we were assigned a forward cabin through the guarantee stateroom process. 
I found that my seasickness was worse when I was at the very front of the ship or looking at the water. 
Thankfully, I had planned ahead enough to bring Dramamine, but I always felt best when I got out of the room and headed midship. 
5. 7 days feels like a long cruise
My recent cruise was a 7-day sailing, stopping at Perfect Day at CocoCay, St. Thomas, and St. Maarten.
By days 5 and 6, which mainly were sea days, I felt myself getting a little claustrophobic. The ocean started to feel inescapable, and I missed my own bed. 
Being on a cruise feels unique because you cannot leave until the ship is at port. 
Thankfully, Wonder of the Seas is such a vast ship that 7 days hardly felt like enough time to explore it. 
I was able to minimize the cabin fever by investigating new areas onboard. 
However, in the future—especially on smaller ships—I would limit myself to 4 or 5 days.
Read more: Should I take a short or a long cruise?
6. You'll need cash, but there is an ATM onboard
I knew from my research before the cruise that I would need cash on hand for porters, tour guides, or any emergencies at our ports.
Since I don't usually carry cash, I had to rush to an ATM before we left for the cruise. However, I didn't realize that there would be an ATM onboard the ship—there was no need to panic.
Either way, having cash on hand was useful. I was able to tip our porters, and some souvenir shops on St. Maarten had a minimum total before we could use a credit or debit card. 
7. Bring the broadest possible range of outfits
Although I tried my best to plan ahead when packing, I didn't foresee the sheer amount of different activities we would have access to.
If I could do it over, I would pack outfits for activities like laser tag, ice skating, biking, water parks, and more.
One of the best packing decisions I made was to bring every single swimsuit I owned: I used them all and even bought a new one on St. Maarten. 
In addition to needing a swimsuit every day, we sometimes went to the beach at noon and the hot tub at night, requiring two different swimsuits. 
I probably could not have packed for every event, but my best advice would be to bring as many different outfits as possible.
8. Many features are included in the fare, but the rest are expensive
As I began booking and planning ahead for the cruise, I was surprised to learn how much was included in the base fare. 
The fare includes meals in the Windjammer, the main dining room, the Solarium bistro, room service like continental breakfast, and grab-and-go spots like Sorrento's Pizza, Park Cafe, and Cafe Promenade. 
In the end, some of my favorite meals were included in the base fare, like the Windjammer's beef stew and cheesecake at the main dining room.
However, I learned that any extra features would add up quickly once I set foot onboard.
For example, I chose not to purchase a drink package and ended up paying $16 to $17 each time I ordered an alcoholic drink. 
9. Most people follow the dress codes, but only for dinner
Before my cruise, I knew of the dress codes, especially certain themed nights, like formal night or "dress your best."
I chose not to particularly prepare for them while packing, other than bringing a few nice dresses. 
On the cruise, I saw many people following the day's dress code. Cruisers wore fancy dresses and suits on formal night and "dress your best" night, and I saw many Hawaiian shirts on Caribbean night. 
However, most themed outfits seemed to be only at dinnertime and for photos. At events after dinner and into the night, cruisers slipped back into the more casual, beachy attire worn for the majority of the cruise. 
 
10. Bring a wide variety of snacks to save money
Thanks to the advice I saw online, I packed a few options for midnight snacking: Taki chips, sweet candy, and gluten-free cookies. This ended up being one of my best packing decisions. 
I appreciated having something to eat at night or in between meals without spending the money for room service or dragging myself out of the cabin to find a snack.
I only wish I had known to bring more types of snacks, as I snacked at all times of the day. 
11. The food included in the fare tastes just as good as the specialty restaurants
Some of my favorite meals were included in the fare: lunches at the Windjammer, main dining room dinners, and complimentary coffee.
We reserved dinner at three specialty restaurants to compare: Izumi Hibachi, Wonderland, and Mason Jar. 
While we had a wonderful dining experience at these restaurants, I found that the quality of food was very similar to the meals included in the fare. For example, Mason Jar's offerings tasted much like the Windjammer's food, just limited to the specific Southern theme and enhanced by the decorations and plating. 
While we appreciated the experience at specialty restaurants, I wouldn't call it a must-have: the free food was just fine.
Read more: I tried Royal Caribbean's new main dining room menus, and here's what I thought.