In:
Maybe you will be able to book shows for your Royal Caribbean cruise before the sailing begins after all.
Guests are reporting seeing the option to pre-book select entertainment on at least the Oasis Class cruise ships later this year.
Prior to the cruise industry shutdown in 2020, Royal Caribbean allowed passengers to pre-book stage shows before the cruise via the Cruise Planner website.
Pre-booking entertainment has not returned since Royal Caribbean cruises restarted in June 2021.
Reversing a change?
In late September, Royal Caribbean informed travel agents that they would not bring back the option to book shows before the cruise.
As we continue to shape the future of cruising, a few experiences may look a bit different to some of your clients. With this, we will no longer be accepting pre-bookings for onboard entertainment. All guests who would like to attend our entertainment onboard must book these at the Box Office or on the App once onboard.
There was no mention of exceptions.
Royal Caribbean has made no new announcement or confirmation of a policy change.
Some ships have option to pre-book shows
In the last week or so, many Royal Caribbean cruisers have reported being able to pre-book shows when visiting the Cruise Planner website.
Thus far, the option to pre-book as not appeared in the Royal Caribbean app.
RoyalCaribbeanBlog readers started to share the change on the RoyalCaribbeanBlog forums that the option has re-appeared once more.
Based on reader reports, the option is available on the Oasis Class cruise ships beginning for sailings in December 2022.
A notice on the Cruise Planner indicates the option is available for: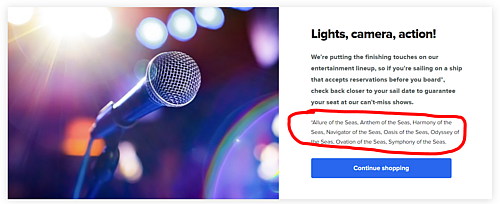 Wonder of the Seas isn't on the list, but plenty of cruisers have reported being able to book shows for December sailings.
Thus far, it appears to be primarily December 2022 cruises that have the option, but it's possible more sailings could be added later.
Reader reaction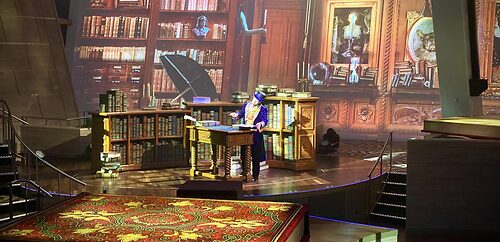 The early reaction from readers has been a sense of surprise mixed with confusion as why the policy has seemingly changed so quickly.
CruzOnBye was able to take advantage of this option, "We're on Odyssey in December and can now reserve The Book in Two70 and also the Zone Zero activity so that's nice!"
"As a planner this is my biggest frustration of no longer being able to do. But hey, I save time not doing the old school muster drill, so that time is now taken up running around making reservations," said Vancity Cruiser.
"This is the kind of thing Royal really needs to improve," NotPayinExtra posted. "What is there problem with communication? Just tell us already. Limited time booking online or not? "
CruiseGus preferred not having this option back, "I for one really liked the you could not book until you got on board. The major problem with the way they do it, in the App is even if you cancel a show ahead of time because you want to change it, you are lock out from re-booking so you have to go to guest services or see someone"