In:
Royal Caribbean's Oasis of the Seas has been a gamechanger since she first debuted in 2009, and is known around the world for the wealth of activities and entertainment onboard. Frankly, it is a floating destination that offers so much and for someone new to Royal Caribbean, or just new to Oasis of the Seas, there can be a lot to consider.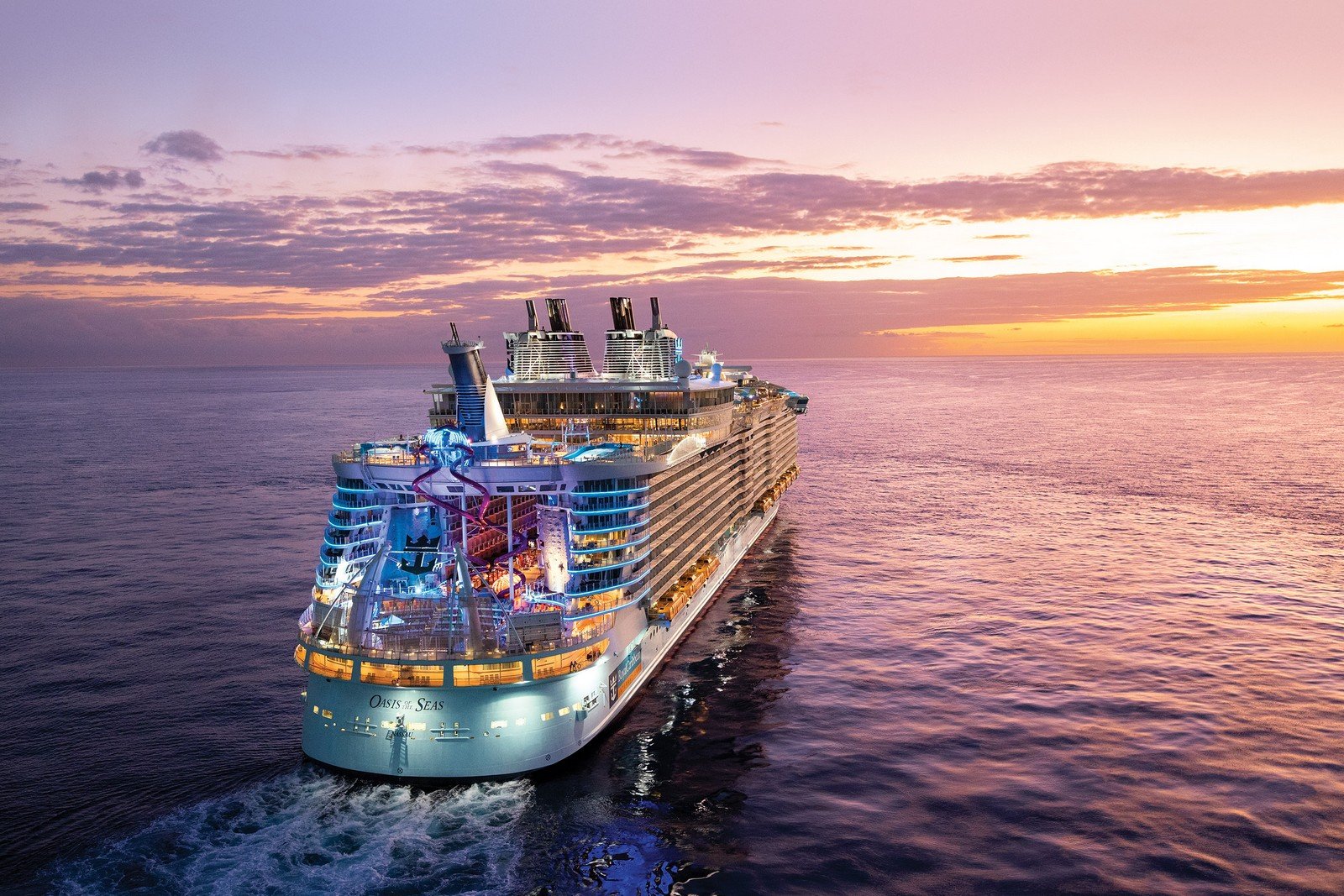 Despite the fact Oasis of the Seas is a rather large cruise ship, it is best to paraphrase Yoda and remember not to judge anything by its size. The ship is large, but believe it or not, very manageable for a first time guest and even more fun.
Anyone considering a cruise on Royal Caribbean's Oasis of the Seas will want to consider this planning guide for an optimal first time experience.  Let us jump in and get started!
Overview of Oasis of the Seas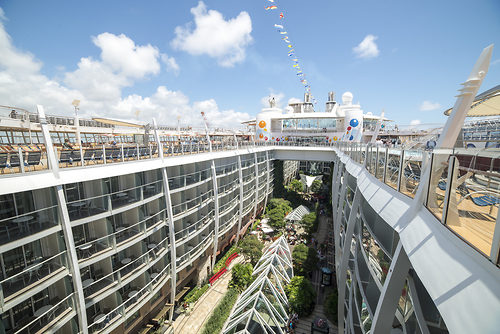 Looking at Oasis of the Seas, it is easy to notice how large of a cruise ship she is.  When Oasis of the Seas debuted in 2009, she was the largest cruise ship in the world. In the years since, she has been eclipsed barely by her sister ships, Allure of the Seas, Harmony of the Seas and Symphony of the Seas.  Despite losing the title of largest in the world, seeing Oasis of the Seas in person will reinforce the notion of how large the ship is.
The good news is despite her imposing stature, Royal Caribbean spent a lot of time coming up with a means of making the ship easy to navigate. The last thing the cruise line wanted was to have a cruise ship that is super big and super crowded.  As a result, Royal Caribbean broke up the ship into several themed areas, known as "neighborhoods."  These distinct areas of the ship serve as visual cues to where you are and it's important to know about them so you can more easily get to wherever you are going.
The Oasis of the Seas neighborhoods are
Central Park
The Pool and Sports Zone
Vitality at Sea Spa and Fitness Center
Boardwalk
Royal Promenade
Youth Zone
Entertainment Place
When talking about size, a common concern is if the ship gets and/or feels crowded. The good news is while it might seem like a ship this size must have crowding issues, Royal Caribbean spent a lot of time working on strategies to make the ship feel quiet. The neighborhoods help with the flow of crowds, and the ship's reservation system integrates tightly with the dining and show management to control crowds.  Lines can occur on any cruise ship, but they are rarely awful. 
A good strategy for getting your bearings on Oasis of the Seas is to walk around and explore the ship as early in the cruise as you can.  There is a lot to see and do on Oasis of the Seas, and walking around the ship will quickly provide a good understanding of where things are relative to each other, plus there is a lot of great things to discover. Art, activities, live music, decor and more are found in all the neighborhoods.
2019 Update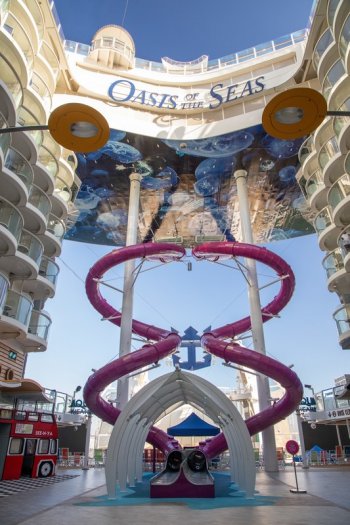 It is important to note that Royal Caribbean invest $165 million in updates, changes and additions to the ship in 2019 as part of what the cruise line called a Royal Amplification.
There were quite a few changes made, but here are the most noteworthy ones:
Caribbean-style pool deck makeover, complete with Lime & Coconut signature bar. New day beds, casitas and variety of seating were added.
Ultimate Abyss slide (dry slide)
The Perfect Storm water slides
Splashaway Bay aqua park
Portside BBQ specialty restaurant
El Loco Fresh complimentary Mexican restaurant
Playmakers Sports Bar & Arcade
Sugar Beach candy shop
Spotlight Karaoke venue
Music Hall venue
Bionic Bar
Revamped Adventure Ocean
Mission Control: Apollo 18 escape room
The important takeaway from the changes made to Oasis of the Seas is the ship underwent a number of changes that enhanced the offerings. These additions are aimed to keep the ship just as relevant and intriguing as any new Royal Caribbean ship.
Oasis of the Seas Dining and Restaurants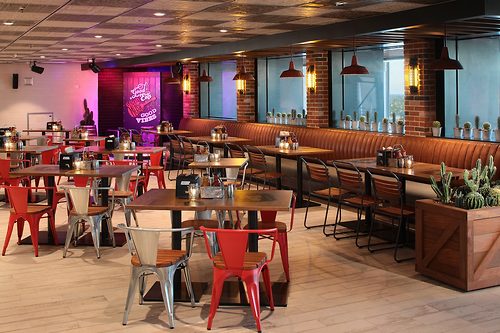 With the great size of Oasis of the Seas comes a lot of dining choices.  Royal Caribbean wanted to ensure there was plenty of options for guests to choose from, as well as a good variety of culinary choices. Guests will find the various eateries onboard fall into one of two categories: complimentary and specialty.
Complimentary dining options are included with your cruise fare and guests can enjoy as much food as they like from these locations.  There is at least one complimentary option open at anytime during the day or night, with often quite a number of great choices. 
The alternative dining option are specialty dining, in which there is an additional cost to dine there.  Specialty dining costs can come in the form of cover charges (pay one fee and get all the food included) or a la carte charges (pay for only what you order). In general, specialty dining offers food and cooking styles not available elsewhere on the ship for guests that choose to indulge in them.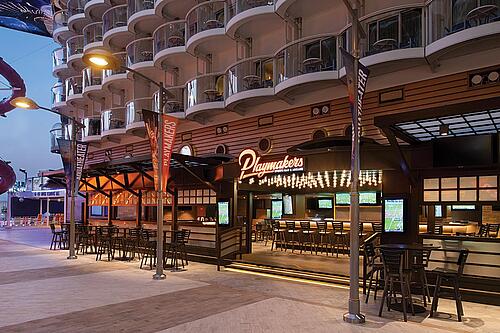 A very common concern among new cruisers is how important is specialty dining and how good or bad is the complimentary food.  We often hear from readers who are concerned they will be forced to pay for food while onboard their cruise.  The fact of the matter is there is plenty of good complimentary food available on Oasis of the Seas.  One can easily go their entire cruise and never spend a dime on specialty dining and have a fulfilling and tasty dining experience on Oasis of the Seas.  
Specialty dining is an option for guests who want something more than what is offered in the complimentary dining, with an emphasis on certain foods that are otherwise unavailable all the time. Think of specialty dining like you would going out for dinner versus staying home and cooking something.  You would be perfectly content with a home-cooked meal, but going out for dinner is a nice treat that comes with a higher cost. 
In short, you do not have to go to any specialty restaurants while on Oasis of the Seas, but we feel it is a good idea to give a couple of specialty restaurants a try.  Royal Caribbean put a great deal of emphasis on its specialty dining options and enjoying a specialty restaurant or two will likely not "break the bank," and can really enhance your cruise experience.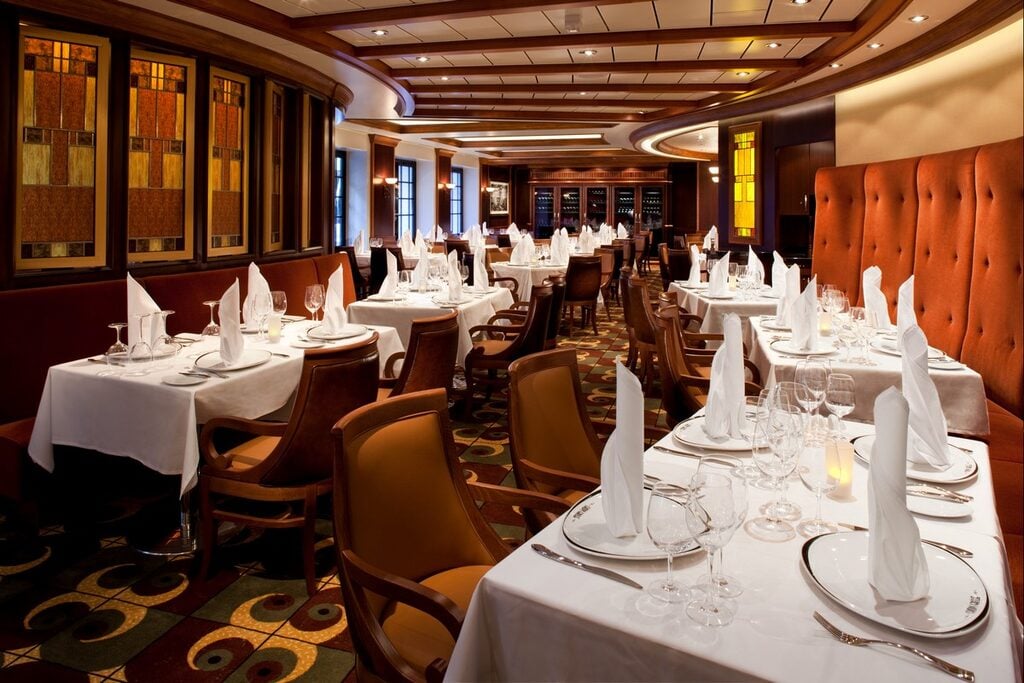 Here is a good overview of the complimentary and specialty dining options you will have to enjoy
Complimentary dining
Windjammer
Park Cafe
Boardwalk Dog House
Solarium Bistro
El Loco Fresh
Sorrento's
Cafe Promenade
Main Dining Room
Johnny Rockets (breakfast only)

Specialty dining
Johnny Rockets (lunch and dinner)
Vintages
Vitality Cafe
Sugar Beach
Playmakers Sports Bar & Arcade
Most guests spend a majority of their dining time at the Windjammer buffet, main dining room and smaller venues like Park Cafe or El Loco Fresh. Those four options can provide meals throughout the day, and represent the most most popular options with a good variety of food.
It is hard to go wrong with any of the specialty dining, but we recommend first timers check out Chops Grille, Portside BBQ and the Izumi Hibachi for great experiences.
Activities on Oasis of the Seas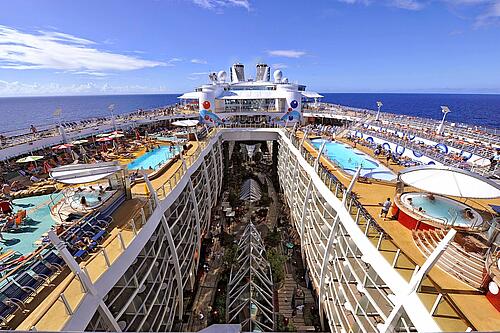 If you thought there was a lot to dining choices on Oasis of the Seas, wait until you discover all the things to do onboard.
Oasis of the Seas can feel like a floating city with all the activities onboard.  The ship bustles with planned events, swimming pools, sports, shows and plenty more.  Your guide to knowing what is going on and when is the Cruise Compass.  Every Royal Caribbean ship offers a daily Cruise Compass, which is part newspaper and part TV Guide.  It documents everything happening during that day, and it is a must-read for any guest onboard.  A copy of the Cruise Compass will be delivered to your stateroom each evening by your stateroom attendant.
Shows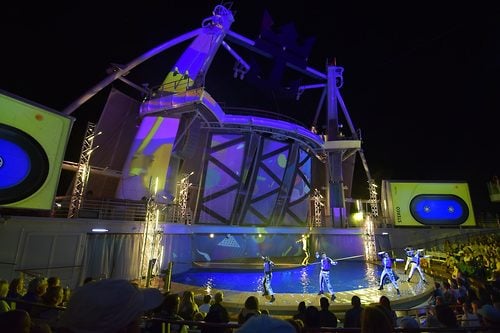 Without a doubt, the premier entertainment on Oasis of the Seas are the shows.  Included in your cruise fare are the amazing shows Royal Caribbean has put together that have a New York or Las Vegas feel to them.  Even if you aren't "a show person", Royal Caribbean puts on some impressive entertainment that caters to a lot of tastes. You will find Broadway shows, ice skating, water shows and a whole lot more offered onboard and all of these shows are included in your cruise fare.
Guests can enjoy one of the greatest Broadway musicals of all time, Cats, in the Royal Theater. This is the full Broadway production, complete with intermission. In addition, the original Royal Caribbean production show, "One Sky" is also shown in the Royal Theater, along with other headliner acts.
In the Studio B ice rink, guests will find the ice skating performance of, "Frozen in Time."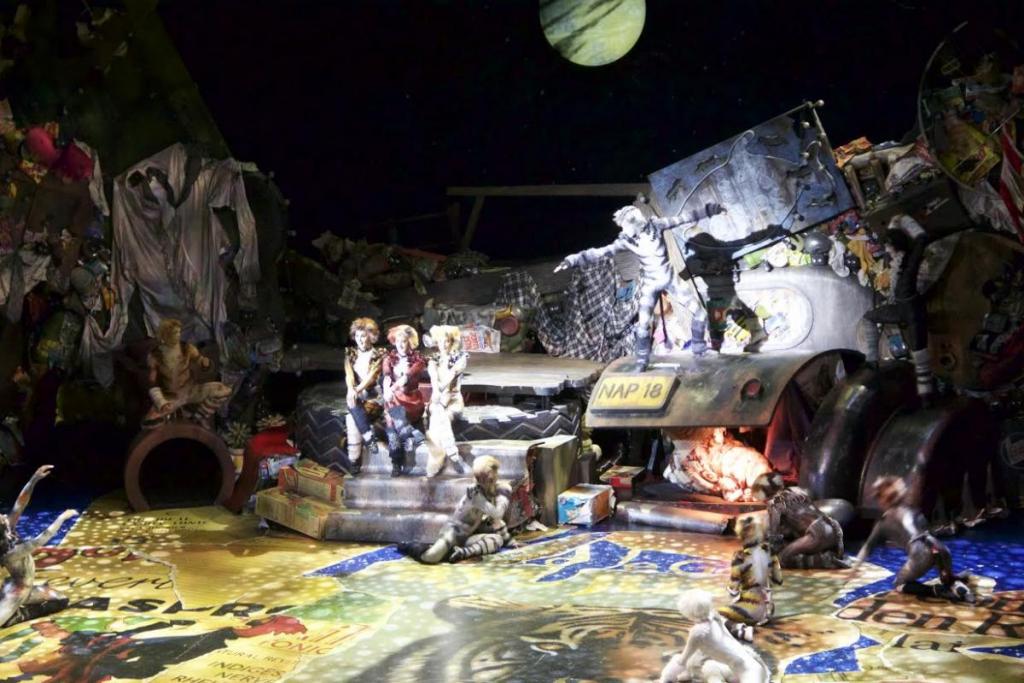 The outdoor Aqua Theater features the dining show, "Aqua 80s."
When planning your cruise, be sure to carve out time for these shows.  The performances in the Royal Theater and AquaTheater are must-see events, and the ice skating show is very good as well.  Considering there is no additional cost to see these shows, you will want to check them out because Royal Caribbean has put a lot of energy and talent into the performances.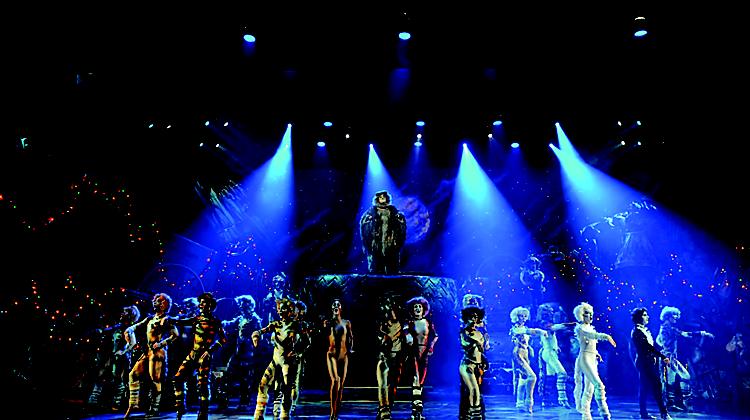 One important tip if you are new to cruising is on Oasis class ships you can book your entertainment in advance from the comfort of home.
Select shows offer the ability to book reservations in advance via Royal Caribbean's web site.  There is no cost to do this, and we recommend booking any entertainment you can in advance to avoid lines at show time.
All you have to do is go to My Cruises and then log in (register an account if you have not done so already).  Then find your cruise reservation and go to the Cruise Planner.  A few clicks later and you should be able to reserve your entertainment.
Keep in mind that reservations for entertainment is usually available for booking 64-60 days in advance of your cruise.  
Pools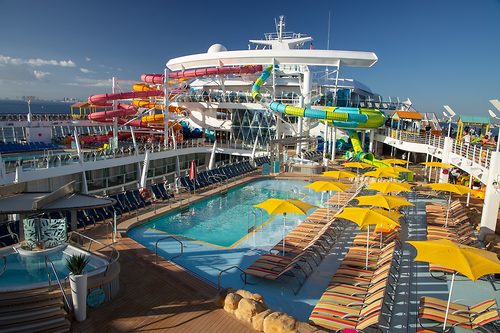 The Pool and Sports Zone is the area of the ship with plenty of outdoor space and a good variety of pools and swimming options. Oasis of the Seas has 4 separate pool areas. All pools are located on Deck 15.
You will find a large variety of seating, including complimentary casitas, hammocks and daybeds to enjoy. These are first-come, first-claimed, and they do tend to fill up early in the morning.
Solarium: Adults only (age 16 and over) pool area with two cantilevered whirlpool hot tubs, which extend 12 feet from either side of the ship.
Sports pool: area for playing pool games such as synchronized swimming and volleyball. The sports pools area may have designated times for swimming laps.
Beach pool: Themed area that is supposed to look like a beach
Splashaway Bay: interactive kids aqua park, where kids and their families can enjoy drench buckets, water slides and fountains.
There are also a few hot tubs on deck 16 that overlook the pool deck.
For parents with young children that are still wearing diapers, there is a designated baby and infant splash pool, designed specially for them.  Children wearing diapers are not allowed in any other pools.
Pools will be closed occasionally when they need to be cleaned as well if weather or sea conditions make the pools unsafe for swimming. Otherwise, there is usually a pool and hot tub open for use.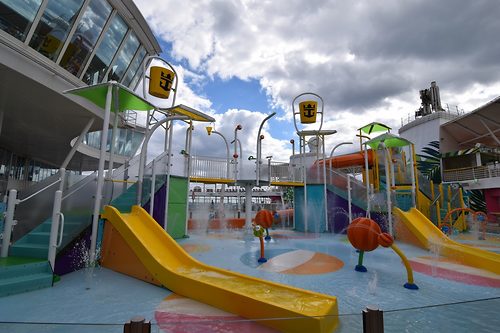 The pools tend to also be a hub of activities, with lots of events held in or around them during the day.  In fact, during the day, a vast majority of events happen in the pool area.  Royal Caribbean is a huge proponent of live music and you can often enjoy bands playing music at the main pool throughout the day.   These bands will play reggae, classic rock and even contemporary hits.  For fans of live music, sitting by the pool and enjoying music is perfect.
If you consult your Cruise Compass, you will find a number of activities happening at the main pool.  Exact activities differ depending on your ship and sailing but here are some common ones 
Belly flop competition
World's sexiest man competition
Scuba classes
Fitness classes
Dance classes
When going up to the pools, be sure to stop by the towel station to pick up as many towels you may need during your time there.  Complimentary pool towels are provided for guests near the main pool and can be returned when convenient. Just be sure to return the pool towels before the end of the cruise to avoid a $25 per towel penalty fee.
Signature Activities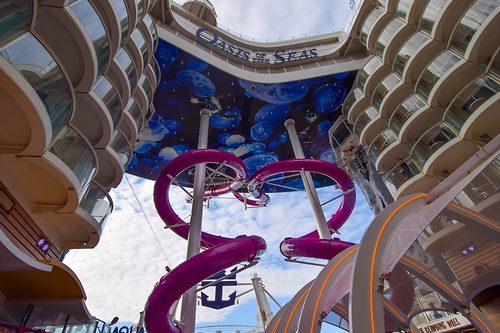 Oasis of the Seas was designed with impressive onboard activities, including a few things to do that are unique to Royal Caribbean. Oasis of the Seas has plenty of traditional cruise activities, such as bingo, trivia, demonstrations and more, but the ship is known for some noticeable activities that are as fun as they are intriguing to watch. Plus, many are complimentary to enjoy.
Zip line across 82-foot distance that is nine decks up
Perfect Storm water slides: two racer slides and one champagne bowl slide
Ultimate Abyss 10-story dry slide
Ice skating rink
Two 43-foot rock climbing walls
Mini golf course
Full-sized basketball court
Laser tag
Mission Control: Apollo 18 escape room (additional cost)
All of these activities are available for guests to enjoy for most of the day. There will be posted hours in the Cruise Compass and plenty of opportunity to experience once or many times.
Staterooms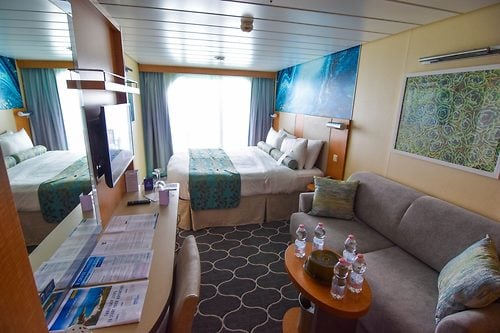 Choosing your stateroom for Oasis of the Seas involves a lot of choices.  There are traditional cabins categories, as well as a few new categories that blend categories together. Depending on your budget, family size and preferences, there are quite a few options to consider.
Like all Royal Caribbean cruise ships, Oasis of the Seas cabins fall into four distinct categories.
Interior rooms
Ocean view rooms
Balcony rooms
Suites
The price for any of these rooms will depend on factors, such as time of year, demand for rooms on the particular sailing, and how many guests in each room. You can refer to our guide to choosing a stateroom for more information on the basics, although there are some special room types worth discussing.
Boardwalk and Central Park balcony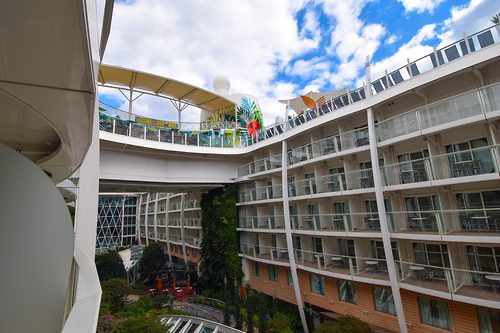 When you hear about a stateroom with a balcony, you are probably envisioning a view of the ocean but Oasis of the Seas introduced cabins that have balconies that overlook two of their most popular neighborhoods: Central Park and the Boardwalk.  Both offer great views of their respective areas and they can be just as fun as an ocean balcony given the beautifully decorated areas.
One common question about these balconies is noise, since other passengers will be who you can see and hear from your balcony.  Generally speaking the noise factor is not a consideration and we would recommend trying either type of neighborhood stateroom.
Loft Suites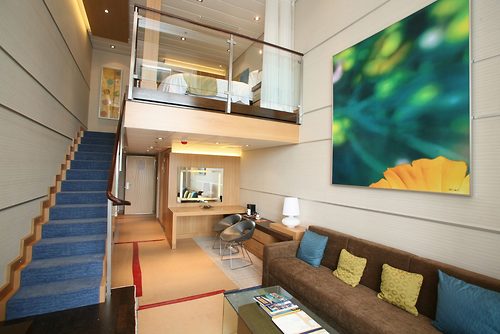 Among the different suites available are loft suites, which are an Oasis class option that come with two floors of living space, in addition to a large balcony.
The two floors break up the room and offer an unique option for guests that want something more than a traditional suite experience.  It offers a lot of space for a small footprint and are part of the revamped suite program that Royal Caribbean unveiled in 2016, known as the Royal Suite class.
Technology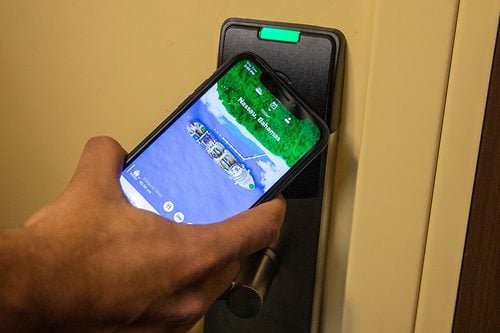 Royal Caribbean prides itself on tech innovations that aim to make the overall cruise experience easier and faster, and Oasis of the Seas features some fantastic advances.
Before your cruise, download Royal Caribbean's smart phone app. The app allows you to check in for the cruise, as well as be your convenient portal for everything happening onboard once your cruise begins. You can download the Royal Caribbean app from either the iTunes App Store or Google Play Store.
The app is capable of providing a digital SetSail pass once you complete online check-in. Just like a boarding pass for an airline, you can show the pier agents your SetSail Pass via the app and get onboard. In fact, if you follow all the steps in the check-in process, there is a good chance you can take advantage of Expedited Arrival to get onboard even quicker.
The app also allows guests to explore and plan activities for each day, and make dining, shore excursion and show reservations.
All the stateroom doors on Oasis of the Seas are equipped with RFID readers, which means you can not only use your SeaPass card to open the door, but the Royal Caribbean app or WOWBand. In fact, the app can not only open your stateroom door with the digital stateroom key, but it has an in-app TV remote.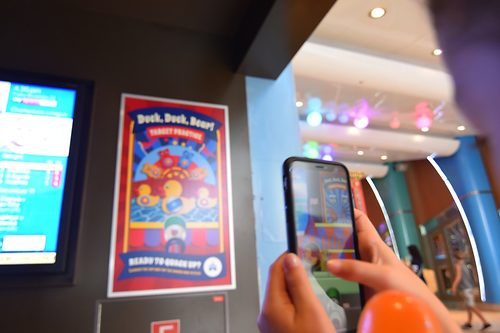 There are also some interactive games that can be played with the app at various spots around Oasis of the Seas.  These virtual reality games are free to play. Simply load up the app, select the icon that looks like a circus tent and then point your camera towards the poster.
Kids programming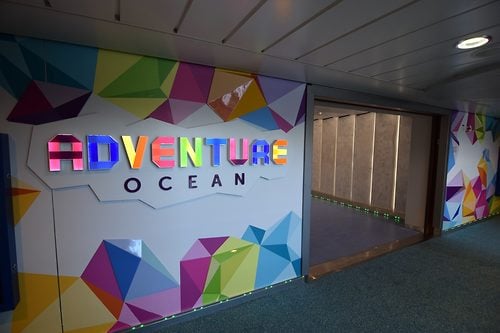 If you are bringing kids with you on your Oasis of the Seas cruise, they will have lots to do onboard. Royal Caribbean completely overhauled Adventure Ocean on Oasis of the Seas to focus on what is important to kids, as well as bring the latest innovations to Royal Caribbean's kids programming.
Adventure Ocean is divided into three age-appropriate groups
Nursery (ages 6 to 36 months)
AO Junior (ages 3 to 5)
Hangout (ages 6 to 12)
Social298 (ages 13 to 17)
Children must be registered and fully toilet trained to take part in activities. There are dedicated spaces for each age group, plus specialized areas like science labs and a theater for enhanced programming.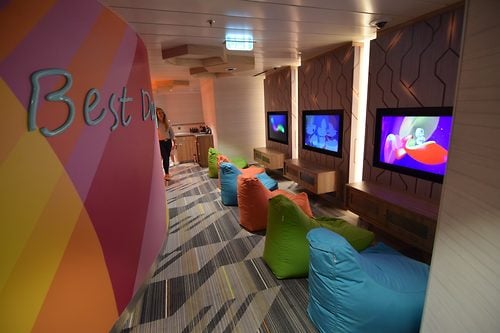 Adventure Ocean is open most of the day, but their hours vary depending on if it is a port day or sea day.  On sea days, Adventure Ocean typically opens at 9:00am.  It then closes at noon and re-opens at 2pm and remains open until 5pm.  The evening session then runs from 7pm to 10pm.
Adventure Ocean closes at 10pm, but parents can leave their children with Adventure Ocean until 2am for an hourly fee.  The Late Night Party Zone runs from 10pm to 2am in Adventure Ocean, and is billed at $7 per hour, per child for children who remain after 10pm.
The nursery operates with similar hours to Adventure Ocean, although there is an hourly charge for nursery services.  The hourly rate depends on if it is daytime or nighttime.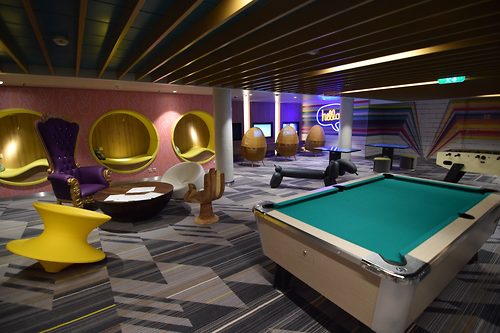 Teenagers also have their own club known as Social298, plus a variety of activities onboard such as the FlowRider surf simulator, rock climbing walls, an ice skating rink, a mini-golf course and a zip line.
Teens meet at the Social298, on Deck 15 aft and are free to come and go as they want, and curfew for all cruisers younger than 18 is 1 a.m. unless they're supervised by a parent.
Embarkation day plan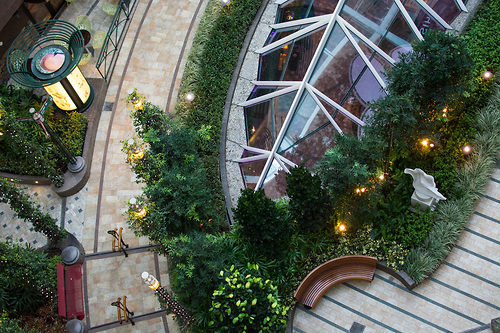 When it is time to get onboard Oasis of the Seas, be prepared for the start of an amazing vacation experience. If you are feeling a bit overwhelmed with what to do on your first day, here are some good ideas for tackling day one on Oasis of the Seas.
1. Arrive on time
Before your cruise, you will select a check-in time via the Royal Caribbean app.  Be sure to arrive promptly at the cruise terminal at the time you selected.
2. Have lunch first
Once onboard, grab something to eat before everyone else has the same thought. The Windjammer buffet will offer the most variety, but it can easily get crowded there.  If you board Oasis of the Seas early, crowds will not be an issue, but if you find lines, consider alternative options that have great food without the lines.  Park Cafe in Central Park and El Loco Fresh on Deck 15 are great choices.  
If you do not mind spending some money, Playmakers is open for lunch and will ensure a very tasty start to your cruise vacation.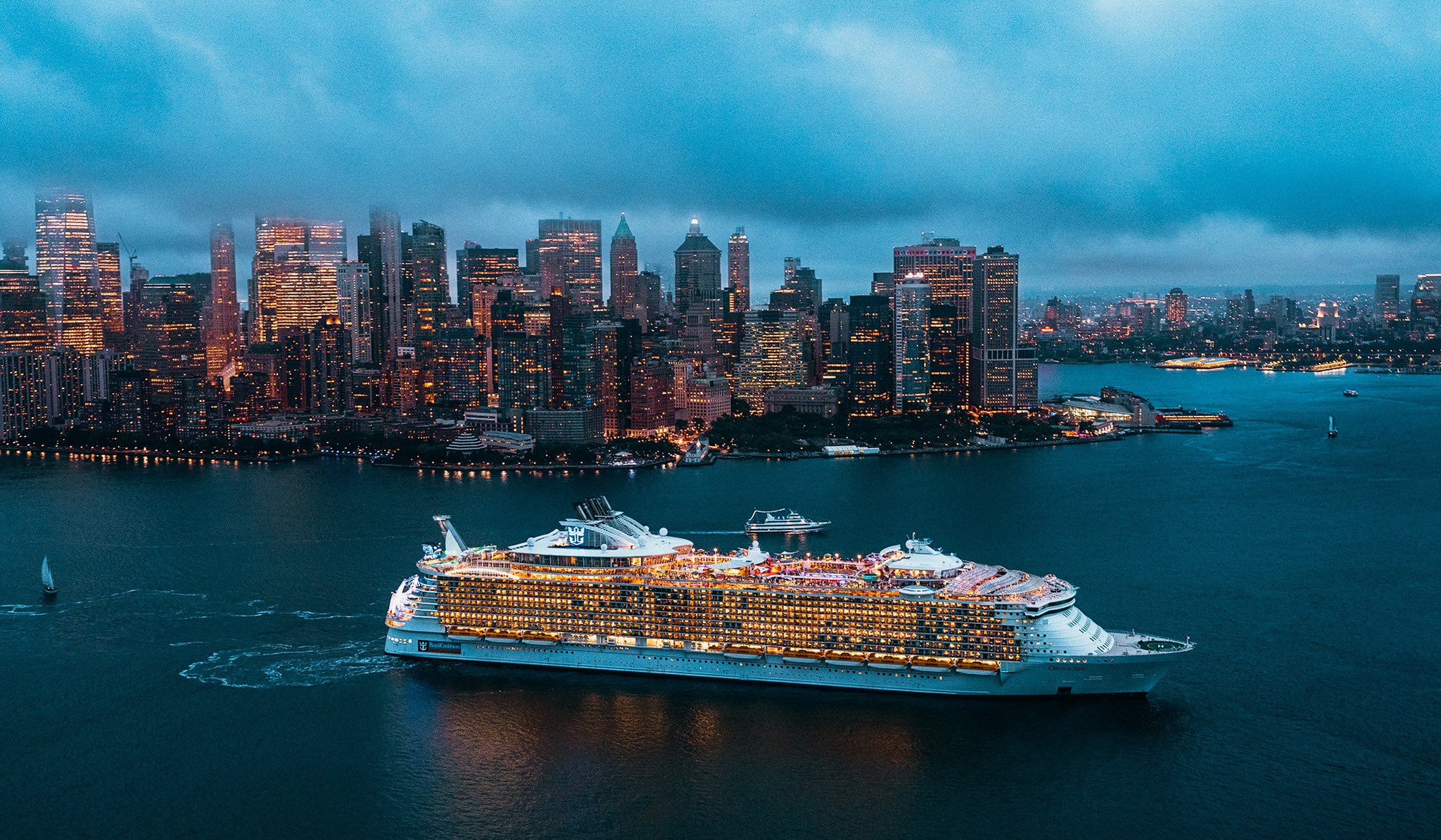 3. Walk and explore
With food in your belly, if your staterooms are not open yet, take the opportunity to start walking the ship.  Oasis of the Seas is a large ship, and there is lots to see, so walk around to get an idea of where things are located. 
Exploring Central Park, the Boardwalk or the pool decks area great starting points. Do not force yourself to try to "see it all" on day one.  You do not want to burn yourself out with running around the ship on day one, so focus on areas that appeal to you and branch out from there.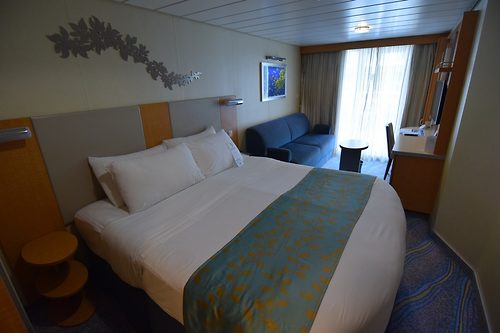 4. Staterooms open usually at 1pm
On most sailings, your staterooms will open at 1pm, which is an opportunity to drop off any belongings you brought with you in your carry-on items.  It is also the first chance to check out your home for the duration of your cruise.
While in your room, check to see everything is operating correctly and that you can operate the in-room safe, as this is your dedicated spot to store valuables and you want to make sure this is working correctly and you know how to operate it.  If anything is not working, or you are unsure how to operate something, contact housekeeping or maintenance immediately to have it taken care of quickly.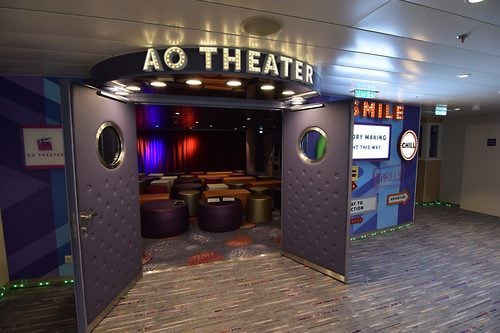 5. Register the kids
Adventure Ocean will hold an open house on embarkation day for kids to sign up, as well as for both parents and their children explore the area, meet other children as well as the counselors.
Just like the first day of school, there are bound to be questions and concerns with Adventure Ocean.  By going to the open house in the early afternoon, you can not only sign up your children to be able to enter Adventure Ocean, but speak with the counselors and get a sense of how it will all work.
Even if you are unsure if your kids will go to Adventure Ocean, it is a good idea to go on embarkation day to sign up and get it take care of and out of the way. The space is impressive, and a very different experience than any day care you might expect.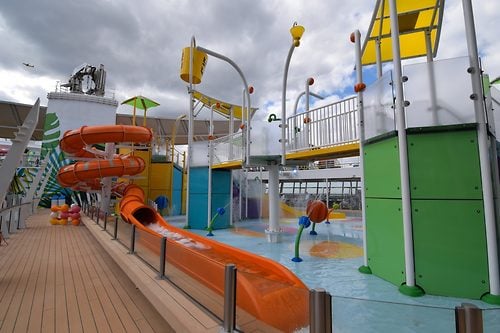 6. Go for a swim
Did you know the pools, water slides and Splashaway Bay are open on embarkation day? Take advantage of the low crowds in these areas by going for a swim. After a long morning of getting to this point, a dip in the pool can be a great idea.
By far the least crowded time at the pool will be embarkation day because most guests have their swimsuits in their luggage, which is in the process of being delivered to their staterooms.
If you bring your swim suits with you (or wear them before you get onboard), then head to the pool and enjoy uncrowded pool time.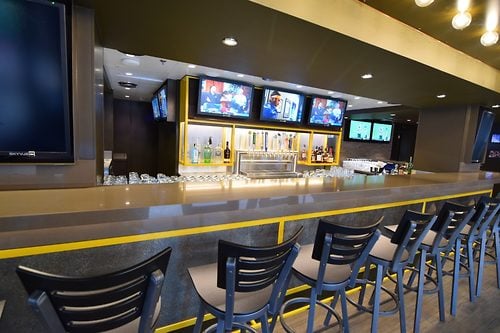 7. Go to any specialty restaurant for reservations
If you have not made dining reservations prior to your cruise, your first day is the best time to make a reservation onboard.  Popular days, like formal nights and holidays, will see specialty restaurants book up quickly, so if you are interested in dining at any of them, make your reservations sooner than later.
Guest Services typically has lines on embarkation day, so instead, you can go to any specialty restaurant and make reservations for that and any other specialty restaurant.  Their booking systems are linked, and that means no need to go to each restaurant individually (unless you want to).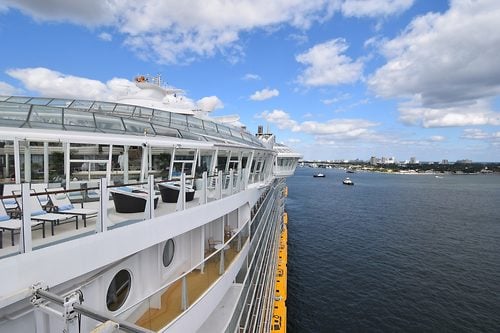 8. Find a spot for sail away
A very common choice is the sail away party, which is usually held at the pool deck. There will be music, dancing and a whole lot of celebrating with the ship's activities staff.  If you want something quieter, consider finding a spot near a railing that overlooks the port area. A hidden spot for sail away are Solarium sun deck wings, located on deck 14 near the Solarium. 
If you are staying in a stateroom that has a private balcony, it is hard to beat that kind of a spot for sail away.  Grab some drinks from the bar and bring it down to your stateroom to enjoy on the balcony. After all, having a balcony stateroom means you do not have to compete with anyone for a spot (except perhaps your kids).