In:
There is nothing like Royal Caribbean's biggest and most expansive cruise ships, the Oasis Class ships.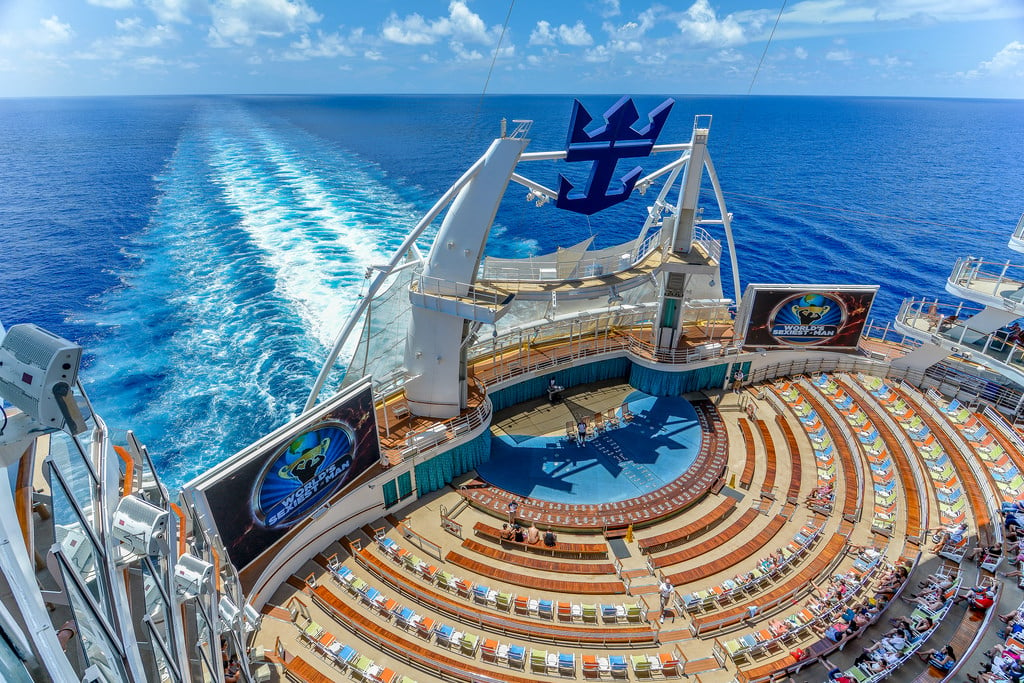 There are four Oasis Class ships currently (with Wonder of the Seas joining the fleet in 2022), and they each offer so much for guests to do on vacation.
If you have a cruise booked on one of these incredible cruise ships, here is a list of must-dos that will not cost you anything extra!
Watch a Broadway show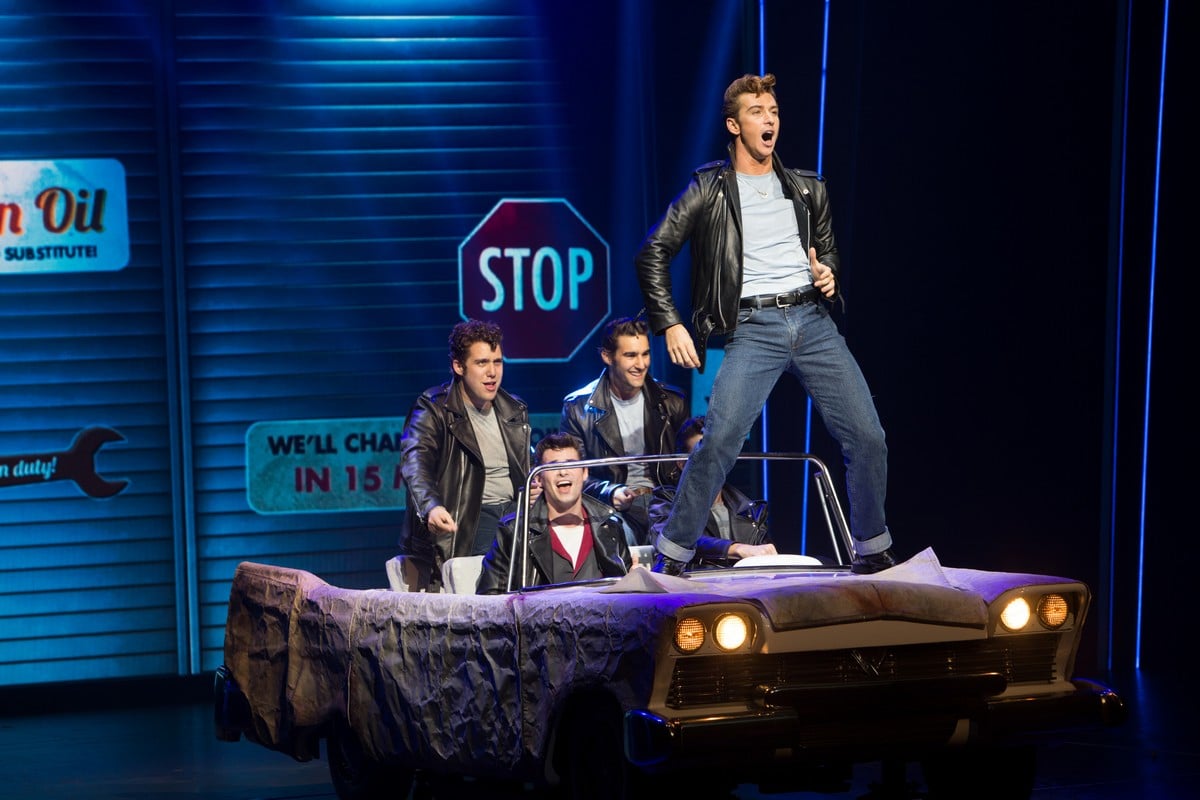 Ships available: Symphony, Harmony, Oasis, Allure.
Every Oasis Class ship has a full length Broadway show onboard that you can see over and over again.
Performances are found in the Royal Theater and unlike seeing a musical in Times Square or at home, there is no extra cost to them.
Oasis of the Seas: Cats
Allure of the Seas: Mamma Mia
Harmony of the Seas: Grease
Symphony of the Seas: Hairspray
Play Laser Tag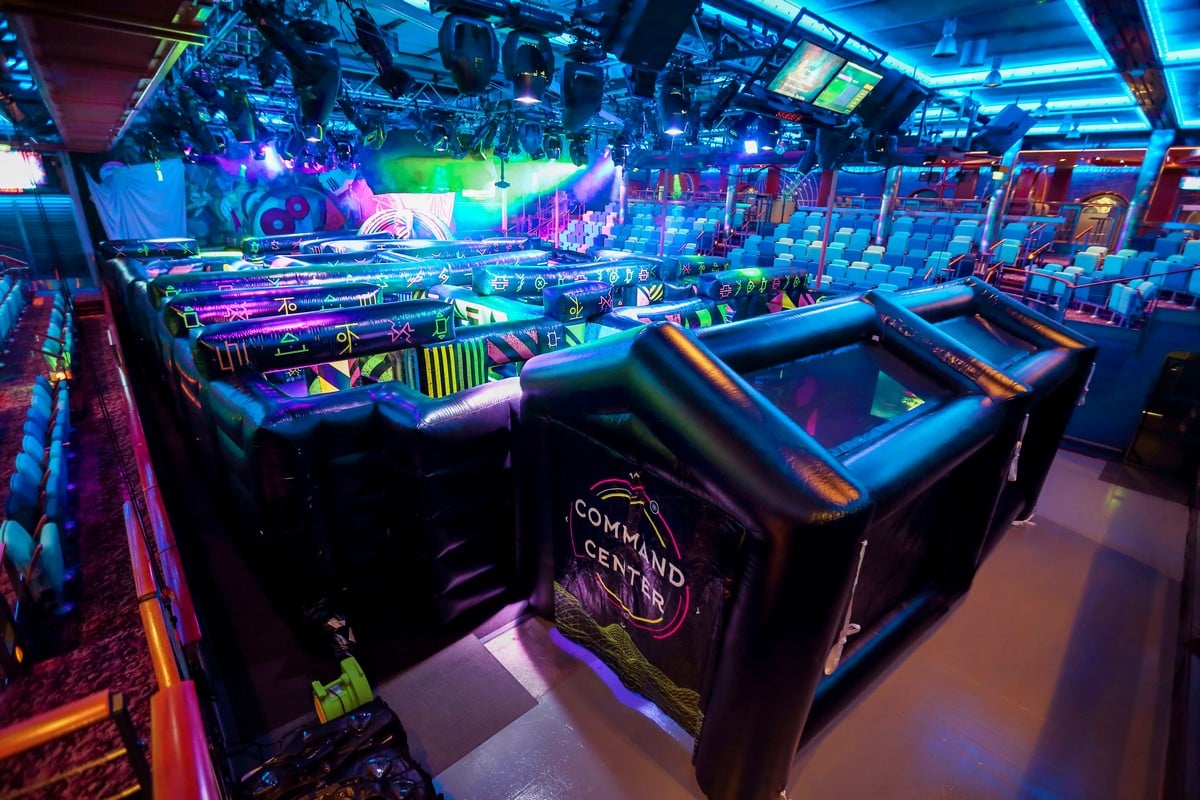 Ships available: Symphony, Oasis.
At special laser tag sessions, Royal Caribbean transforms Studio B into a glow-in-the-dark arena that invites everyone to see if they can conquer the, "Battle for Planet Z".
Guests can put on  special laser tag vests, grab a laser tag gun and head into the arena for a fast-paced team-game that rewards the group that works well together and coordinates their efforts.  Just like laser tag on land, Battle for Planet Z is a high-energy race with bragging rights for the rest of the cruise on the line!
Zip line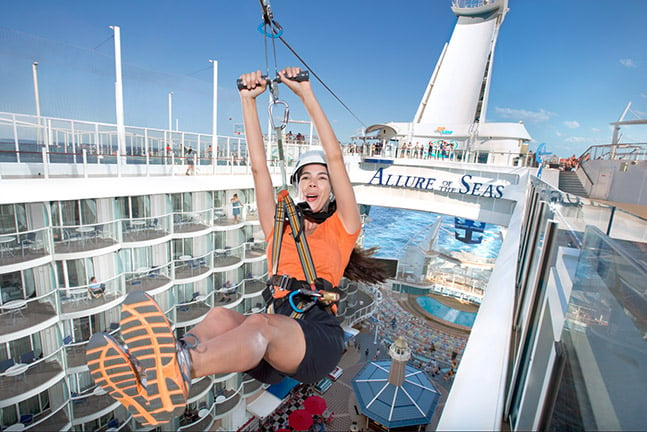 Ships available: Symphony, Harmony, Oasis, Allure.
Every Oasis Class ship has a zip line over the Boardwalk neighborhood where you can traverse the 82 foot long distance while looking down on passengers below.
The zip line is set up nine decks above the sea, and it is an exhilarating ride across.  It is also a very quick ride, so if you have never done a zip line before, this is a great primer.
Note that guests have to weigh more than 75 pounds, but less than 275 pounds, as well as be at least 52" tall.
Ultimate Abyss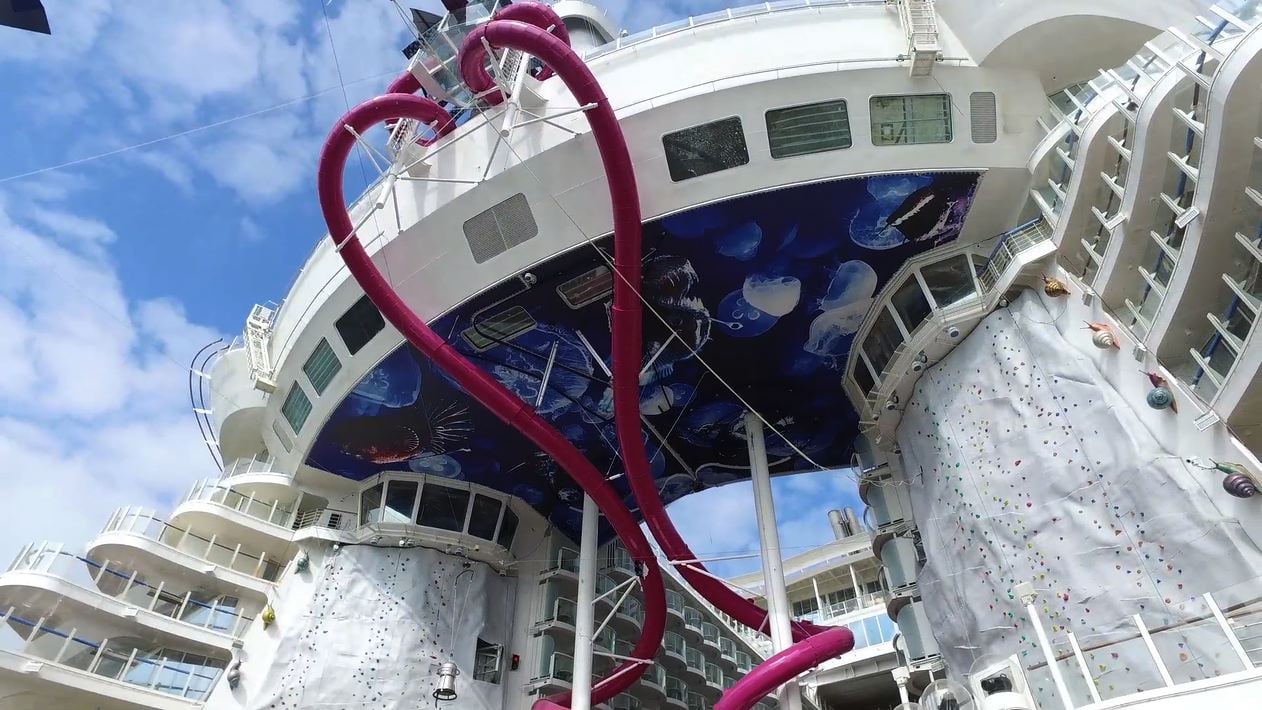 Ships available: Symphony, Harmony, Oasis
If you are looking for a great family friendly thrill, check out the Ultimate Abyss slide.
The Ultimate Abyss is a dry slide (no water, you ride down on a mat) and will take you more than 150 feet above sea level as you twist and turn down 10 decks at about 9 miles per hour.
It looks scarier than it is, and worth giving a try.
Watch an AquaTheater show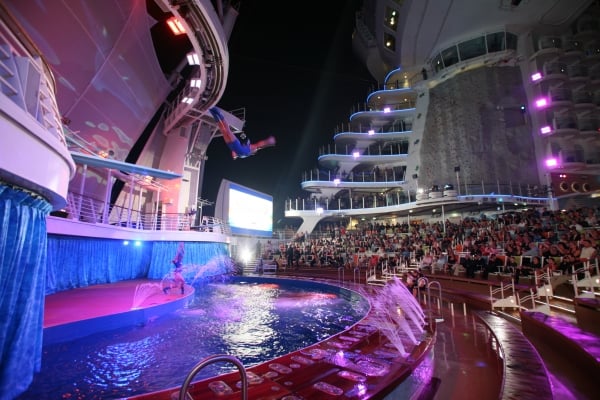 Ships available: Symphony, Harmony, Oasis, Allure.
One of the classic experiences available only on an Oasis Class ship is the AquaTheater shows.
Known for a combination of theatrics, dance, and high dives, the shows in the AquaTheater are set in an open air amphitheater at the aft of the cruise ship and have become a very popular show to see.
Between the acrobatics, high dives, and music, there is a lot to enjoy during these half hour performances.
Be sure to get tickets (no cost) in advance via the Cruise Planner site because seating is very limited.
Ice skating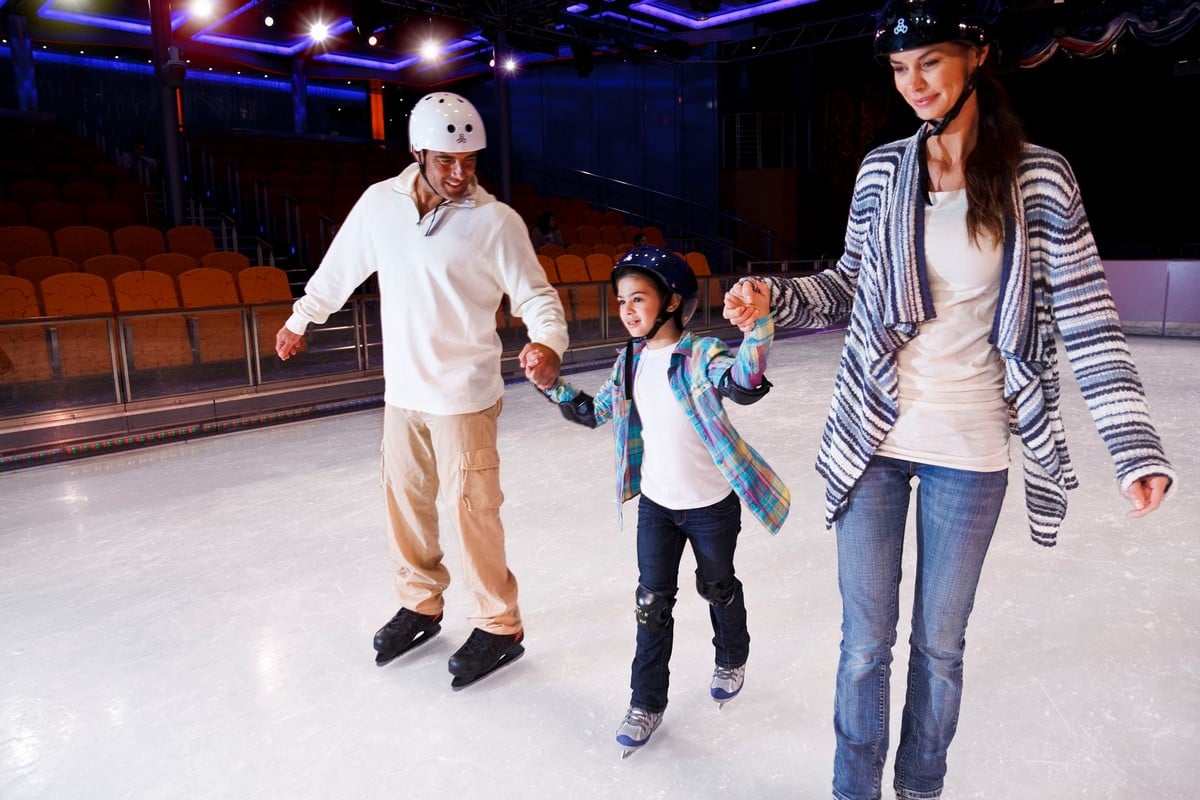 Ships available: Symphony, Harmony, Oasis, Allure.
It may sound odd that you can go ice skating on a cruise ship in the middle of the Caribbean, but you can do just that on an Oasis Class ship.
Throughout the cruise, open skate sessions are held in Studio B, where you can rent a pair of skates and safety equipment for no additional cost and take to the ice.
Passengers must wear long pants and must sign a waiver to participate.
Plunge down a water slide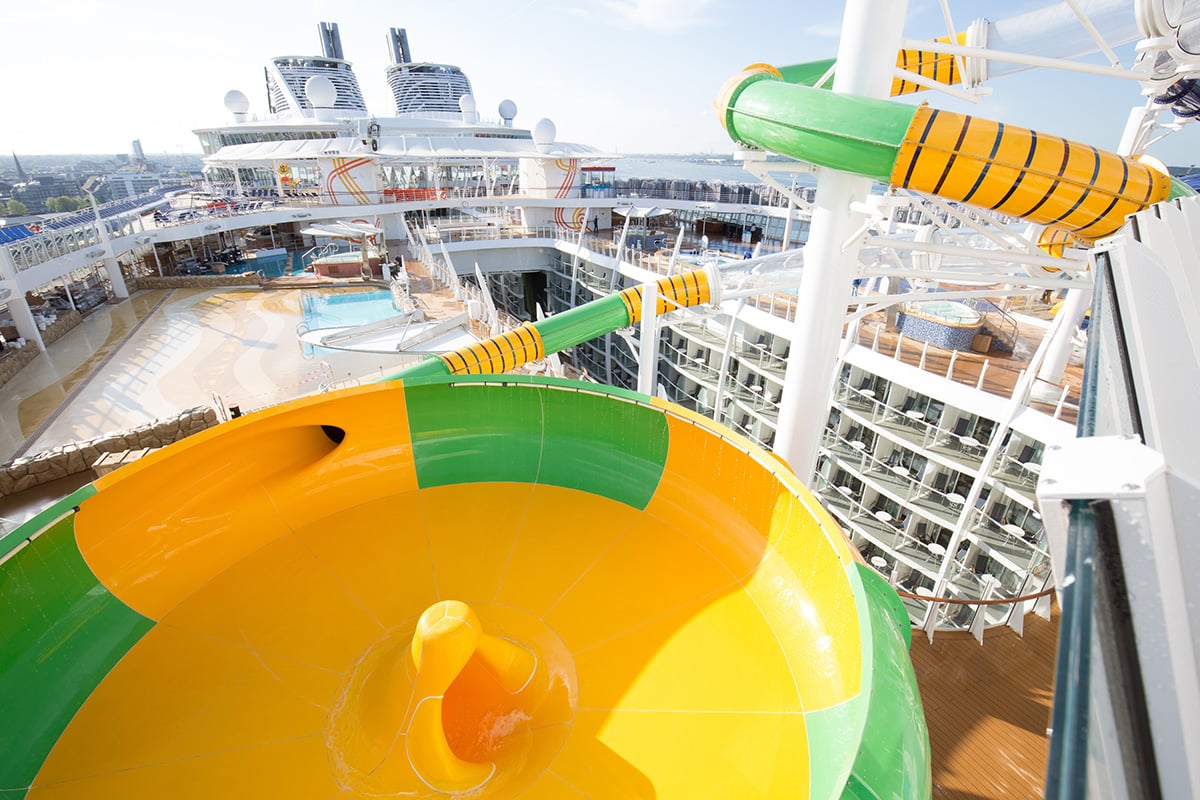 Ships available: Symphony, Harmony, Oasis.
Water slides are bound to put a smile on just about anyone because it is such a fun cruise ship activity.
The Perfect Storm trio of water slides offer two racer slides and a champagne bowl slide that are included in your cruise fare.  As you slide down any of the slides, you will twist and turn three decks into a splashy finish.
Check out the art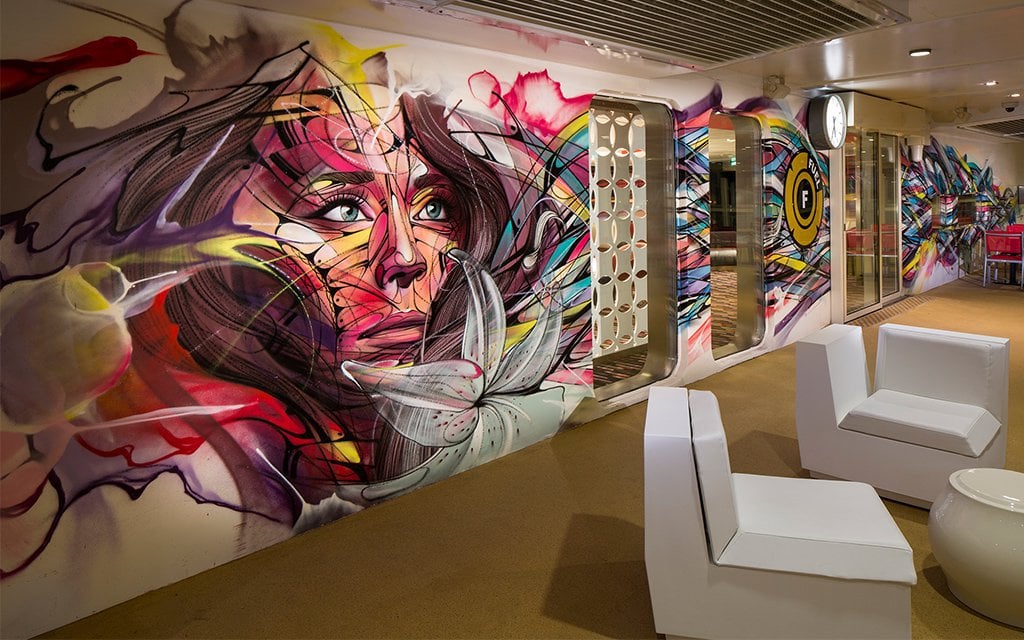 Ships available: Symphony, Harmony, Oasis, Allure.
Every Royal Caribbean ship features a large and varied art collection onboard that you can see throughout your cruise.
Located in hallways, stair cases and everywhere inbetween, each Oasis Class ship has an extensive art collection that you can peruse on your own.  This is a great sea day activity for the whole family, and each ship has a different theme to the art onboard.
Splashaway Bay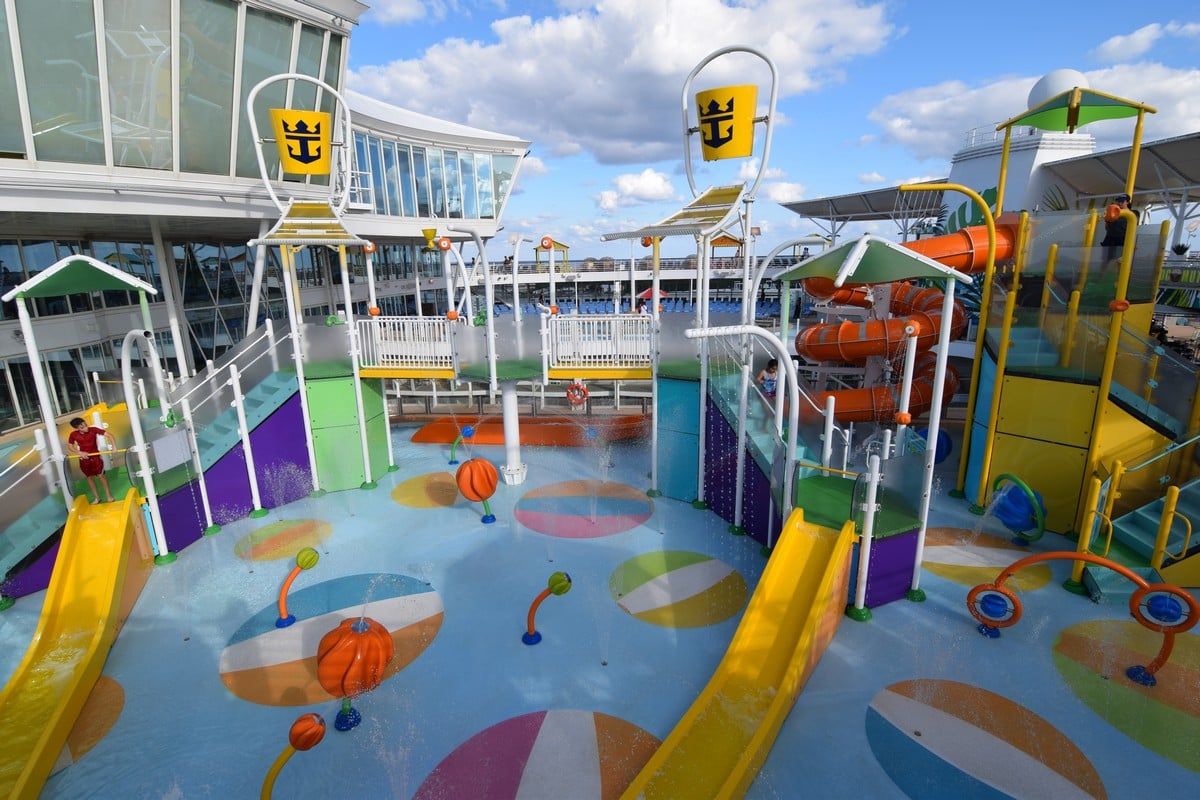 Ships available: Symphony, Harmony, Oasis (Allure of the Seas has H2O Zone, which is somewhat similar)
While older kids and adults may enjoy going down the water slides, younger kids will absolutely love Splashaway Bay aqua park.
Kids will find fountains, buckets, sprays and even slides that will leave them as drenched as enamoured with all the fun.
It is a great spot for kids to cool off, and there is even a Splash Pad for toddlers use.
Ride the carousel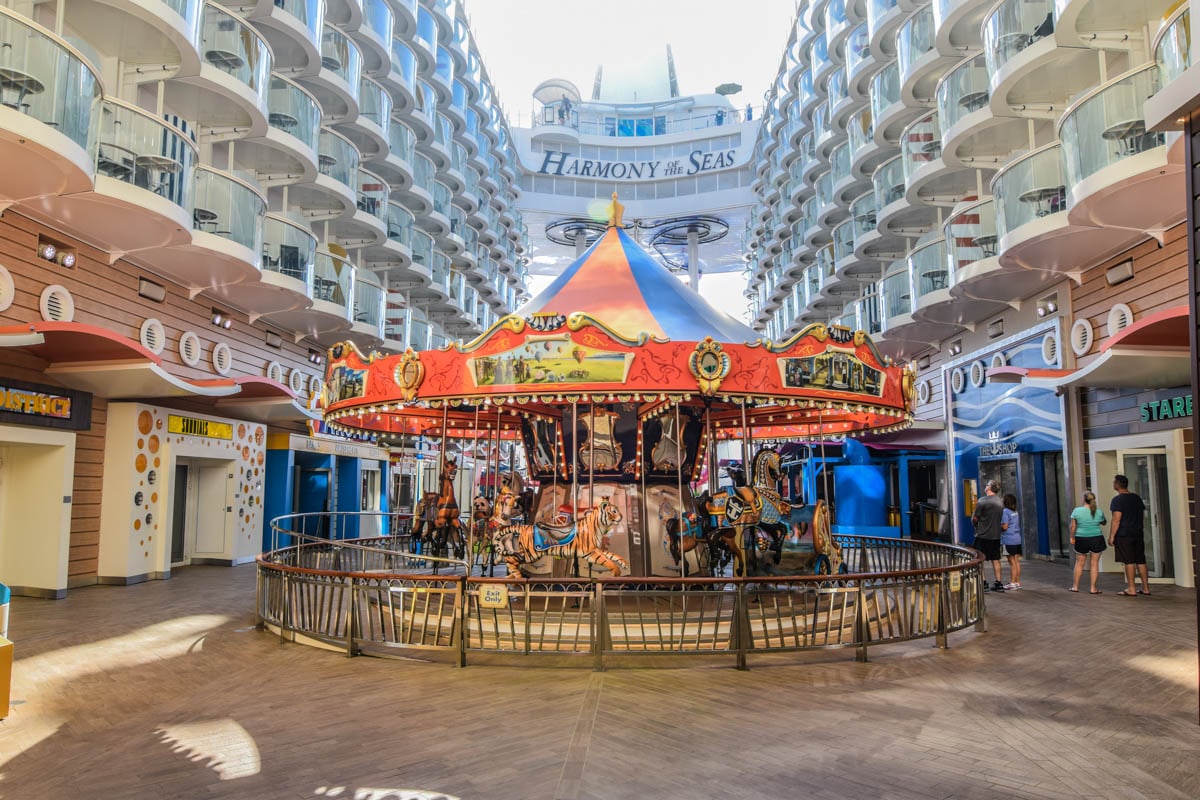 Ships available: Symphony, Harmony, Oasis, Allure.
Your Oasis Class cruise is not complete without enjoying a ride on the carousel in the Boardwalk neighborhood.
Inspired by turn-of-the-century carousels, Royal Caribbean commissioned hand crafted carousels to be made for all of its cruise ships.  These are beautiful rides that are equally as fun to ride as they are to enjoy their beauty.
There is also an ADA-accessible chariot, which means everyone can enjoy it.
Be sure to ride at night as well to enjoy how beautiful the carousel looks when lit up.
Mini-golf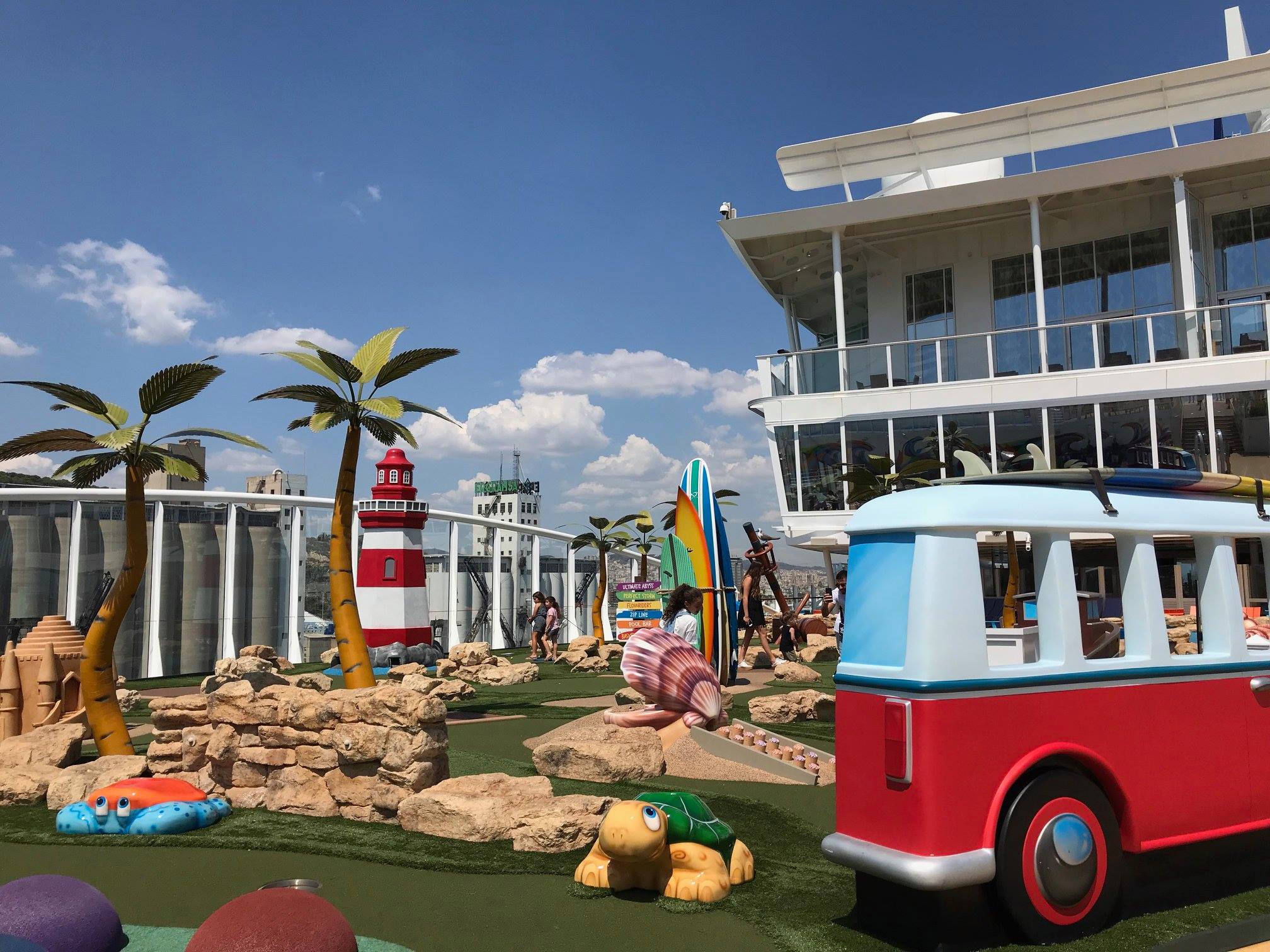 Ships available: Symphony, Harmony, Oasis, Allure.
You must challenge the family to at least one round of putt-putt while on any Oasis Class ship.
You can play on the green as often as you like, while enjoying some beautiful views of the ocean that surrounds you.  No reservations are required, just show up and grab a putter and ball. 
Like the carousel, be sure to try out night time mini golf one evening to mix things up.
Drop the kids off at camp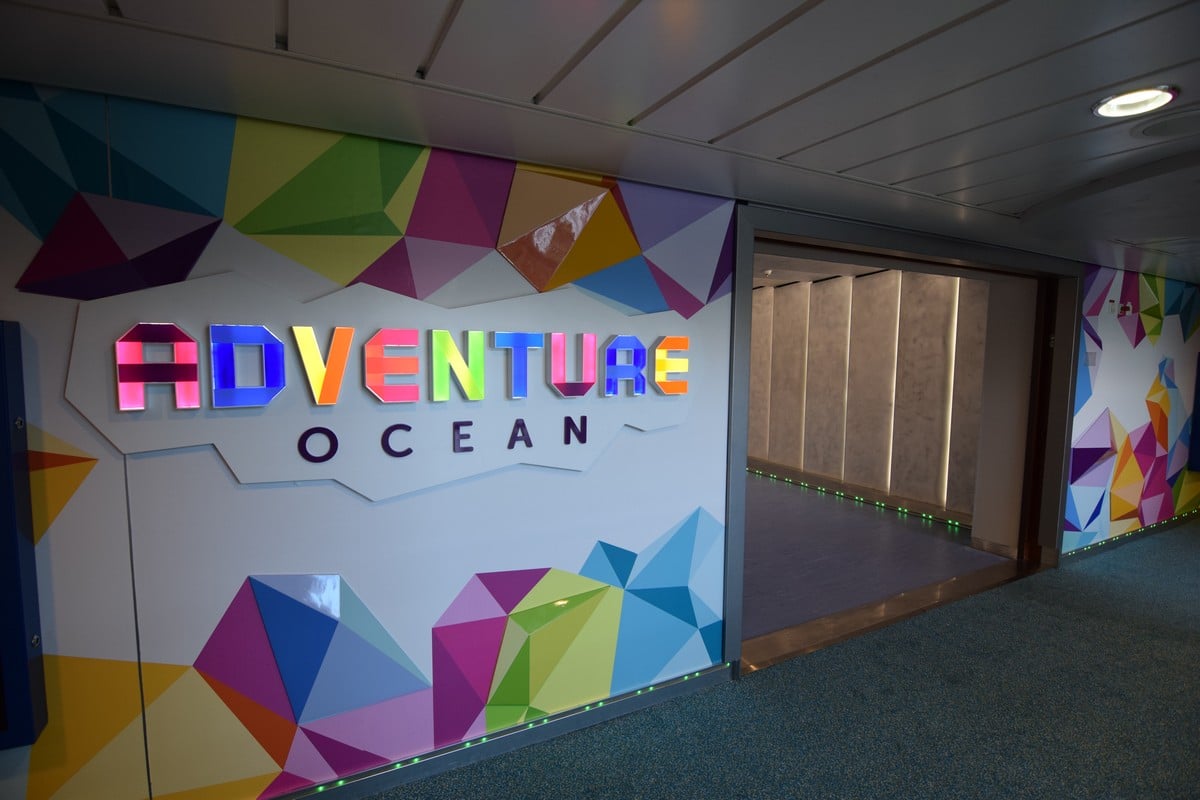 Ships available: Symphony, Harmony, Oasis, Allure.
Adventure Ocean is Royal Caribbean's award winning supervised (and complimentary) children's programming at sea and it is the perfect escape for kids.
Kids will love the array of fun activities onboard and parents will enjoy some time apart from the kiddos!
Flowrider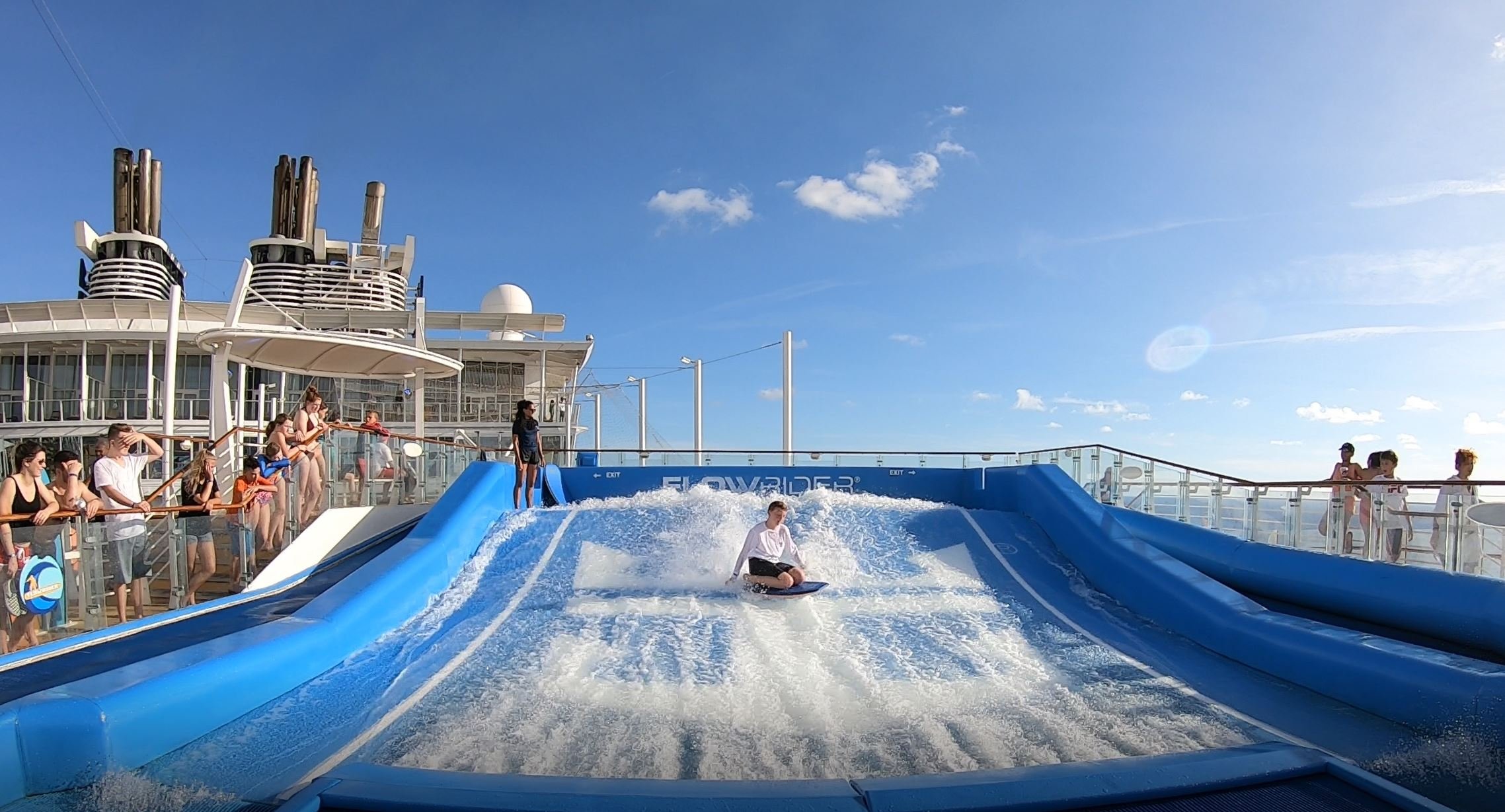 Ships available: Symphony, Harmony, Oasis, Allure.
Every Oasis Class ship features two Flowrider surf simulators, where you can challenge yourself to master the art of riding a surfboard.
This is a free activity, so all you have to do is show up and wait your turn in line. 
In addition, Royal Caribbean offers private and group lessons for a nominal fee, if you feel the need to learn quicker.
Even if you have no interest in surfing, there is seating available to watch others give it a try.
See an ice show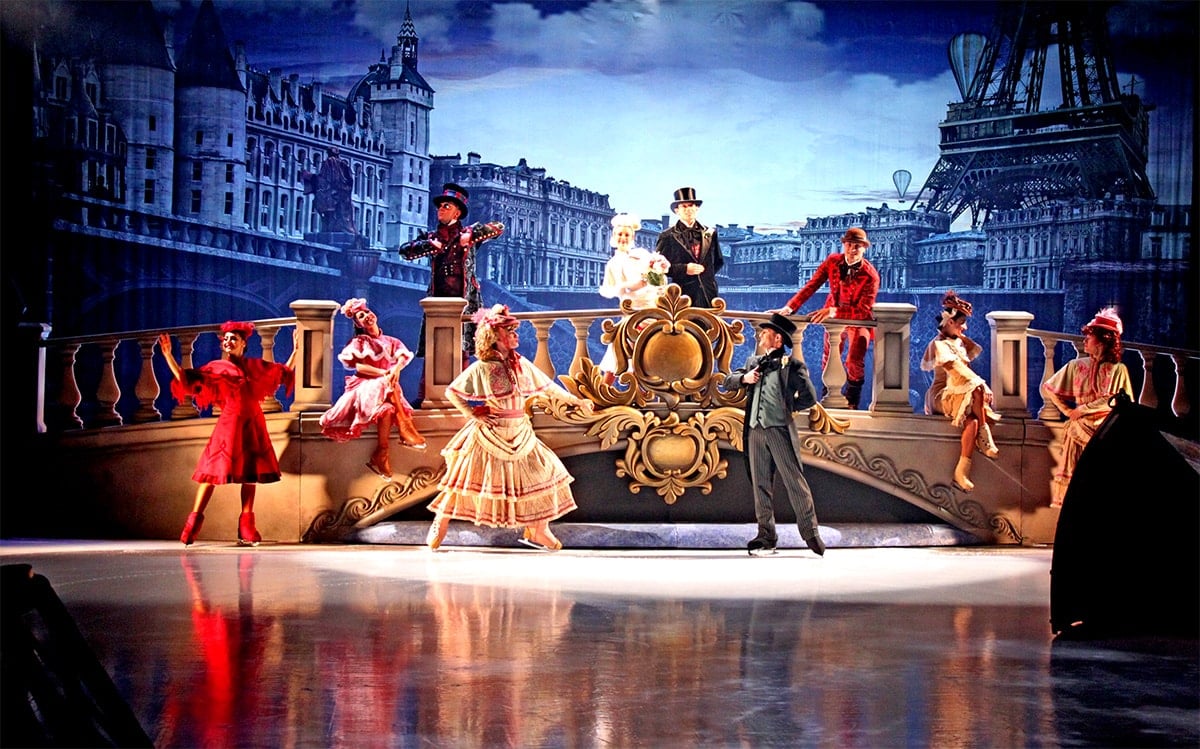 Ships available: Symphony, Harmony, Oasis, Allure.
Royal Caribbean puts on some must-see shows in Studio B on its ships every sailing.
Each ship offers a different ice show, and they tell a lovely story while showing off some incredible feats of ice skating.  Many of the skaters are former Olympic and national skating competitors.
Enjoy a snack at El Loco Fresh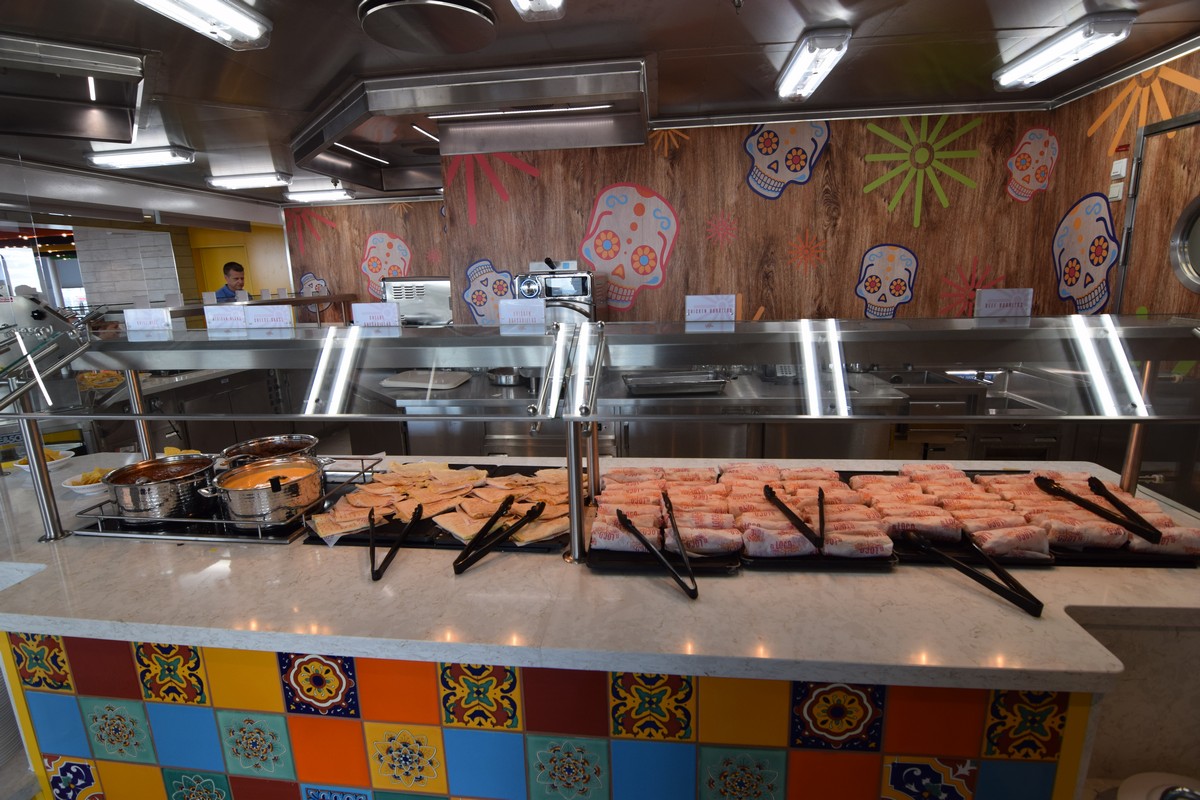 Ships available: Symphony, Oasis.
If you consider yourself a lover of Mexican food, be sure to grab a few bites at El Loco Fresh.
The grab-and-go Mexican quick service restaurant is conveniently located on the pool deck, and you will have your choice of tacos, burritos and quesadillas. 
There is also a large salsa station where you can add all sorts of toppings to your chips!
Enjoy a walk through Central Park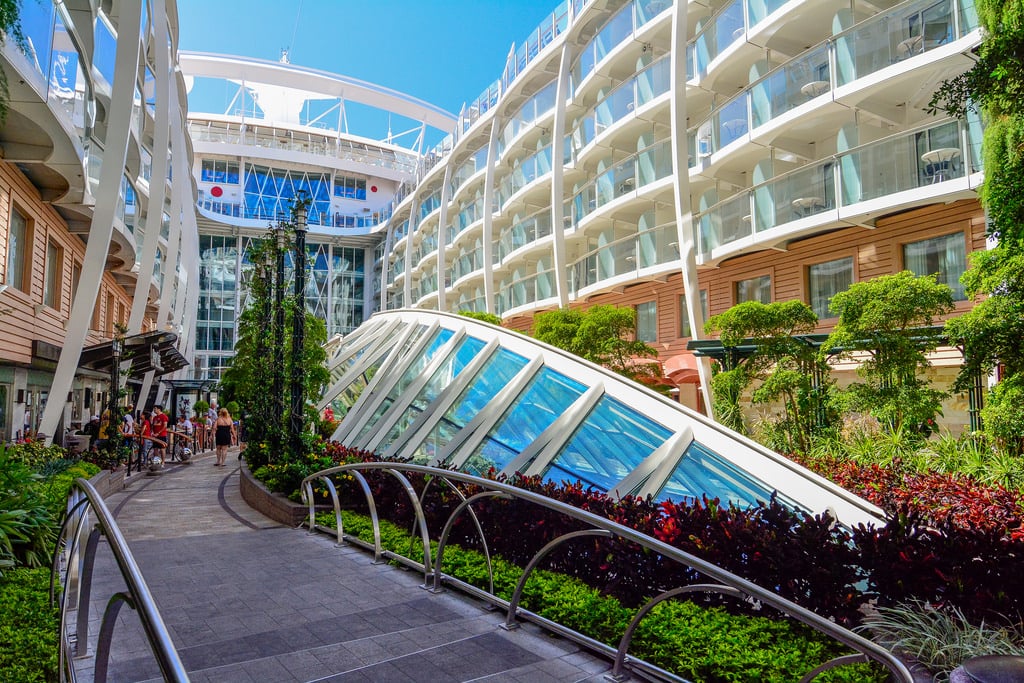 Ships available: Symphony, Harmony, Oasis, Allure.
An iconic part of any Oasis Class ship is Central Park.
Located in the heart of the ship on deck 8, this is an open air park that features living plants, shrubs and trees, and is a quieter district of an otherwise busy cruise ship.
At night, the park features live music performances, as well as beautiful lighting.  
Central Park is also where you will find specialty restaurants you can dine at for lunch or dinner (extra cost) or Park Cafe (complimentary) for meals and snacks throughout the day.
Free breakfast at Johnny Rockets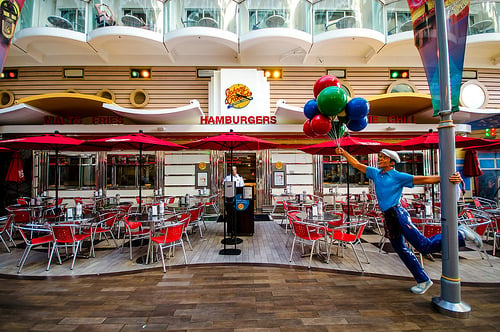 Ships available: Symphony, Harmony, Oasis, Allure.
One of my favorite Oasis Class secrets is you can enjoy a complimentary breakfast at Johnny Rockets.
All Oasis-class ships offer this option, but many guests are unaware that breakfast is served here, nor that it is included with your cruise fare (Johnny Rockets has a cover charge for lunch and dinner).
The Johnny Rockets breakfast menu is a traditional American breakfast, with pancakes, omelettes, French toast and the like.  
Johnny Rockets tends to be not very crowded for breakfast, because many guests are unaware of this option, and it also has a large seating capacity (indoor and outdoor seating options).
Sing karaoke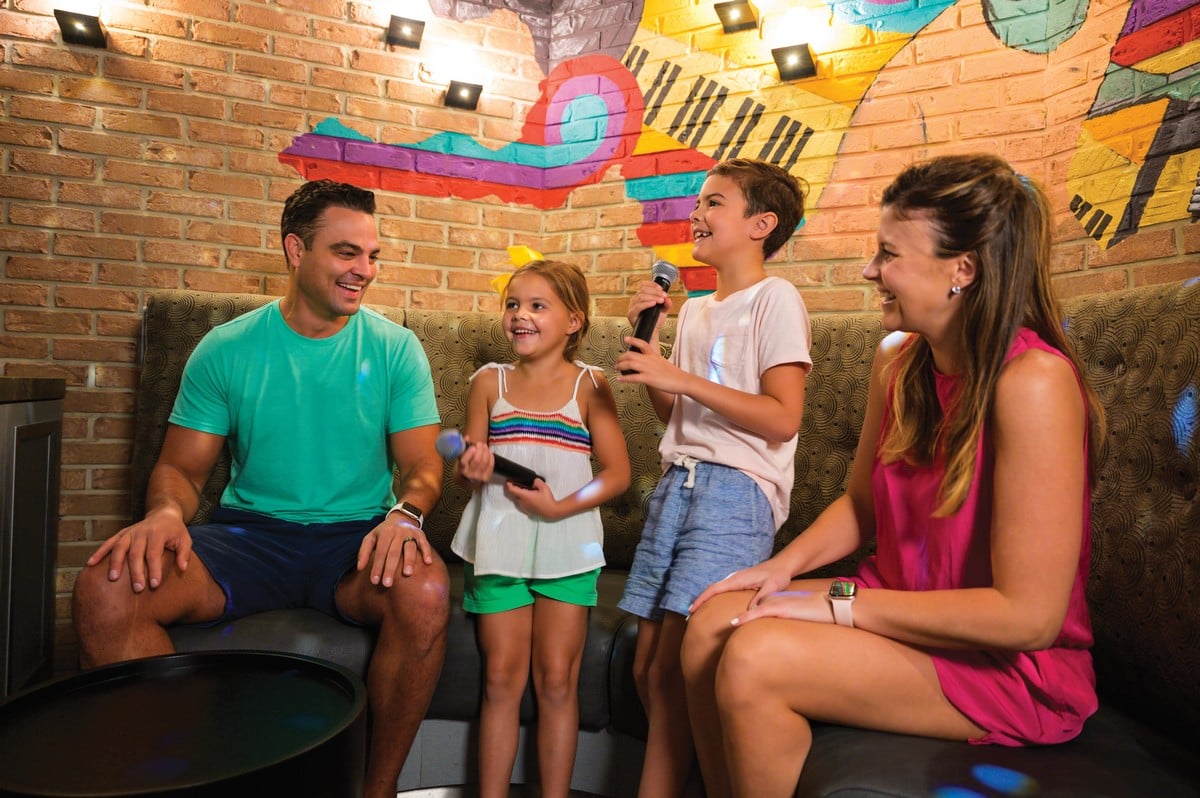 Ships available: Symphony, Harmony, Oasis, Allure.
Whether at the Open Air Club or Spotlight Karaoke (Oasis), you will find a fan-favorite activity on any cruise ship: karaoke.
Guests can pick a song from a library of choices and then take the stage to show off their vocal range (or maybe lack thereof).
Enjoy a parade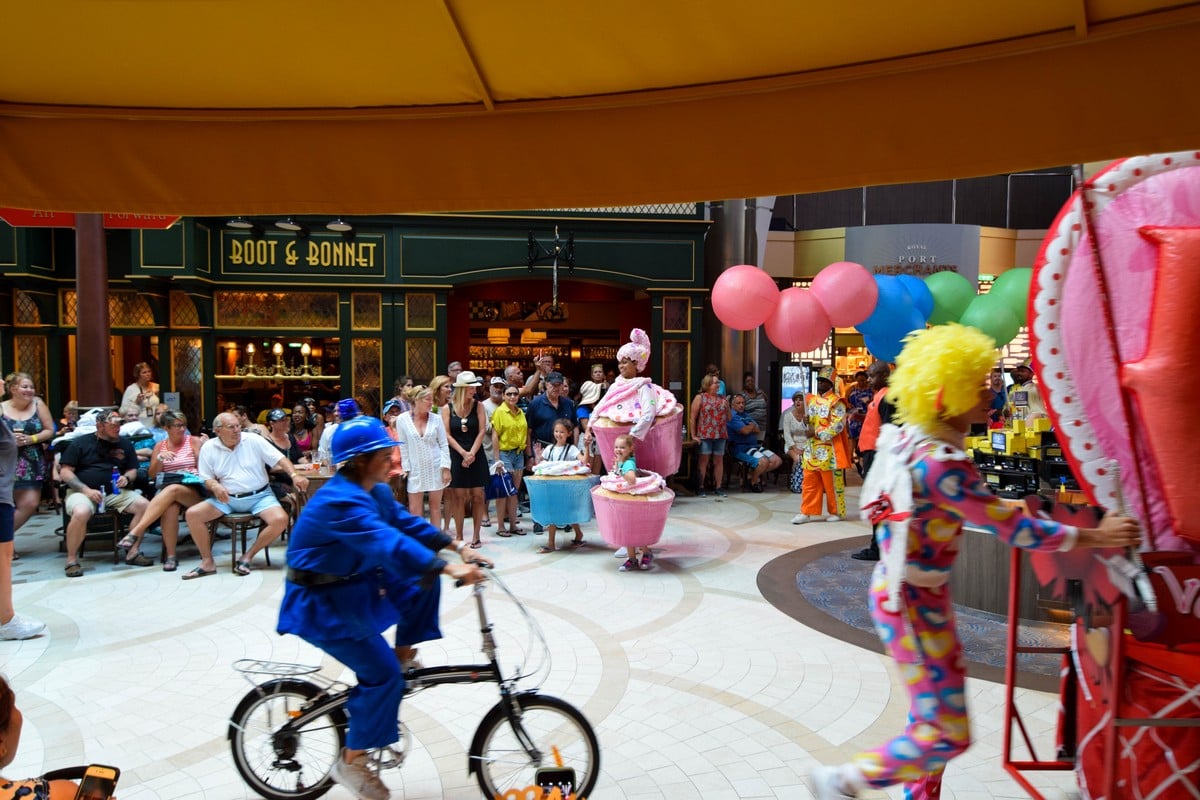 Ships available: Symphony, Harmony, Oasis, Allure.
On the Royal Promenade, you can take in a parade during your cruise.  
Royal Caribbean's entertainment staff perform a parade during the cruise that feature colorful and larger-than-life costumes that are a fun diversion from the usual activities.
Be sure to arrive early, as seating is limited along the Royal Promenade path.
Find the Small Wonders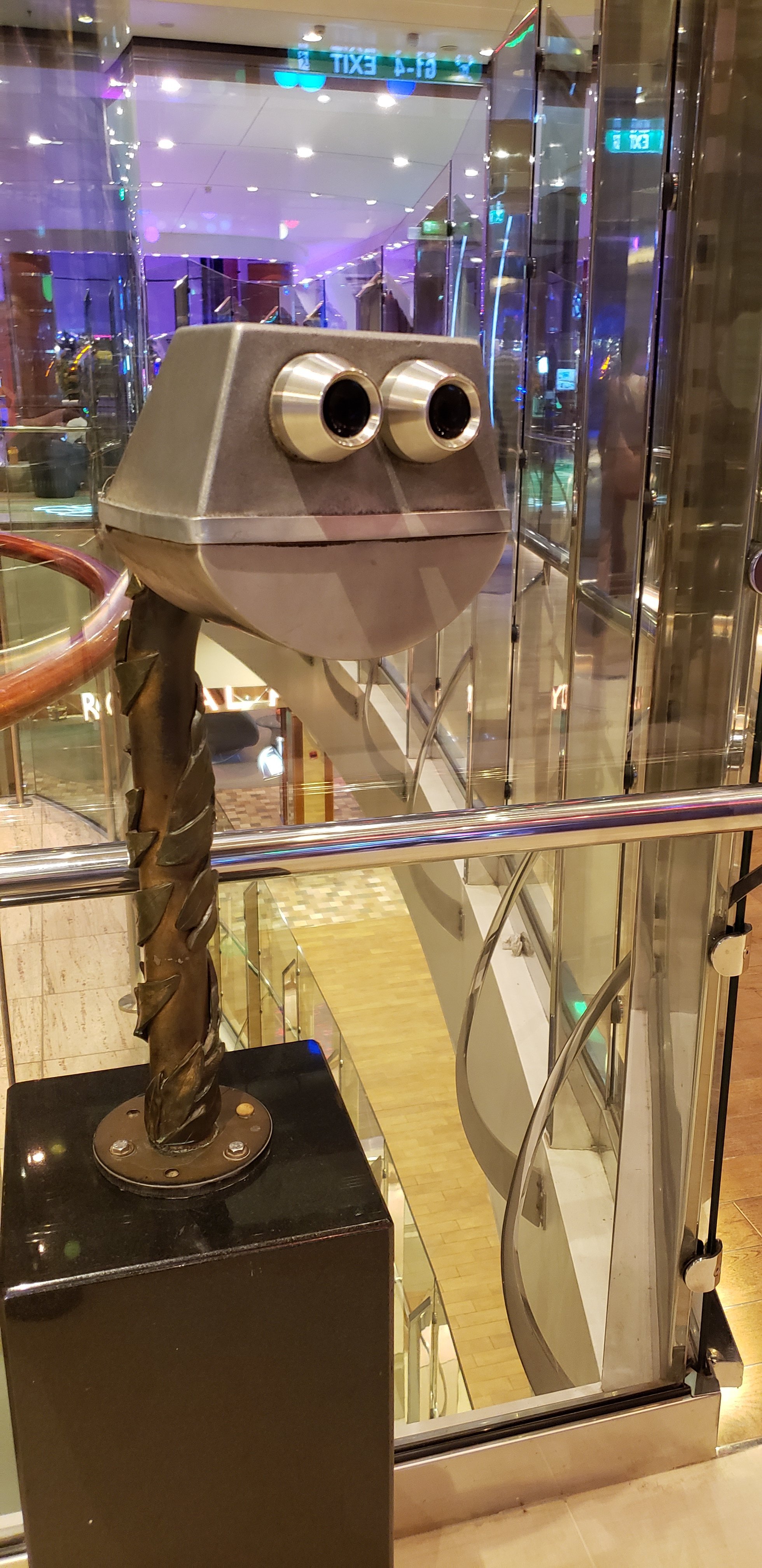 Ships available: Oasis, Allure.
Hidden all over Oasis and Allure of the Seas is a series of art displays known as "Small Wonders", where you will find 42 natural wonders positioned all over the ship.
When you find one, there will be something that looks like a periscope or telescope that if you peer into, you will find these tiny three dimensional pieces of art.
This is a fun activity for kids or adults to try to find them all and it is one of those hidden gems many guests simply overlook.
Hint: if you give up and cannot find them all, Guest Services can provide you with a list of them all to help!
Virtual reality games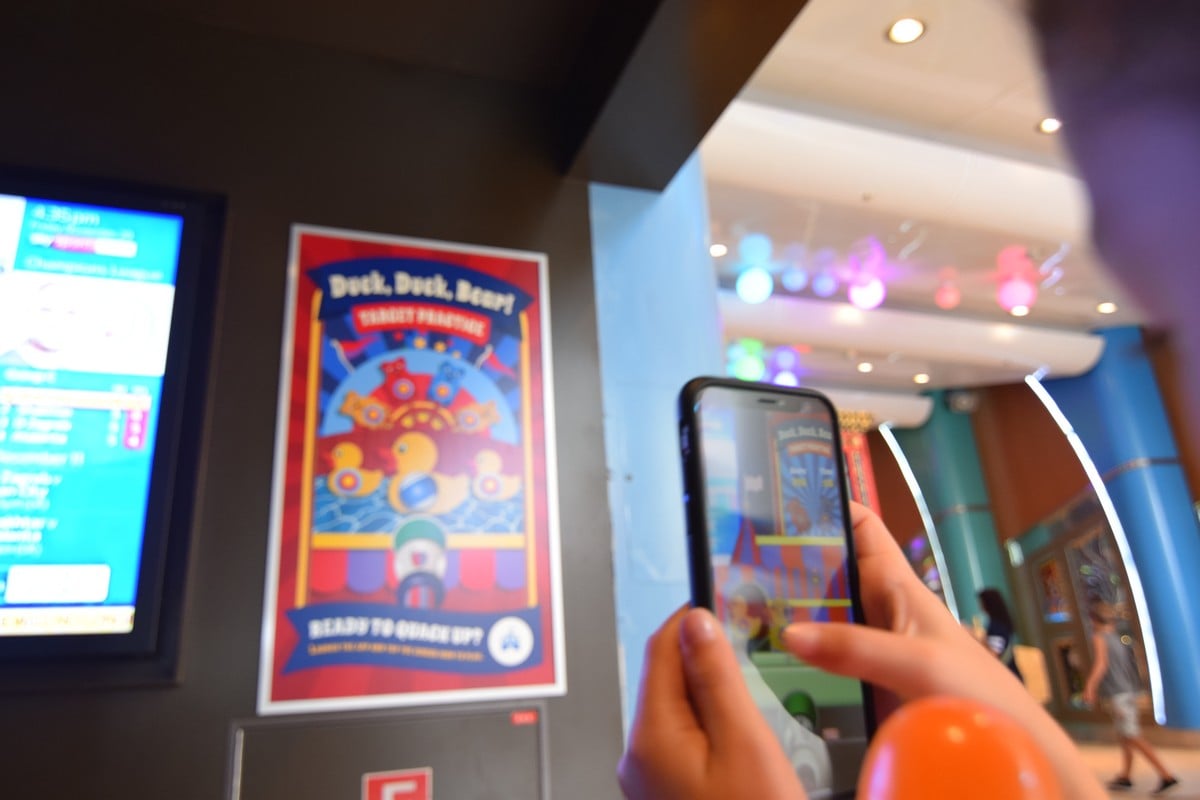 Ships available: Oasis, Symphony.
Royal Caribbean's smart phone app is free to use onboard the ship, and features a few virtual reality games that you can play in the Boardwalk neighborhood.
Once in the Boardwalk, look for the various game posters near Playmakers Sports Bar & Arcade.  Launch the app, select the icon that looks like a circus tent and then point your camera towards the poster.
Watch the ship's wake
Ships available: Symphony, Harmony, Oasis, Allure.
Looking for somewhere that is shaded and is quiet and a great spot to sit and relax?  
Head to deck 5 and go all the way to the aft of the ship.  You will find chairs that have a great view of the ocean and are usually devoid of other passengers. You can also access this area by going behind the AquaTheater and going down the stairs.
Enjoy a drink on the Rising Tide Bar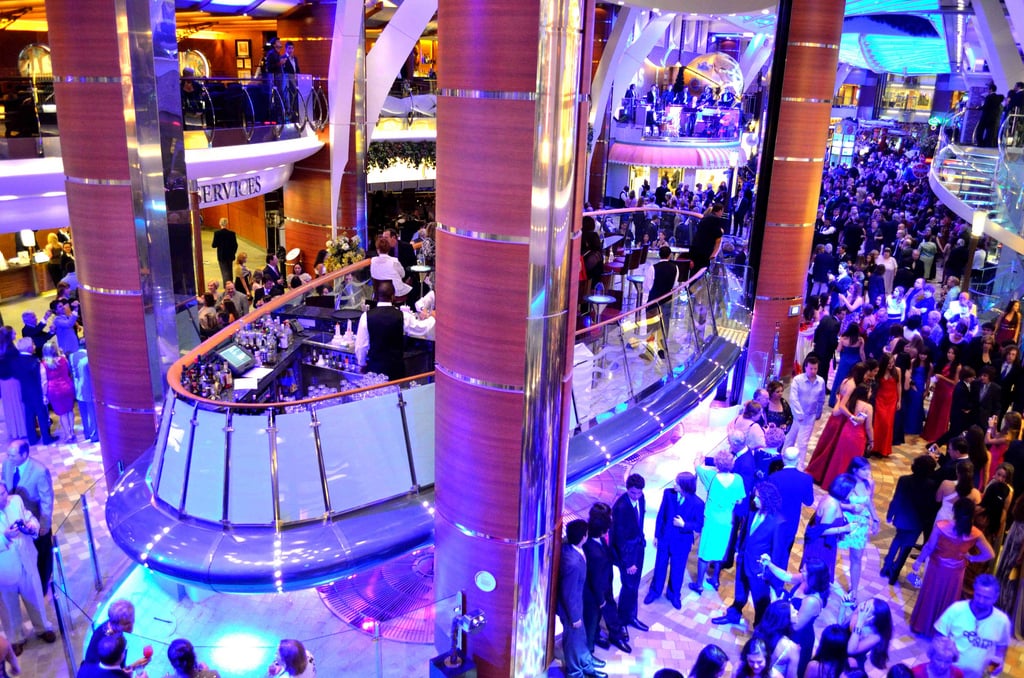 Ships available: Symphony, Harmony, Oasis, Allure.
There is something undeniably cool about a bar that moves between decks, and on Oasis class ships, the Rising Tide bar does just that.
The Rising Tide Bar continuously moves between the Royal Promenade and Central Park, offering some great views while you enjoy your favorite cocktail.
Order a drink and enjoy the view as the bar moves between decks. Be sure to wave to the people around you as you depart.
See a robot make a drink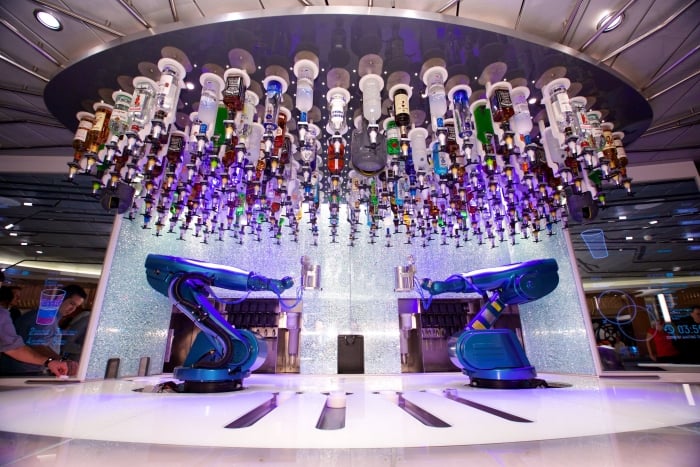 Ships available: Symphony, Harmony, Oasis.
The Bionic Bar is as appealing to watch as it is to enjoy a cocktail crafted here. You will find quite often many guests simply watching the robots in action, although there is usually plenty of folks ordering drinks as well.
The idea is simple: guests place orders via tablets and then can watch the robot bartenders start mixing the cocktails. Bionic Bar combines two big trends, robotics and mixology.
The single armed robot will get the ice, mints and lemon and then squeeze and shake them to make your drink. Eventually, there wont be a limit on what the drinks the robots can make. The customization is what Royal Caribbean is aiming for.
Tackle the rock climbing wall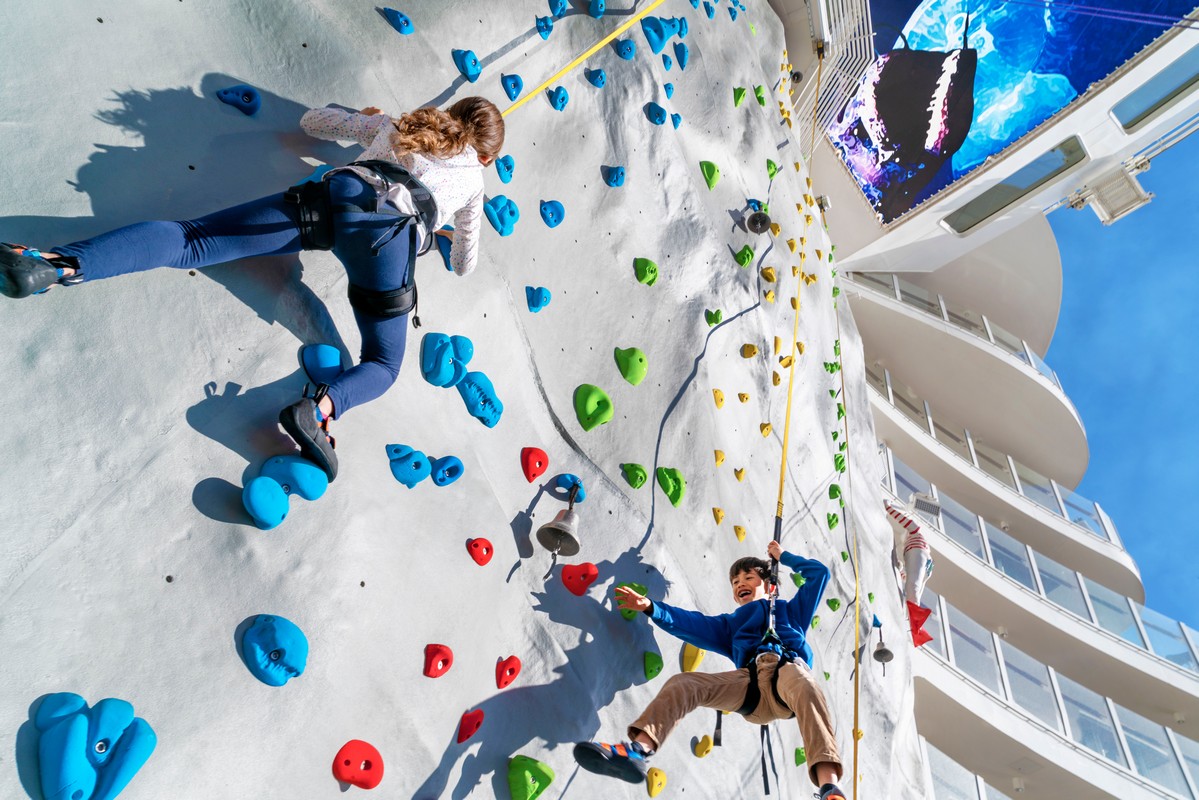 Ships available: Symphony, Harmony, Oasis, Allure.
One of the signature onboard activities that Royal Caribbean has become well-known for is the rock climbing wall. 
Just like the Flowrider, Oasis Class ships have two rock walls that you can try, including different tracks for different experience levels.
 It is usually open most of the day for kids and adults to enjoy.  Royal Caribbean provides all the safety equipment that you will need, including helmets, harnesses and shoes.  You just need to bring a pair of socks.
Climbers need to be at least 6 years old and sign a waiver.  Climbing the rock wall is free and no reservations are required.