In:
Anthem of the Seas is a Quantum Class Royal Caribbean cruise ship that launched in 2015. As one of the biggest and most modern cruise ships in Royal Caribbean's fleet, Anthem of the Seas boasts excellent entertainment, dining, activities, and itineraries fit for any cruising style.
Whether you're sailing to the Caribbean or Europe, it's helpful to have an overview of what is offered on Anthem of the Seas to ensure your cruise vacation is off to a great start.
Let's take an in-depth look at everything you can see and experience on Anthem of the Seas.
In this guide: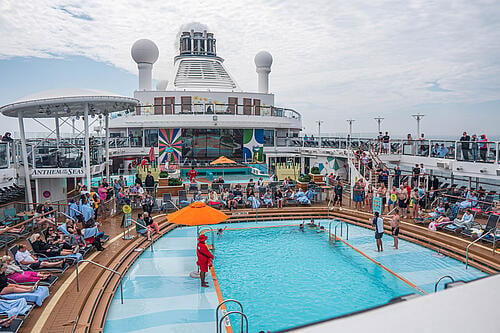 The Anthem of the Seas pool deck has a total of three pools and one children's play area. As a Quantum Class ship, Anthem of the Seas was designed to sail in all climates. Therefore, she offers a mix of both outdoor and indoor pool areas.
Related: All about Quantum Class ships
Anthem of the Seas has one main pool outside along with two whirlpools. On sunny days, this is where you'll find the most guests swimming and sunbathing. You'll find two bars outside, live music, and plenty of seating. This is also where pool games are held, such as the bellyflop and sexiest man competitions.
Also located outside is the H20 zone, a colorful kids splash park with a large shallow pool, kids "lazy river", and a baby splash pad for children still in diapers.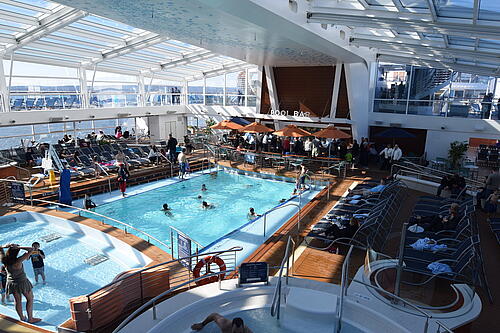 Anthem of the Seas also has an indoor pool available to all guests, which can make a great option for rainy or chilly days. The roof in the indoor pool is technically retractable, although it generally remains closed. There's also a smaller, shallow pool in the indoor area perfect for kids, as well as two whirlpools.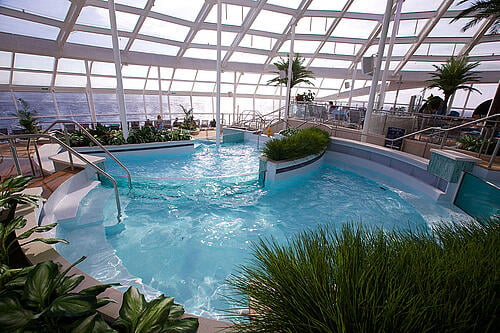 The Solarium on Anthem of the Seas is the adults-only pool area for guests aged 16 and up. It's fully enclosed and climate controlled. Located in the Solarium is a canopied pool, whirlpools, and padded pool chairs and loungers.
You can also find the Solarium Bridge wings in the Solarium, which are small outdoor decks that jet off the side of the ship, offering views of the ship sailing through the ocean.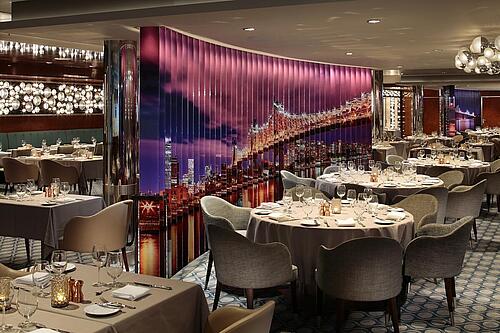 You won't go hungry on Anthem of the Seas, with plenty of complimentary and specialty dining venues available. It's easy to go an entire cruise only eating at complimentary dining venues, as there is a wide range of cuisines and cooking styles available.
Complimentary dining venues on Anthem of the Seas:
Main Dining Room, the main sit-down dining hall open for breakfast and dinner as well as lunch on sea days
Windjammer Marketplace, a buffet with a wide selection of cuisines and dishes open for breakfast, lunch, and dinner
Cafe Promenade, a grab and go spot for coffees, teas, and small snacks
Sorrento's, a pizza and antipasti venue
Cafe @ Two70, a casual grab and go venue with sandwiches, salads, soups, and pastries
SeaPlex Dog House, a hot dog stand with a variety of toppings
Solarium Bistro, a Mediterranean-inspired hybrid buffet and sit-down restaurant
Related: Food on a Royal Caribbean cruise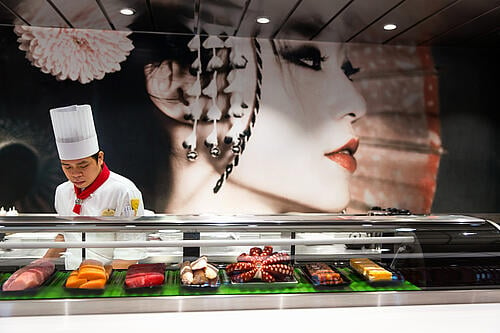 Some guests may prefer to try Royal Caribbean's specialty dining venues, however, especially if they're looking for an upgraded dining experience. Specialty restaurants often have a more intimate ambiance and wider range of cuisines not found elsewhere onboard. They can be a nice option for a special occasion or enjoyed as part of a dining package.
Specialty dining venues on Anthem of the Seas:
Chops Grille, Royal Caribbean's classic steakhouse
Jamie's Italian, modern Italian cuisine
Izumi Sushi, offering a variety of sushi and hot dishes like ramen and fried rice
Johnny Rockets, Americana fare including hamburgers and milkshakes
Wonderland, an imaginative cuisine restaurant inspired by the tales of Alice and Wonderland
Chef's Table, a multi-course meal in which each course is paired with wine
Cafe Patisserie, a French-style bakery with patisserie and specialty coffees and teas
Related: Top 10 Royal Caribbean dining tips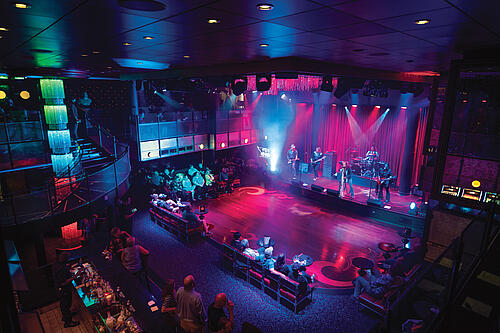 Outside of the extensive number of dining venues onboard Anthem of the Seas are a variety of lounges, each of which comes with its own drink offerings and vibe.
Some bars, such as Vintages Wine Bar, offer a relaxing environment perfect for sipping a glass of wine and reading a book. Others, like Boleros, offer a high-energy ambiance where you can enjoy live Latin music while drinking a fresh mojito.
The following bars and lounges can be found on Anthem of the Seas:
Schooner Bar
Music Hall
Boleros
Pool bar
North Star bar
Solarium Bar
Casino bar
Bionic Bar
Two70 Bar
Vintages
Brass & Bock Pub
Diamond Club
Suite Lounge
If you plan on spending a lot of time on your cruise enjoying drinks, it may be worth it to pre-purchase a Deluxe Beverage Package. By purchasing a beverage package, you can have an unlimited amount of drinks throughout the cruise without worrying about the individual cost of each beverage.
Additionally, if your Anthem of the Seas cruise visits Perfect Day at CocoCay, your drink package benefits will work on the island.
For more information about beverage packages and whether or not you should book one for your cruise, check out the following articles: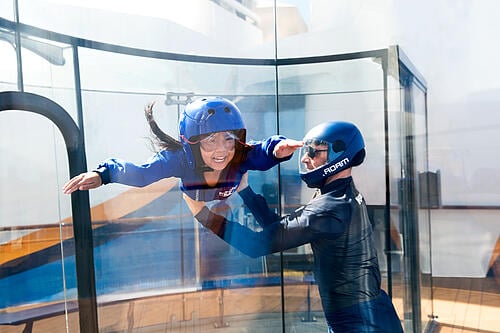 Anthem of the Seas is packed with amazing activities for guests of all ages, most of which are included in your cruise fare. Some activities are available throughout the entire cruise, whereas others will have set times allocated for the activity, which can be found in the Cruise Planner or Royal Caribbean app.
Here are some of the activities available on Anthem of the Seas:
RipCord by iFLY
RipCord by iFLY is an indoor skydiving simulator found only on Quantum Class ships, where passengers can feel like they're "skydiving" in an indoor wind machine.
To participate in RipCord by iFly, first you must watch an instructional video on indoor skydiving safety and body positioning. Next you'll head to the skydiving chamber to put your flying skills to the test!
RipCord by iFLY has both complimentary and extra-cost options. Both will be available to book in the Royal Caribbean app once onboard Anthem of the Seas.
North Star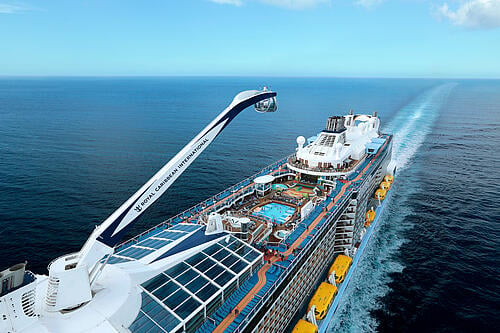 Another unique activity found only on Quantum Class ships is the North Star, a 360 degree observation pod that reaches a height of 300 feet above sea level. Guests board the North Star from the pool deck and are rewarded with panoramic views of the ship and surrounding scenery.
The North Star, like RipCord by iFLY, also has complimentary and extra-cost options. Complimentary rides are available while the ship is in port, whereas extra-cost options can be booked on sea days.
Related: 15 really cool things to do that you can only find on Royal Caribbean cruise ships
SeaPlex activities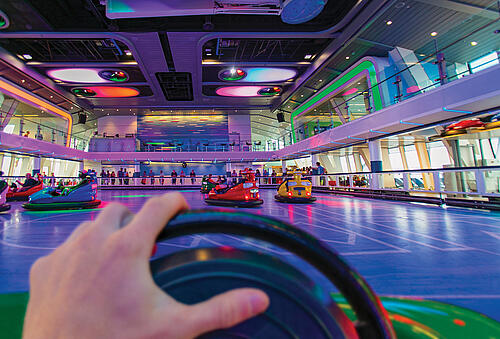 Whereas many Royal Caribbean ships have an outdoor sports court, Anthem of the Seas has the SeaPlex, an indoor sports court and gaming area. Onboard activities are offered in the SeaPlex throughout the cruise, and include the following:
Bumper cars
Ping pong
Xbox gaming arena
Pickleball
Soccer
Volleyball
Challenger's Arcade is also located near the SeaPlex, although this comes at an additional cost.
FlowRider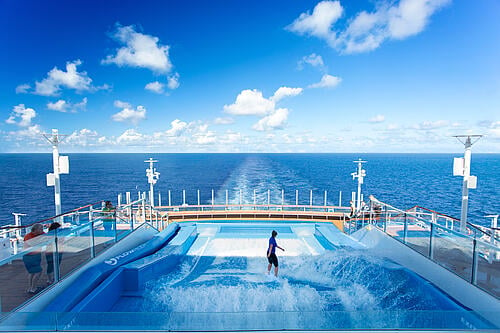 Like many Royal Caribbean ships, Anthem of the Seas has a FlowRider surfing simulator onboard. This activity comes at no extra cost, and passengers can try their best at boogie boarding or surfing on the simulator's high speed waves.
Miscellaneous onboard activities
Outside of the main signature activities found on Anthem of the Seas are a variety of other fun things to do offered throughout the cruise. Miscellaneous onboard activities may include:
Trivia
Game shows
Dance classes
Morning stretch classes
Scrapbooking
Guest lectures
Outdoor and indoor movies
Theme nights
Towel folding demonstrations
Jewelry making
Art auctions
Wine tasting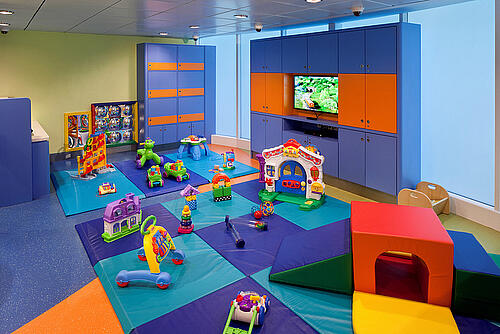 Anthem of the Seas has childcare for kids aged 3-17, which is complimentary during the day but has an hourly cost after 10PM. A nursery is also available for ages 6-36 months, although this comes at an additional hourly cost.
Adventure Ocean is split into age groups:
Royal Babies & Tots: 6-36 months
Aquanauts: 3-5 years
Explorers: 6-8 years
Voyagers: 9-11 years
Teens: 12-17 years
Related: Six things to know about Royal Caribbean's Adventure Ocean
Each age group has their own Adventure Ocean area on Anthem of the Seas. In addition, there is a Science Lab onboard where kids can participate in fun, hands-on science experiments.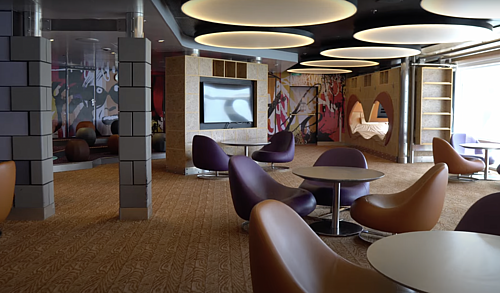 Teens have two exclusive areas: The Living Room and Fuel Teen Disco. The Living Room is a hangout area during the day for teens, whereas Fuel Teen Disco is a teen "nightclub" open in the evenings.
Anthem of the Seas also has an open play area onboard where parents can bring their children to use playground equipment, toys, and books. This area is unsupervised, so parents must remain with their children at all times.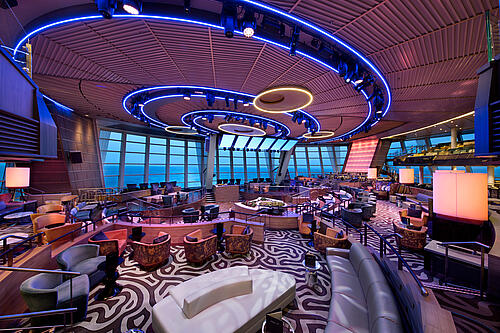 There are two main entertainment venues on Anthem of the Seas: the Royal Theater and Two70.
All Royal Caribbean ships have a multi-level theater used for musicals, plays, comedians, musicians, vocalists, and miscellaneous events during the cruise.
Two70, on the other hand, is an entertainment venue found only on Quantum Class cruise ships. Located in the aft of Anthem of the Seas, Two70 has floor-to-ceiling windows that span 270 degrees, offering incredible views of the ocean. 
We Will Rock You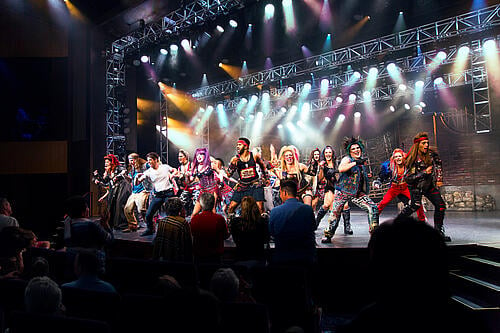 The Royal Theater's signature production show on Anthem of the Seas is We Will Rock You, a full-length Broadway musical telling the story of a futuristic society in which rock 'n' roll, or any music for that matter, has been banned.
A group of Bohemians rally up against the powerful Globalsoft company, who is doing everything in their power to make sure music, and the emergence of rock 'n' roll, does not return to society.
The musical features a score of music from Queen as the Bohemians try to save rock 'n' roll from the corporate, cold society in which they live.
The Gift
Another Royal Caribbean original production found in the Royal Theater is The Gift, which tells the story of a family that has been disengaged with each other due to the passing of their mother. The family's mother, located in the spirit world, sees the struggles of her family and decides to send her family a magical gift.
The family received this gift on a stormy night, leading the family members to be guided on a journey to find themselves and bond with each other once again.
Spectra's Cabaret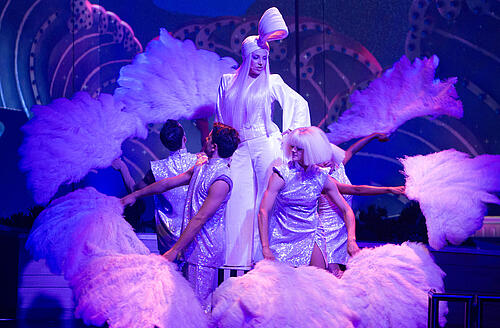 Spectra's Cabaret is the signature production show found in Two70. Spectra, the maestro of the show, and his Agents of Rhythm take the audience through a colorful, upbeat, electric cabaret that combines live music and dancing with the advanced technological effects found in Two70.
Miscellaneous entertainment
Outside of the main production shows found on Anthem of the Seas are a variety of live music and other entertainment options:
Live acoustic guitar music in the Bull & Bock pub
Live Latin and Caribbean music at Boleros
Live jazz orchestra music
Live piano tunes at Schooner Bar
Comedians
Musicians
Virtual symphonies and concerts at Two70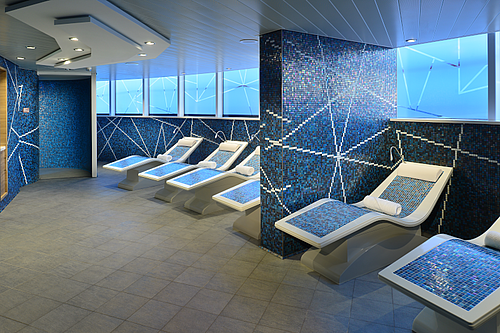 If you're looking for rest and relaxation on your cruise, you'll want to check out the spa on Anthem of the Seas. A variety of treatments are available, from Swedish massages to couples treatments and aromatherapy. A salon is also located within the spa, offering hair and nail services.
Anthem of the Seas also has a thermal suite available, which has saunas, steam rooms, a rainforest shower, and hot stone loungers. You can access the thermal spa with a thermal spa pass, which has no limit on the amount of times you can visit the spa, so you can enjoy the facilities throughout the entire cruise.
In addition to the spa is the Vitality Fitness Center, which is a large gym on the top floor of the ship. Located in the fitness center are cardio machines, free weights, weight machines, and exercise mats.
Fitness classes and consultations are also available, although these come at an extra cost.
Related: Five ways to find fitness on a Royal Caribbean cruise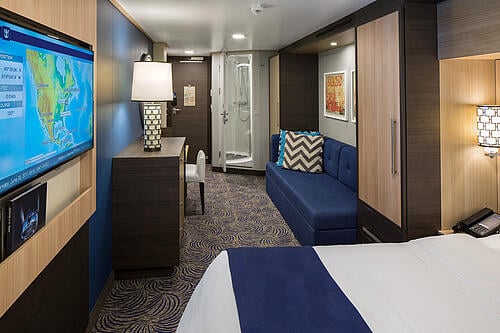 Anthem of the Seas has a stateroom option for any budget, from small studio cabins for solo travelers to lavish loft suites. Certain room categories, such as studios and suites, can fill up quickly, so booking your cruise as far in advance as possible is recommended to ensure you can book the stateroom of your choice.
The following staterooms are available to book on Anthem of the Seas:
Interior with virtual balcony
Ocean view
Interior studio cabin
Studio cabin with balcony
Balcony
Junior Suite
Junior Suite with spacious balcony
1 Bedroom Grand Suite
1 Bedroom Grand Suite with spacious balcony
2 Bedroom Grand Suite
1 Bedroom Owner's Suite
Sky Loft Suite
Grand Loft Suite
Owner's Loft Suite
Royal Loft Suite
For more information and tips on booking the best stateroom for your cruise on Anthem of the Seas, check out the following articles: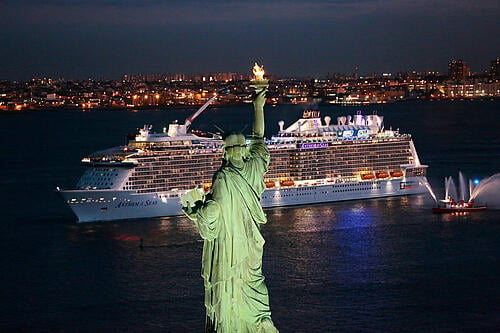 Anthem of the Seas splits her time between the US and UK, offering cruises from Cape Liberty, New Jersey and Southampton, England.
Cruises from Cape Liberty
When departing from Cape Liberty, Anthem of the Seas primarily offers 7 or 8-night Bahamas cruises, visiting Orlando, Perfect Day at CocoCay, and Nassau, with Miami offered as a port stop on 8-night itineraries.
She also offers a few 11-night Southern Caribbean cruises, visiting ports in St. Maarten, St. Thomas, Puerto Plata, St. Kitts, Antigua, San Juan, and St. Lucia, depending on the itinerary.
Transatlantic cruises are also available as Anthem of the Seas makes her way to and from Southampton, England.
Read more: Guide to cruises from New York
Cruises from Southampton, England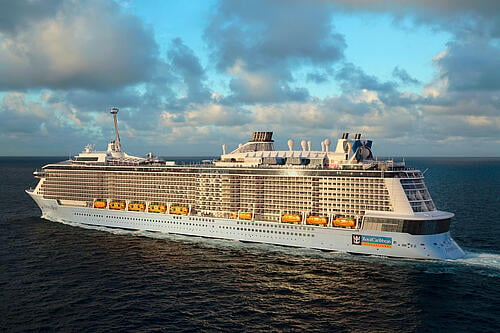 Itineraries departing Southampton, England may visit the following destinations:
Norwegian fjords
Northern Spain and western France
Canary Islands, Spain, and Portugal
Mediterranean
Cruises to Northern Spain, western France, and Norway are typically 7-night itineraries. Visiting the Canary Islands is offered on 12-night itineraries, and Mediterranean cruises from Southampton are usually 14 nights.
Are you considering booking a cruise on Anthem of the Seas? Check out our FULL ship tour to discover all that Anthem of the Seas has to offer: