In:
When Royal Caribbean built Anthem of the Seas, they called her a "smart ship", because she offers so many innovations that distinguishes her from not just Royal Caribbean's fleet, but the entire cruise industry. There is a lot to love about Anthem of the Seas, but here are five things that stand out to us as exceptionally fun and cool experiences that cannot be duplicated on other cruise lines.
Live stream anywhere, anytime
Internet connectivity on cruise ships is not new, but having internet speeds fast enough to be able to use Facebook Live, watch Netflix, play XBox Live or Skype friends and family at home is something Anthem of the Seas offers.
Royal Caribbean offers the same kind of high-speed internet service on Anthem of the Seas that you would expect to find on land. It works whether you are docked in port, or somewhere in the Caribbean.  Royal Caribbean calls this service, Voom, and it is perfect for (not-so) humbly bragging about how much fun you are having onboard.
If you are thinking high-speed internet at sea must come with high-costs, you would be mistaken.  Royal Caribbean offers a variety of internet plans that a cost between $10-$20 per day (with online discounts that bring the price down as much as 30%).
Sky dive at sea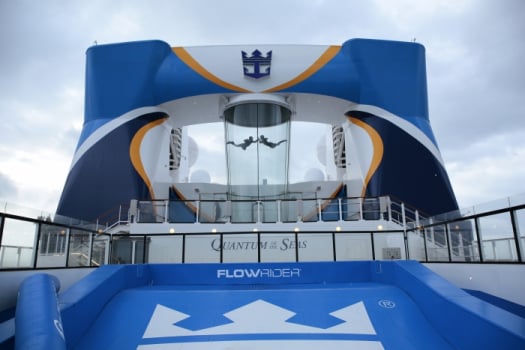 I am certain sky diving is quite exhilarating, but jumping out of an airplane does not sit well with me.  The good news is tepid thrill-seekers, such as myself, can experience what it is like to fall gracefully through the sky without fear of ending up like a Wile E. Coyote cartoon on Anthem of the Seas. Ripcord by iFly offers guests of all ages the thrill of skydiving out on the deep blue ocean.
Ripcord is situated on the aft (rear) of the ship and is a large wind tunnel that is 10 feet in diameter and 23 feet tall.  Guests don a special suit and enter the wind tunnel, where an instructor assists in achieving the perfect position for optimal "flight".
Did we mention that Ripcord by iFly is included in your cruise fare? 
Ride bumper cars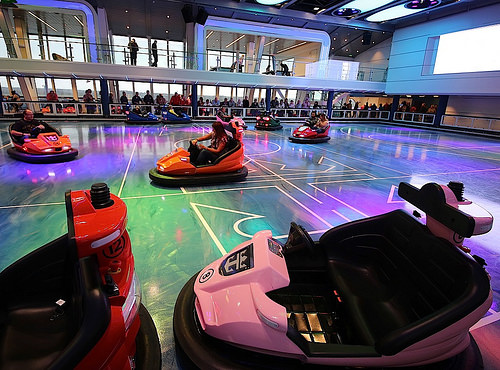 Regardless of age, bumper cars (or dodgems in the UK) are a whimsical ride that highlights the many activities found in the SeaPlex on Anthem of the Seas.
In addition to roller skating and sports throughout the day, bumper cars are available to all passengers who want to try their hand at navigating the bumper car course, while avoiding being bumped and inflicting maximum bumping on others.
Try to escape the Escape room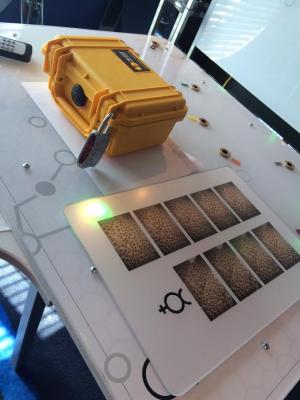 A great way to challenge yourself, make friends and get a little competitive is to try out the escape room on Anthem of the Seas.  The "Escape from the Future" game is a complimentary activity on Anthem of the Seas, where a team of guests try to solve riddles and puzzles to find the key to "escaping" the room.
The challenge of the Escape room is you have just 60 minutes to figure it all out, which forces you and your teammates to consider all options when trying to figure it all out. There are word searches, patterns and other challenges designed to get you thinking in a lot of different directions.
This is different kind of onboard activity that was pioneered by a group called Puzzle Break, which have created similar experiences on in a few cities.
Dine at Jamie Oliver's restaurant
Celebrity chef Jamie Oliver is known around the world for his incredible culinary offerings, and on Anthem of the Seas, guests can enjoy dinner at a restaurant that Chef Jamie created just for Royal Caribbean.
Jamie's Italian was created by Jamie Oliver because of all the types of food to choose from, he loves Italian the most. Jamie designed the menu to strip food down to its essence, working with simple, quality ingredients with no pretense or ego.
You will find an antipasti plank that's piled high with cured meats, pickles and tempting cheeses, pumpkin panzerotti, Prawn linguine. Plus there is a whole array of antipasti, small plates, a gorgeous selection of grills and tempting desserts that are not to be missed.
Your thoughts
Have you been on Anthem of the Seas yet? What is your favorite "I can't believe they put that on a cruise ship" offering?  If you have not been on Anthem of the Seas yet, which activity are you most excited to try? Share the answers in our comments!