In:
One of our stops on our Embarkation Day front to back ship walks is always the Vitality Spa and Gym. When we first started cruising, I always made the joke that "Why would anyone want to give up precious relaxing time to spend it working out, when you do so much walking on a cruise anyway?" Flash forward several years, and so much has changed.
Mr. M has been into fitness for awhile, but he's now got me working out regularly and while I'll never be a "gym head", I at least understand now. So let's talk about exercising on vacation.
Once we're on ship, obviously our normal routine goes out the window. It's so easy to slack off and just forget about fitness for the rest of the trip. And I'll be honest, I am really good at procrastinating on gym work. Thankfully, Royal Caribbean is all about staying active. There are no shortage of options for moving your body. What is your favorite?
Running track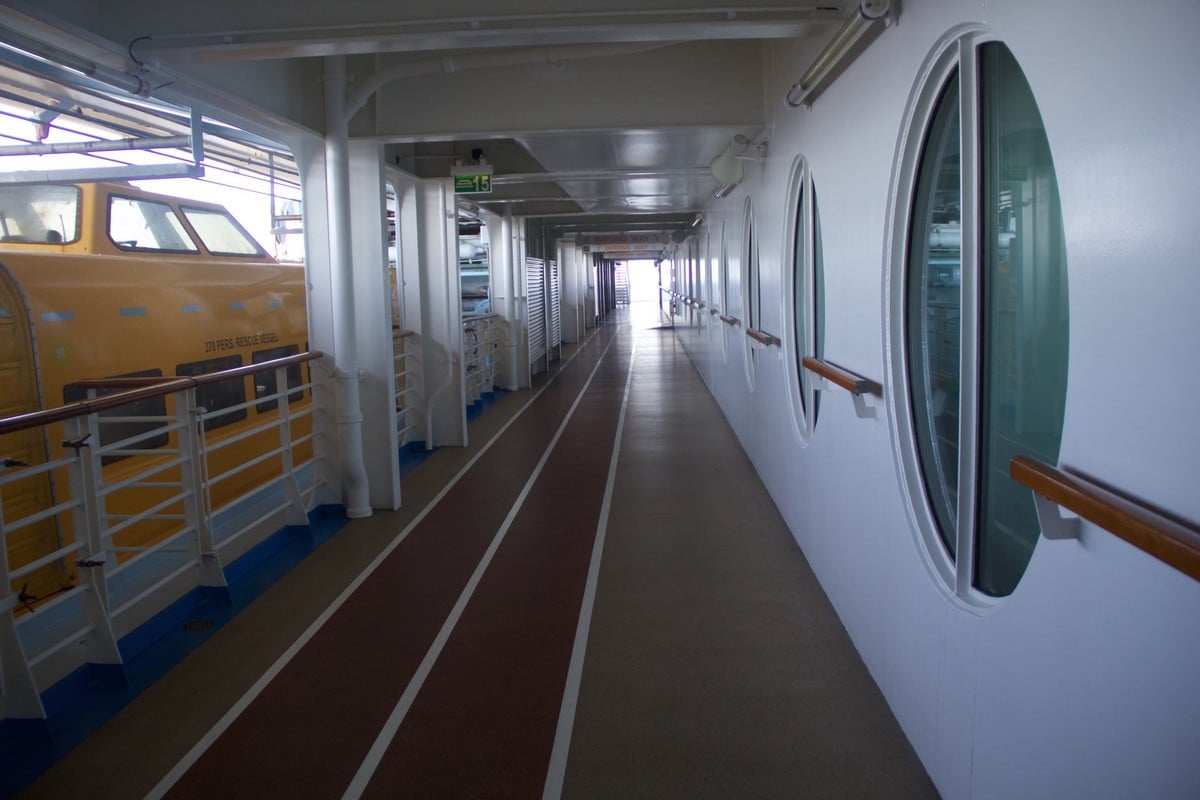 On land, in addition to our studio workouts, Mr. M runs. He runs a lot. He'll be running his first marathon this year, so being able to train is important, even when at sea. Royal Caribbean understands how much an obsession running is to their guests, and there is a running track on every ship.
Oasis Class is built with a track around the outside of Deck 5 that you can get to from the gym. It's out of the way, and makes for a fantastic experience. The smaller ships generally have their track up top on the pool and sports decks, so sometimes you may have to hurdle a chair or two, or dodge some folks out for a morning stroll. Mr. M definitely recommends getting up early for those sessions.
Traditional gym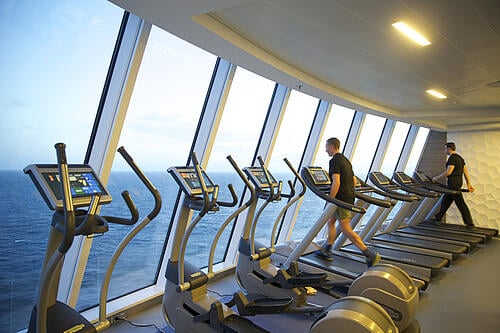 Connected to Vitality Spa, you will find a traditional-style gym, with equipment just like you'd see at your local YMCA or Planet Fitness. There are treadmills facing windows or portholes, bikes, and rowers. You'll find plenty of weight machines and free weight dumbbells.
While the size of gym and amount of equipment may vary by ship, you can easily create your own workout routine for the week. I recommend heading down on embarkation day to map out the floor to make a plan. 
Fitness classes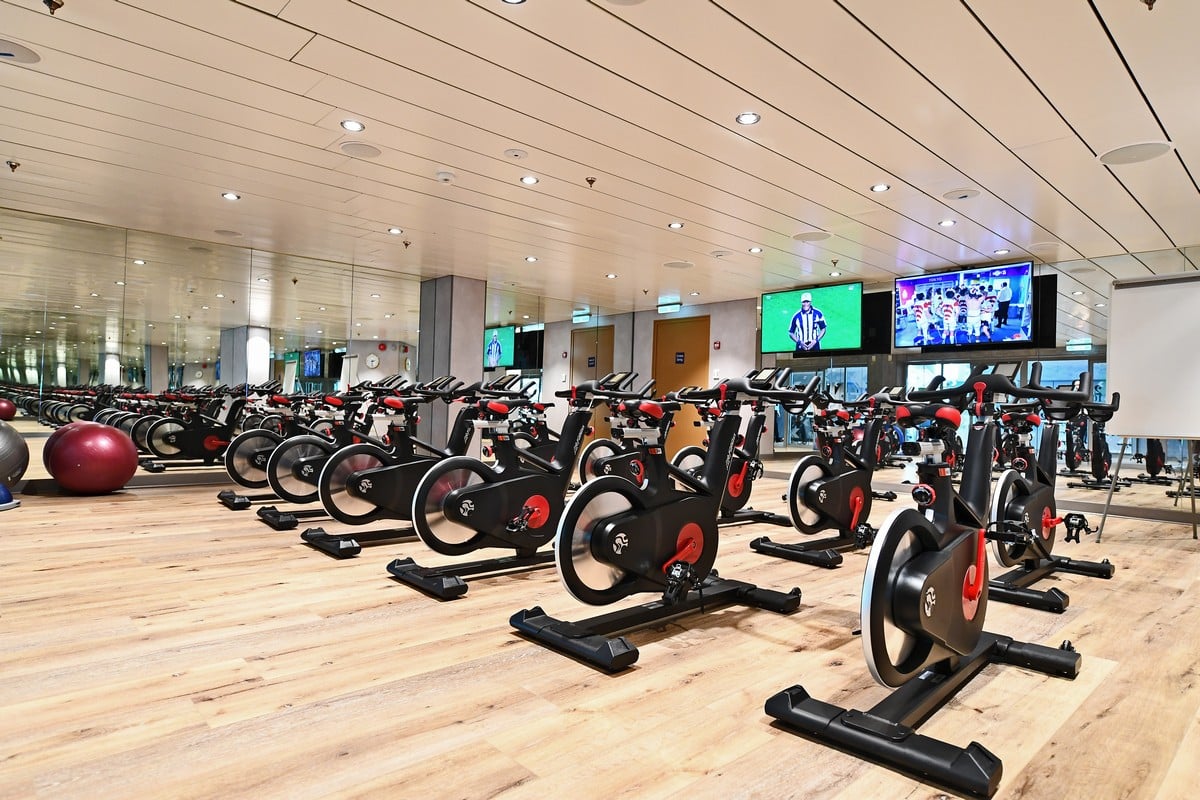 Royal Caribbean also plans a variety of fitness classes throughout the cruise.
On Oasis Class ships, there's a room for spin classes, and while I've never taken one myself–I've heard that they are pretty intense! There's also usually a yoga class every day, and sometimes Zumba.
On one cruise (pre-Covid), I even saw them teach a Zumba class in the Promenade, and then they did a flash mob with the same group later that week!
Check your Cruise Compass for details on these activities. Sometimes there is an additional cost for the classes, and you'll need to sign up ahead of time.
Sports deck and other activities
In addition to the more obvious forms of fitness, Royal Caribbean has a lot of fun activities to do while on board that will help keep your body moving.
Many of these can be found on the Sports Deck–it's in the name, after all. The Sports Deck is home to two large netted basketball courts that can host a variety of games. Ping pong tables are also found here.
On the larger ships, rock climbing walls can provide skyhigh fitness, and a pretty fantastic view of the ocean! If water sports are more your style, give surfing a try on the FlowRider. That's some serious leg and ab power, right there.
On Quantum Class ships, you can work on body control in the iFly experience, while you fight against a wind tunnel in a faux skydive. If you enjoy that antigravity feeling, the SkyPad on some ships is another full body workout as you strap on a harness and VR set, springing into the unknown. 
For those of us who prefer a little less impact and/or daring, there are still ways to stay in motion throughout our vacation while relaxing the whole time! I spend much of my onboard time in the pool. If you've ever treaded water for a few hours, you know that you will use plenty of muscles that you're not used to using on land. I always come out so sore at the end of the week!
You'll also do an unbelievable amount of walking. Make sure your step counter is on, because you'll be sure to win your workplace's fitness contest even while you're on vacation! Between the sheer size of the ships, and the excursions, there's a lot of point A to Bs, but it's hard to notice with all the fun you'll be having!
Excursions
Shore excursions are the final way to find fitness on a cruise. There are limitless options of what you can do, depending on the ports you travel to.
Again, you will probably be walking a lot, so that alone will add movement to your fitness tracker. Add in some sporty schemes to your port stops and you won't have to spend an hour in the gym. Here are some examples:
City Bike Tour
Hike Up a Waterfall
Swimming at a Beach Break
Kayaking to a Lagoon
Paddleboarding
While there is zero shame in taking it easy and giving yourself a rest week for vacation, many of us are in the habit of moving our bodies and must have some form of exercise at least every other day. Thankfully, Royal Caribbean has a great balance of fun and fitness with many options of both.
How do you work out while on a cruise?