In:
Last week, I had the opportunity to try Royal Caribbean's new Main Dining Room menus.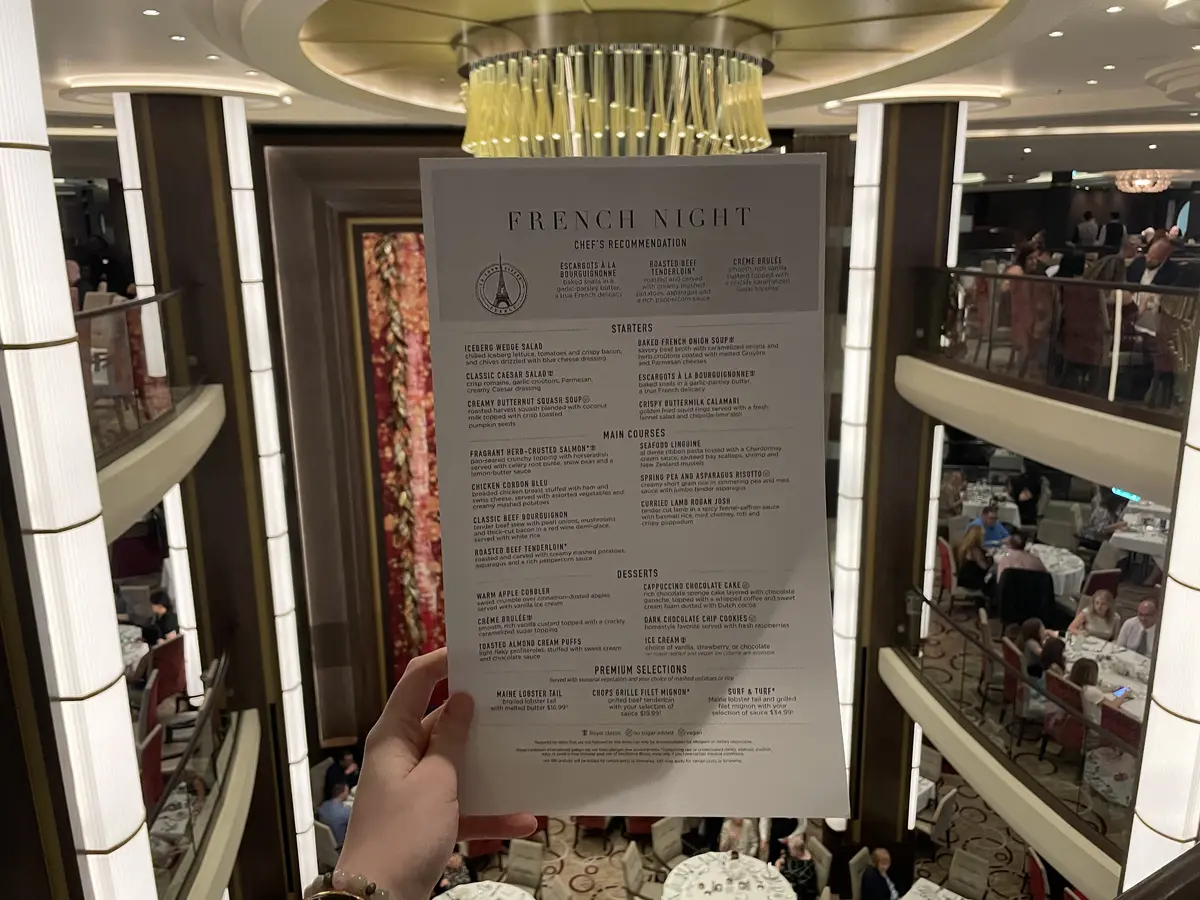 In late 2022, the company began testing new menus, and after receiving positive feedback from guests, they announced that they were going to permanently change the menus on all ships within the fleet by February 2023. 
According to Michael Bayley, Royal Caribbean International's President and CEO, guests often complained about the length of their dinner meal, so one of the primary reasons for the change was the swiftness of service. 
One noticeable change is the creation of a more cohesive theme each night that highlights different cuisines and cooking styles. With that, the "classics" section, which offered a subset of menu options that never changed and were available each night, was removed. 
I went onboard the Symphony of the Seas, one of the first ships in the fleet to receive the new menus, to see how the new menus compared to my previous dining experiences onboard Royal Caribbean ships, and here's what I thought. 
Read more: Here are the new main dining room menus
Timing of the dinner service
One of the reasons for this change is to decrease the time guests spend in the Main Dining Room. A shorter meal service allows passengers to enjoy other activities during their cruise vacation, both before and after dinner. 
Royal Caribbean believes that dinner should last around 75 minutes, or an hour and fifteen minutes. Prior to the new menus, passengers could spend 95-120+ minutes at dinner. 
I timed each of the seven nights I spent in the Main Dining Room, from when I received my menu to when dessert was set in front of me, to see how true this statement was and found that the average was just a little over 75 minutes. 
Day 1: "Welcome Aboard"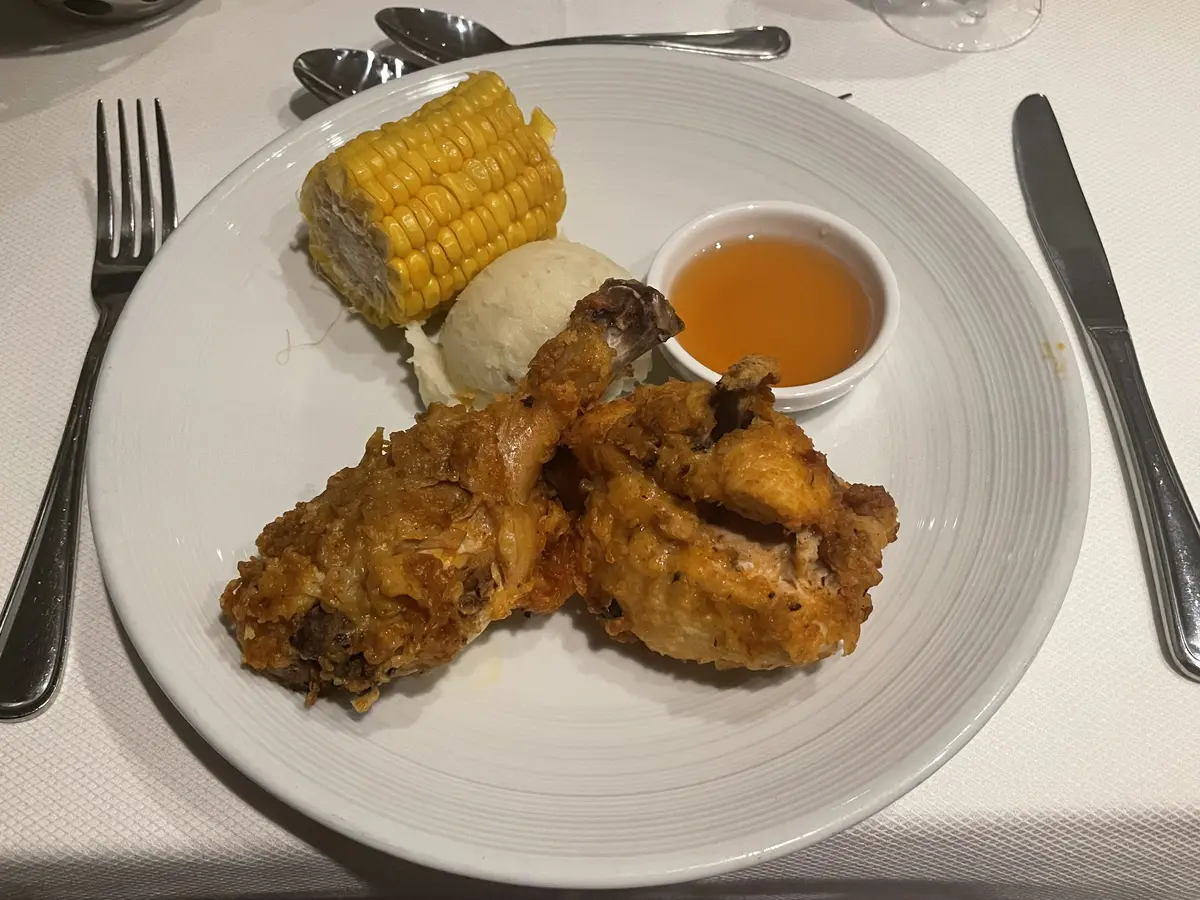 (Southern Fried Chicken served on January 7, 2023 onboard the Symphony of the Seas)
The first night, I dined solo during the 8:00pm dinner seating on deck three and received my menu at 8:01pm. The theme was "Welcome Aboard," and the highlighted cuisine was American.
My appetizer arrived at 8:27pm, followed by the entree at 8:48pm, and finally dessert at 9:14pm. In total, my dinner experience lasted one hour and thirteen minutes, which was fantastic because I was ready for bed by this point! 
Total dinner time: 1 hour and 13 mins.
Day 2: French night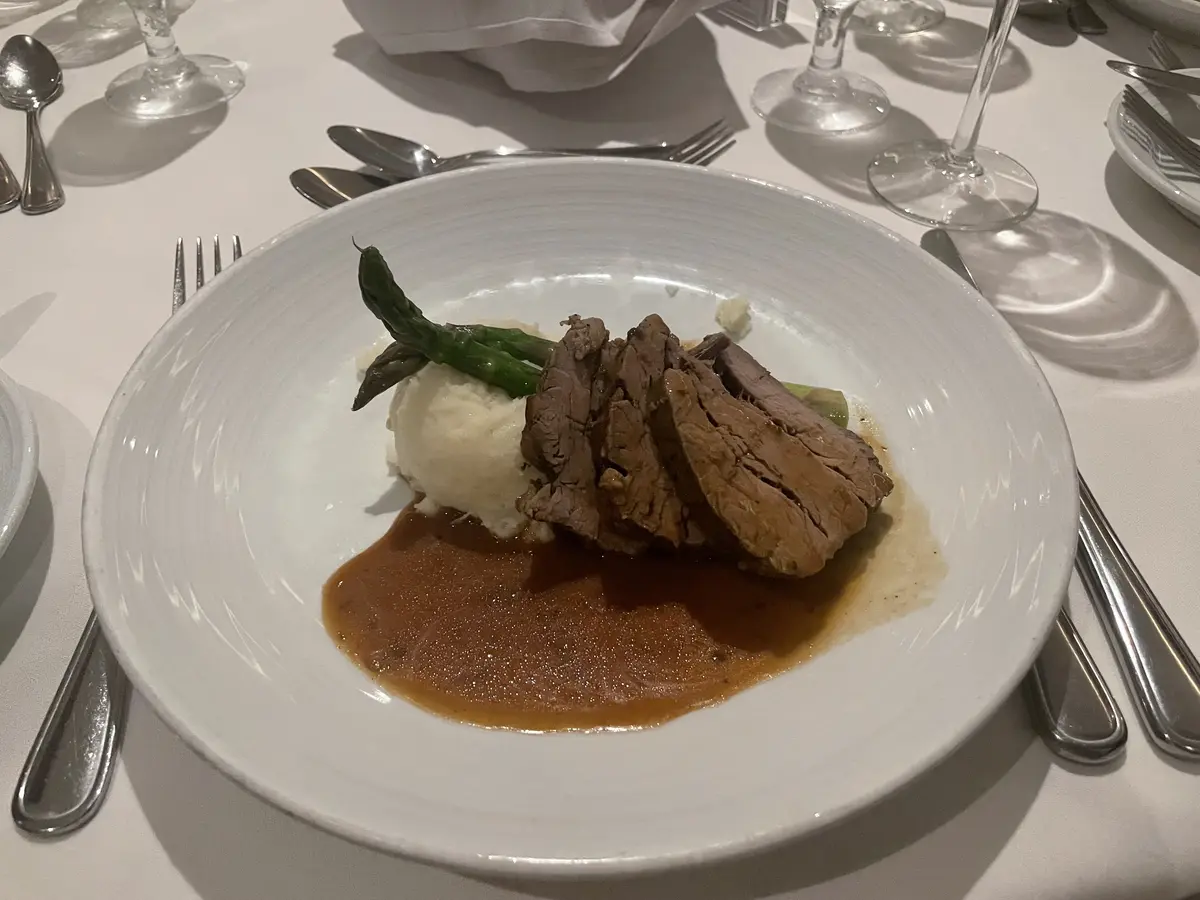 (Roasted Beef Tenderloin served on January 8, 2023 onboard the Symphony of the Seas)
From the second night on, I was seated at 5:30pm on deck five with a family of five; this minimally impacted the total dining time. 
On my sailing, French night aligned with formal night!
The dinner service took over 75 minutes, as my party secured menus at 5:48pm and received dessert at 7:12pm. The total time spent in the Main Dining Room waiting on food was one hour and twenty-four minutes. 
Total dinner time: 1 hour and 24 mins.
Day 3: Italian night
(Lasagna al Forno served on January 9, 2023 onboard the Symphony of the Seas)
On Day 3, my dining party shrunk from six to four, as two had reservations at Chops Grille.
The speed of the service felt almost unbelievable; all three courses were served within one hour and eight minutes! We got our menus at 5:26pm, appetizers at 5:44pm, entrees at 5:58pm, and desserts at 6:34pm.   
Everyone got a chuckle about how the dinner theme was Italian, while the evening's theme was White Night. 
Total dinner time: 1 hour and 8 mins.
Day 4: Caribbean night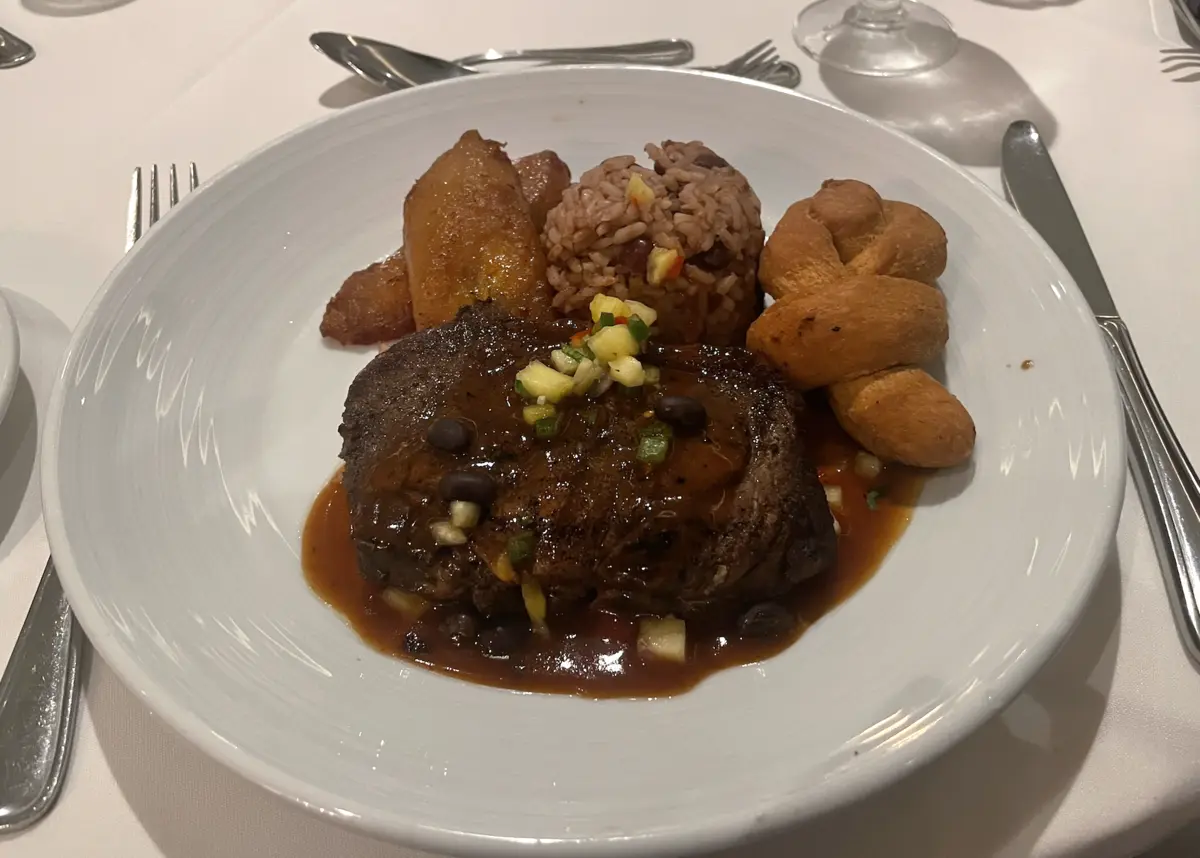 (Jerk Seasoned Pork Chop served on January 10, 2023 onboard the Symphony of the Seas)
The table was full with six people again on Caribbean night. This was the first night where I could truly tell they had revamped their menus, as the only entree I recognized was the New York Strip Steak. Compared to the three pervious nights, the Main Dining Room was also relatively empty.
Tonight's dinner took exactly one hour and twenty-five minutes from receiving the menus to being presented with dessert. We were seated with menus at 5:39pm, and our desserts arrived at 7:03pm.
Total dinner time: 1 hour and 25 mins. 
Night 5: Mexican night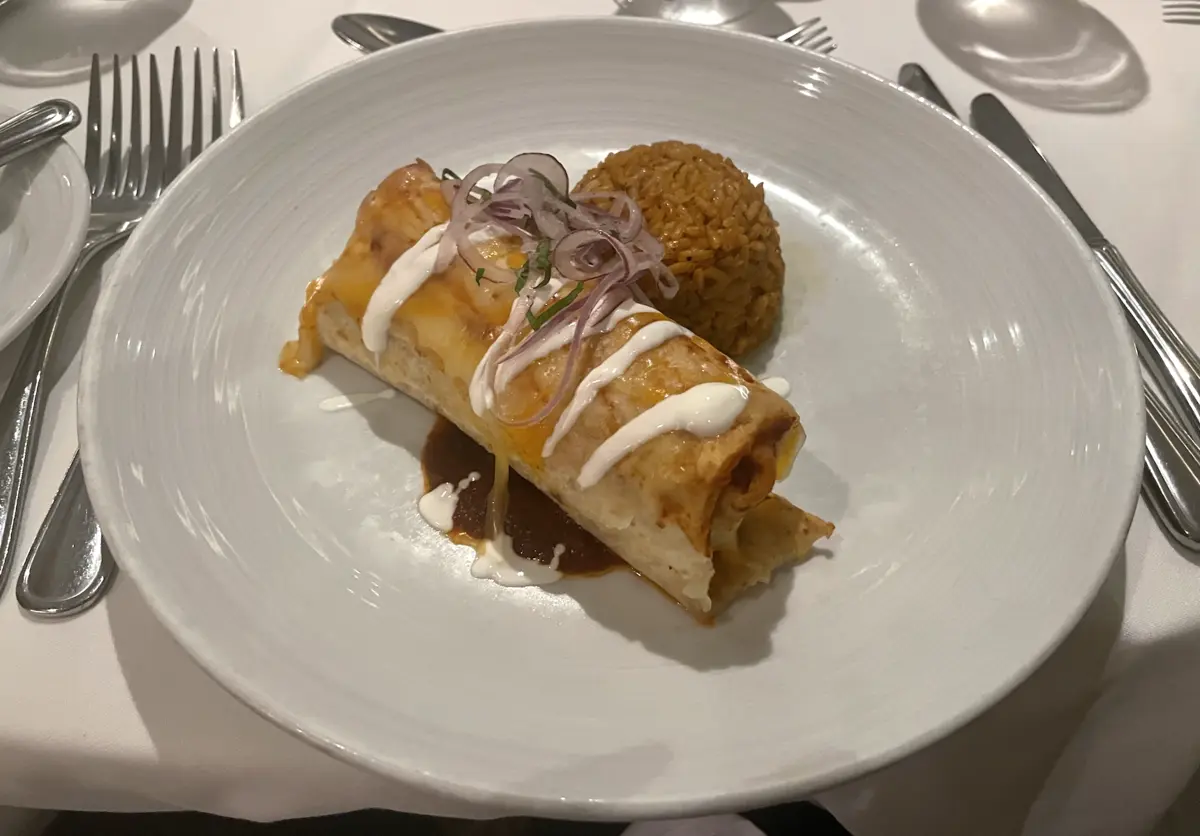 (Pulled Pork Enchilada served on January 11, 2023 onboard the Symphony of the Seas)
By this point, it seemed like 95 minutes was the staff's goal, as this was the third night on the sailing where we finished our dinner around the same time.
My dining party received menus at 5:30pm and dessert at 6:54pm, for a total of one hour and twenty-four minutes waiting on food. 
Total dinner time: 1 hour and 24 mins.
Night 6: The Royal Night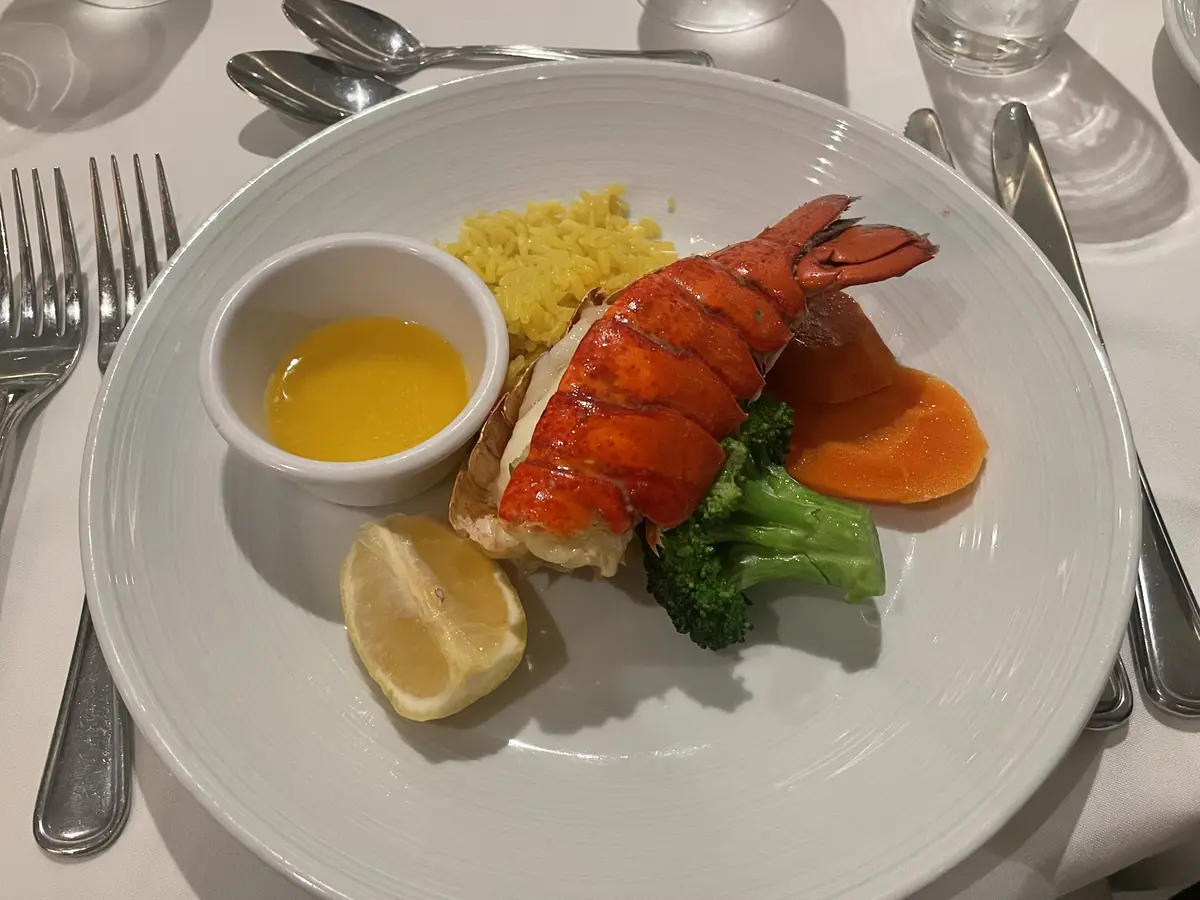 (Broiled lobster tail served on January 12, 2023 onboard the Symphony of the Seas)
Naturally, the Main Dining Room was the most crowded on "dress your best" night when lobster was listed as a complimentary menu option. 
Four out of six people ordered it as one of their entrees, and they all looked to be roughly 1.00 to 1.25 pounds each. However, since additional lobster tails now cost $16.99 each, nobody ordered a second to see how it compared to the complimentary tail. 
Nearly everyone ordered two appetizers, two entrees, and two desserts, so I expected dinner to take longer than other nights; we were served in one hour and thirty-nine minutes. 
Total dinner time: 1 hour and 39 mins.
Day 7: Mediterranean night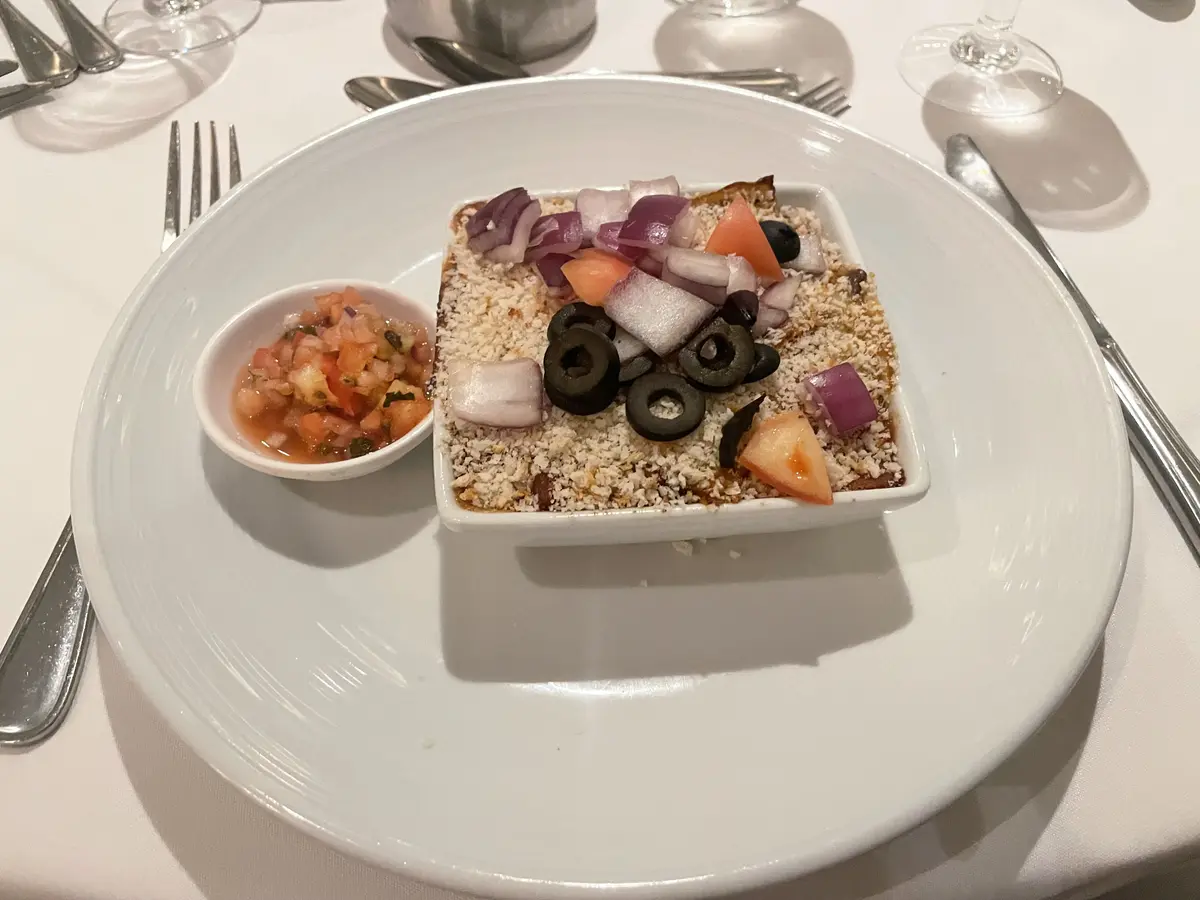 (Vegetable moussaka served on January 12, 2023 onboard the Symphony of the Seas)
On the last night, I dined solo again and was in and out in just thirty-eight minutes. However, out of all seven nights, I have to say that Mediterranean dinner was my least favorite.
Total dinner time: 38 mins.
Average dinner time for the week: a little over 75 mins.
Reformatting the chef's recommendations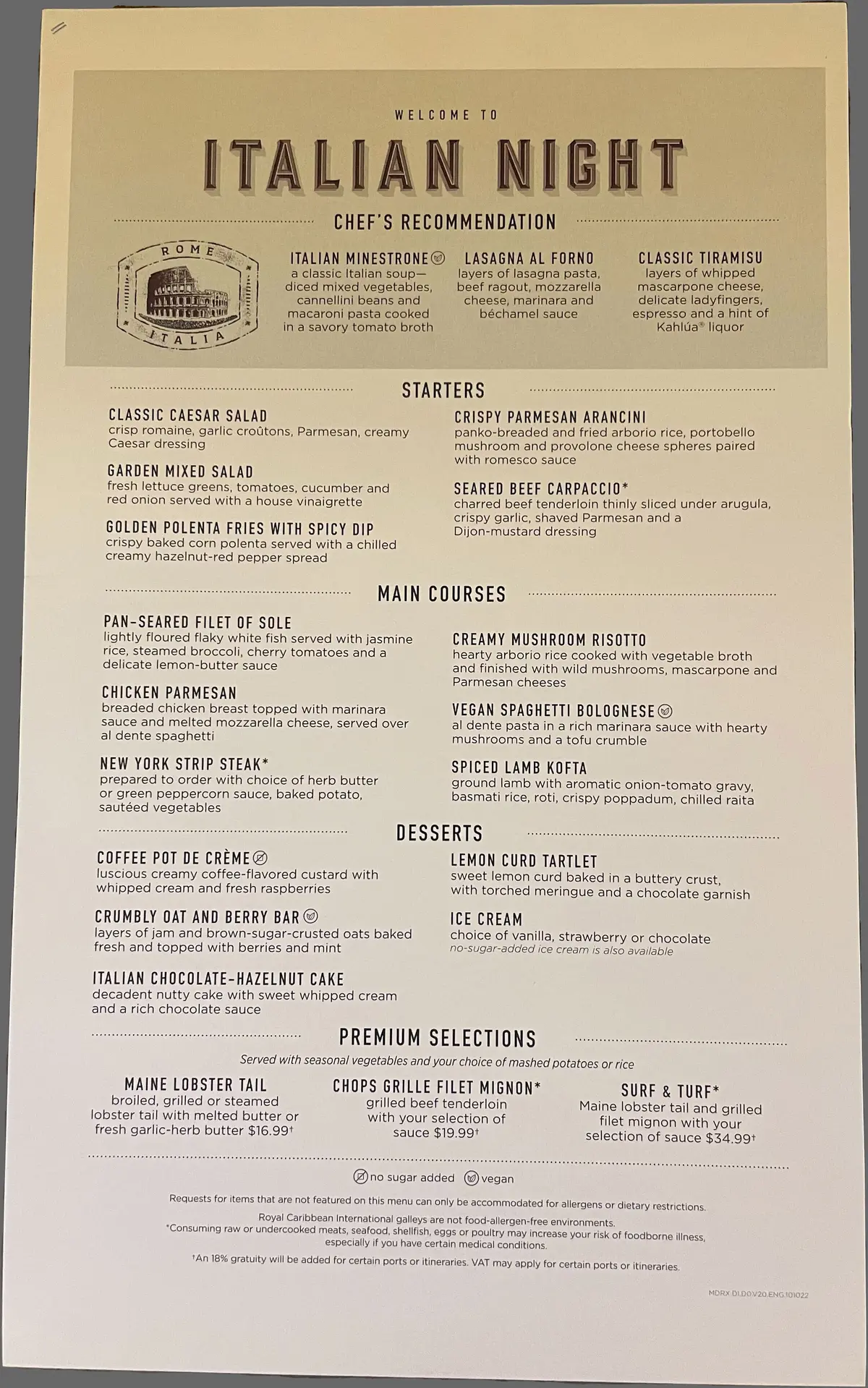 I was able to secure paper copies of the menus for the rest of the week on the second morning of the cruise, but the formatting was soon changed.
At first, the menu items listed at the top as the "chef's recommendation" were not included again under each of the different courses. If your eyes glazed over this portion of the menu, it would be easy to miss an additional appetizer, entree, and dessert option! 
By the third night, the menus presented at dinner were different from those I was given just one day prior, as the recommended items were now repeated.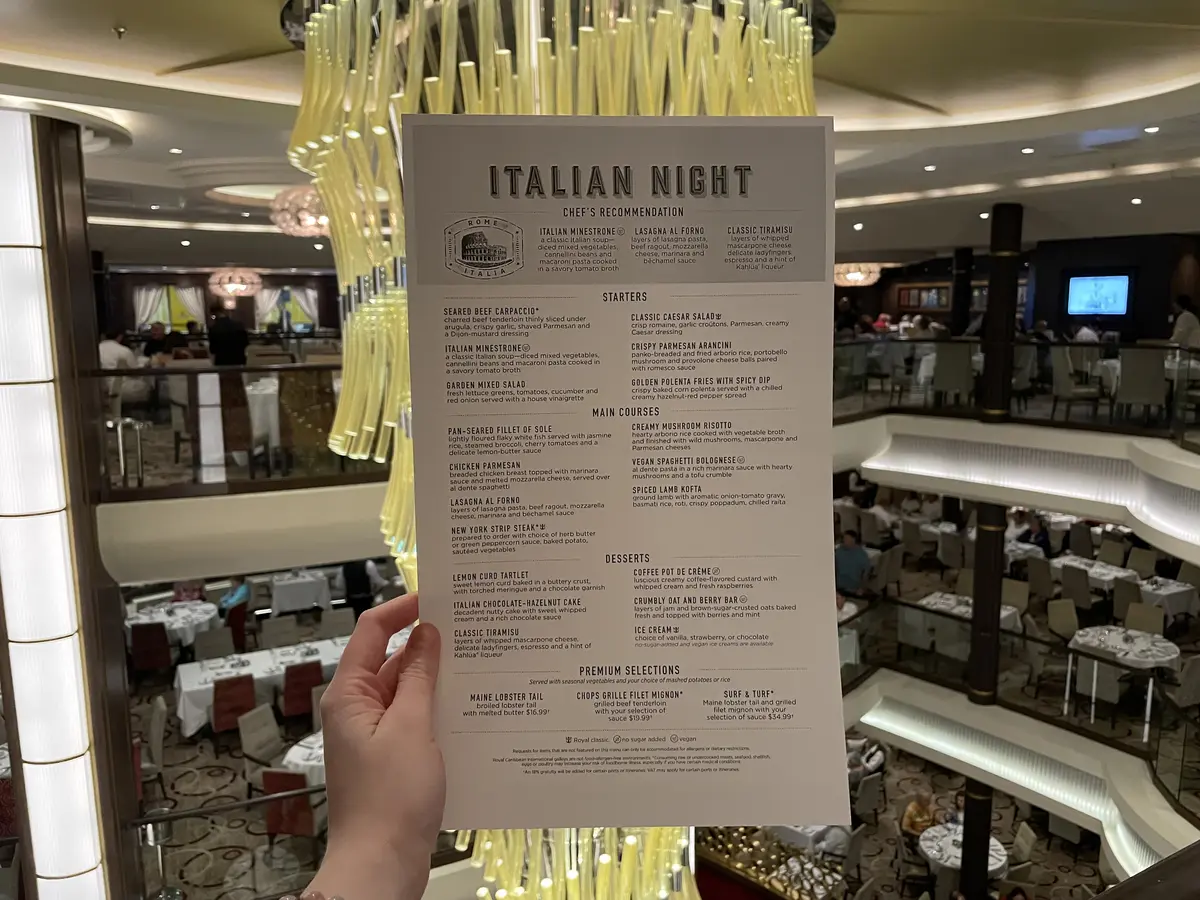 I appreciated this change, as placing all available options in one place is more convenient for the reader, who is most likely hungry and trying to quickly figure out what they want to eat. 
Price of additional lobster tails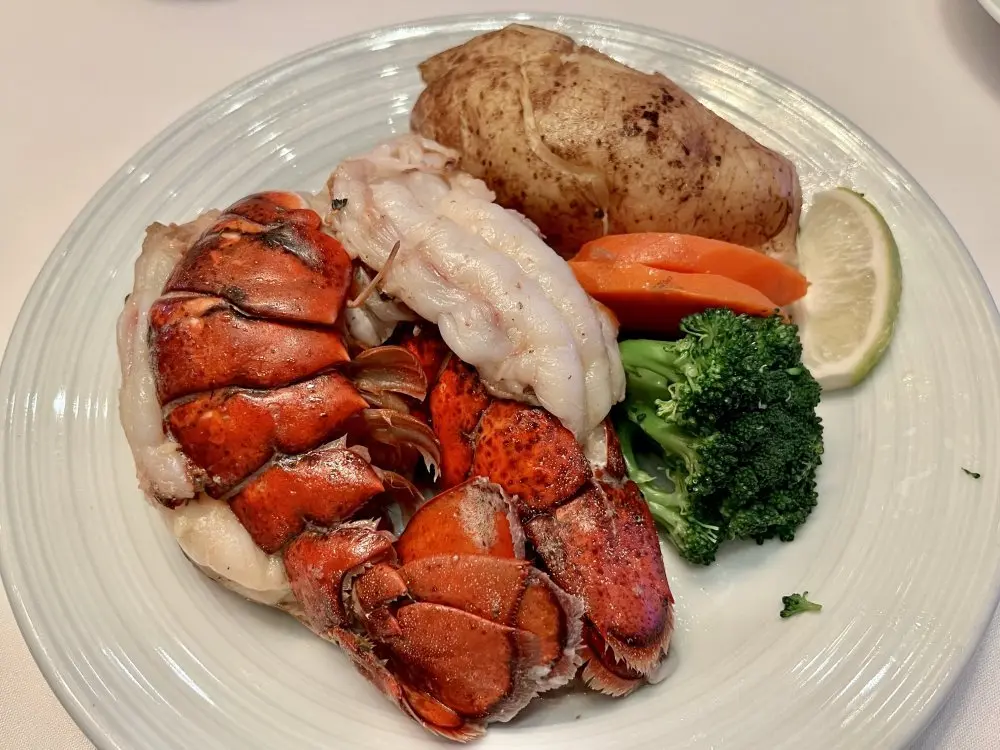 In the past, guests always looked forward to the night when lobster was listed as a complimentary menu option. 
While it was on the menu every night for a surcharge, there was only one night per sailing where guests could indulge in as many lobster tails as they desired. 
With the new menus, Royal Caribbean is limiting guests to just one broiled lobster tail for no additional cost on the evening it's available. If passengers want another, they will be charged $16.99. 
Cutbacks have been seen across many industries throughout the past year, but the realities of the current lobster trade also forced Royal Caribbean's hand in part, as they can only buy 90% Marine Stewardship Council (MSC) certified food, which means that lobster needs to be either farm raised or wild caught.
Due to environmental concerns, there's been a recent shift in Maine lobster purchasing; vendors, such as Whole Foods, have halted purchasing the lobsters.
Therefore, Royal Caribbean has begun buying MSC certified Canadian lobster instead. 
Kids' menu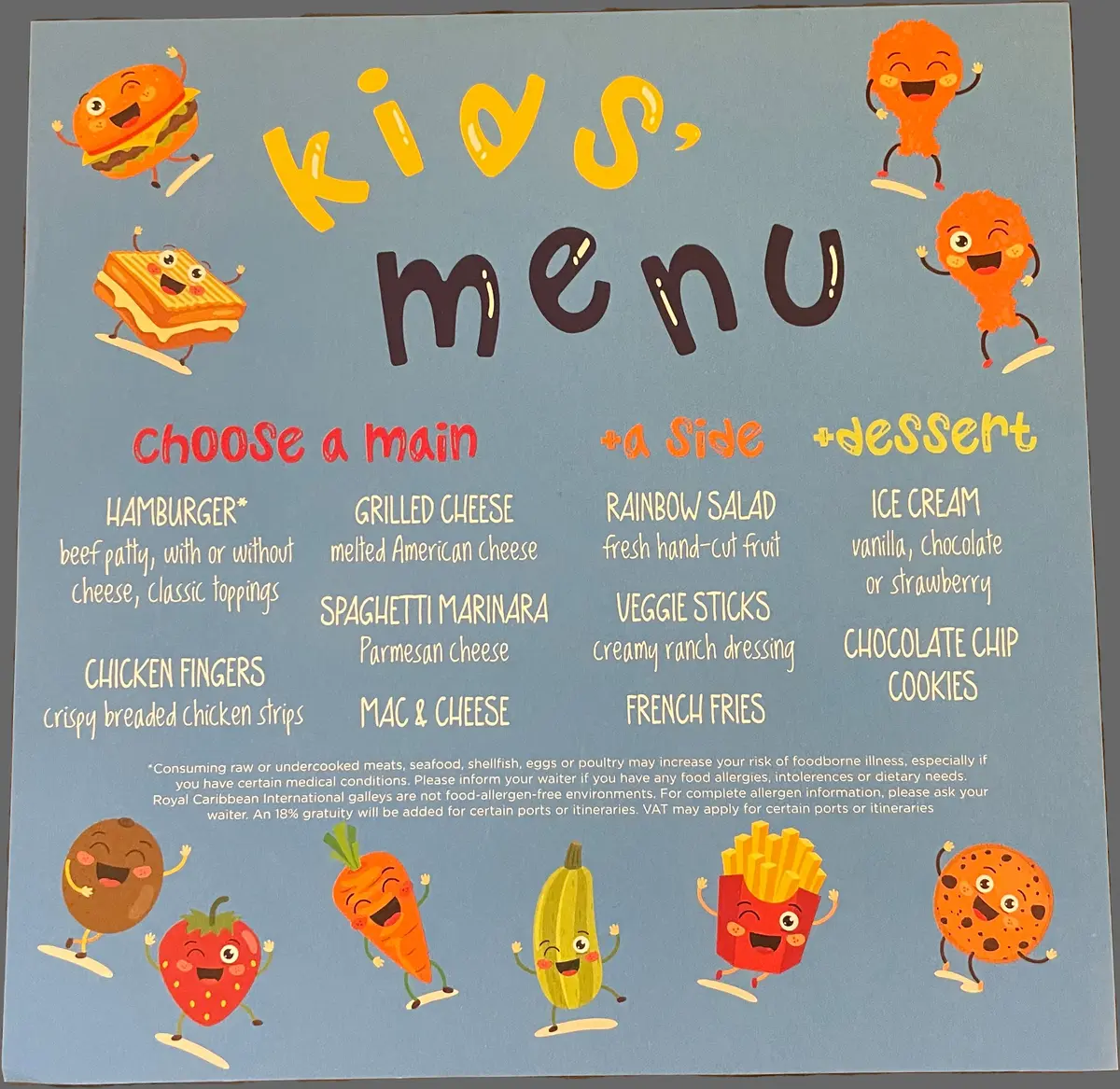 There are five main entrees on the kids' menu that are offered nightly and do not change throughout the week: a hamburger, chicken fingers, grilled cheese, spaghetti marinara, and mac & cheese. 
Additionally, they may choose between a fruit salad, veggie sticks, and french fries as a side, as well as three different flavors of ice cream and chocolate chip cookies for dessert. 
Special requests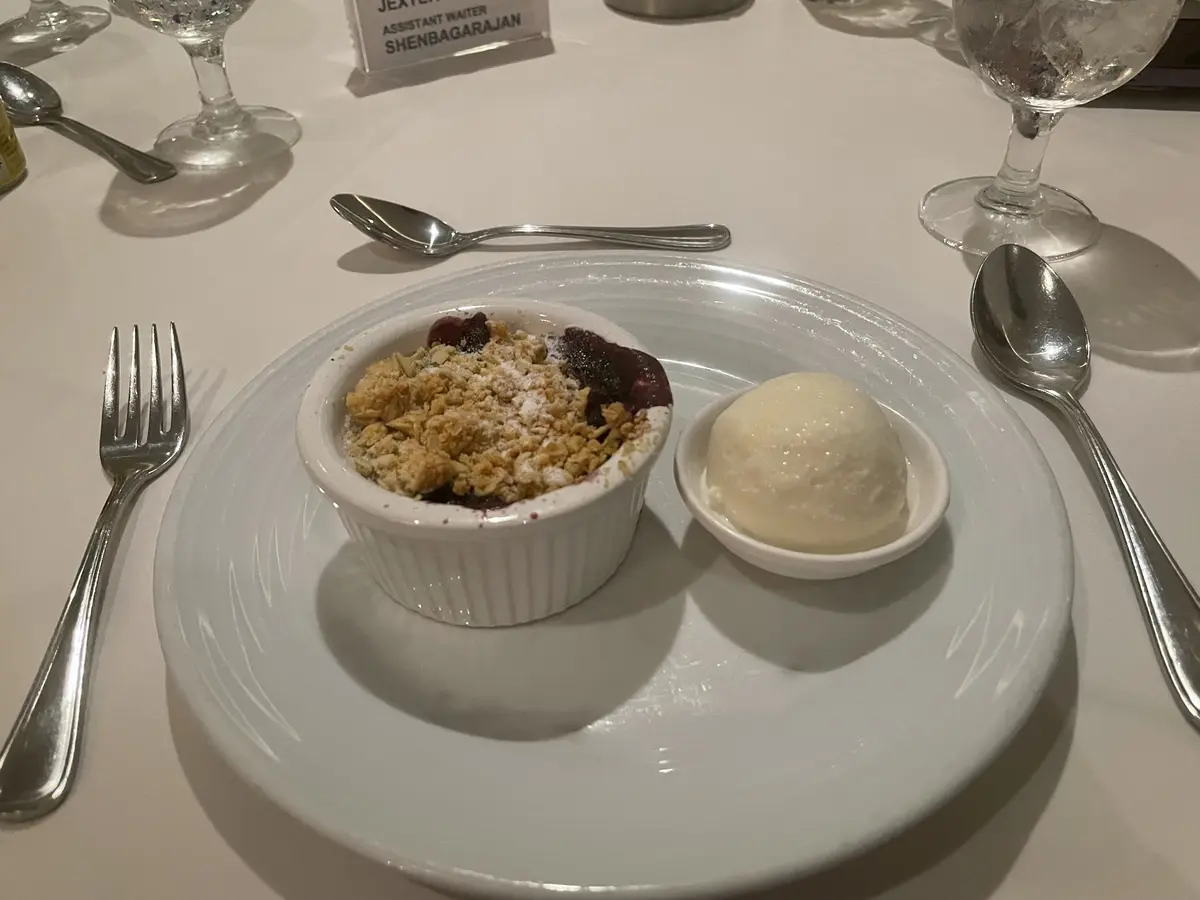 (Sugar-free blueberry cobbler served on January 10, 2023 onboard the Symphony of the Seas)
Traditionally, Royal Caribbean has been great at accommodating specific food allergies and dietary requirements. 
On the new menus, the vegan dishes are indicated via a small leaf icon, and there's at least one vegan dish for each course, including vegan spaghetti bolognese and stuffed grilled eggplant. On my Symphony of the Seas sailing, however, there was not separate menu that was provided upon request. 
For those watching their sugar intake, they also offer at least one sugar-free dessert each evening, such as a crumbly oat and berry bar or a warm blueberry cobbler. 
Per Royal Caribbean's website, you may also send email requests to [email protected] at least 45 days prior to sailing (90 days for European/South American/Asian itineraries). Be sure to include the guests' names, booking number, ship name, and sail date. 
Top three menu items I ate in the Main Dining Room
I ate a lot of delicious food this past week, but a few courses stood out over the others, namely the appetizers and desserts.
#1: Warm chocolate chip cookie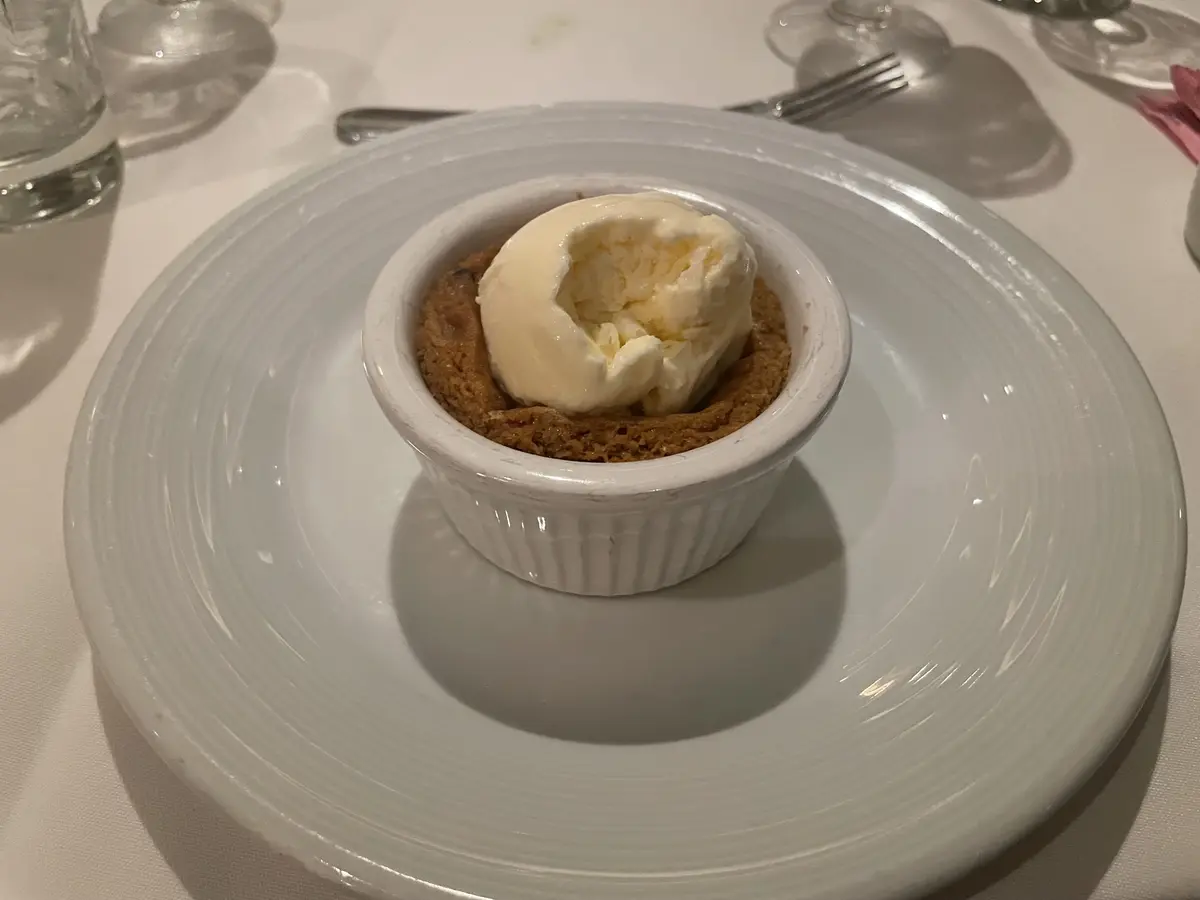 The best thing I had was the warm chocolate chip cookie on Mexican night. It was something our head waiter recommended over and over and over, so everyone felt like they had to try it. It was better than we all imagined!
The deep dish cookie was served in a piping hot ramekin and topped with vanilla ice cream.
The outside was crisp and golden, while the inside was perfectly ooey and gooey. It never became too soft, even with the melting ice cream on top.
#2: Roasted poblano pepper soup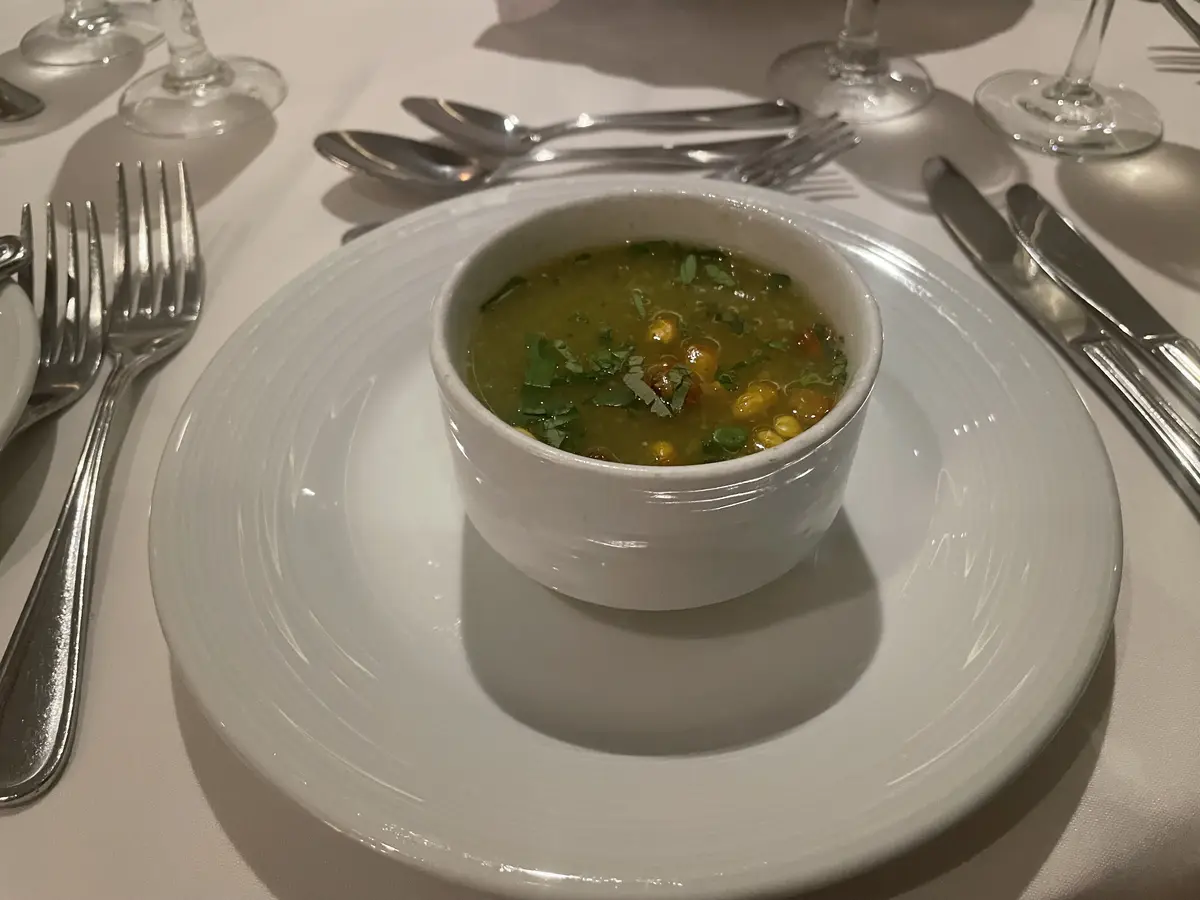 Two of my favorite dishes from the cruise were served on Mexican night; yet, only the soup was on the list of the chef's recommendations. 
What I enjoyed the most about this course was the spicy kick that the soup had. The only thing that could have made it better was including more of the roasted corn, red peppers, and sautéed chorizo. 
#3: Crispy coconut jumbo shrimp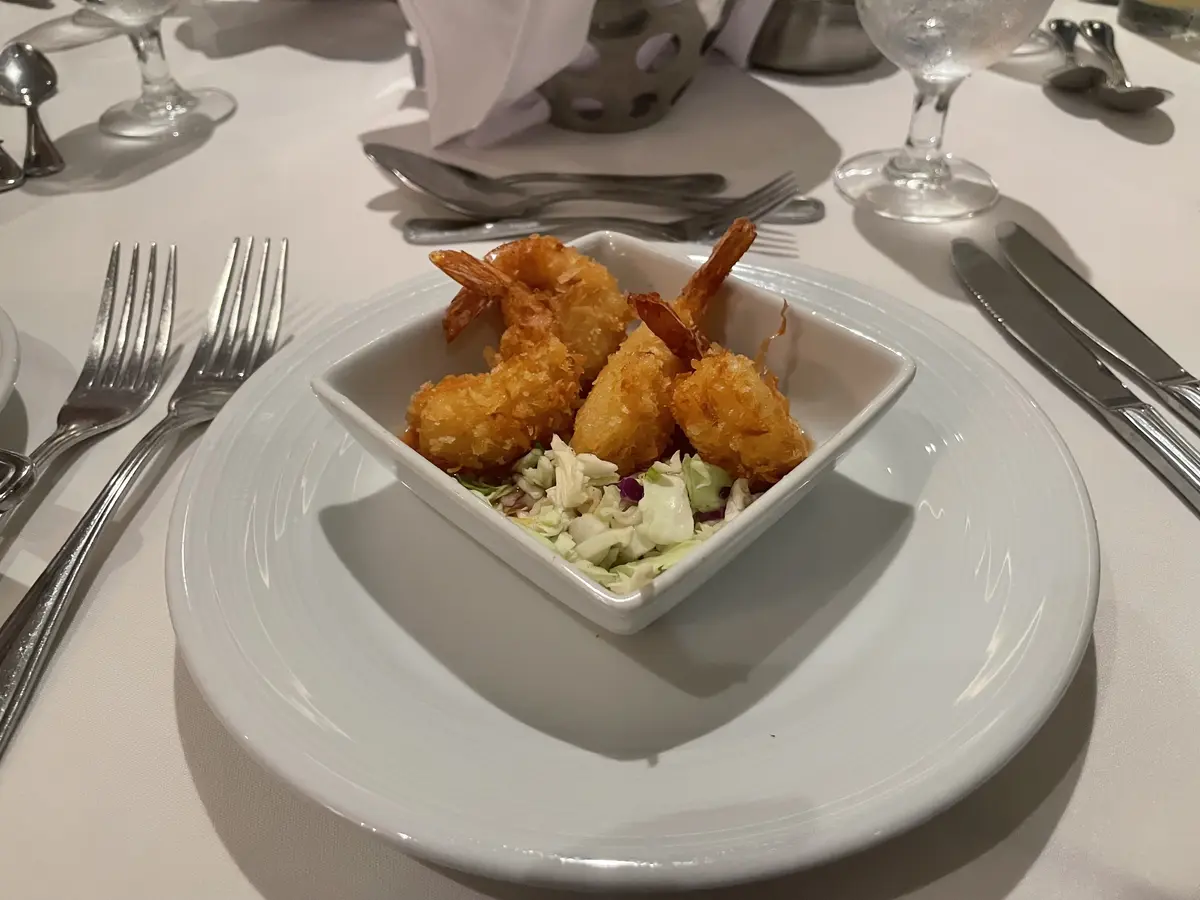 On Caribbean night, the chef's recommended appetizer was the coconut shrimp. The shrimp were indeed crunchy, but they had a subtle hint of coconut; the sweet chili dipping sauce is what made this dish so incredible. Someone in my party even got a second order of them! 
I will note that this is when I noticed some inconsistency in plating. The second order came out in an entirely different dish, and the shrimp were noticeably larger. Plus, there was much more of the sauce on the bottom.  
How does the new Main Dining Room menu compare to my previous dining experiences?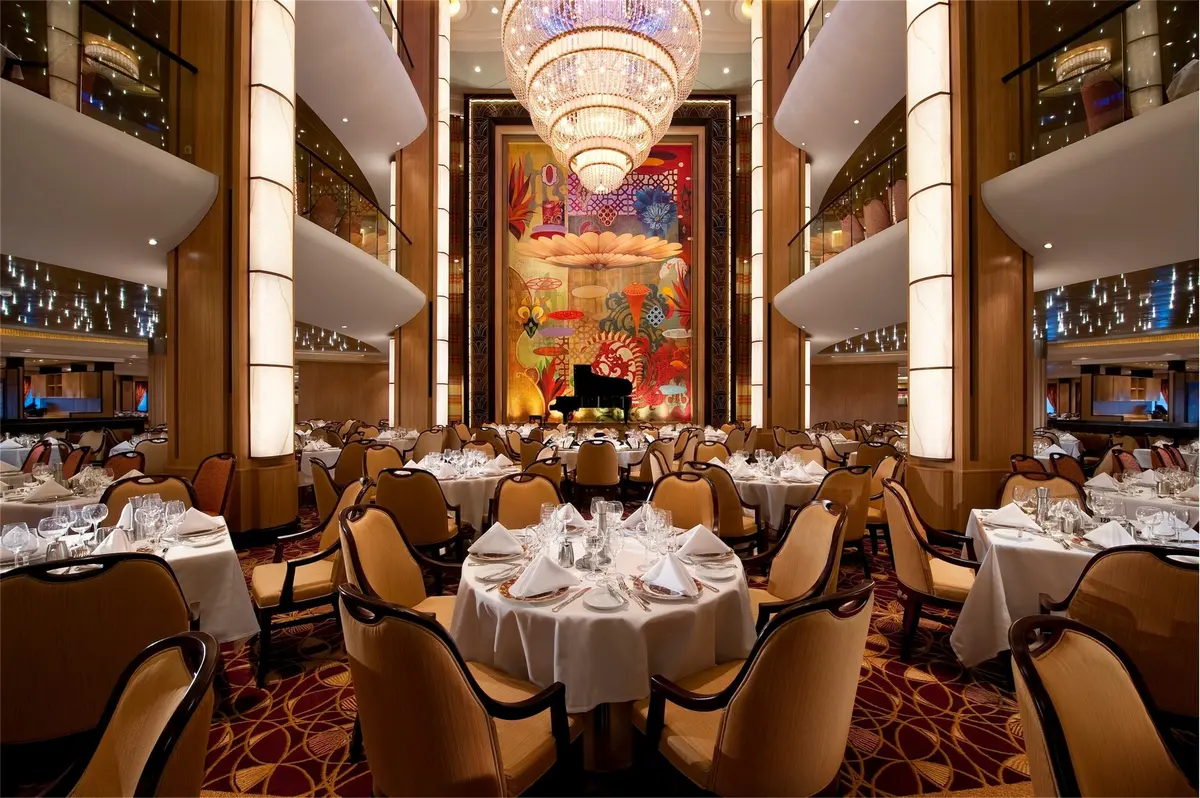 Growing up, my family had a rule that we would only dine in a specialty restaurant once per cruise, so I ate in the Main Dining Room a lot. 
Speed never really mattered, as you could tell the wait staff if you wanted a quicker dinner service because of a reservation to a show. I remember there being times where they were able to get my family of four in and out in about an hour!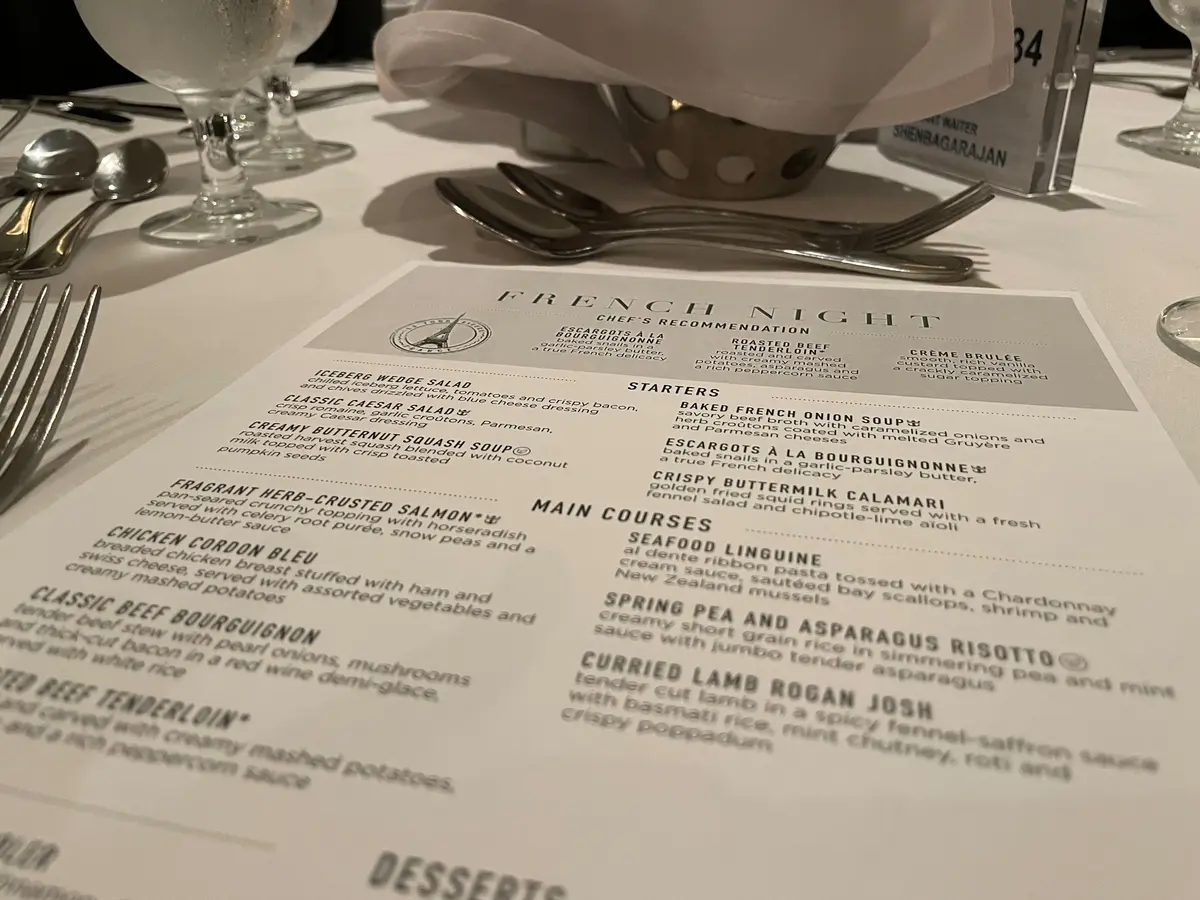 In terms of food quality, it seemed close to what it was in the past. About a quarter of my dishes came out cold, even though Royal Caribbean said that the new menu was going to ensure hotter food. 
My sister was always a picky eater, and she would eat the roasted chicken breast at least three nights on any given sailing; I can see why the removal of the "classics" section is upsetting to some people.
For me, however, I enjoyed stepping outside of my comfort zone and trying new things, as that's one of the reasons I love cruising. I knew that if I ordered an adventurous entree that I ended up not liking, I could order something else.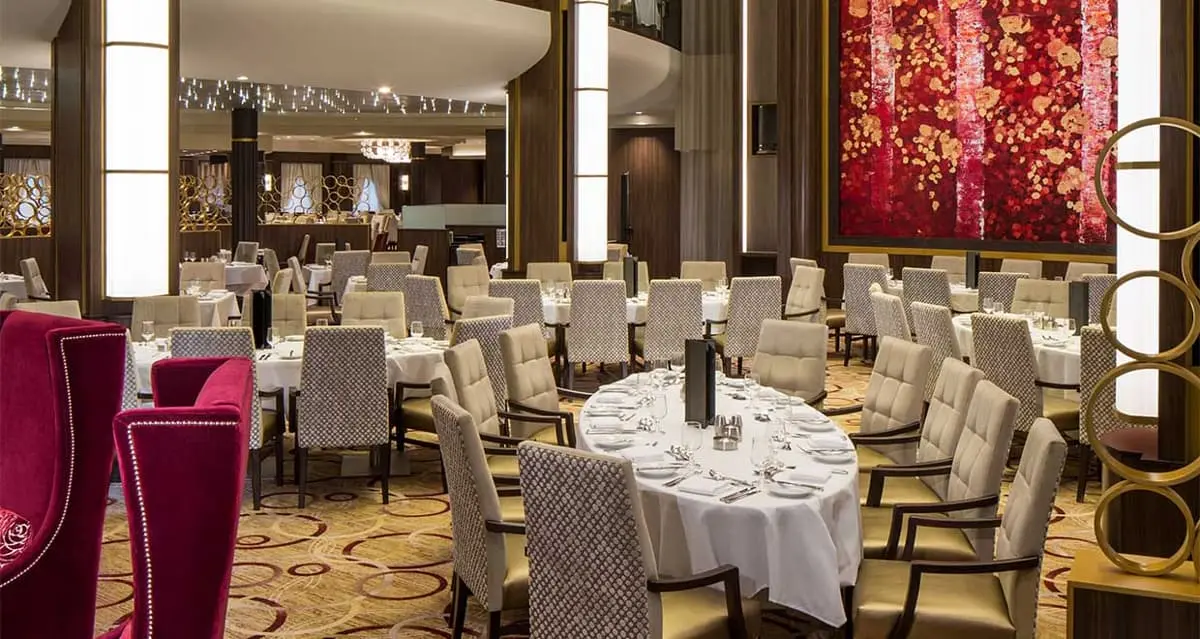 The only night I was truly dissatisfied was Mediterranean night.
If I wasn't in a rush to go pack, I probably would've ordered the grilled Mediterranean steak, as the vegetable moussaka was coated too heavily in unusually dry breadcrumbs for my liking. 
As with anything new, I expected there to be some trial and error for the kitchen staff, but I was overall impressed with the new menus and am looking forward to seeing how the dining experiences on my upcoming cruises compare!