In:
Seeing your cruise cabin for the first time is one of the most exciting parts of a Royal Caribbean cruise. Whether you've booked a tiny interior room or spacious suite, your cabin quickly becomes your home away from home on a cruise vacation.
When you enter your cruise cabin on embarkation day, however, there are a few things you should do as soon as possible, such as unpacking and putting away valuables.
While these mundane tasks may not seem like the best way to kick off a cruise vacation, getting your cabin organized right away means you can better enjoy your time onboard throughout the rest of your sailing.
From meeting your stateroom attendant to decorating your cabin door, here are 15 things to do as soon as you get to your cruise cabin.
Drop off your carry-on bag
Most cruisers drop their large suitcases off with the porters at the cruise terminal to avoid bringing heavy luggage onboard. However, you'll want to use a carry-on bag—a backpack, carry-on suitcase, or purse—during the embarkation process.
In this carry-on you should keep your electronic devices, identification documents, and important necessities like medication. You want to carry all items you'll need on the first day of your cruise with you in a carry-on bag, as your luggage may not arrive in front of your cabin door for several hours.
Related: The Ultimate Cruise Packing List
The downside of bringing a carry-on bag with you onboard, though, is that your cruise cabin may not be ready for several hours after your boarding time. Many passengers begin boarding at 11AM, for example, but their stateroom isn't ready until 1:30PM.
This leads to an awkward wait time of lugging your carry-on bag with you around the ship. Therefore, once staterooms are ready, the first thing you should do is drop off your carry-on in your cabin and get rid of the extra weight.
Unpack your clothes
We always recommend unpacking your clothes on a cruise whether the sailing is three nights or fourteen nights. In a small cruise cabin, living out of your suitcase will leave your room feeling more cramped, as valuable space will be taken up by your luggage on the floor or couch.
Instead, unpack your clothes into your cruise cabin's drawers and closets. Not only will your room feel more spacious, but unpacking helps you settle into your cabin, making it feel much more like home.
This is especially important if you have formal wear prone to wrinkles. Hanging these outfits in your closets immediately will lessen the time your clothing is squished in a suitcase!
Put away your suitcases
Speaking of suitcases, be sure to store your suitcases out of sight after unpacking. There is ample room in your cabin's closets for suitcases, so there's no need for them to be out in the open during your sailing.
You can also store luggage under your cabin's bed. Cruise cabin beds have enough space underneath for most sizes of luggage, and this is one of the best ways to increase space in your room while keeping your suitcase hidden for the duration of your cruise.
Meet your stateroom attendant
Your stateroom attendant cleans your cabin once per day during a Royal Caribbean cruise, and we always advise passengers to meet their cabin attendant on embarkation day.
Meeting your stateroom attendant helps set a rapport with the crew member. You'll usually see your stateroom attendant every day of the cruise as you pass through your cabin's hallway, and a friendly introduction can go a long way in terms of service and helpfulness during your cruise.
Make special requests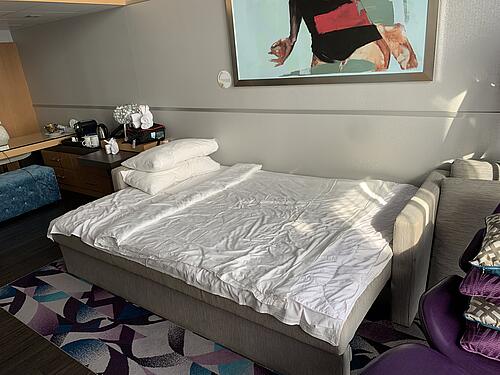 If you have any special requests for your cruise cabin, we recommend letting your stateroom attendant know on the first day of your cruise. You can request things like extra pillows, extra towels, and having ice be restocked in your ice bucket each day.
If there are more than two people in your cabin, you might want to make requests regarding your sofa bed or pullman bed. Many stateroom attendants will convert the sofa bed back into a couch during daytime, for example, but if you would rather keep the bed down throughout the day, just let them know!
Inspect your stateroom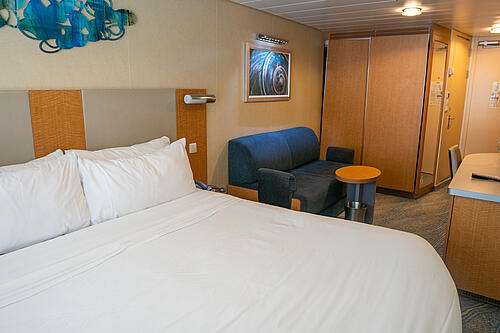 Once you arrive in your cabin, do a quick check to make sure everything is in working order. Check that the safe opens and closes correctly, that your mini fridge is cold, that your air conditioning is working properly, and that there are no issues opening and closing your doors and closets.
On one recent cruise, I noticed the closet door was off its track. Unable to open the closet, I made a quick call to maintenance and had the issue resolved within less than an hour.
On another occasion, I realized my virtual balcony wasn't working. I neglected to call maintenance and spent the entire cruise with a broken television screen on my virtual balcony! Looking back, I wish I had called maintenance, as they likely could have fixed the issue quickly.
More often than not, everything will work perfectly in your cabin, but it's still worth a check in case there are any issues.
Put drinks in the fridge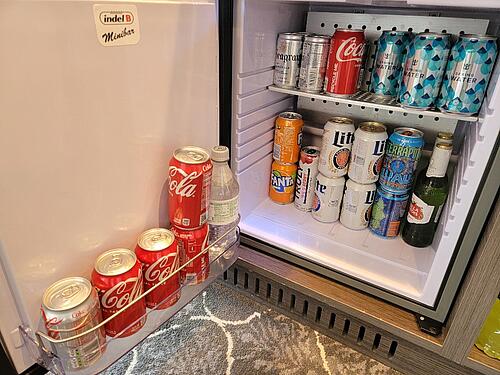 Emerald members and above in Royal Caribbean's Crown & Anchor Society receive water bottles in their cabin on embarkation day. Emerald and Diamond members receive two bottles of water per person whereas Diamond Plus and Pinnacle members receive three per person.
When you enter your stateroom, you'll find these water bottles on your desk or dresser. Be sure to put these water bottles in the fridge to make sure they are cold later on.
Additionally, if you've brought any wine, soda, or other non-alcoholic drinks onboard, this is a great time to put these drinks in the fridge, too.
Confirm bed configuration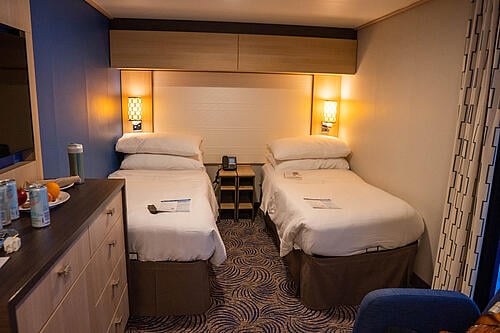 Your king-sized cruise cabin bed can be split into two twin beds on request, and one thing to do immediately after getting to your cruise cabin is confirm your bed configuration. If you're traveling with kids or a friend, you might prefer the bed to be separated into two smaller beds.
Most of the time, your beds will not be separated upon arrival to your cruise cabin. If this is the case, you'll have to contact your stateroom attendant or housekeeping to put in your request and they will separate the beds as quickly as possible.
Check your onboard offers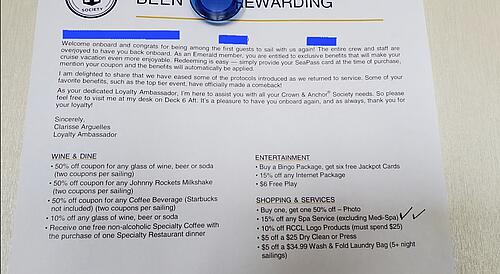 If you're a member of Royal Caribbean's Crown & Anchor Society, you will receive a paper on your cabin desk listing onboard offers for your sailing.
Depending on your loyalty status, onboard offers may include coupons for beer, wine, and soda, discounts on laundry, and free play in the casino.
Knowing which freebies and coupons are offered can save you money during a cruise, so take the time to browse your onboard offer sheet as soon as you get to your cruise cabin.
Look at the daily schedule
In addition to checking your onboard offers, take a view minutes to browse the daily schedule of activities in the Royal Caribbean app. While browsing, you can add activities and events to your calendar to ensure you don't miss out on anything while onboard.
Related: 15 free things to try on your next cruise
Plus, you can use this time to reserve entertainment and activities before they book up, such as comedy shows, AquaTheater performances, and a ride on the North Star observational pod.
Doing this while in your stateroom means you can take a quick break from the hustle and bustle onboard to plan out your cruise in a quieter space.
Sign in to your wifi package
If you reserved a Royal Caribbean wifi package, we recommend signing in to your wifi account once you get to your stateroom. If you've never had a wifi package before, you can find login instructions on a helpful sheet that will be on your cabin's desk.
If you encounter any problems or errors when logging in to your wifi account, you can ask for help at the VOOM internet desk or Guest Services.
Put away your valuables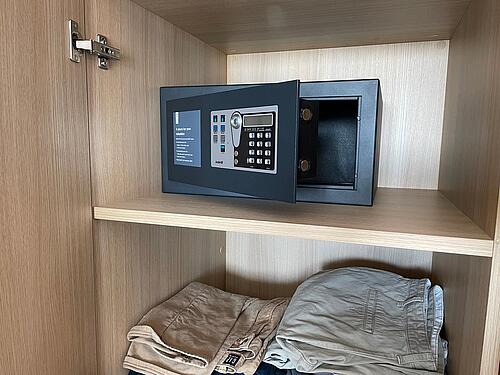 As soon as you get to your cruise cabin, put any valuables away in the safe or drawers. We advise placing your passport in the safe, as this is the first place crew members will look for a passport on the off chance you miss the ship at a port of call.
Plus, keeping valuables in safe spaces helps make sure you won't misplace any expensive or special items throughout the cruise.
Place magnets on the wall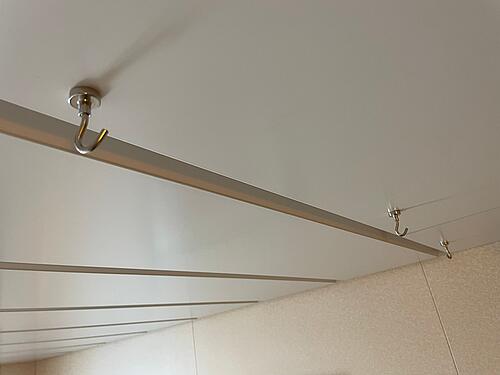 One of our favorite cruise cabin hacks—especially if you're sailing in an interior cabin—is to use magnetic hooks on your stateroom walls.
Royal Caribbean cruise cabins are magnetic, and magnetic hooks provide extra storage space for items like hats, purses, and jackets. Although newer cruise ship cabins have an impressive amount of storage space, older cruise ships may lack storage.
Related: I tried the best inside cruise ship cabin hacks to see how well they worked
Because of this, many cruisers like to bring magnetic hooks to hang miscellaneous accessories. Placing magnetic hooks on the wall when you get to your cruise cabin can keep your cabin organized throughout the sailing.
Decorate your cabin door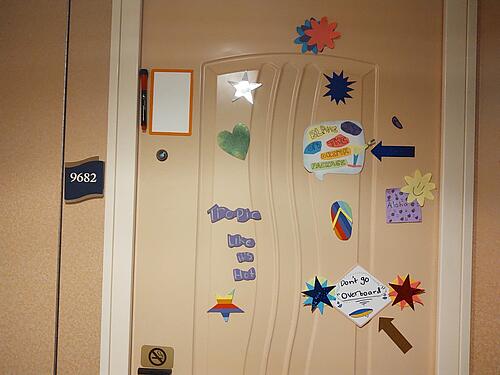 Like your cruise cabin walls, the door to your cabin is magnetic. To make cruising more fun, many passengers enjoy decorating their cruise cabin door with magnetic decorations.
If you walk down any hallway on a cruise ship, you'll find fun decorations on the door, whether anniversary and birthday decor, tropical magnets like palm trees, or more specific decorations stating a family's name and sail date.
Decorating your cruise cabin door as soon as you get to your cabin can be a fun way to make your cabin feel more like home. As another plus, it makes finding your cabin a lot easier when walking through the long hallways on your ship!
Do your muster drill
Lastly, once you get to your cruise ship cabin, make sure to complete the mandatory muster drill. Royal Caribbean's eMuster drill is a safety drill that all guests must complete before a ship can set sail on embarkation day.
The drill consists of three parts. The first two, watching a lifejacket safety video and listening to the emergency horn, can be done via the Royal Caribbean app or on your stateroom's television.
If you haven't completed the first two steps by the time you get to your cruise cabin, be sure to complete them as soon as possible. After the first two steps, leave your stateroom to head to your muster station on the ship, which will be indicated on the Royal Caribbean app.
Once your muster drill is completed, you can continue to enjoy your Royal Caribbean vacation!