In:
An important part of planning a Royal Caribbean cruise is knowing what is and is not included in your cruise fare. While your cruise fare includes accommodation, food, and activities, it does not include gratuities for crew members.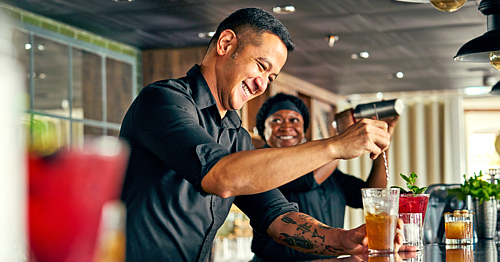 Many first-time cruisers are confused about how tipping works on a Royal Caribbean cruise. Who do you need to tip onboard? Should you carry cash or tip on your SeaPass card? Do you need to tip on shore excursions?
Luckily, it's easy to understand the ins and outs of tipping on a cruise ship. From prepaying gratuities to carrying small bills, here's what you should and should not do when tipping on a Royal Caribbean cruise.
You SHOULD know what gratuities cover
Each passenger on a Royal Caribbean cruise pays a daily gratuity to cover the services of hard working crew members onboard. These gratuities are shared among the dining, bar, and culinary teams, stateroom attendants, and the hotel service team.
Royal Caribbean crew members work extremely hard throughout their multi-month contracts, and gratuities are a way to reward them for providing amazing service.
Because they are charged on a daily basis, you do not have to worry about tipping each crew member yourself. Many passengers, however, still like to leave extra tips for their stateroom attendant and dining room waiters at the end of the cruise.
An envelope will be delivered to your stateroom for any extra (optional) tips. You can pick up more envelopes at Guest Services if there are additional crew members you would like to tip.
You SHOULD know how much gratuities cost per day
Gratuities on a Royal Caribbean cruise are priced per day, but the amount owed depends on your stateroom category.
Guests in non-suite staterooms (including Junior Suites) pay $16 USD per person, per day for gratuities. Those in Grand Suites and above pay $18.50 USD per person, per day.
Therefore, for a 7-night cruise, you will pay $112 per person for gratuities in a standard cabin and $129.50 per person in a suite. It's important to account for gratuities when budgeting for a Royal Caribbean cruise. When sailing with a family of four on a 7-night cruise, gratuities can add nearly $500 on top of your cruise fare.
Depending on where you book your cruise, gratuities may already be included in the price of your cruise fare. Australians booking cruises from Australia, for example, will not incur gratuities on top of their cruise fare, but the cruise fare reflects the price with gratuities added.
You SHOULD pay gratuities in advance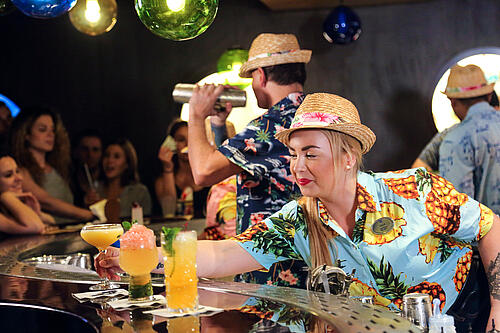 There are two options when it comes to paying gratuities on a Royal Caribbean cruise: prepaying gratuities or waiting to pay them once onboard.
Prepaying gratuities means you can include the current daily gratuity rate in your cost of the cruise when booking. When paying for your cruise, the daily gratuity will be added into the overall cost, and you will not owe any gratuities once the cruise begins.
If you elect not to pay gratuities in advance, a daily charge will appear on your SeaPass account every day of the cruise. If you are on a 3-night cruise, for example, and don't pay gratuities in advance, you will see a $16 (or $18.50) charge on your account each day of the sailing.
Related: Should you prepay gratuities for a Royal Caribbean cruise?
We almost always recommend prepaying gratuities before your cruise begins. This allows you to pay off your cruise balance early, so that by the time you get onboard, you won't have to worry about extra charges.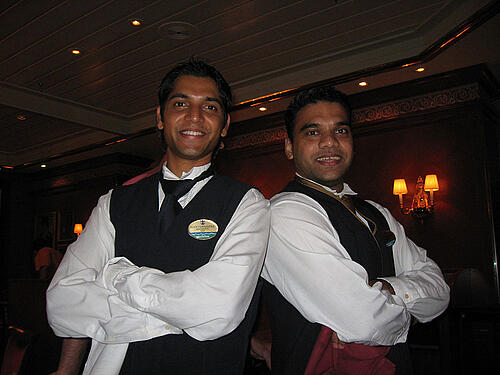 Paying in advance also locks in the current gratuity rate in case it were to increase. It's not uncommon for cruise lines to increase daily gratuity by $1 or $2 every few years. If you prepay gratuities and the price increases before your cruise, you won't have to pay the new daily rate.
You can prepay gratuities at any time up to 48 hours before your sail date. If you booked with a travel agent, contact your travel agent and they can add gratuities to your booking. If you booked with Royal Caribbean directly, your best bet is to call or access your account online to prepay gratuities.
You SHOULD bring small bills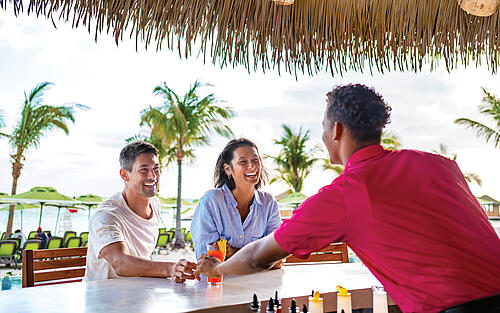 Bringing small bills is recommended on a cruise, as it allows you to tip crew members easily throughout the sailing. Having $1 and $5 bills handy is helpful when you want to give a bartender a small tip with your drink or tip a porter for handling your baggage on embarkation day.
If you don't have small bills, you can ask Guest Services to break down larger bills. Simply bring a $20, $50, or $100 bill to Guest Services and they will be happy to give you change.
How much cash should you bring on a cruise? Ultimately, it depends on your travel style. Most payments on your cruise vacation will be completely digital, so most passengers only use cash onboard to give additional tips to crew members.
Related: How much cash should you bring on a cruise?
You SHOULDN'T remove gratuities once onboard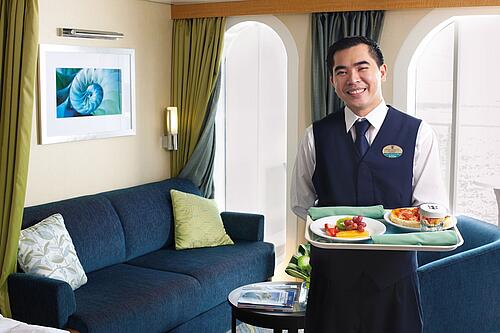 Technically, you can visit Guest Services once onboard your cruise ship and opt to remove gratuities from your account. Some passengers like to do this in order to give tips to crew members directly whenever they see fit.
While this may seem like a good idea in theory, it comes with one major drawback.
It's unlikely you will meet every crew member onboard who would otherwise receive a percentage of gratuities. Although details on how gratuities are allocated are not shared with the public, it's likely Royal Caribbean has a pool of gratuities that is split amongst the crew members.
By giving tips to crew members individually, you may be taking potential gratuities away from other hard working crew members you don't meet in person.
It's totally fine to give extra tips to crew members who go above and beyond during your sailing, but we recommend doing this in addition to the automatic gratuities.
You SHOULDN'T forget cash on shore excursions
It's customary to tip your shore excursion tour leader, driver, and guides, so don't forget to bring cash with you in port. Most passengers tip their guides between $5-10, but there is no right or wrong amount to tip on a shore excursion.
Aside from tipping, you should bring cash on shore excursions to purchase extras like souvenirs, drinks, and snacks. We recommend bringing around $100-200 USD with you in port each day.
You SHOULD expect an 18% gratuity on certain purchases
Certain onboard purchases are subject to an 18% gratuity on top of the listed price, including beverages, mini bar items, and spa and salon purchases.
In addition, when you reserve specialty restaurants, dining packages, drink packages, and spa services on Royal Caribbean's Cruise Planner website, the gratuity will be added upon checkout.
Because gratuity is already included in the price of these purchases onboard, it's not necessary to tip extra. However, many passengers still like to tip a few dollars with a drink or specialty restaurant dinner to show their appreciation.