In:
A reoccurring concern among first time cruisers that book a Royal Caribbean cruise in the warmer months of the year is they see a weather forecast that looks something like this.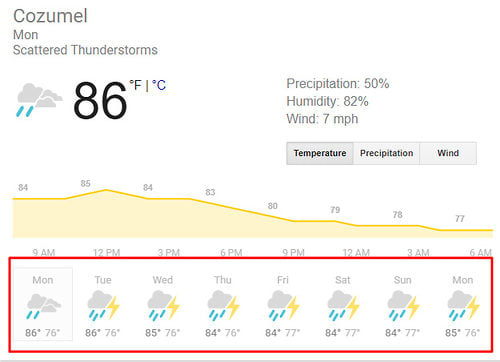 Does this mean your cruise is ruined? Not so fast.
Understanding rain in the tropics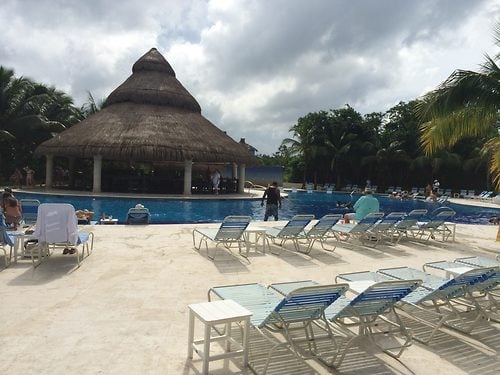 The tropics have two seasons: the dry season and the wet season.  During the summer months in the tropics, it rains every day. This means there is a high chance of rain, but it is not an all day soaker event.
Unlike rain storms in the north, where fronts move through and saturate the area with rain for much of the day, rain storms in the tropics are sporadic and short-lived.  They pop up during the afternoon, move quickly and have been known to actually rain while still sunny.
These sort of afternoon pop up storms are incredibly difficult to predict, so most weather forecasters simply attribute a high percentage chance of rain and hope for the best.  Pop up storms are so sporadic that it is too difficult to know exactly where it will rain, so forecasts often look worse than they really are. Despite the fact you see rain in the forecast everyday, it does not mean it will actually rain at all on you, nor will it rain for a long time.
How to plan your day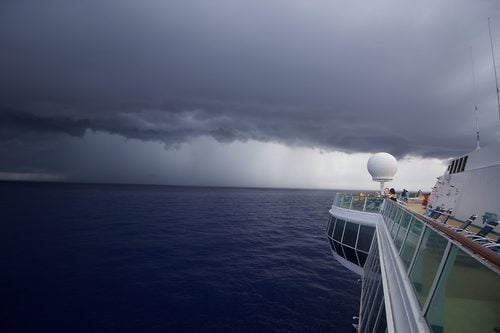 This may sound crazy, but ignore the forecast.
Seriously.
Rain in the tropics is so common and so unpredictable that it is simply not worth concerning yourself with prior to your trip.  Since it is often short-lived, if it does actually rain on you, you can wait it out (with a cocktail in hand) and before you know it, the sun will be back out.
On sea days, often the Captain will take routes to follow the sun and avoid clouds so that guests can enjoy the kind of sunny day they dreamed about when booking the cruise.  Of course, the Captain can only do so much to help, but if it can be helped, he will do what he can.
The exception to all of this are tropical storms (hurricanes), but your Royal Caribbean cruise will not be anywhere near these storms to begin with.  Royal Caribbean detours its ships well away from the path of the storm.